Close the door on abortion
This week, every home in the country - 1.4 million homes with 4.5 million people - received our important booklet asking the pro-life majority to speak up and make sure Enda keeps his pro-life promise.
Our eye-catching pro-life billboards are reinforcing the message. And 2.2 million people saw our powerful newspaper adverts urging pro-life people to call their TDs and keep Ireland abortion-free.
Before the General Election in 2011, Fine Gael issued a letter saying they were opposed to the legalisation of abortion. See that letter here...
Now they say they will break that promise - and legalise abortion in Ireland.
Speak up for life! Contact your TD today. They MUST hear from you. For your convenience, their numbers are listed below.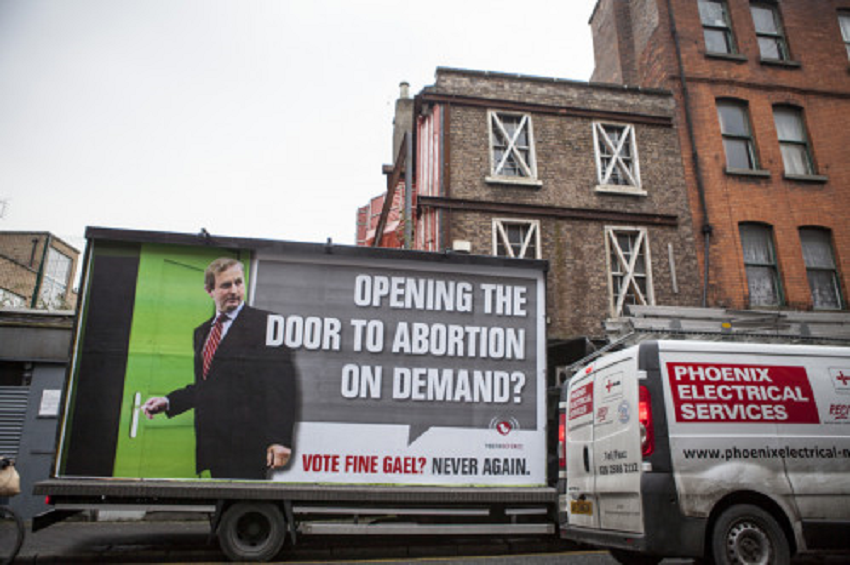 National
Enda Kenny Taoiseach 01 6194020/ 4021 / 4043 taoiseach@taoiseach.gov.ie
Dublin North James Reilly 01 6711026 / 01 8901300
Government Press Office 01 6194033 press.office@taoiseach.gov.ie
Dublin Central Paschal Donohoe 01 6183689 / 087 2816868
Dublin Midwest Frances Fitzgerald 01 4577712
Derek Keating 01 6184014
Dublin North James Reilly 01 6711026 / 01 8901300
Alan Farrell 01 6184008
Dublin North Central Richard Bruton 01 6312219
Dublin North East Terence Flanagan 01 6183634
Dublin South Peter Mathews 01 6184443
Olivia Mitchell 01 6183088 / Alan Shatter 01 6183911
Dublin South Central Catherine Byrne 01 4735080
Dublin South East Lucinda Creighton 01 6194561
Eoghan Murphy 01 6183324 / 086 0863832
Dublin South West Brian Hayes 01 6183567
Dublin West Leo Varadkar 01 6403133
Dun Laoghaire Sean Barrett 01 2845333
Mary Mitchell O'Connor 01 6183302 / 086 8186725
Ulster
Cavan.Monaghan Sean Conlan 042 9755500 / 087 6679306
JoeO'Reilly 049 4365853 / 086 2444321
Heather Humphreys 047 71911
Donegal North East Joe McHugh 074 9164787
Donegal South West Dinny McGinley 074 9531025
Leinster North
Laois/Offaly Charles Flanagan 057 8620232
Marcella Corcoran Kennedy 057 9125825
Longford/Westmeath James Bannon 043 3336185
Nicky McFadden 090 6478004
Louth Fergus O'Dowd 041 9842275
Peter Fitzpatrick 042 9330100
Meath East Regina Doherty 01 8257204
Meath West Ray Butler 046 9486717
Damien English 046 9071667
Leinster South
Carlow/Kilkenny Pat Deering 059 9173446 / 087 9470736
Phil Hogan 056 7771490
John Paul Phelan 056 7793210
Kildare North Bernard Durkan 01 6183732
Anthony Lawlor 045 888488
Kildare South Martin Heydon 045 487624
Wexford Liam Twomey 053 9146682
Paul Kehoe 053 9243558 / 0872021383
Wicklow Andrew Doyle 0404 66622
Simon Harris 01 2813727
Billy Timmins 059 6481016 / 087 8159090
Connacht
Galway East Ciaran Cannon 091 880790 / 087 2283377
Galway East Paul Connaughton 090 9646878 / 087 2354682
Galway West Sean Kyne 01 6184426 / 087 6137372
Galway West Brian Walsh 091 513051
MAYO an Taoiseach, Enda Kenny 01 6194020 / 094 9025600
John O'Mahony 094 9373560
Michelle Mulherin 096 77596 / 087 9317406
Michael Ring 098 27012
Roscommon/Leitrim South Frank Feighan 071 9662608 / 086 8331234
Sligo/Leitrim North Tony McLoughlin 071 9110011
John Perry 071 9189611
Munster
Cork North Central Dara Murphy 021 4559353 / 086 2533729
Cork South Central Jerry Buttimer 021 4840652 / 086 2356892
Simon Coveney 021 4374200
Cork North West Aine Collins 029 71845 / 087 2326945
Michael Creed 026 41835 / 087 2424631
Cork South West Jim Daly 023 8843868
Noel Harrington 028 22872 / 086 8567178
Cork East Tom Barry 022 58001
David Stanton 021 4632867 / 087 2349662
Clare Pat Breen 065 6868466 / 087 2422136
Joe Carey 065 6891199
Kerry North/ Limerick West Jimmy Deenihan 068 57446 / 087 8113661
Kerry South Brendan Griffin 066 9795666 / 087 6528841
Limerick Dan Neville 069 63610
Patrick O'Donovan 069 77998 / 087 9076267
Limerick City Michael Noonan 061 229350
Kieran O'Donnell 061 204040 / 086 8430202
Tipperary North Noel Coonan 0504 32544
Tipperary South Tom Hayes 062 62892
Waterford Paudie Coffey 051 853867
John Deasy 058 43003