City Centre: Dublin : 2pm : 6 July 2019
Still alive. Still human. Still needs your voice.
On Saturday July 6th, join with thousands of others to Stand for Life at Ireland's largest annual event in support of the human right to life of EVERY human person, especially the smallest and most vulnerable of all, unborn babies.
Come to the Rally because no vote, no act of parliament can ever make it right to kill a child. Come to call for a better answer for mothers and babies. The Rally for Life is also about raising up the next generation to stand for life and to change the culture.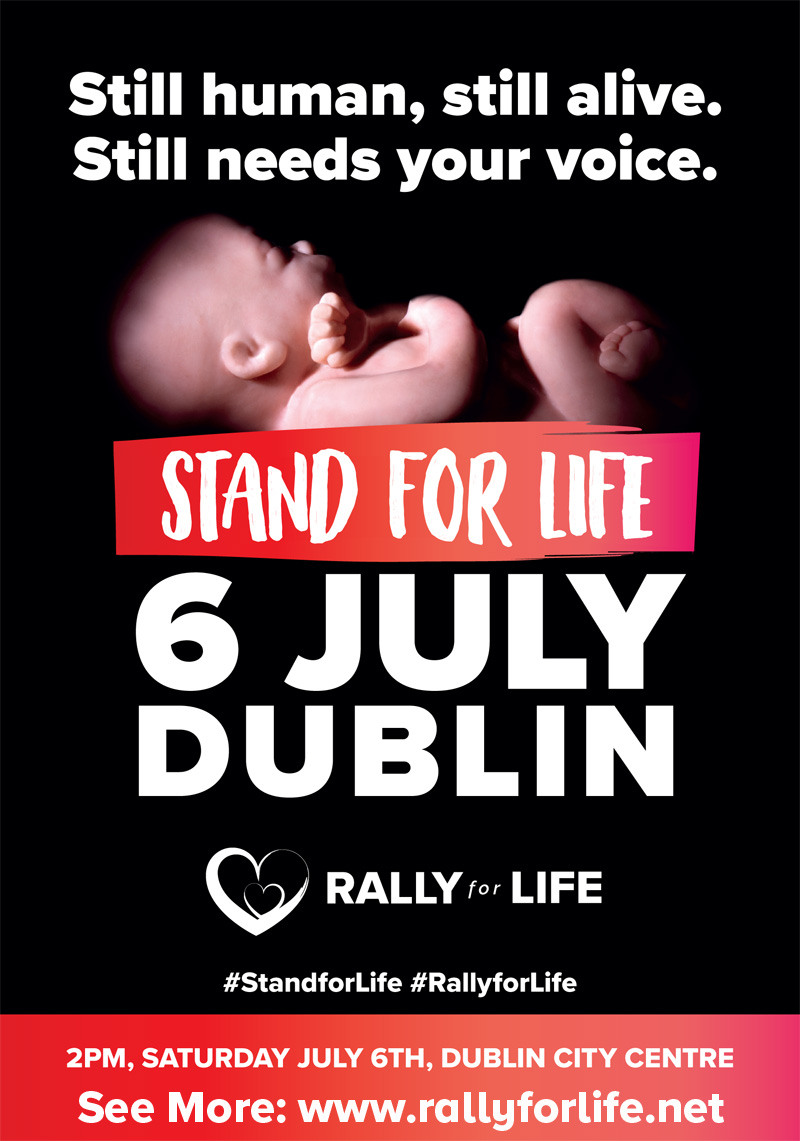 That's the enduring truth we witness to and
Show your opposition to Simon Harris' barbaric and deadly abortion law.
Show you support for pro-life medical professionals who oppose abortion and wish to be free to conscientiously object.
Show your support for mothers and babies who deserve better than the violence abortion.
Show your support for women experiencing unexpected pregnancies or difficult circumstances - lets show that we can and will offer them a better answer than abortion.
Show the nation that we, the 723,632 who proudly voted No to this unjust and barbaric law, haven't gone anywhere and we will continue to stand up for life and against abortion.
#repealthe36th #westandforlife #rallyforlife
The Rally needs YOUR help:
Contact us if you would like to help out in anyway. Could you organise a bus from your area, put up posters or hand out leaflets or make phone calls, host a fundraiser in support of the Rally, make posters or any other ideas you may have, please reach out to us and get in touch!
Here's some ways YOU CAN HELP right now
Adopt the RALLY HEADER as your FACEBOOK page
Adopt the TWITTER HEADER on your TWITTER account
TWIBBON up and add the Rally twibbon to your FB and Twitter profiles
If you manage a GROUP OR CAUSE on Facebook, please share the March Video and Alerts
If you are on a parish or church council, include the rally in your bulletins and website
Hand out LEAFLETS for the Rally, (yep, we'll give you the leaflets)
Pin a POSTER on a notice board in your Church or Community group
Organise a BUS from your area
VOLUNTEER before and during the Rally, we need all hands on deck!
Be there on the day and ask others to come!
Share the Rally YouTube Page and the latest Rally Promo: www.youtube.com/user/therallyforlife
Promote the Facebook page among your friends: www.facebook.com/Allirelandrallyforlife
Follow us on Twitter: http://twitter.com/#!/therallyforlife
Sign up for our EZINE and keep in touch
Or put a TWIBBON on your FACEBOOK Profile
Connect with the Rally for Life
Facebook
Youtube
Twitter
Website
Pinterest