The Life Institute has accused the United Nations of pushing the Irish government to act illegally, after the State was encouraged in a recent hearing to take measures to encourage the public to vote Yes in a 'repeal the 8th' referendum.
The comments were made as Ireland appeared before the monitoring body of the United Nations Committee Against Torture on Thursday, July 27th. The Committee is chaired by a Danish doctor and includes members from countries where human rights abuses are rife such as China. Denmark has recently said it will be 'Down Syndrome' free in the near future with almost all babies with the condition being aborted before birth.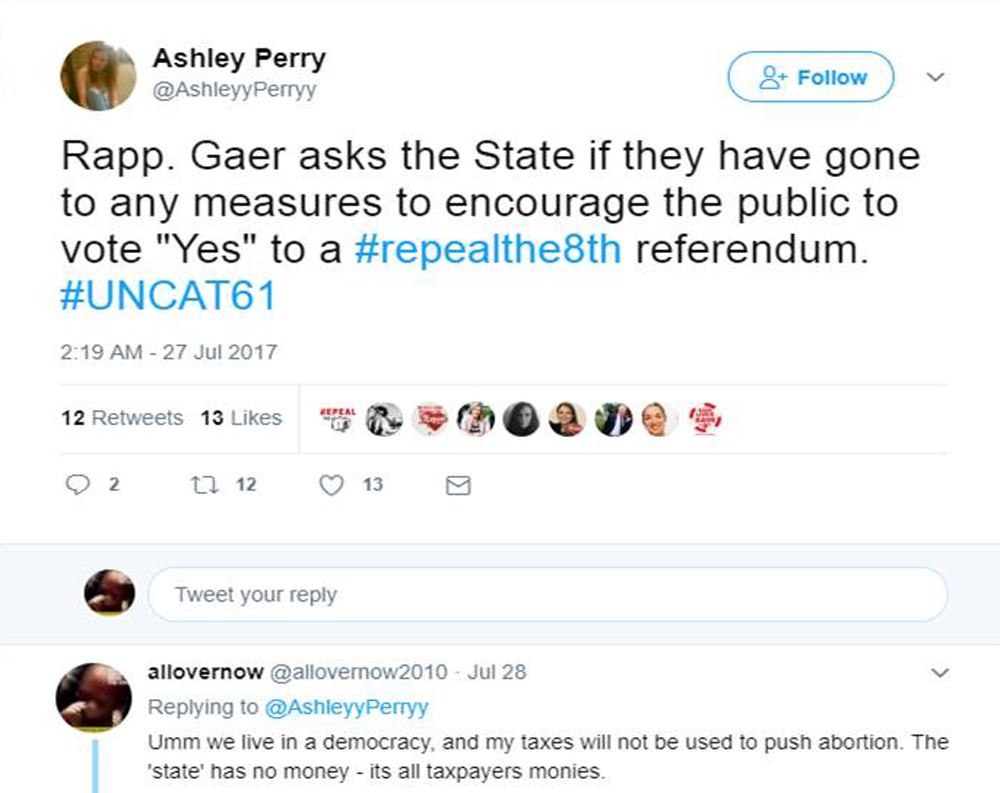 According to the Irish Times, the Committee's US representative, Ms Felice Gaer, said she was "troubled" that the government had 'failed' to legalise abortion. Then she asked what the State was doing to ensure that the people would vote 'Yes' to repealing the right-to-life provision of the Irish Constitution – the 8th amendment - and legalise abortion. "This is not just a completely unacceptable intrusion into Irish affairs, it also reveals the contempt that this so-called human rights committee has for democracy, " said Niamh Uí Bhriain of the Life Institute.
"The UN is asking the Irish state to use taxpayer funds to push a point of view that is wholly repugnant to the majority of Irish people. In fact, the UN representative seems to understand that most Irish people oppose abortion and is demanding that the State do something to change this ahead of a vote. "This would be a gross abuse of the democratic process and the fact that the demand is coming from a UN Committee underlines why so many people increasingly see the UN as a failed institution which has lost its human rights mission". "The McKenna case (1995) on funding referendums established that the State cannot use taxpayer funds to push for one side of the argument in a free and fair referendum, " she pointed out. "That is the most democratic approach to a referendum and it is utterly unacceptable to see a UN rapporteur suggesting that the State play a role in repealing the right to life of another human being.

Recently, the Irish Medical Times published a letter from Dr Jim Stacey calling out the UN on their interference in Irish matters. He wrote: "Dear Editor, Regarding the article in the Irish Medical Times (23/06/17) about abortion and the United Nations Human Rights Committee (UNHRC), the UNHRC is made up of 18 members. The chairman is Japanese, the vice chairmen are from Egypt, Montenegro, and Israel.
Not one of the others is from Ireland, or indeed the UK. It is probable that not one of them has ever set foot in Ireland, and it would be amazing if they spoke one word of Irish between them. How can they presume to lecture Ireland, and demand that Irish mothers kill their young in the womb? I would politely suggest that they mind their own business."