All-Ireland Rally for Life 2015
rTens of thousands attending the Rally for Life cheered people with disabilities and their families in Dublin today, as they heard that unborn babies with a disability should receive special protection and support, and not become targets for abortion. Gardai estimated that the crowd swelled to between 25,000 - 30,000, almost double the expected attendance, as it marched through the city centre, with the messages that #everylifematters and that the Irish people are #prolifeandproud.
Organisers also vowed to ensure that pro-life voters would make their views heard in the ballot box at the next general election, which will take place before March 2016.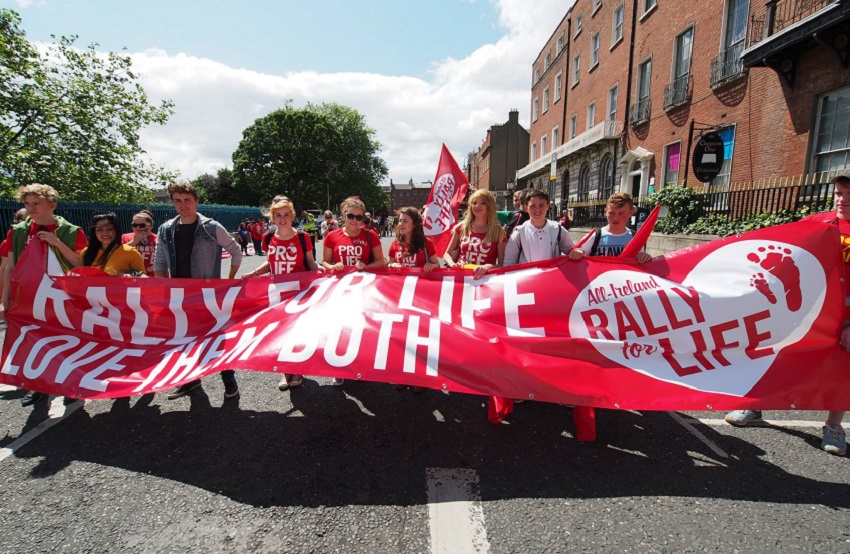 Those attending the Rally for Life, which marched from Parnell Square to the Dail, held posters supporting the 'Every Life Matters' theme of this year's Rally, and said that legalising abortion on disability grounds is the worst possible form of discrimination.
Anne Trainer, whose little boy Kevin has Down Syndrome, told the crowd that offering abortion for any form of a disability is a lethal form of discrimination, and warned that Ireland could follow Britain's failure to protect its most vulnerable children, with 90% of babies with Down Syndrome being aborted before birth.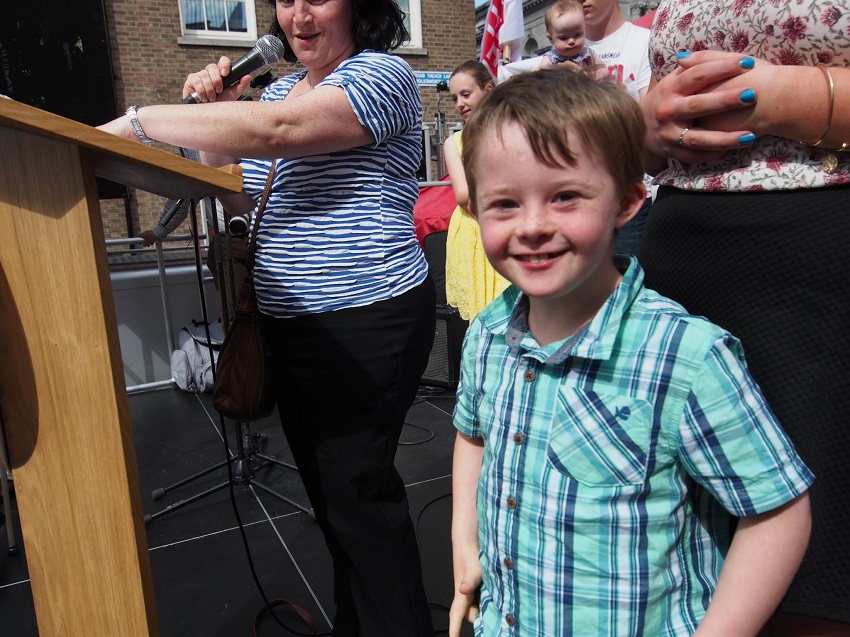 "Why are Amnesty International calling for Ireland's abortions laws to be changed and claiming abortion is a "human right?" What is humane about aborting a baby simply because they have an extra set of chromosomes?" said Ms Trainer. The biggest cheer of the day was given to Mary Bridget Kelly who has Down Syndrome and who told the crowd that "people with special needs have a right to life".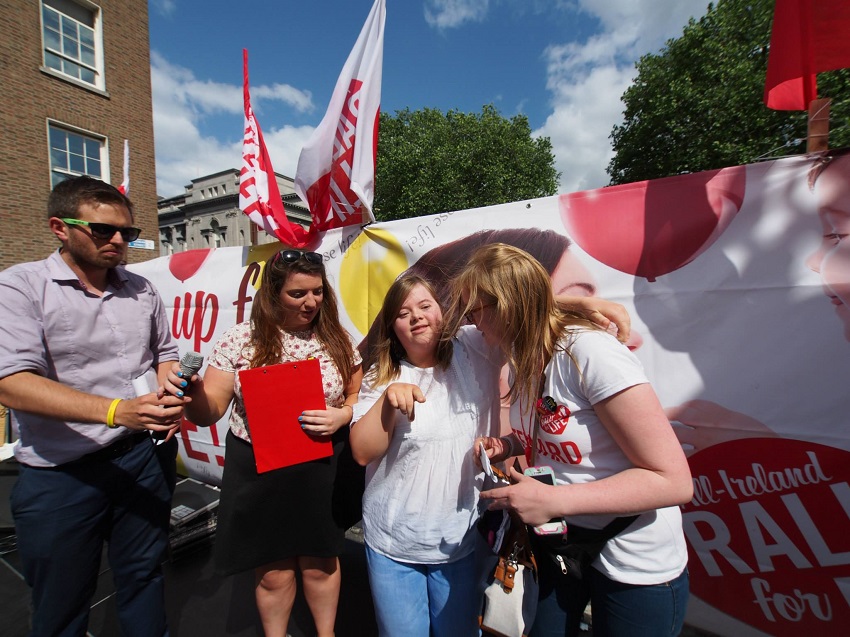 The Rally attendees were told that since Amnesty now supported the death penalty for unborn children it was time for the pro-life majority to 'abandon Amnesty' in favour genuine human rights organisations.
Mandy Dunne of the support group Every Life Counts also addressed the Rally. Her daughter Muireann was diagnosed with Trisomy 13 before birth, and doctors described her as 'incompatible with life' and suggested abortion to Mandy. She says: " I felt those words took her life from me there and then. We were told we wouldn't find anyone who had lived with this condition, and it was suggested that I end my pregnancy. I was made feel I wasn't carrying a beautiful little girl, that she was something that didn't even have the right to be considered as a life, dismissed with suggestions of a termination. But Muireann went on to live with us after birth for 6 weeks, and she knew nothing but love. Every child deserves to be treated with respect and dignity regardless of their diagnosis. Every sick child deserves extra protection and extra love."
Niamh Uí Bhriain of the Life Institute said that people attending the Rally were looking ahead to Election 2016 and that a growing number of experienced activists were determined that pro-life voters would be engaged and informed ahead of polling day. "The Rally is a real catalyst for growth and activism and a lot of that focus will be on Election 2016 and on ensuring that politicians understand that the majority of people do not want abortion on demand legalised in Ireland," she said.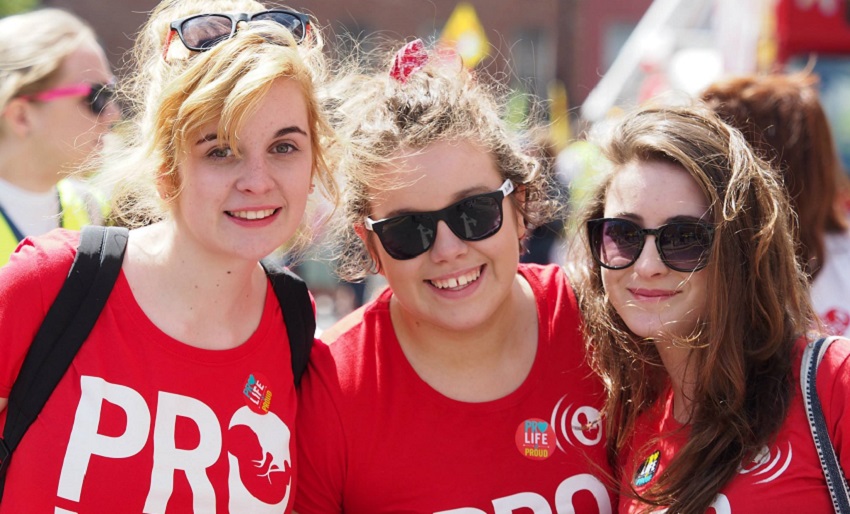 "The truth is that there is no public clamour to see abortion legalised. Last month, Labour's Aodhán Ó Riordáin said that a vote for Labour was a vote to Repeal the 8th amendment yet Labour continue to languish in the polls at just 7%. The pro-life movement is more organised and energised than ever before and we need to ensure that those politicians who broke the pro-life promises they made in 2011 are made to answer."
The Rally for Life is Ireland's premier pro-life event which brings thousands onto the street every year. "It's a huge celebration of life, with face-painting and balloons and music and there's a great festive atmosphere, but the Rally also sends a powerful pro-life message to the city, to the public, and to the government – and this year's message is that Ireland should continue to protect the right to life of unborn children with disabilities," said Clare Molloy of Youth Defence, one of the Rally organisers.
"Most Irish people would be shocked to learn that legalising abortion for babies with a disability leads to these horrifying statistics of 90% of babies with Down Syndrome being aborted*, and most people of goodwill believe that we should provide better support to people with disabilities rather than simply eliminating them before birth. We're seeing the number of women travelling for abortion to Britain fall, we're seeing more and more young people join the pro-life movement, and we're seeing that there is always a better answer than abortion," she said. "The government needs to respect the most fundamental right of all for people with disabilities, the right to life."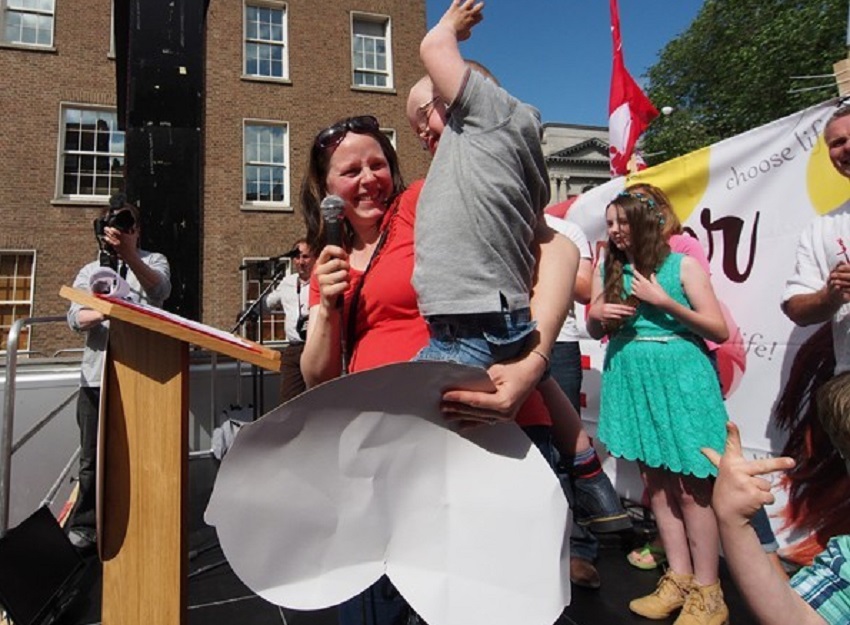 The Rally for Life is organised by Youth Defence, the Life Institute and Precious Life. Bernadette Smyth of Precious Life, who won a major victory in the Belfast County Court this week when harassment charges were overturned, received huge a cheer from the crowd when she appeared to speak on the stage and said she was opening a clinic to offer women life-affirming alternatives to abortion opposite the Marie Stopes abortion clinic in Belfast.
Reference
*Parliamentary Inquiry into Abortion on the Grounds of Disability http://www.abortionanddisabili...
Media Links
WATCH Rally Promo Video
Download