Pro-life activists have described the illegal use of an altar in a Catholic church in Dublin to stage abortion campaign photos as a "new low" for abortion campaigners, who are increasingly showing an "extreme intolerance" towards people of faith or anyone that disagrees with them.
Abortion campaigners draped an altar in a Catholic church in Inchicore, Dublin with a sweater calling for abortion to be legalised. They then took a photo (see below) of the desecrated altar and boated about in Twitter, with the leading abortion groups, including the Abortion Rights Campaign, retweeting and approving the photo.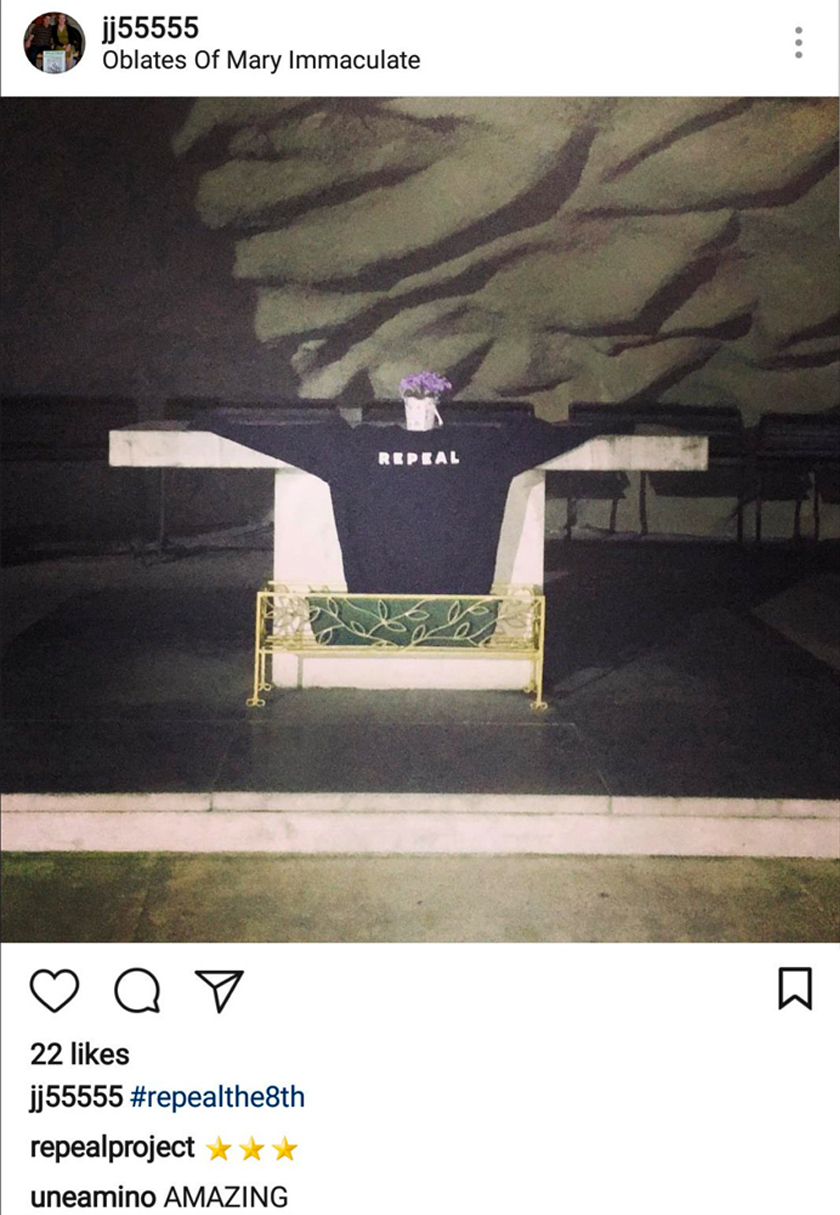 Niamh Uí Bhriain of the Life Institute said that this was a new low for those who wanted abortion legalised in Ireland. "Everyone, including all decent people who have no faith themselves, knows you shouldn't mess with a place of worship whether its a church, a synagogue or a mosque or anywhere else. For some pro-abortion campaigners, their hatred for religion seems to be the primary reason they support abortion, even though pro-life people see this as a human rights issue. This shows, once again, their extreme intolerance towards anyone who dares to have a different opinion, and their desire to silence people of faith. Abortion campaigners have repeatedly called for the churches to be silenced on abortion, but reasonable people will agree that they have a right to make their position known,""
The pro-life spokeswoman said that abortion campaigners had shown their extreme intolerance previously by attacking pro-life marches and vandalising pro-life offices. "It's no surprise really that they know feel they can target altars in Catholic churches but this actually just reveals their intolerance and bigotry to the public," she said. "It is shameful to see the George Soros-funded Abortion Rights Campaign supporting this action.Most decent people will agree this is crass and indicates these people have no decent argument to make," she said.
"The government is bowing to the wishes of abortion campaigners to have a referendum to legalise abortion next year, but these actions show the public that real nature of those pushing for abortion - they are extremist who want abortion for any reason, at any time, and ignore the humanity of the baby and the harm abortion causes to women. This referendum will fail because Irish people do not support that extreme position," she said.