Bríd Smith TD has been criticised for tweeting "appalling" remarks about a mother who had given an moving testimony telling the Abortion Committee about her son who was diagnosed with a severe disability. In what has been an incredibly unbalanced "debate" so far, the Oireachtas committee on the Eighth Amendment heard testimony from Liz McDermott, who shared a personal and often heart-breaking story about the lack of care she has received when she discovered her preborn son's limbs would not develop. After the Committee hearing, Bríd Smith TD, sent this appalling tweet.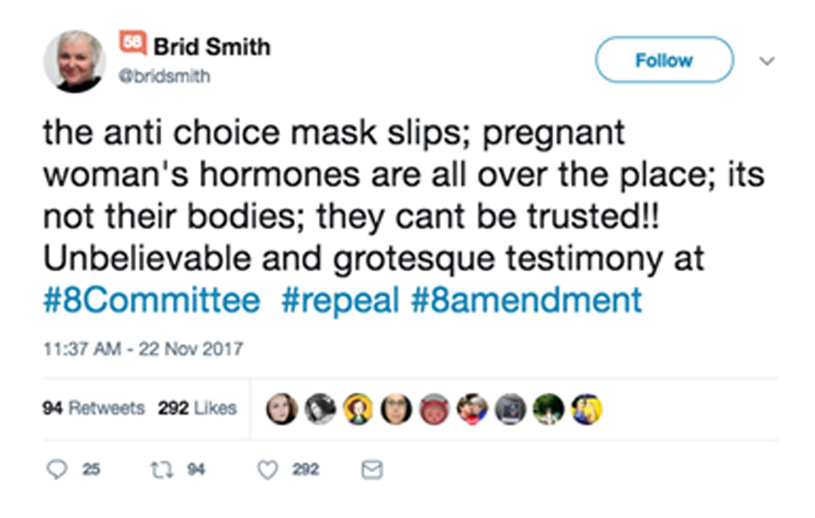 After a routine scan at 24 weeks, Ms McDermott explained, a nurse noticed something that required a more intensive analysis. The following day, another scan revealed that the baby's limbs had barely developed. Then, in Ms McDermott's own words: "I remember looking at the baby's face on the scan and thinking he looked like my husband, especially around the eyes. The doctor told us it was a little boy. He finished by saying: 'He'll never do anything but lie on a bed. I am obliged to tell you that if you want to travel to England it won't be a problem.' Obviously, he was referring to the time limits that applied at that time, that there would not be a difficulty, because of the abnormality."
Ms McDermott did not skirt around her emotions – she recalls feeling isolated and discarded by all involved in her care, save the medic who performed the scan. "All the other medical staff appeared unconcerned about us and our baby," she said. "We just went through the motions and did what we had to do... I hunkered down and just wanted to get the birth out of the way." Even during the delivery there were problems. McDermott recalls a neonatologist discussing her son's case on the phone with words such as "Oh yeah, weird case - no limbs."
"I had let the hospital know that but they were just taking him away," McDermott stated. "In a way that just suited them rather than me." Ms McDermott's story was harrowing, but hers was not the only evidence offered. She also supplied testimonies from other mothers who had been through similar experiences.
"One mother was told at her initial scan that her baby looked like a Michelin man and was asked why she was persisting with a futile pregnancy. This was followed up at each of her antenatal appointments, when she was asked to consider abortion and had to keep refusing until eventually she was advised to pick a plot to bury her daughter in. This kind of language is very insensitive, as the committee will appreciate."
"This little girl celebrated her third birthday last week," she added. In response, some members of the committee were relentlessly unsympathetic and focused on attacking the witness.
Sinn Féin Senator Paul Garvan repeatedly accused her of not trusting women. Some of the most aggressive questioning came from Deputy Bríd Smith, who repeatedly bombarded Ms McDermott with what felt more like directed statements than legitimate questions. She insinuated that if there really was an issue with how women were harassed or directively counselled, they should have reported it to the Irish Medical Organisation, hospital or Garda – an approach to Ms McDermott's story which shows an astonishing lack of empathy or compassion.
Deputy Smith further suggested that because Ms McDermott may not devote her time to charities that deal with child homelessness, special needs services, and other issues she could not truly be pro-life. Considering that Liz McDermott is both a mother and a devoted advocate for women's counselling and support, as well as a human being who, like all of us, has only 24 hours in a day, these veiled accusations did not serve the supposed "debate" in any way.
Even still, Ms McDermott handled the entire situation with grace and poise, standing by her beliefs and stating her case calmly. It seems that some people cannot do the same. Niamh Uí Bhriain of the Life Institute said that it was difficult for any reasonable person to see how Bríd Smith could send such "a nasty, aggressive and vindictive tweet having heard a witness who had shown heroic love for her son John.
Only one person is being grotesque here and it's not Liz McDermott," she said. The question remains: How can a committee truly purport to be unbiased and open to evidence when some of its members have such strikingly clear agendas? See more on support for families where baby has a life-limiting condition at www.everylifecounts.ie and www.onedaymore.ie