People living with disabilities and their families have appealed to Simon Harris to amend the abortion bill to ensure that abortion on disability grounds is outlawed. Otherwise, they say, their communities will be wiped out by the same abortion rates that have led to 98% of babies diagnosed with Down syndrome being aborted in Denmark.
Disability Voices for Life held a press event at the Molesworth Street entrance to Dáil Éireann TODAY (Thursday, 4th October 2018) at 11.30 am. They have written to the Health Minister Simon Harris seeking a meeting on their proposed amendment to the abortion bill which reads: "A procedure to terminate a pregnancy shall be unlawful if carried out solely on the ground that the foetus is diagnosed as having or is apprehended as having a disability."
The group represents more than 100 parents and people living with disabilities.
Spokesperson Michael O'Dowd said:
"We are parents of children with disabilities, or people living with a disability, and we are asking legislators to ensure that abortion on disability grounds is outlawed in Ireland. Minister Simon Harris seems determined to reject any amendments to his bill, but we cannot and will not be silent on this issue.
Abortions happen at various stages of foetal development. A disability can now be detected using Non-Invasive Prenatal Testing at 10 weeks according to the National Maternity Hospital. In this scenario Down syndrome is in the firing line. Research in the US show an increasing number of parents aborting at this stage without getting a confirming diagnosis. Currently, in the UK, almost half of all abortions on unborn babies with Down syndrome take place under 15 weeks gestation, and technology is rapidly advancing testing in this area.
It is a terrible situation where terminations are targeted at those who potentially have a trait society doesn't like. It is a culture based on prejudice and lack of knowledge of the positive traits a person with Down syndrome brings to a family and a community.
We need an amendment to Mr Harris' proposal which specifically states that abortion on disability grounds will not be permitted because our communities, and our children's communities, are being wiped out by abortion.
In Britain, 90% of babies diagnosed with Down syndrome are aborted before birth. In Denmark that number has now reached a heartbreaking 98%. Speaking at the Citizen's Assembly, Dr Peter McParland of the National Maternity Hospital observed that not one baby with Down syndrome had been born in Iceland over a 4 year period. They had all been aborted.
In Germany, the law does not specify that abortion can be carried out on the grounds of a disability, but, just as in the current proposal, neither is it outlawed. More than 90% of babies diagnosed with Down syndrome in Germany are aborted, on grounds of a threat to the mental health of the woman, and a similar clause is also included in the Regulation of Termination of Pregnancy Bill.
This trend is not confined to babies diagnosed with Down syndrome. Three studies examining abortion after a prognosis of spina bifida showed that between 66% and 78% of babies were aborted across Europe.
Surely, as a compassionate, progressive nation, these heartbreaking outcomes should give us pause. We are simply asking our politicians, and the Irish people, to prevent this from happening in Ireland. We are asking you to protect our children's communities. We have yet to hear one valid reason as to why the amendment we propose should not be included.
The eradication of people with disabilities may not be a stated objective of the abortion bill, but if politicians do not act, this will be its assured outcome. Every politician in Dáil now has the opportunity to protect people with disabilities. Please do not fail us or fail our children."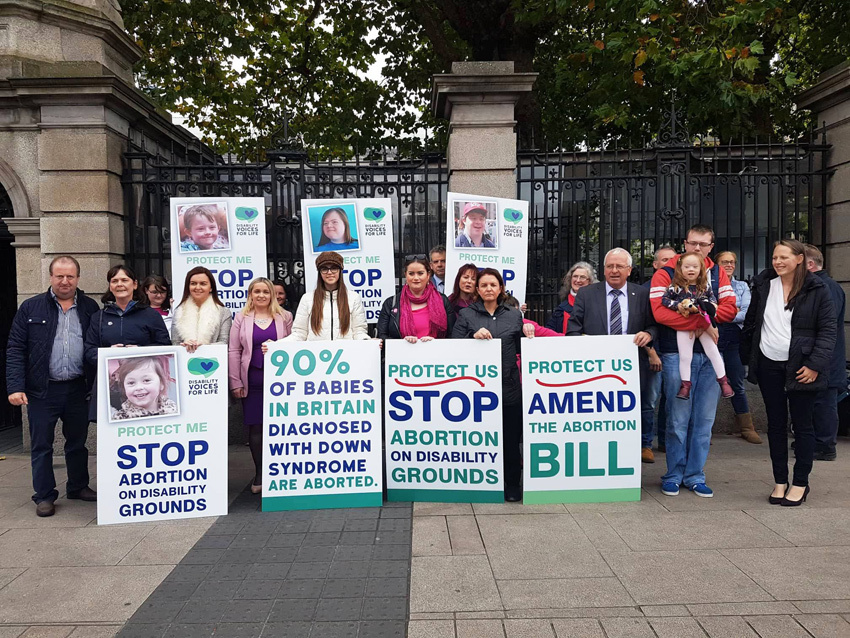 TDs Carol Nolan, Michael Collins and Mattie McGrath support parents from Disability Voices for Life today at Dáil Eireann
REFS
Danish Cytogenetic Central Register 2016
http://www.auh.dk/siteassets/a...
https://www.irishexaminer.com/...
National Down Syndrome Cytogenetc Register (NDSCR) for England and Wales Annual Report 2013 (In 2013, 46% of all abortions for Down syndrome took place under 15 weeks gestation).
Survey of prenatal screening policies in Europe for structural malformations and chromosome anomalies, and their impact on detection and termination rates for neural tube defects and Down's syndrome. BJOG, 2008.
https://obgyn.onlinelibrary.wi...
The influence of noninvasive prenatal testing on gestational age at time of abortion for aneuploidy.Lassey SC, Reiff ES, Dobson L, Bromley B, Wilkins-Haug L, Bartz D, Little SE.Prenat Diagn. 2017 Jul;37(7):635-639
Aguilera, et. al. Prognosis of spina bifida in the era of prenatal diagnosis and termination of pregnancy. Fetal Diagn Ther. 2009;26(2):68-74. Epub 2009 Sep 11.
http://www.ncbi.nlm.nih.gov/pu...
Amari, et. al. Prenatal course and outcome in 103 cases of fetal spina bifida: a single center experience. October 2010, Vol. 89, No. 10 , Pages 1276-1283
http://informahealthcare.com/d...
E. Garne et. al. Prenatal diagnosis of severe structural congenital malformations in Europe. Ultrasound Obstet Gynecol 2005; 25: 6–11
http://onlinelibrary.wiley.com...
LINKS