The preborn child: Still alive. Still human. Still needs your voice.

Can YOU help make the Rally for Life in Dublin on July 6th a day when we come together to show the nation that we are still standing strong and are committed to rebuilding the culture of life in Ireland.
There's a huge amount to be done in preparation for the Rally for Life and we are looking for assistance in particular with the following:
Help to advertise the Rally locally by leafleting Masses and homes
Organise buses locally
Volunteer to steward on the day
Help put up posters to advertise the Rally
Help to fund raise to cover the costs of hosting the Rally
Help to promote the Rally on social media
The Rally for Life is Ireland's largest annual event in support of the human right to life of EVERY human person, especially the smallest and most vulnerable of all, unborn babies. The truth is that no vote, no referendum, and no piece of legislation can ever make it right to kill a child, and mothers and babies deserve better than the cruelty of abortion.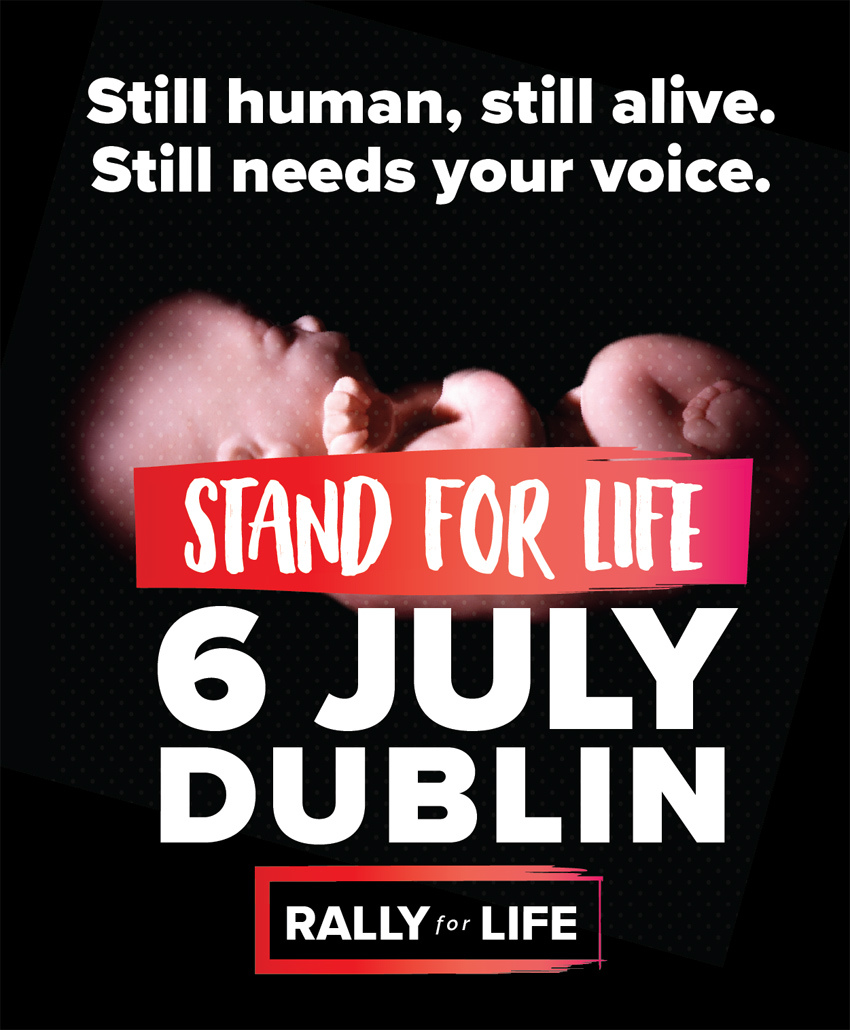 That's the enduring truth we witness to and we
Show your opposition to Simon Harris' barbaric and deadly abortion law.
Show you support for pro-life medical professionals who oppose abortion and wish to be free to conscientiously object.
Show your support for mothers and babies who deserve better than the violence abortion.
Show your support for women experiencing unexpected pregnancies or difficult circumstances - lets show that we can and will offer them a better answer than abortion.
Show the nation that we, the 723,632 who proudly voted No to this unjust and barbaric law, haven't gone anywhere and we will continue to stand up for life and against abortion.
#repealthe36th #westandforlife #rallyforlife
The Rally needs YOUR help:

Contact us if you would like to help out in anyway. Could you organise a bus from your area, put up posters or hand out leaflets or make phone calls, host a fundraiser in support of the Rally, make posters or any other ideas you may have, please reach out to us and get in touch!

Here's how you can help!