An Irish priest had a powerful request to abortion campaigners who posted a request to social media seeking the experiences of those who accessed abortion in the country in the past two years.
The Abortion Rights group posted on Twitter that they wished to run a survey for people who have had access, or attempted to have access, to abortion services in Ireland since 2019. They said the survey was to gather information about "people's experiences with abortion services, to serve as a voice for the review of the current abortion legalisation in Ireland, taking place later this year".
One twitter user shared this survey claiming that "this project will gather evidence around how the current legislation is working, form the perspective of those directly affected by it."
One priest, Fr Pádraig Ó Cochláin gave a superb, if deeply saddening, response.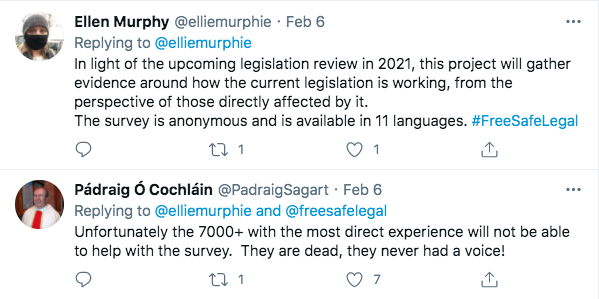 "Unfortunately the 7000+ with the most direct experience will not be able to help with the survey. They are dead, they never had a voice," he said.
This statement, eloquently put by Fr Pádraig, serves as a reminder that abortion impacts both mother and child, and acts as a visual witness to pro-lifers, showing that we must continue to be a voice for those whose voice has been taken from them by the cruel act of abortion.
6,666 babies were killed by abortion in 2019, the first year of the abortion regime in Ireland, while more than 300 women also travelled abroad for abortion.