A study has found that just 14% of consultant physicians in Ireland are in favour of legalising euthanasia, with a strong majority also opposing assisted suicide.
The research found that 67% of those who responded opposed legalising euthanasia with just 14% in favour, while almost 19% remained neutral. When it came to physician assisted suicide, 17% were in favour of making it legal while 56% opposed that and almost 27% remained neutral.
If those who remained neutral were stripped out, the data showed that 83% of consultant physicians who took a position opposed euthanasia with 17% in favour, while 77% opposed Assisted Suicide.
A table published by researchers collating responses according to medical speciality revealed some disparity in opinion amongst consultants. Doctors with most experience of working with older people or cancer patients or in the provision of palliative care were far less likely to support either assisted suicide or euthanasia.
Only 3% of consultants working in geriatrics supported assisted suicide, while just 6% of oncology specialists supported euthanasia, though 13% of the speciality did support assisted suicide. 90% of palliative care consultants remain opposed to both euthanasia and assisted suicide.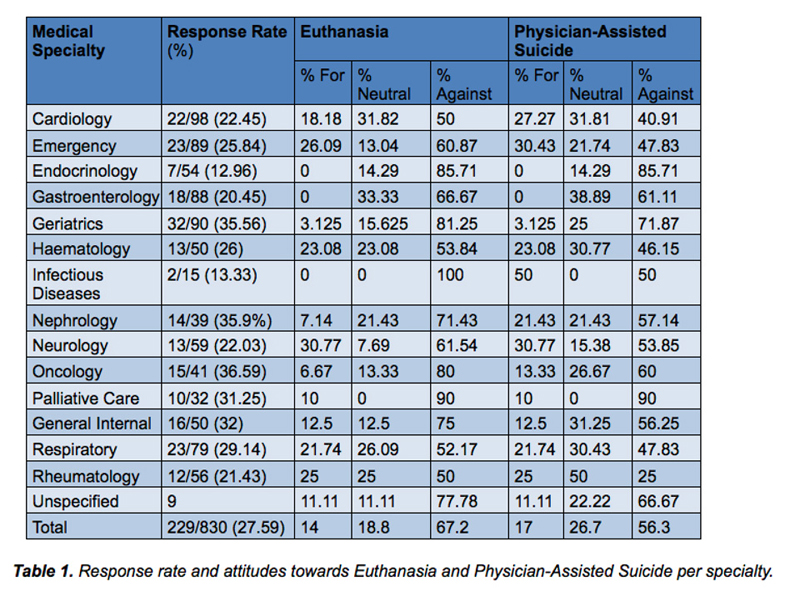 The study noted that a relatively large proportion of consultants were undecided,remaining neutral on the topic. "Most considered that even if tightly regulated, the practices of euthanasia and physician-assisted suicidewould still be open to potential abuse,reflecting concerns raised by the RCPI [Royal College of Physicians in Ireland] ," researchers said.
They also noted that: "the position of Irish physicians on these issues appears to stand in marked contrast to the attitudes of the Irish public," and commented that "internationally, numerous studies have consistently demonstrated lower levels of support for euthanasia and physician-assisted suicide among physicians than among the general public."
"The reasons for this divergence of opinion between physicians and the general public is important to understand. It is possible that the difference relates to physicians' greater experience with end-of-life care. Studies outside of Ireland have frequently found stronger opposition to euthanasia and physician-assisted suicide among physicians with greater experience of caring for terminally ill patients," the researchers said.
"While the matter was not directly addressed in this study, it is nevertheless noticeable that opposition was partic larly strong among specialties such as Palliative Care, Geriatric Medicine and Medical Oncology that would be expected to have a greater proportion of older and dying patients."
The research, published in the Irish Medical Journal, used data collected by distributing a questionnaire to all consultant physicians listed in the Irish Medical Directory under general internal medicine specialties. Some 238 consultants responded: an overall response rate of 28.7% (238/830).
The Royal College of Physicians of Ireland, and most other leading medical bodies in Ireland have now publicly opposed the legalisation of assisted suicide. The authors of the study said its aim was "to analyse the attitudes of Irish consultant physicians towards euthanasia and physician-assisted suicide."