Image credit: Unsplash (L) and Christian Concern (R)

A prominent pro-life doctor based in the UK has told Gript that the medical director of Marie Stopes International (MSI) may have given "misleading" advice on abortion pill reversal treatment in order to forward the "political agenda" of abortion providers.
Dr Dermot Kearney, who is a consultant cardiologist and also provides the abortion pill reversal (APR) treatment, won a landmark case against the General Medical Council (GMC) last March.
Months before, he had been banned from offering the treatment – which uses the hormone progesterone, commonly used to treat miscarriage risk – after he received complaints from an abortion provider.The GMC later dropped the case against Dr Kearney, acknowledging that there was no prospect of finding any evidence to support any of the ten allegations which were made against the pro-life doctor.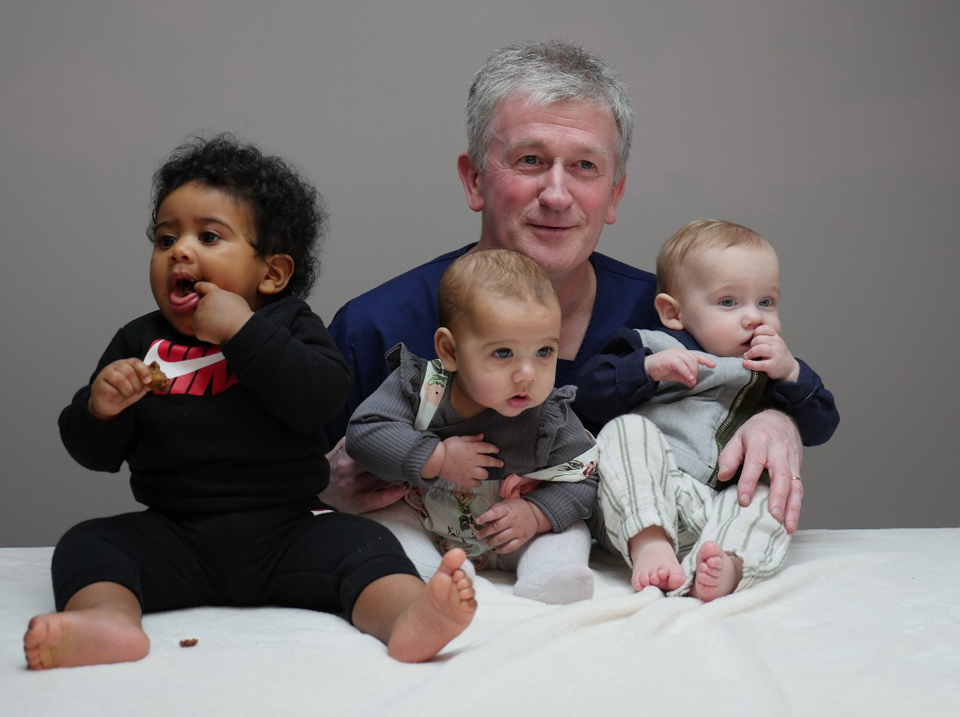 Dr Kearney with the children of mothers he helped. Image credit: Christian Concern
Dr Kearney is now one of six pro-life doctors in the UK who are calling for the medical director of Marie Stopes International, Dr Jonathan Lord, to be investigated over wha they describe as "misleading" claims he made about the risk of giving progesterone to reverse the effects of the first abortion pill.
Dr Jonathon Lord of Marie Stopes Reproductive Choices UK, one of Britain's biggest abortion providers, casted doubt on the safety of the treatment, which has become known as APR (abortion pill reversal) while giving evidence to the National Institute of Health and Care Excellence (NICE) last summer.
Dr Kearney, alongside five other pro-life doctors, says Lord should be investigated by the GMC for "serious professional misconduct" over the claims.
Writing to NICE, Marie Stopes International claimed that "the amended guidelines could facilitate inappropriate, even unsafe usage of progesterone."
In response, NICE subsequently added a line recommending progesterone "only for women with early pregnancy bleeding and a history of miscarriage", adding it was "not applicable… after the use of mifepristone'".
This has raised concern among pro-life doctors, who have insisted the treatment is safe and that women should have the chance to save their unborn child if they regret taking the first abortion pill, mifepristone, the first of two pills to induce an abortion, which can legally be taken up to 10 weeks gestation.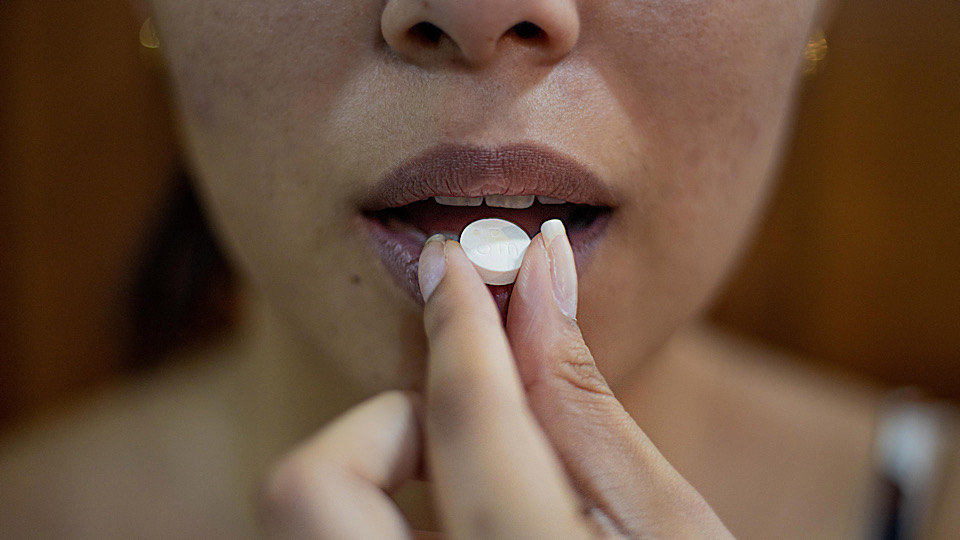 Image credit: Unsplash
Dr Kearney is among UK doctors who now claim that the abortion provider's medical director gave NICE "misleading and incorrect" information on the use of progesterone to reverse the effects of the first abortion pill – which starves the unborn baby of progesterone in the womb – because of his own "political" objection to abortion pill reversal treatment.
The Daily Mail reported last month that MSI said it was "unaware of any complaint to the GMC" when approached for comment.
The practice has become the target of scrutiny and contention for abortion advocates, but continues to be offered by a small number of pro-life doctors after pro-life doctor Dr Dermot Kearney won a case last year and was allowed to resume offering the treatment after he was temporarily banned from doing so by the General Medical Council (GMC).
The effects of the first abortion pill in a medical abortion can be reversed in some cases if the female sex hormone progesterone is taken within a certain timeframe, and before the second abortion pill is taken. Reversal pill advocates say that administering progesterone, ideally within the first 24 hours after the first abortion drug is taken, raises the unborn baby's survival chances up to 50 per cent.
Progesterone has long been regarded as safe, and has uncontroversially been given as a treatment in the UK for a number of years for women who have suffered miscarriages and want to prevent a recurrence.
Marie Stopes International, which has 42 abortion facilities in England alone and is one of the UK's biggest providers of abortions, raised concerns with the health regulator last summer over proposed new guidance on using progesterone.
Gript reached out to Dr Dermot Kearney, who currently offers the treatment in the UK, for comment.
Responding, the consultant cardiologist, who has seen babies saved from prescribing the treatment to mothers who changed their minds after taking the first pill, said that the practise is based on "the best evidence" that supports the use of APR using progesterone.
He told us that a number of doctors in the UK continue to recommend and prescribe Progesterone rescue treatment to mothers who request it after they regret taking the first abortion pill, Mifepristone, that specifically blocks the effect of natural Progesterone, essential for maintaining pregnancy.
"It is also based on the ever-increasing empirical evidence that APR treatment using Progesterone after mothers regret taking Mifepristone is very safe and often effective," he said.
Dr Kearney, who is originally from Ireland but lives and practises in the UK, pointed out that 4,000 babies have already been born – mostly in the USA – since 20212 because of what he described as an "essential rescue treatment".
"In the UK, doctors who prescribe APR have found that the success rate, in terms of live births at term, is greater than 50%," he continued. "This compares to a less than 20% survival rate if Progesterone rescue therapy is not offered to mothers in these tragic situations.

"The provision of APR with simple Progesterone is literally a matter of life and death in many cases. To date, 44 babies have been born to mothers in the UK who have benefitted from APR treatment since 2021, with several more babies due in the coming weeks and months".
Image Credit: Christian Concern
The senior doctor pointed to his own case in 2021, where himself and another doctor found themselves at the centre of complaints from abortion providers to the GMC over their offering of the treatment. Both doctors had been assisting mothers with APR since 2020, and both were subsequently investigated by the GMC.
The cases against both doctors were dismissed in early 2022 as it was found there was no prospect of finding any evidence to suggest that they might be guilty of professional misconduct.
"Indeed, witness statements from many of the mothers helped and from expert witnesses were highly supportive of the APR service provided. It was actually described by the GMC expert witness as addressing an "unmet need"", Dr Kearney told us.
He clarified that the National Institute for Health and Care Excellence (NICE) has not yet given approval for the use of Progesterone in abortion pill reversal treatment even though the treatment is the same as that used for attempting to prevent recurrent miscarriage.
"Progesterone for that purpose was approved by NICE in November 2021.," Dr Kearney explained. "The abortion providers had earlier demanded that NICE exclude recommending the use of Progesterone following Mifepristone administration. It appears that NICE did not examine or consider the evidence in favour of abortion pill reversal therapy at that time".
He said it is "a matter of concern" that the Dr Lord, the Medical Director of Marie Stopes International UK (MSI) "may have provided misleading information to NICE (and to others) regarding the the practise of APR within the UK to further his own, and the abortion industry's, political agenda".
"This has led to a complaint to the GMC by a number of UK-based medical doctors against the current medical director of MSI," he added.
He said that several other allegations against the medical director of MSI have also been forwarded to the GMC and are currently under consideration.
The UK's Daily Mail has been among media outlets to report that abortion providers fear women who take the first pill but not the second, misoprostol, "are at higher risk of severe haemorrhage".
When we asked Dr Kearney about this point, the doctor said that there is a "theoretical risk of severe haemorrhage" in this case, however statistics show that the majority of women who bleed heavily to the point of requiring blood transfusions have taken both abortion pills, mifepristone and misoprostol. He clarified that progesterone does not cause or increase the risk of bleeding.
"There is a theoretical risk of severe haemorrhage after Mifepristone if Misoprostol is not taken. Misoprostol causes uterine contraction and this muscular contraction might help to reduce the risk of bleeding that is always likely to occur after Mifepristone," he said.

"Progesterone does not cause or increase the risk of bleeding. If the Progesterone rescue treatment is successful, it actually reduces the risk of heavy bleeding.

"Having said all that, many mothers bleed heavily within 48 hours after they have taken Mifepristone, even before they are due to take Misoprostol.

"In addition, the majority of mothers who bleed heavily and require blood transfusions have taken both Mifepristone and Misoprostol. The reality is that there is no definite evidence that severe bleeding risk is increased by not taking Misoprostol after Mifepristone. APR per se, using Progesterone, certainly does not increase any risk of heavy bleeding".
---
This piece was first published on Gript.