Despite the rain and snow, the Belfast Rally for Life was lit up by a series of passionate speakers on Saturday – and Down Syndrome rights activist Conor O'Dowd was indisputably the star of the show.
Conor, who hails from Drogheda, is a well-known advocate for the right to life of people with disabilities, and a living witness to the great strides made by people with Down Syndrome in surpassing expectations in education, employment, the arts, politics, and much more.
Last December, Conor's open letter to the Master of the Rotunda Hospital – who had said that 95% of babies diagnosed there were now being aborted – made news across the nation, as he urged policymakers and medics to think about what that shocking statistic meant for his community.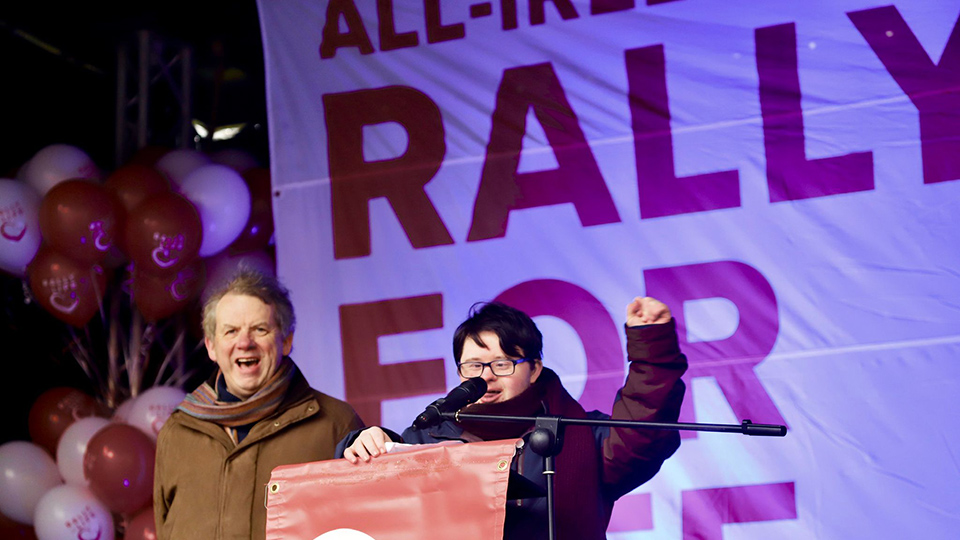 At the Rally in Belfast on Saturday, he told the crowd: "I am here to fight abortion in Belfast today" and urged those present to help protect children with Down Syndrome.
"As you probably know I am 28 and I am a Chef in a hotel in Drogheda," he said. "I did attend college in Newry SRC but now I am a student in Dundalk."
"I love photography. My buddy Jason is now working in a restaurant in Drogheda as well and my other buddy Stephen is working in Google. Keep up the good work!" he explained.
"We do everything – people with Down Syndrome!" he told the Rally to cheers. "We would like to wish that award winning actor James Martin from Northern Ireland all the best in Los Angeles on Monday night."
And he made a heartfelt plea: "We would like to stop those doctors taking away our babies with Down Syndrome."
"Hey doctors, leave those babies alone."
In a tongue in cheek echo of a previous well-known statement, Conor said: "I have a message for politicians. We haven't gone away you know."
He wrapped up by with a powerful message to sustained applause "I say this to the people in Belfast today: I love my life. We are pro life."
Amongst those applauding next to this reporter was a group of young people who described Conor as "brilliant". "He stole the show," they said.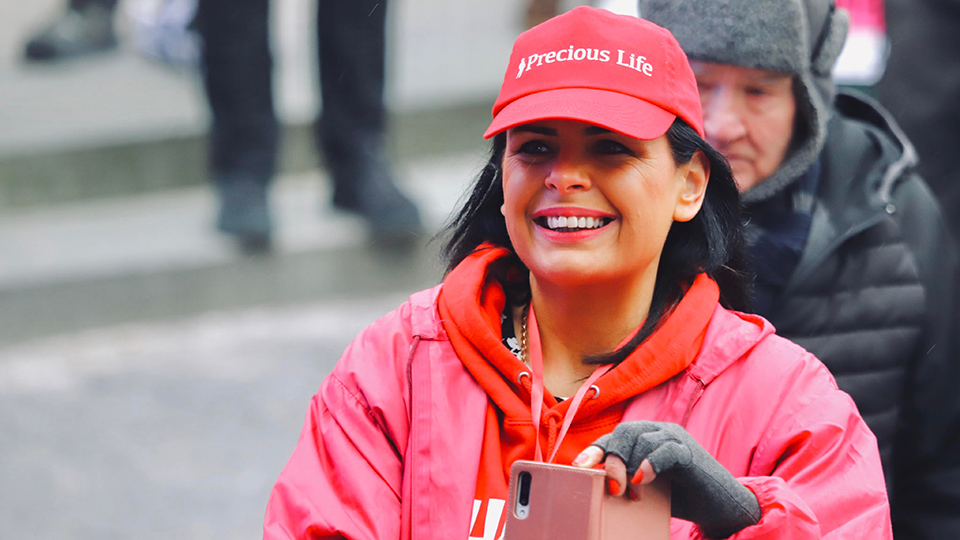 Conor's Dad, Michael O'Dowd, said that one of the greatest lies perpetrated by the medical profession is that prenatal diagnosis of Down syndrome is to help expectant parents cope with the unexpected.
"By creating a technology that can zero in and identify the most vulnerable in the womb, the medical and scientific profession have pocketed millions based on money and profit. Worldwide it was worth over $4billion last year. Its an industry that thrives on creating fear and anxiety in the minds of the parents. And by then offering them the ultimate solution to their concerns," he said.
"How do they do that? They talk about risk factors, they paint the worst possible picture of their future son or daughter and what they can't do, never about what they can do. And as we heard from Conor there is a lot that people with Down syndrome can do. They can lead long , productive and caring lives."
"But the final part of the business model is to offer a solution, an early diagnosis and the phone number of clinics that can terminate the pregnancy," he said.
"It's cynical, it's callous, it's cold blooded , it's grubby. It's Ireland in the 21st Century," he told the Rally.
"But those of us who are pro-life have a different vision for this country. One where all people regardless of ability are welcome, cherished and looked after. When investment is into pre-natal research is used to support and develop the most vulnerable through medical interventions at the earliest possible opportunity."

"Where parents who feel that the burden of raising a child with a disability is too much are given real options and resources so that they can continue their pregnancy."
"But for that to happen we need politicians, political parties and decision makers that are unashamedly pro life. How disappointing it was then that a Bill that would have removed the provision for terminations of pregnancy in the case of non-fatal disability from Northern Ireland's abortion laws was narrowly defeated at Stormont," he said.
"It was particularly disappointing that the SDLP did not as a party support it. They say it was a matter of conscience. They are right. The real issue of conscience is for its members. Can you be a member of a party that does not have a clear view on the right to life of those who have a disability," he told the crowd in Customs House Square.
"How can you support a party that allows discriminating against the unborn just because they have a disability. Your pro- life support is so important today but we need it for every day, Conor and his friends need it 365 days a year."
Bernadette Smyth of Precious Life, the largest pro-life group in the north and the organisers of the Rally, said that in the year of the 25th anniversary of the Good Friday agreement, communities must "call for peace in the womb" in order to "end the violence of abortion".
"This Rally shows the plight of our unborn babies has not been forgotten," she said. "On this 25th anniversary year of the Good Friday Peace Agreement, our politicians must be reminded there can never be true peace in Northern Ireland while unborn babies are being killed."
"We will join with thousands of others to recognise that everyone has a right to life, and a right to be protected from harm, and we cannot say that has been achieved in Northern Ireland when unborn babies are being killed under a law imposed by Westminster," the pro-life leader said.
The Rally also heard strong opposition to new laws to come into effect in May which will criminalise peaceful pro-life efforts at abortion centres, with the laws described as being motivated by "malice and spite against peaceful efforts to offer women a better answer than abortion", by Niamh Uí Bhriain of the Life Institute.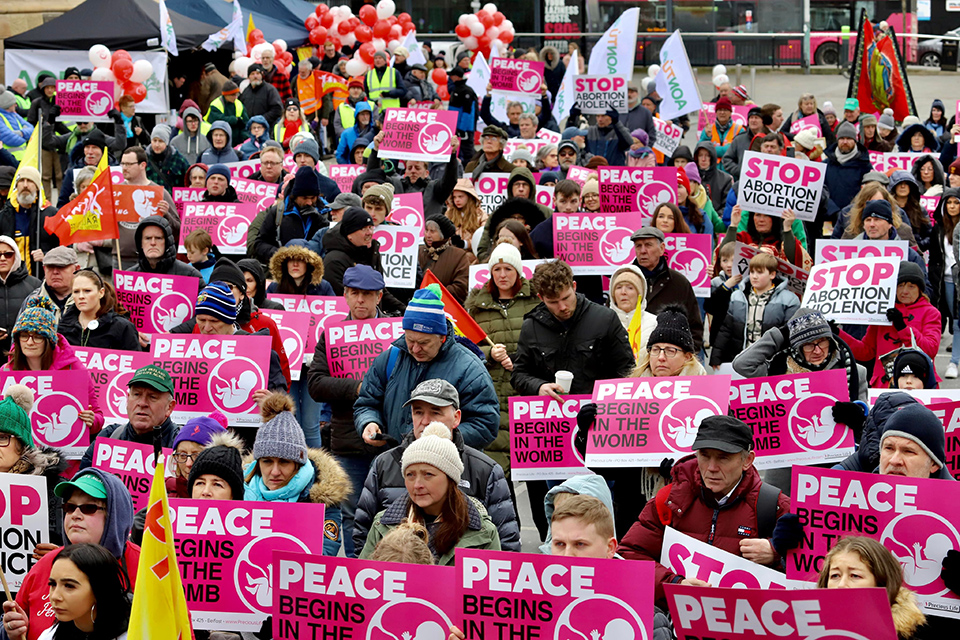 Fr Seán Gough, who was acquitted of all charges after being brought to court because he was praying outside an abortion clinic in Birmingham, told the Rally that such laws "were turning the country into a laughing stock" but that pro-life efforts would continue because 'unborn lives mattered'.
"Do not have fear," he said. "You are standing up for unborn babies."
Gemma Brolly, Deputy leader of Aontú said that it was "a party of people who have the right to life enshrined proudly in their constitution. It is and always will be non-negotiable."
She said that the view that life was disposable needed to be tackled.
"We must educate society, that we can do better. Aontú recently passed motions to this effect, motions which if passed would facilitate maternity benefits antenatally and not just postnatally, which would ensure access to counselling and advisory services as well as other medical services during pregnancy," she told the Rally. "We must educate that 'equality for all' has no exceptions."
DUP MLA for the Stangford constituency, Harry Harvey also attended the Rally, describing the speakers as "inspirational".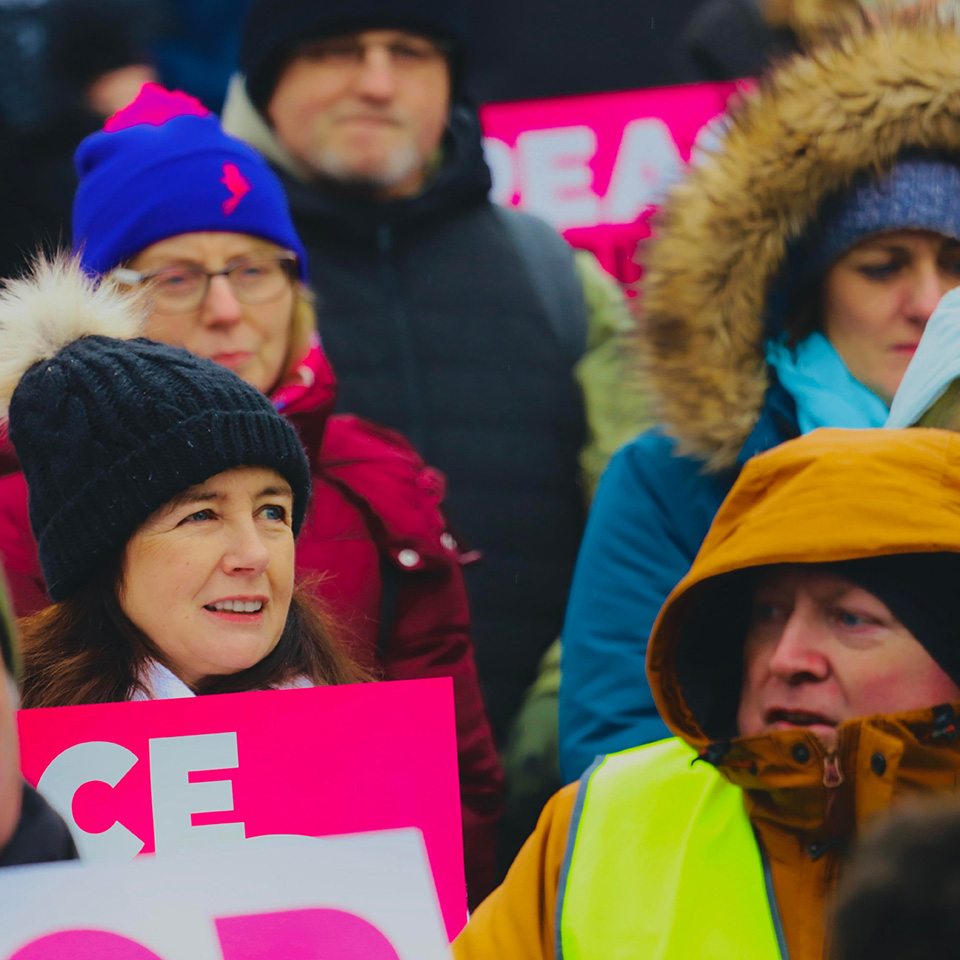 ---
This piece was first published on Gript.