Image credit: Shauna Bannon
When she discovered she was pregnant, then 26-year-old Shauna Bannon felt like her entire world had come crashing down.
The Dubliner was on the cusp of making it big in March 2020, with plans to enter mixed martial arts (MMA) professionally when a pregnancy test came back with two distinct lines: positive. For the immensely talented kickboxer and fighter, the news seemed devastating.
The pregnancy was unplanned. With an acute sense of isolation brought on by Ireland's entrance into a COVID-induced lockdown only serving to compound the situation, the news was hard to absorb.
"It was definitely a shock. I found out at about 8 weeks and I was struggling with it, to be honest. I couldn't accept the fact that I was pregnant," MMA star Bannon, recalling the early days of the pregnancy, tells Gript.
Almost three years on from that day, Bannon has carved out a name for herself as one of MMA's major stars, not only on the Irish scene, but worldwide. Dubbed the most talked about Irish female fighter since the days of Ireland's first ever world MMA champion Aisling Daly, Bannon – or 'Mama B' as she is nicknamed in an ode to her motherhood – has had, by all accounts, an extraordinary year after making her professional debut back in March 2022.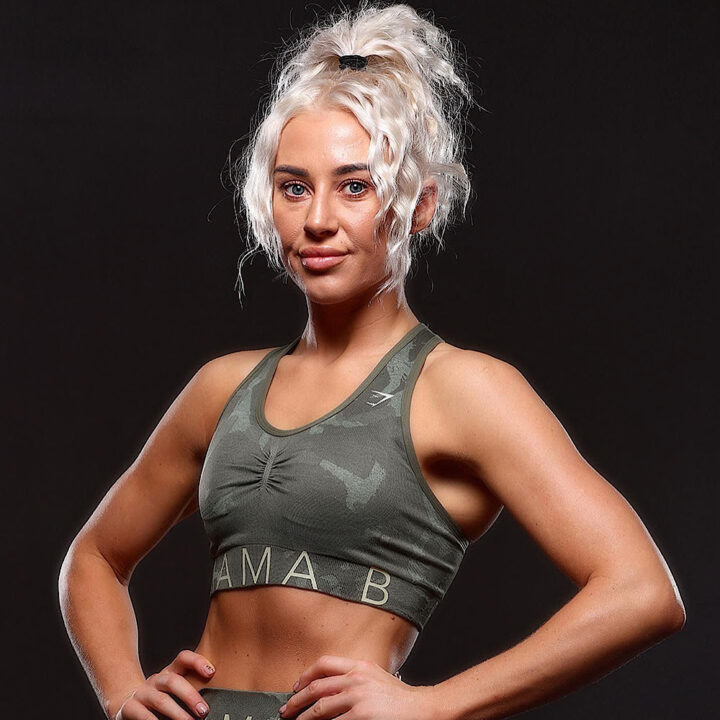 Image credit: Shauna Bannon
Since becoming professional just over one year ago, (four years after starting off in her MMA journey) her rise to fame has been dizzying. Currently undefeated, she is on a ten-fight streak between her amateur career and pro-career. Since March 2022, she has racked up four straight victories – including two wins at Invicta FC, the USA's number one female promotion. Trained by MMA legend Paddy Holohan, the strawweight fighter's string of wins mean she is currently ranked 2nd in the UK and Ireland, 11th in the USA, and 85th worldwide.
Although her MMA career has taken off like a rocket in the last 12 months, Bannon wasn't always so confident her dream of turning professional would come true. Speaking to Gript, she says she feared that becoming a mother would hamper those dreams.
"I had so many goals and things in mind, and I thought that everything that I was set out to do was going to be gone. I didn't think that I would be able to go back to my career," she says.

"You can imagine – you have goals and you want to achieve them – and thinking that's all gone and taken away from you overnight? It was a very hard time for me".
Bannon's last big win, at Invicta FC in the US on 17 March, came just before Ireland celebrated Mother's Day, prompting an emotional and ecstatic Bannon to dedicate her victory to 'all the mamas'.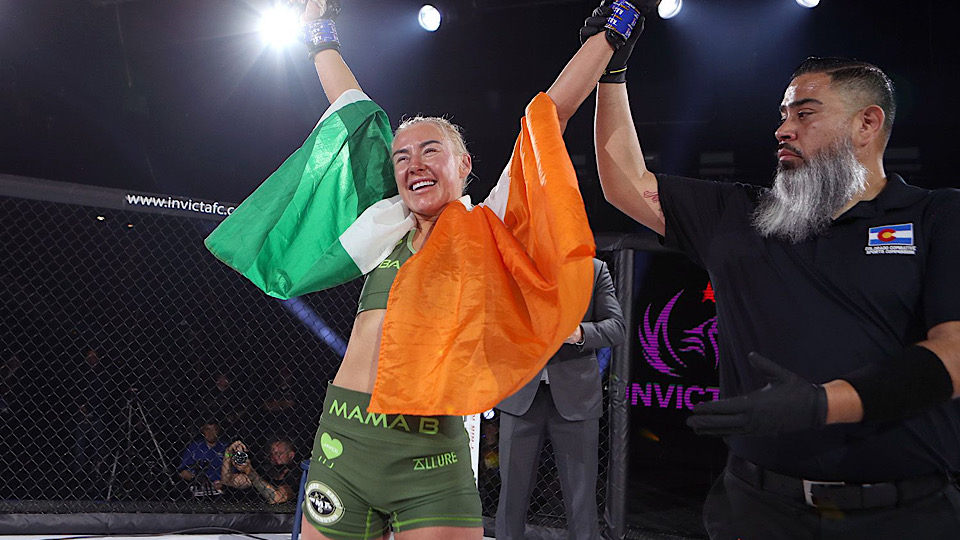 Now she says that motherhood is her biggest motivation. Things have been far from easy, and while the road to success has been paved with sacrifice and sharp ups and downs, Bannon's toughest battle was in accepting she was going to be a mother.
She recalls how she came to the realisation that she was more than likely going to be a single parent, having broken up with her unborn baby's father, compounding the panic she felt.
'I COULDN'T SLEEP THAT NIGHT'
"Because of the breakup, I was finding it all even harder to deal with. It was also so hard because it was at the very start of COVID when nobody really knew what was going on, so it was a very stressful and lonely time."
Living in her nana's spare bedroom, Bannon remembers feeling entirely alone when she reached out to Gianna Care, an organisation which offers free pregnancy support.
In despair late one night, she did a Google search for abortion – but ended up speaking to a client support worker from Gianna Care via a live chat service offered on its website.
"That livechat… I was literally at a stage in my life where I had had a falling out with my mam, I was living in my nana's box room in the height of COVID, on my own.

"And even though I had support and friends around me, I felt so, so alone. It was the loneliest time of my whole life. I couldn't sleep that night. Every thought was going through my head. I did think about abortion.
"I just didn't see how the pregnancy was going to be positive for me. I didn't see any positives in it. I spoke on the live chat to someone from Gianna Care at around two in the morning, and she reassured me and put me in a bit of a positive mindset about it all".
She recently shared about her experience with Gianna Care's live chat service on her social media, describing it as "the chat that saved me".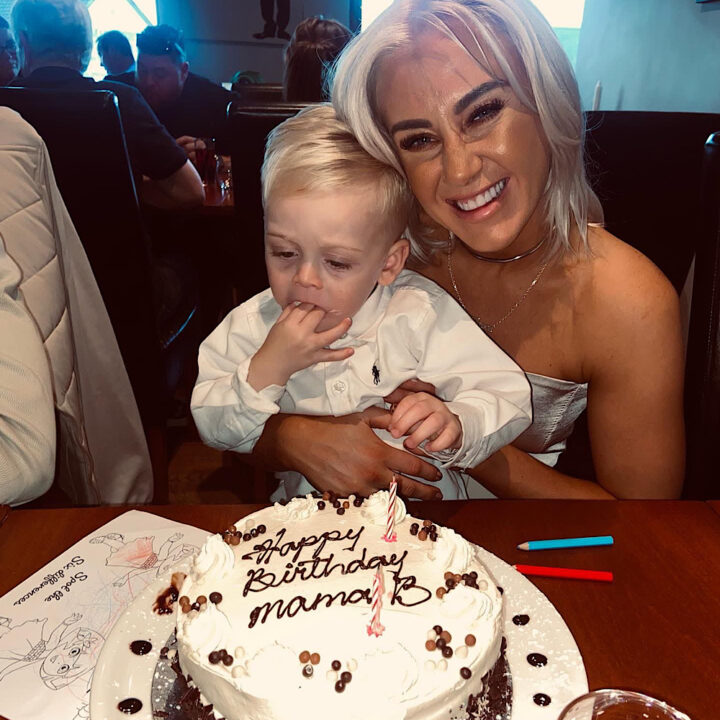 After speaking on the live chat, Bannon met with a client support worker from the organisation, Julia, [name changed to protect confidentiality] in April 2020, with the pair meeting up outdoors and within the 5km restriction enforced under Ireland's lockdown rules. The meeting was to have a profound impact on Bannon.
"[Julia] reassured me and put me in a bit of a positive mindset until I got out to meet her. After the first time meeting her, I knew I didn't want an abortion. I had so many things going on which were making me not want to be pregnant. It was just everything going on in my outside life – the breakup, the arguments with my mam, the living in my nana's box room, and the uncertainty of so many things – but speaking to Julia, I felt so much more confident.
"She was so reassuring. She wasn't forceful in any way. She just gave her honest and genuine opinion. Her being so genuine made me come to the realisation of what the real answer was for me. That support and kindness was what made everything click with me when it came to the true decision I wanted to make.
"Before, I was so panicked with everything going on, but talking to someone who was, I suppose, an outsider, made me see things in a different way.
"She just really reassured me and pointed me in the right direction, even though at that time, things were very lonely and intense in my life, which was all over the place at the time and made worse by lockdown."
'IT CHANGED MY LIFE'
Bannon's meeting with the volunteer from Gianna Care in a park in Dublin came just after her first professional MMA fight.
"That first meeting in the park was when she just changed my perspective on everything. From the second I met Julia, I could tell that she just wanted to help me, that she was genuine.

"I had a lot of trust in her as a person and this just grew. I genuinely wouldn't be where I am today if it wasn't for her and the support of Gianna Care.
"I'm so grateful that Gianna Care was there to support me at that time during the night, and that, in the height of COVID, they were still able to come out to meet me in parks and in the outdoors where it was safe to do so."
That support continued throughout the pregnancy, up to when her little boy Jayce was born, and still continues to this day.
"To this day, Gianna Care still supports me, and I still go out to meet Julia. I was only with her last week for breakfast," she laughs.

"I am so, so grateful for them and it's something that I will always remember. It's an organisation that, hopefully when I make it big, I'll be able to put back into it because it changed my life".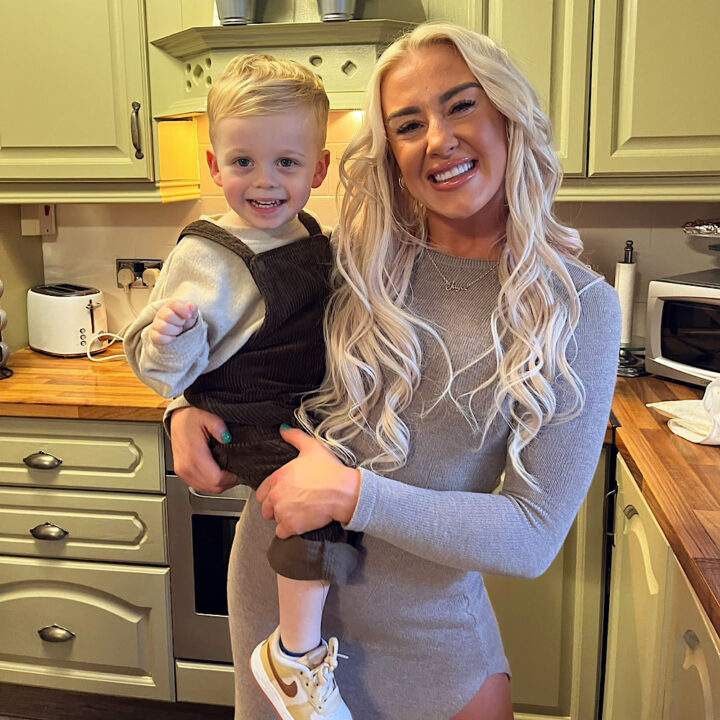 Image credit: Shauna Bannon
'MOTHERHOOD IS A SUPERPOWER'
Bannon says she feels that pregnancy and motherhood, and the strength and resilience which comes with it, is something which is "brushed by so often". In reality, she says that motherhood is her superpower, regardless of the message society sends about motherhood.
"I know that for me, because I was a single mother having broken up with Jayce's dad – as well as the fact it all happened during lockdown – I felt very alone. I didn't feel empowered by my pregnancy. This is something which I think all women should feel because you're growing a human being. I just don't think this is spoken about enough.
"You're actually growing a human being inside your body, and I don't think that this gets the recognition it deserves".
'HE IS MY GREATEST MOTIVATION'
Bannon, whose son Jayce will turn three in November, says the little boy is "100% my main motivation" despite growing up as someone who was fiercely motivated from a young age.
"He is 100 percent my main motivation. Since he's been born, my whole mindset has just totally shifted. I've always been very determined and focused, but I think I'm just at another level now. I have no time for any distractions or negativity because my main focus is on Jayce and on my career.
"I've definitely become more laser-focused since I've had him. Since he was born, I've had ten fights [five pro and five amateur] and I've won them all, meaning I'm undefeated as a mother, hence the name 'Mama B'".
She jokes about how an MC announcing a fight coined the nickname. "It just stuck," she laughs.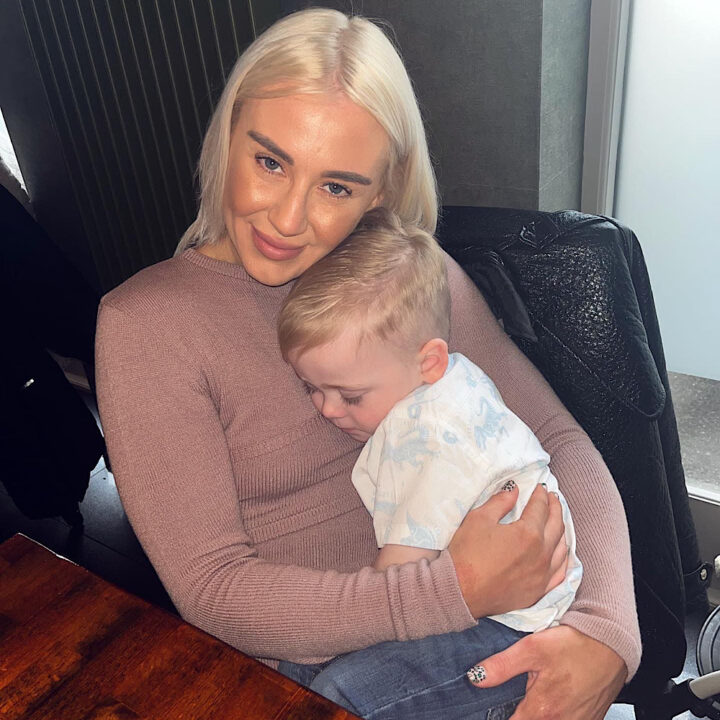 Image credit: Shauna Bannon
"Jayce is literally my world. Some days are tough, say if I've had a sleepless night and I was awake loads, then I might be wrecked having to go to training that morning. But I look at Jayce and I know that what I'll do in the next few years is going to change his whole life, so it gives me such a focus which I don't think you can get from anywhere else. I think mothers just have a different instinct and drive in them once they become mothers.
"I don't know how to explain it, but you're different. You change as a human for the better. You'd do anything for your kids. So, I think having them has definitely benefited my fight career 100 percent".
Bannon, who grew up in Tallaght, has lived there her whole life. She has one sister who is five years younger than her, who is also into kickboxing. Growing up, her dad introduced Shauna and her sister to kickboxing. He opened up his own kickboxing gym – Tallaght Martial Arts – in 1993, the year Shauna was born.
"I got into martial arts straight away. I started the classes when I was three, and I was always practising with my dad from a very young age. I grew up kickboxing, and it's been a huge part of my life. I competed internationally from a young age, and nationally at an even younger age. Martial arts has been a huge part of my life so far, and I think it always will be."
'BEING AN ATHLETE IS TOUGH – THERE HAVE BEEN UPS AND DOWNS'
Speaking about her journey to becoming the 'one to watch' in the world of professional female MMA, Bannon says that kickboxing was a stepping stone for her entering the Olympics. She started Taekwondo at age 23, competing at international tournaments – including the World Championships in Korea – but says that while her achievements at international level set her in good stead, she had no real love for the sport.
"There was no passion there," she says. After leaving the sport, and deciding she did not want to return to kickboxing, Bannon says she fell in love with MMA after just one class after being convinced to give it a go.
"I fell in love straight away. I knew it was something I knew it was something that I wanted to do professionally and go the full way in. I think I was able to express myself truly as a martial artist. In MMA, there are so many different aspects to it with the striking, the wrestling, the grappling, the judo. There's just so much going on and you're constantly learning. It gives me life really. I love it," she says.
On her advice for other young athletes, she insists balance is important – and says her own journey has been filled with ups and downs.
"It wasn't all good," she recalls. "There were ups and downs throughout the years. There were times when I overtrained and I did too much, especially in kickboxing, where I became too obsessed and it led me to almost hate the sport.
"Now I've found a happy medium, with a balance, so I can still have a social life and not have to diet the whole time. It's a tough life being an athlete and it's not something that's done easily. The buzz is amazing, and the wins are amazing, and so is being able to travel the world, but the sacrifices in the lead up to all of that are huge. You have to miss family events, or holidays, or going out for a meal because you are cutting weight. You have to be incredibly disciplined, but all of the sacrifices are worth it."
"All of the early years of hard work are definitely paying off in these later years, which I hope are going to be the years that will change my life completely. I am making money now, at last, which means I can change my life and I can change my son's life. Because of Jayce in particular, I have such a motivation to really make it in MMA and to go the full way".
Bannon also says that getting involved in sports is crucial not only for young children, but can be fundamental in building confidence in adults too.
"It is so important in my eyes for young boys and girls to get into sports," she says. "With so much madness in the world, I think its very important for self-defence and to build confidence. The confidence factor is huge. The confidence that martial arts brings out in young kids and even adults – when people start it in later life – the confidence that it brings out in people is unbelievable," she says.
"I've seen martial arts change so many people's lives. I really really really would recommend it to any mothers or fathers with young kids – to get their kids into whatever it is, be it judo, karate, kickboxing, jujitsu, whatever it is, just do it".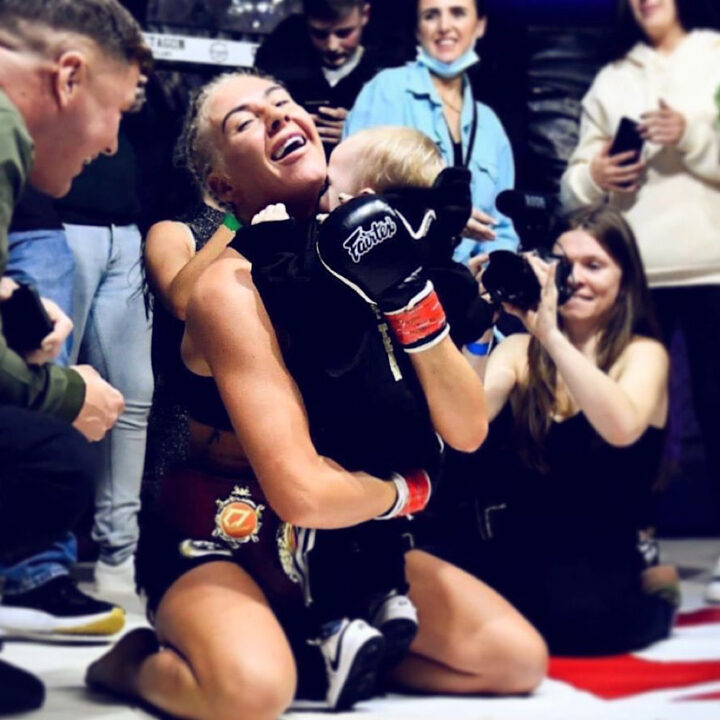 'GIANNA CARE LITERALLY CHANGED MY LIFE'
We also asked her about what she thinks about the Government's efforts to restrict the reach of crisis pregnancy centres. Bannon's response is one of shock and disappointment.
At the end of March, Gript reported on how almost €1 million has been spent by the Health Service Executive (HSE) on advertising abortion through its official 'My Options' helpline since 2019.
In response to a Parliamentary Question (PQ) from Independent TD Carol Nolan in February, in which the pro-life TD asked for a breakdown of spending on advertising campaigns related to abortion provision, the HSE said it had spent €95,071 on advertising its official abortion helpline in 2022 alone.
"I did not know that," says Bannon.
"Why would they not want support centres like Gianna Care to come up on the Google search? That's insane. For me, it hits a nerve. Because I was searching for the options relating to abortion, and Gianna Care came up with that search. So, for that to be changed is ridiculous because Gianna Care literally changed my life.
"If that didn't come up that day and I didn't link in with Julia and didn't go out and meet her, I might not have Jayce now," she says. "I don't know, but there is a possibility I could have gone ahead with abortion. For these centres to be hidden from other women is unbelievable," she says.
'IT MIGHT FEEL LIKE THE END OF THE WORLD'
Asked for her advice for women and couples who find themselves in an unwanted pregnancy, she encourages women to look for support, and not be afraid to ask for help.
"Everything always works out in the end," she says. "I thought that my life was over when I found out I was pregnant. The shock that I was in; I think I was in shock for weeks. I don't think it was a case of me being in shock for like the day – it was weeks. And then, the more I got into it and started enjoying it and accepted the pregnancy, I ended up enjoying the end of the pregnancy a little bit.
"My life has changed since Jayce was born. I've never been as happy as I am now with him in my life. I don't even remember life before him. I think even an unplanned pregnancy, you always make it work – everything will always work out in the end.
"There are so many facilities and help out here that you don't even know about. My advice would be to just ask questions and ask for help.

I was stubborn – I didn't ask for help at the start. I would say to ask for help, and I'd also say that your baby becomes part of your life and part of your routine. Your child will become part of your everyday life and will bring you so much happiness."
Bannon says that while some days are tough, the joy of motherhood overcomes the hard times.
"Yes, some days are tough, I'm not going to lie," she says. "Some days are tough, but then after those tough days – when you look back on them and you've overcome them — moments like hearing your little boy or your little girl saying 'mammy' or whatever it may be, there is nothing like it.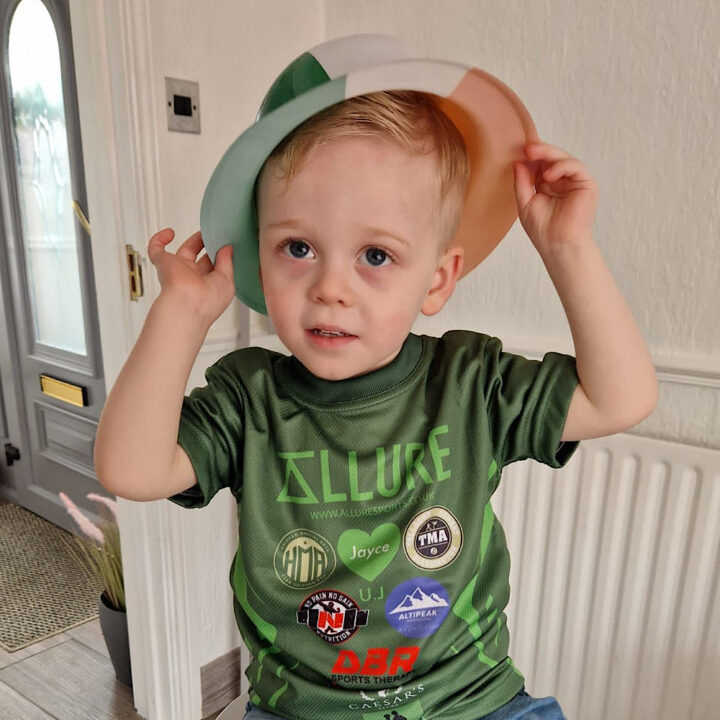 "Coming home and seeing my son happy is the best feeling in the world – nothing tops it, and I don't think you can actually explain it, it's just feeling it. Yes, you might feel like it's the end of the world, but honestly, everything always works out in the end."
To find out more about the work of Gianna Care, visit giannacare.ie.
---
This piece was first published on Gript.