6000 posters and billboards to show "horrific" reality of abortion bill
21 July 2013
Pro-life groups have launched a major national campaign which they say will highlight the horrific reality of the abortion proposal currently before the Dail.
6000 posters and billboards designed by Youth Defence will be used nationwide to explain that, under the bill, abortion would be legalised until birth, that the government is ignoring the evidence of medical experts who agree abortion is not a treatment for suicidality, and that the Bill will allow the lives of unborn babies to be ended.
Spokeswoman Clare Molloy said that the information campaign aimed to radically increase public awareness of what was contained in the Bill.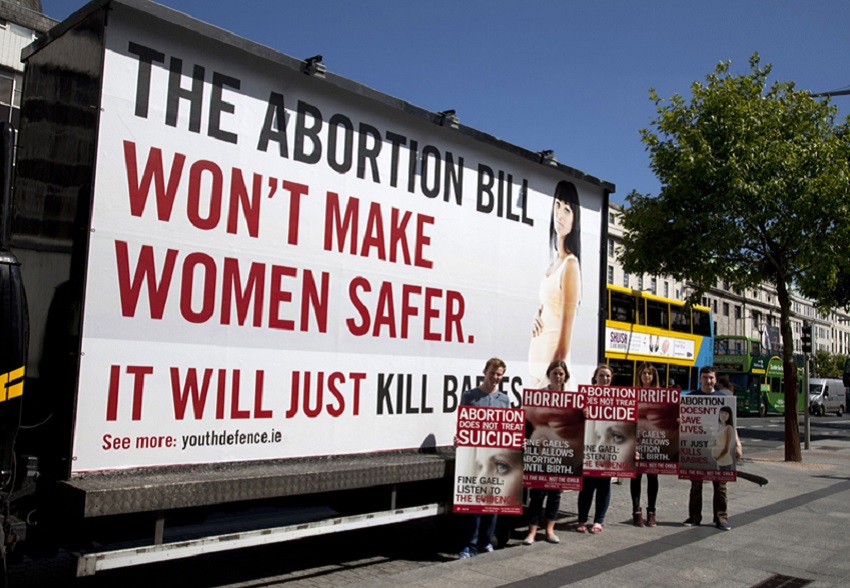 "The Irish people have been listening to spin from an Taoiseach and his Cabinet on the Bill for the past six months, but now we have the legislation and the reality is pretty horrific: abortion until birth, forcing doctors to deliver babies prematurely, using abortion as a treatment for suicdality against all the evidence; this Bill is bad for women and bad for children," said Ms Molloy.
Life Institute spokeswoman, Niamh Ui Bhriain, said that local newspaper adverts reaching every constituency and a nationwide leaflet were also being rolled out by Life Institute in conjunction with Family & Life, and that the combined campaigns would lead to an informed public debate.
"People deserve to know the truth about this Bill, and there is already growing unease at what the legislation contains and what it means for medical practise in Ireland," she said. "There is also huge concern at the obvious bullying of people of conscience within Fine Gael, and Enda Kenny is doing himself and the party no favours by displaying such and arrogant attitude in ignoring the medical evidence to push through abortion."
"As the government slashes health spending and closes hospitals, it also is arrogantly legalising abortion on spurious grounds. Instead of ensuring that both mother and baby are safe, this Bill wants to begin the medieval practise of offering abortion as a solution to a woman in crisis. This is a cruel, archaic and unacceptable Bill. It should be abandoned. Mothers and babies deserve better," she said.
The expected reach of the campaigns will come to more than 7 million impacts over the next three weeks.
End
See the billboards here...