The Life Institute has said that the decision of advertisers not to run with billboards from Newstalk radio can only be attributed to the behaviour of pro-abortion campaigners.
Niamh Uí Bhriain said that the harassment advertisers said they had endured when carrying billboards on abortion could only have come from pro-abortion campaigners because only pro-life billboards had been produced in Ireland to date.
Newstalk today reported that two of the country's largest outdoor Clear Channel and JC Decaux refused to carry a billboard advertising a debate on the 8th amendment because the advertisers said "it may inflame opinion to the extent that it leaves their plant, property and sites vulnerable to damage."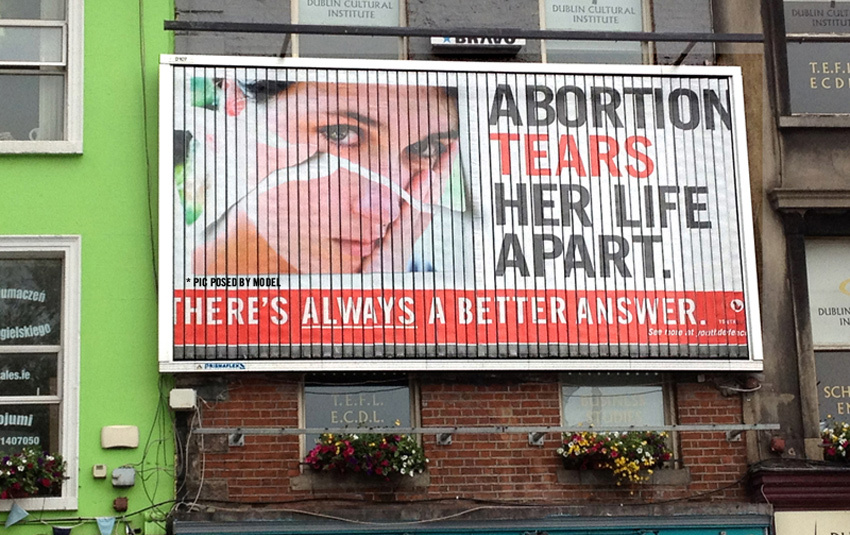 The Billboard Campaign in 2012 which saw billboards being damaged by abortion extremists
---
The advertising agencies said that their staff had suffered personal harassment from various groups in previous outdoor campaigns relating to this subject matter. The billboards proposed by Newstalk featured an ultrasound of an unborn baby with the words: Time to terminate the 8th?
Ms Uí Bhriain said that it was clear that the "extreme and often hate-filled reactions of pro-abortion campaigners was aimed at stifling free speech and an open and honest discussion on abortion.
"The last major billboard campaign with a pro-life message was a major success, but was attacked by pro-abortion campaigners who tried to graffiti posters, rip down billboards and abuse advertising agencies simply because they feel they have the right to censor pro-life views," she said.
"These are the same people who scream abuse and fire missiles at pro-life rallies – they are bullies, plain and simple," she said. However, Ms Uí Bhriain said it was 'ironic that Newstalk had its billboard refused since the station was acting hand-in-glove with abortion campaigners most of the time". She added that pro-life activists were not "remotely cowed" by the bullying tactics of abortion campaigners and were currently rolling out a nationwide grassroots action which would have a major impact on voters.