Simon Harris has become a darling of the progressive media, and these members of the media seem to be rewarding Simon for his enthusiasm for legalising abortion by absolving him of any blame or criticism from the ever-worsening state of the Health Service.
This was the state of play for months, in order to avoid upsetting the blessed referendum, but what has become a media 'repeal shield' still seems to be in place. Harris, presiding over a health service where people are dying for want of critical care, is being given a pass by the media.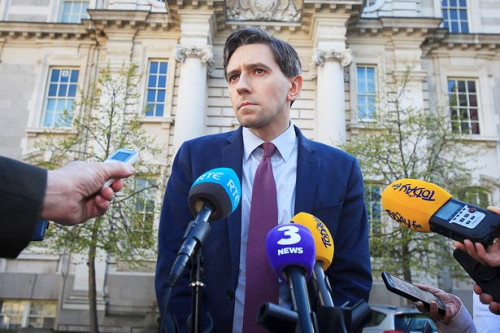 In fact, the situation has apparently now gotten so bad that Pat Leahy, political editor of the Irish Times has been moved to write an article that explicitly says that Harris' "handling of the abortion referendum is insulating him from criticism about the state of the service over which he ultimately presides."
This is at a time in which the health service of this country is in absolute disarray, with now nearly 1,000,000 people, or roughly 20% of the Irish population, now on a hospital waiting list. A figure which is as striking as it is surreal for a modern, Western country.
Harris is also Minister at a time in which Ireland seems to be moving into a full blown prescription opioid crisis, of the type which kills between 35,000 – 40,000 Americans a year. Dr Emmet Kerin, president of the National Association of General Practitioners, has said: "We are definitely overprescribing. We've all seen what has happened in America, so we can't be complacent. The figures are fairly stark." What is being done about this? As far as we can see nothing is being done about this. The media is certainly not pressing Harris on it.
And the dysfunction of the health service goes way, way beyond that. Susan Mitchell in the Sunday Business Post has shown that roughly 300 people a year die totally avoidable deaths because we do not have enough beds for seriously ill people in our hospitals, and Dr Tom Ryan, the head of the Irish Hospital Consultants Association, has said that doctors are 'rationing life support for patients'. That is 300 people who die purely because of mismanagement of the HSE, which Simon Harris is tasked with overseeing.
And yet the media, barring one or two serious journalists like Susan Mitchell, is letting Simon Harris entirely off the hook. We need to be clear here, Simon Harris is the Minister in charge of a absolute shambles where people are dying for the want of care, yet the media can't say a harsh word because Harris is the man who delivered abortion, for them.

Hear more on this subject on The Right Side, a new political and news podcast focusing on Ireland from a right-wing perspective, recently did a show on this issue, highlighting the Leahy article and the massive issues with the Irish health service that go basically unreported.
The episode can be listened to here: https://soundcloud.com/therigh...