Peadar Tóibín, TD, Leader of Aontú, is Keynote for Global Leadership Forum. Live Webinar & YouTube Event will feature Distinguished Special Guests This Wednesday, Dec 09, 7:00PM (New York Time); 12 Midnight (Ireland)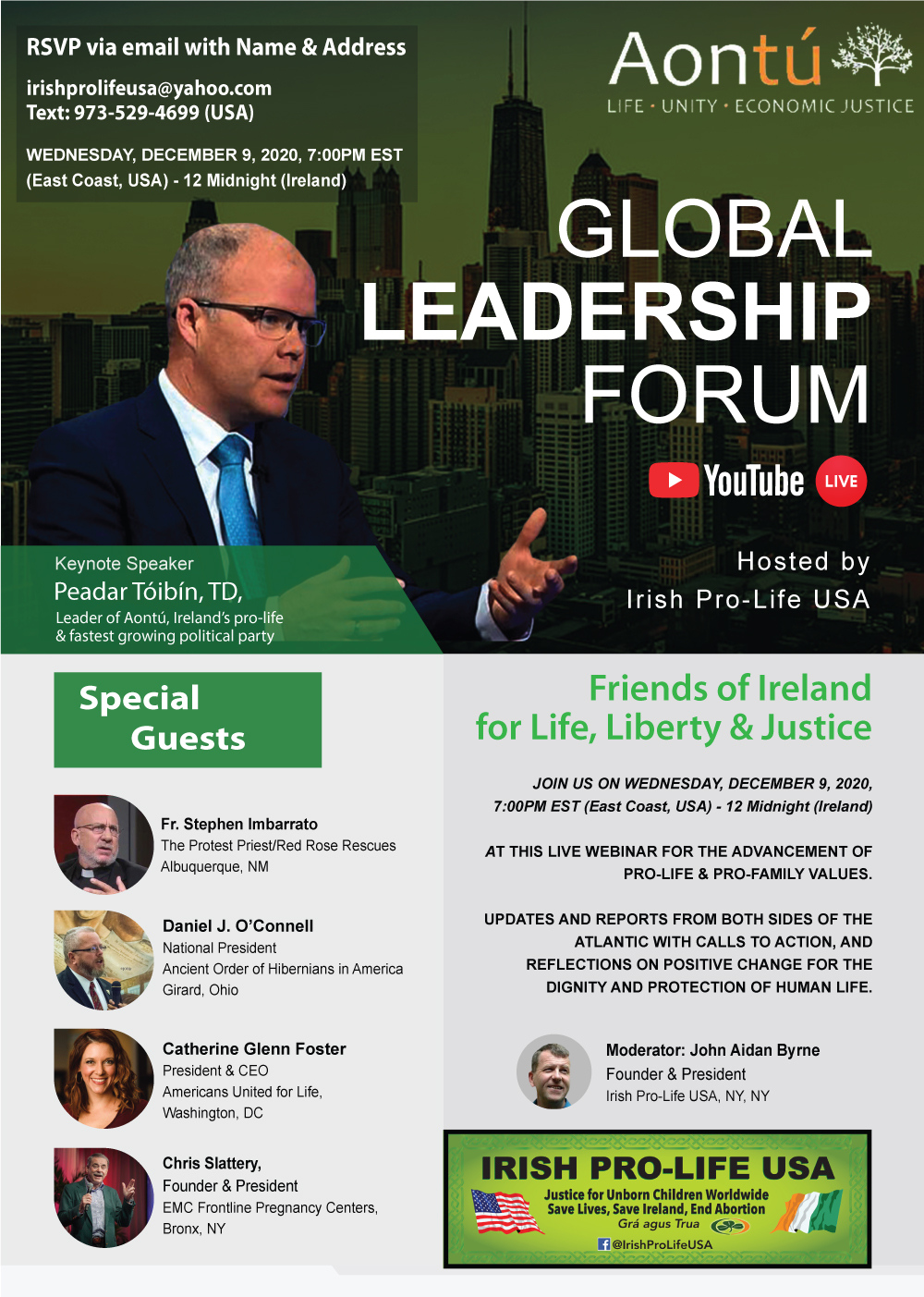 Peadar Tóibín, TD., leader of Aontú, an Irish lawmaker widely respected by Ireland's diaspora, is the keynote speaker at the Global Leadership Forum, a live webinar and YouTube event this Wednesday, December 09. The Forum, hosted by New York-based Irish Pro-Life USA, the non-profit and non-political pro-life group, goes live at 7:00PM EST (New York); 12 midnight in Ireland.
"We are very pleased to welcome Peadar and our special guests as we focus attention on matters of mutual interest to the people of Ireland and its vast diaspora, in particular the legal and moral protection of human life from the moment of conception until the natural end, with proper care for the weakest and most vulnerable everywhere in our societies," John Aidan Byrne, founder and president of Irish Pro-Life USA, who will moderate the Forum, said in a statement.
This unique online public event is supported by "Friends of Ireland for Life, Liberty & Justice" in the United States for the advancement of pro-life and pro-family values. Tóibín has a large following in Irish American circles across the United States, garnering major support among the leadership and ranks of fraternal groups such as the influential Ancient Order of Hibernians (AOH). Aontú is a pro-life party with a recent poll showing a doubling of Aontú support since Ireland's last General Election. That would translate into more elected members at the national and local level for this relatively new party, say analysts.
Special guests on Wednesday include Daniel J. O'Connell, National President, AOH, Girard, Ohio, who this summer succeeded Judge James McKay, Louisiana, for a two-year term of office. O'Connell is a popular Irish American activist, who has regularly taken strong positions on Irish affairs, recently even attacking Amazon in the US, for shamelessly promoting "bigoted" Irish stereotypes in its merchandize sales.
The other special guests:
Catherine Glenn Foster, President & CEO, Americans United for Life (AUL), Washington, DC. Foster has litigated precedent-setting § 1983 and other constitutional questions in the US, abortion and maternal health, health and safety regulations, False Claims Act healthcare and Medicaid fraud, euthanasia and assisted suicide, denial of medical care, First Amendment rights, genetic engineering issues, Freedom of Information Act and open records issues, and healthcare and corporate conscience protections. AUL's legal strategists have been involved in every pro-life case before the U.S. Supreme Court since Roe v. Wade.
Chris Slattery, Founder & President, EMC Frontline Pregnancy Centers, Bronx, NY. Slattery launched his Expectant Mother Pregnancy Centers in mid-town Manhattan in 1985 in support of pregnant women and women in need with real alternatives to abortion. Slattery pioneered the use of onsite ultrasound and pre-natal care in a crisis center in the mid-80s, along with other pro-life innovations. A native New Yorker proud of his deep Irish roots, Slattery was the confirmation sponsor for the late Dr. Bernard Nathanson, the former abortion doctor who became a high-profile pro-life advocate. Slattery was awarded the Champion for Life award by John Cardinal O'Connor.
Fr. Stephen Imbarrato is known as the Protest Priest for his pro-life activism, and high-profile work at Red Rose Rescues. The Sante Fe, New Mexico-based Catholic priest has founded Crisis Pregnancies Centers that are still saving babies today. Fr. Stephen's pro-life ministry has involved post abortion healing for women and men. He has preached on EWTN regularly, cohosting EWTN's weekly Defending Life Show. In recent times, Fr. Stephen has visited Ireland, where last year he conducted pro-life talks at gatherings in different parishes. Fr Stephen has applied for Irish citizenship through his maternal ancestral roots, to strengthen his ties with Ireland.
"At a time when the government in Ireland is reaching out with determination to the diaspora in our interconnected global community," said Byrne, "we are delighted to offer this platform for Peader Tobin and our guests." Added Byrne, a native of Louth, living in the United States, and a dual citizen of Ireland and the US: "This Forum is a platform to express and promote the pro-life values of the diaspora and defend human rights in all its manifestations."
LINKS FOR FORUM HERE
https://zoom.us/j/97576118451 zoom
https://youtu.be/KIFp15lCK1U youtube
Phone
1-646-558-8656 USA
353-6-163-903 Ireland
Mtg ID 975 7611 8451
Join our Cloud HD Video Meeting
Thank you!