The Life Institute is urging pro-lifers to use a new leaflet advertising the Rally for Life to also get as many people as possible to contact TDs to ensure that the 3-day waiting period of reflection is retained in Ireland's abortion legislation.

Recently, the Life Institute ramped up their "keep the 3-day wait" campaign, particularly as it was revealed by Health Minister Stephen Donnelly that over 8,500 abortions occurred in Ireland in 2022 alone – a 25 % increase from 2021.
However, statistics from the HSE reveal that around 1,000 babies are saved from abortion every year due to the 3-day waiting period of reflection.
In a bid to support this campaign from the Life Institute, the new Rally for life leaflets remind pro-lifers of the need to ensure our TDs retain the 3-day wait, so that it can continue to save babies in our country from abortion.
Niamh Uí Bhriain of the Rally for Life Committee said that many thousands of promotional leaflets for the Rally were given out each year - and that it offered an opportunity to also urge the public to call TDs on an urgent issue.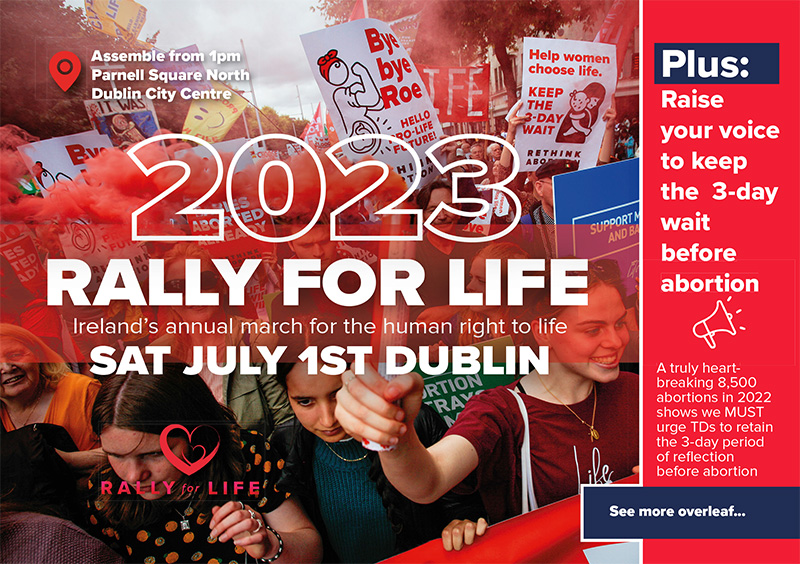 "Join thousands at the biggest and most EXCITING pro-life event of the year - the All-Ireland RALLY FOR LIFE – as pro-life people from across the country join together to Stand for Life," the leaflet begins.
"We're marching to demand the government acts on the heartbreaking abortion numbers – 8,500 abortions in 2022 alone. And to insist that the 3-day wait period which may save up to 1,000 babies a year be RETAINED," it said.
The organisers also called for the public to remind their TDs of the promises made during the abortion referendum that led voters into repealing the 8th, and to hold them to their promises.
"The 3-day wait MUST be retained. It gives women time to think and can save up to 1,000 lives a year," it added.
"As reported in the media TDs are now acknowledging that a promise to have a 3 day wait was made in 2018," it said. "So NOW they need to hear from YOU to keep that promise".
Life Institute recently reported that their campaign is having a positive impact on how politicians are approaching this aspect of the abortion law.
"Leo Varadkar has stated that he is "uncomfortable" and "reluctant" to accept changes pushed by pro-abortion supporters, whereas sources say that other senior Ministers in the Cabinet have said that they are nervous of voter reaction, and that Fine Gael would be seen as "reneging" on 2018 promises," they said. "Even Health Minister Stephen Donnelly, an abortion enthusiast and one who has recently pushed for abortion to be more accessible across the country, has said that voters in 2018 "understood it would include a three-day wait" for abortion."
It was recently announced by organisers of the Rally for Life that the theme for this year's Rally is "Stop aborting our future".
"This theme is to serve as a reminder for the government that Protecting Children is Protecting the Future, and that we need to offer women REAL choices, not abortion," they said in a public post.
The Rally for Life 2023 will assemble at 1pm on Saturday 1st July at the Garden of Remembrance on Parnell Square in Dublin city centre and organisers are urging pro-lifers to "come and celebrate life" and to "be a voice" for all the babies in danger of abortion each year. More information can be found on the campaign page here.
Organisers of the Rally for Life have asked their followers to help promote the upcoming Rally by ordering and distributing leaflets within their local communities or parish churches. Anyone who would like to order leaflets, please contact info@thelifeinstitute.net or 01 8730465.