Developments in fetal surgery
First case of Fetal Surgery
Fetal surgical techniques using animal models were first developed at the University of California, San Francisco in 1980.

In 1981, the first human open foetal surgery in the world was performed at University of California, San Francisco under the direction of Dr. Michael Harrison. The foetus in question had a congenital hydronephrosis, a blockage in the urinary tract that caused the bladder to dangerously extend. To correct this a vesicostomy was performed placing a catheter in the fetus allowing the urine to be released normally. The blockage itself was removed surgically after birth.
He was born on May 10, 1981, at UCSF Medical Center. Nearly 24 years later, he returned to his birthplace for an emotional reunion with Dr. Michael Harrison, the surgeon who saved his life before he ever drew a breath. Rosa Skinner was seven months pregnant at the time. Inside her womb, Michael lay next to his twin sister, Mary.
"The twin sister posed an ethical dilemma. We were just in agony at the time,'' Harrison recalled. The surgery to save Michael posed a danger to the girl, who was otherwise healthy. After he consulted with university ethicists, the decision to operate was cleared.
Today, Michael is possibly headed for a career in nursing. Mary is flying in the U.S. Air Force.
Read more on the story here...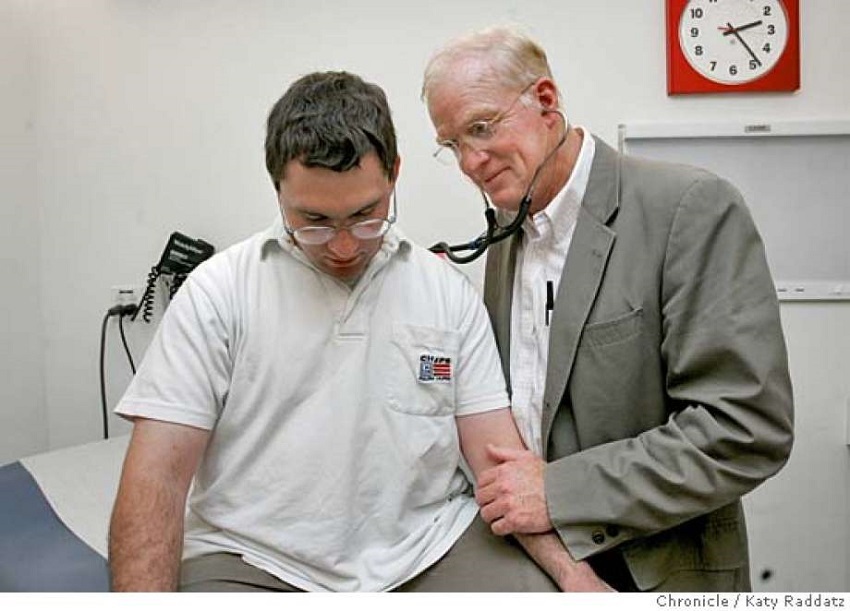 Michael Skinner has his lungs checked by Dr. Michael Harrison, who operated on him in his mother's womb. Chronicle photo by Katy Raddatz
---
My baby had an operation in my womb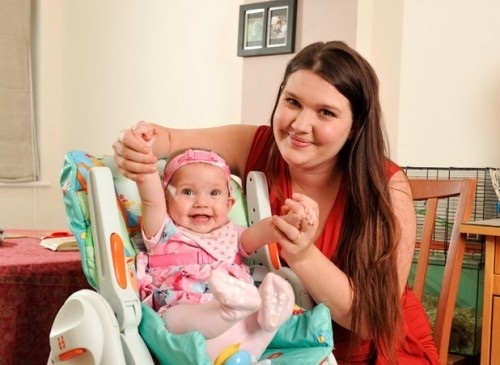 Sarah Rollings was devastated to learn her baby had a life-threatening condition. The only way to save her was surgery – before she was even born. It's every pregnant woman's instinct to protect her baby from all possible harm. So when Sarah Rollings was told her unborn child had just a 10 per chance of surviving and the only way to increase those odds was through an operation while her daughter was still in the womb, she faced the toughest decision of her life. However, Sarah, 34, and her husband Luke made the brave choice to go ahead with the surgery – and it worked. Baby Hope survived the pregnancy and was born in March 2013.
---
Further Advances
Further advances have been made in the years since this first operation. New techniques have allowed additional defects to be treated and for less invasive forms of fetal surgical intervention such as fetendo and fetal image-guided surgery.
It was reported in The Times in October 2006 that pioneering surgery was being carried out on babies in the womb at King's College hospital in London, led by Professor Kypros Nicolaides. Prior to this surgeons had to cut open the womb to operate on the baby. Now, microscopic instruments are used in what is effectively "keyhole surgery".
In Queen Charlotte's and Chelsea hospital in London, doctors carried out the first operation on a foetus to create a hole that was missing in the wall of the heart. Surgery on the organ, which was the size of a small grape, allowed blood to flow between two chambers.
In a another procedure pioneered at the hospital, similar to angioplasty in adults, a wire with a "balloon" on the end is fed through the mother's stomach wall and into the womb. Using this method, the team, led by Dr Helena Gardiner, a fetal cardiologist, have removed blockages in valves in the hearts of several unborn children over the past four years.
Hospital episode statistics for England show that in 2006-07, 192 operations were performed on a fetus in National Health Service hospitals in England.
There are promising scientific developments in this area.
---
Fetal surgery on babies with Spina Bifida
Spinal bifida babies who are operated on in the womb are far less likely to have complications than babies operated on after birth, according to a study published in the New England Journal of Medicine in early 2011.

"This is a huge game-changer for fetal surgery," said Dr Diana Farmer, lead author of the study. "This study shows it can be done pretty safely, and it will open the door for other patients and other diseases. It really does validate the original hypothesis, 30 years ago, that you could improve the outcomes for these children if you operated on them before birth."
The babies were operated on between 19 and 26 weeks into the pregnancies.
---
Lynlee - The baby who was born twice
At 23 weeks, LynLee Hope underwent a crucial operation and was returned to her mother's womb. LynLee healed and continued to grow until she was born at 36 weeks.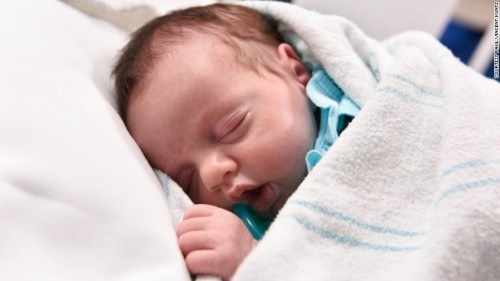 "Some of these tumors can be very well-tolerated, so the fetus has it and can get born with it and we can take it out after the baby's born," said Cass. "But about half of the time, they cause problems for the fetus and it's usually causing problems because of a blood flow problem."

Cass explained that the tumor is trying to grow by sucking blood flow from the baby, yet the baby is also trying to grow, too "so it becomes a competition."

"And in some instances, the tumor wins and the heart just can't keep up and the heart goes into failure and the baby dies," said Cass.

With a large tumor stealing the blood supply, Boemer's fetus was becoming more ill each day, doctors explained to the expectant mother. Something had to be done.

---
Links
A Randomized Trial of Prenatal versus Postnatal Repair of Myelomeningocele, New England Journal of Mediciine, 9 February 2011
Study: Surgery in womb helps babies with spina bifida, Washington Post, 9 February 2011
Study vindicates UCSF fetal spine surgery, San Francisco Chronicle, 9 Feb 2011