Premature birth
Is the birth of a baby before the standard period of pregnancy is completed. It is usually considered when the baby is born sooner than 37 weeks after the beginning of the last menstrual period.
The shorter the term of pregnancy, the greater the risks of complications. Infants born prematurely have an increased risk of death in the first year of life, with most of that occurring in the first month of life. W
While a premature may appear to be a smaller-sized version of a full-term baby, their bodies do not function as a full- term baby because they are immature and are still developing.
The European Foundation for the care of new babies reports that in Europe, the prevalence rate of premature birth ranges from 5.5 to 11.4% - an average of 7.1% of all live births.
They also found that Prevalence of preterm birth varies across the 14 countries covered by the report from 5.5 % in Ireland to 11.4% in Austria representing an average 7.1% for the region. It also shows that the number of preterm births is rising. For example, in Portugal prematurity increased by 32% over the period 2004 to 2008 (from 6.8% in 2004 to 9.0% in 2008); Austria saw a similar rise from 8.1% in 1991 to 11.1% in 2008 and Spain registered an increase in the number of preterm infants from 17,000 in 1997 to 40,281 cases in 2007. In the UK the number of extremely preterm births rose by 30% between 1995 and 2006.
A decreasing mortality rate among preterm infants is observed in most European countries. (1)
The current pre-term birth rate in Ireland is 6.4pc, which means 4,500 Irish babies are born too early annually. (2)
In general on a world-wide scale the rate of premature birth ranges from 5% - 18%. More than 50% of twins and 90% of triplets are born premature.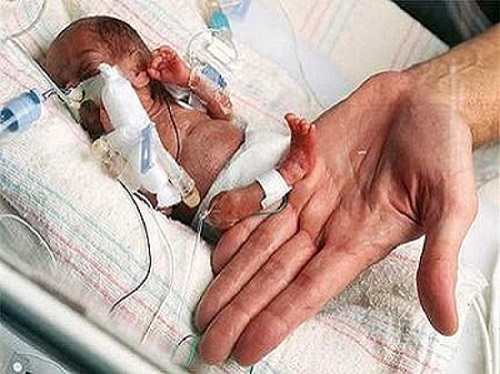 ---
Definitions
Premature born before 37 weeks
Moderately premature born between 35 and 37 weeks
Very premature born between 29 and 34 weeks
Extremely premature born between 24 and 28 weeks
Low birthweight baby weighs less than 2,500 g (5.5 lbs)
Very low birthweight baby weighs less than 1,500 g (3.0 lbs)
Extremely low birthweight baby weighs less than 1,000 g (2.2 lbs)
Neonatal deaths = within 28 days of birth
Prenatal deaths = stillbirths and deaths occurring within the 1st week of life (3)
---
Survival Rates
23 weeks - 15% chance of viability outside of womb if born prematurely
24 weeks - 56% of babies survive premature birth
25 weeks - 79% of babies survive premature birth
Source: M. Allen et. al., "The Limits of Viability." New England Journal of Medicine. 11/25/93: Vol. 329, No. 22, p. 1597
The limit of viability is the gestational age at which a prematurely born infant has a 50% chance of long-term survival outside its mother's womb. With the support of neonatal intensive care units, the limit of viability in the developed world has declined since 50 years ago, but has remained unchanged in the last 12 years. Currently the limit of viability is considered to be around 24 weeks.
As of 2006, the two youngest children to survive premature birth are thought to be James Elgin Gill (born on 20 May 1987 in Ottawa, Canada, at 21 weeks and 5 days gestational age), and Amillia Taylor (born on 24 October 2006 in Miami, Florida, at 21 weeks and 6 days gestational age). Both children were born just under 20 weeks from fertilization. (4)
Amillia Taylor is also often cited as the most-premature baby. She was born on 24 October 2006 in Miami, Florida, at 21 weeks and 6 days gestation, as an IVF pregnancy. At birth, she was 9 inches (22.86 cm) long and weighed 10 ounces (283 grams). She suffered digestive and respiratory problems, together with a brain hemorrhage. She was discharged from the Baptist Children's Hospital on 20 February 2007. (4)
---
Links
Irish Independent