If you haven't yet watched – and shared – the new video from the Life Institute on media bias in the Irish Times, and the curious case of the abortion that never happened, then you can do so right here.
The video was released in conjunction with a larger report on media bias, follows the case of misreporting on abortion at the Irish Times, and is well worth a view. The Life Institute's media bias report analysed articles which covered the abortion issue and were published over three years (2013-2015). The analysis showed that of the articles which showed bias, an overwhelming 91% were biased in favour of abortion.

In news reporting, where factual and neutral reporting is expected, the bias was worse, with 98% of biased articles being supportive of legalised abortion.
In order to determine if an article was balanced or biased, each article was examined to see if they contained bias in 5 categories which are commonly used in assessing media bias, including bias through selection or omission, bias through placement, bias through headline, bias through tone, and bias through sources. An article was only considered biased if it displayed bias in at least two categories.
The mainstream media is reluctant to report on bias found in its own industry and so this information is rarely given the attention it deserves. Please take a moment to watch this important video, read these new findings, and make sure to share them!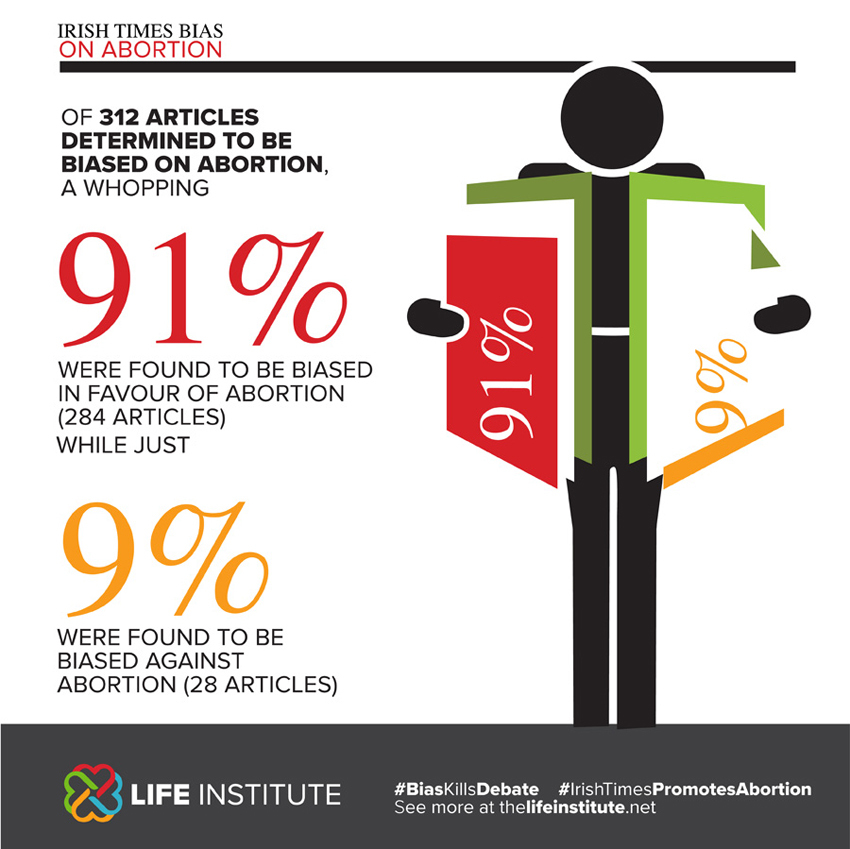 Links
Irish Times accused of systematic bias in favour of abortion
More info on the Project
LIST OF ARTICLES IN THE IRISH TIME S2013 - 2015 AND THEIR LINKS