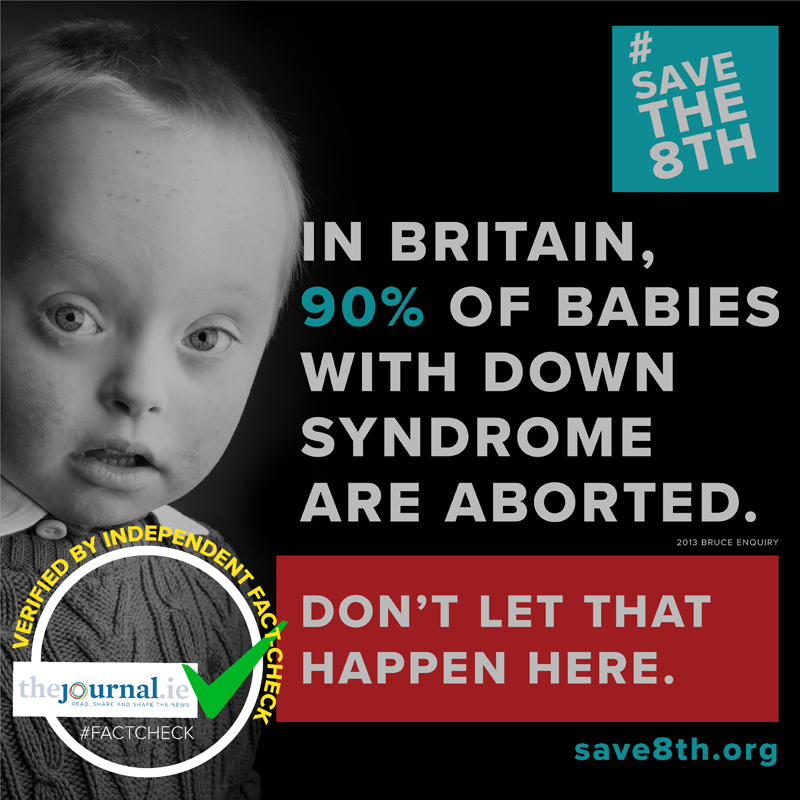 Save the 8th, the campaign against the repeal of the 8th amendment, has welcomed a finding by TheJournal.ie that its billboard campaign highlighting the impact of abortion on unborn children with Downs Syndrome is "correct."
The campaign is making the public aware that the billboard advert has been fact-checked – something it will continue to do as its ads are released between now and polling day.
Campaign Spokesperson Niamh UiBhrian said: "It is essential in this campaign that the public knows that it is receiving accurate information. The role of fact-checkers is important. When a figure has been verified independently, the public should be made aware of this.
We are grateful to the Journal.ie for its important work in verifying the ad, and will work to ensure that the public knows that while it may be shocking, it is true."
Our campaign is committed to communicating simple, truthful facts and arguments. In the absence of the referendum commission, which has shamefully not yet been set up, we rely on independent fact checkers to verify the accuracy of statements made in the campaign.
To that end, we are today launching our "verified" check mark, which is a signal to the voters that the contents of an advert have been verified by an independent body, reinforcing that they can trust the contents of the message."
END