The March for Life (in whatever country you come from!) comes but once a year. People travel across the country to participate in the most important human rights rally of our time. We just commemorated the 43rd anniversary of the Roe vs. Wade SCOTUS decision this past Friday, and we were reminded that enough is enough!
Over 58 million children have been killed by abortion since its legalization in 1973, and millions more men and women have been victimized by the industry along with the unborn. Enough is enough — and it's time that we end this abortion holocaust once and for all.
But, since the March for Life is only once a year, what can we do on a daily basis to help promote life and advocate for the pro-life cause?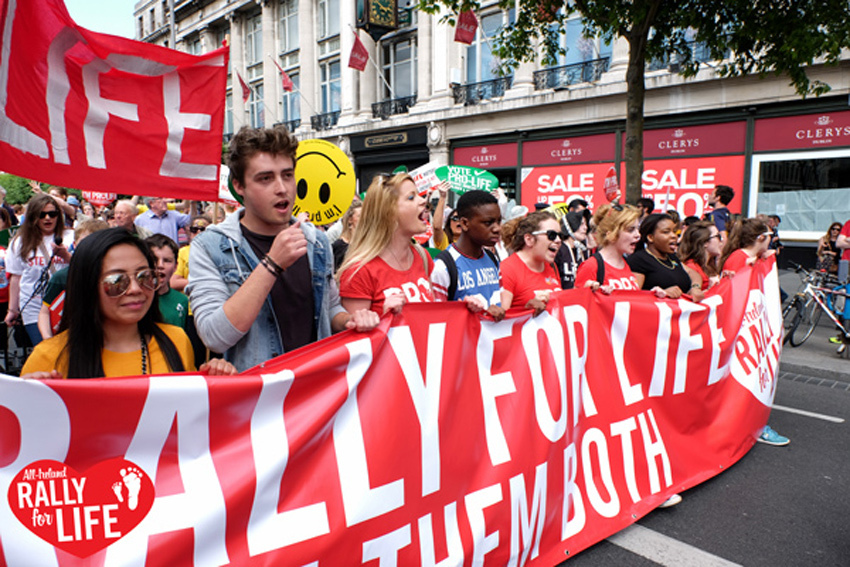 HERE ARE EIGHT WAYS THAT YOU CAN BE A PART OF THE MARCH FOR LIFE AND THE PRO-LIFE MOVEMENT EVERY DAY:
1. Prayer is the most powerful weapon in fighting abortion. Pray for all women, men, unborn children, born children, and families. Pray for the conversion of abortionists, Planned Parenthood workers, and all who work in the abortion industry. Also, pray for the people who work in the pro-life movement. All of these people need our daily prayers.

2. Educate yourself. Know the issues and know how to talk about abortion. You can't fight for the pro-life cause without knowing how to talk about it. Keep up with current events and read up on the life issues. Stephanie Gray's new book, "Love Unleashes Life" is a great resource on this issue.

3. Talk to your friends and family about abortion. First you need to educate yourself, but you can also learn by talking to others. Do it with love and compassion, and be unafraid to share your beliefs and listen to others. Abortion is simply a controversial issue to some. But to us, it is a matter of life and death that must be resolved.

4. Social media. Social media is a blessing and a curse, but in my mind, it is always far more of a blessing. Follow pro-life groups on Facebook and Twitter, and share their posts. Social media is a great way to spread the pro-life message and reach out to people that may not hear the message of life otherwise. Use it.

5. Every pro-life group needs financial support, so if there are groups that you follow or appreciate, show them. Donate as much or as little as you can afford. Every single dollar helps and can make a difference.

6. Time is often more valuable than money. If you have have time to spare, volunteer at your local Right to Life or pregnancy help center, volunteer with a national group that you support, and/or use your gifts and talents to serve the pro-life movement.

7. Be a witness. We should strive to be the best representation of our beliefs and the pro-life cause every day. If we are outspoken on the issues, people will look to us as representatives of those deeply-held beliefs. Practice what you preach and strive to respect every person and all human life in everything you do, everyday.

8. Sometimes all that's left to do is love. Love yourself and love others. Mother Teresa famously said, "Not all of us can do great things. But we can do small things with great love." Live out all things with love at the center.
These are just some things that I came up with. What other ways have you participated in the pro-life movement in your daily lives?