Former President of Ireland, Mary Robinson, has called for the UN to fund further population control measures in an article which implied that large families were damaging to the environment, caused civil unrest and kept people in poverty.
Robinson was the first female President of Ireland (1990-1997) and the UN High Commissioner for Human Rights (1997-2002), and currently serves as the chairwoman of the Global Leaders Council for Reproductive Health.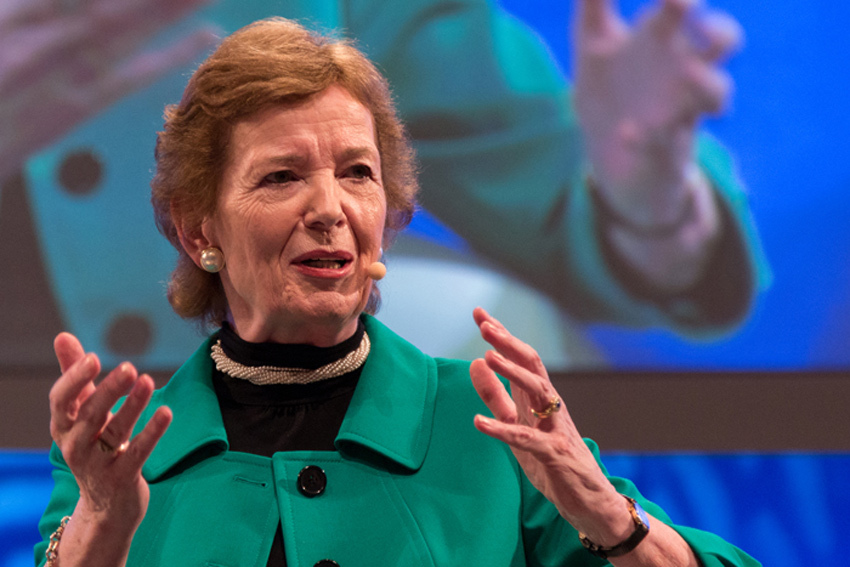 In an opinion piece which appeared in several international publications she wrote: "The world's leaders are in New York at the United Nations this week, and global reproductive rights activists are holding their feet to the fire. We're asking them to deliver on promises made 17 years ago at the UN International Conference on Population and Development in Cairo, when they agreed to make contraceptive services available for women all over the world by 2015. At the end of next month, world population will officially hit 7 billion, and more than 200 million women in the poorest nations of Africa and Asia wait with little hope for the family planning services they would gladly use to delay or space their children, if modern contraceptives were available."
Robinson then recounted her days in Seanad Éireann nearly 40 years ago when she entered her first political battle as a Senator, which pushed for legislation to legalise contraception. The contraceptive pill was illegal to all persons throughout the 1960s, but then was legalised for married women by the Supreme Court in 1974. "It was the right thing to do then, and it remains the right thing to do," she said. "It was important then; it's more important now."
Ms Robinson said that "Every year, more than 358,000 women die in the developing regions of the world from pregnancy-related causes. The failure to support the health needs of developing countries is now a global problem, one with long-term implications for the economic, environmental and political health of the entire world."
Instead of emphasising better health services or call for more trained medical professionals she raised population control as a cure for all ills.
"Enough is enough. Women who have access to family planning have fewer children, and the ones they do have are healthier and better educated. Long-term, scientists have reported, investments in reproductive health are reflected in lower carbon emissions and a reduced likelihood of civil unrest, as smaller families help lift communities out of poverty and reduce pressure on food security," she wrote.
Then, Robinson spoke about "reproductive health" being a hot-button political issue. She said, "In some countries, including the United States, reproductive health has become a hot-button political issue domestically, and it is often incorrectly associated with support for abortion."
But, it is obvious throughout discussions about "reproductive health" that there is nearly always a strong abortion element present. Abortion is also exactly what the UN, various government officials, and "pro-choice" organisations are pushing for worldwide – NOT better health care for women.
Many commentators have also pointed out that the presumption that women developing countries would not welcome large families smacks of a colonial mindset and desire to reduce populations without any regard for the culture or traditions of the country or tribe.