Today the Life Institute called on the Meath TD Regina O'Doherty to produce the email she says came from a pro-life source threatening her life, so that the facts can be determined by the Gardai.

Let me be clear: any threats of violence are appalling, on any issue, and are not a part of any pro-life campaigns.
However, it is now crucial that Ms Doherty publishes the email she says she received threatening her life, so that Gardai can identify the culprit. From my knowledge of the pro-life movement it is simply not believable that a pro-life person would write such an email.
Our spokeswoman Ciara Keaveney said today that she thought it most likely that such an email was written by a person who wished to smear the entire pro-life movement. I would agree.
The Life Institute held a packed meeting in Co Meath recently and it was attended by more than 100 decent, hard working people and families who are upset and concerned about the Abortion Bill. Those people have been to see Ms Doherty, they've put their concerns before her, they certainly have not been writing abusive emails.
Gardai can trace this email and find out who wrote the threat, and then we can have an informed discussion on it, rather than indulging in wild headlines conjuring up a false image of politicians being intimidated by the public on the abortion issue.
There is a real possibility that politicians use headlines like this to distract from Fine Gael is about to do – that is, to break their pro-life promise and legalise the direct killing of unborn children in Ireland.
The eagerness of the media to accuse the pro-life movement of extremism is in sharp contrast to their refusal to give any attention at all to threats of physical violence against pro-life people.
Recently the Life Institute made a submission to the Joint Oireachtas Transport and Communications Committee on abuse in social media.
We pointed out that abortion campaigners, including Labour Party members, had directed unacceptable venom and hatred at pro-life activists, going so far as to encourage violence.
Some of these comments beggar belief. They do not concentrate on the issue being debated but make personal attacks and threats against pro-life commentators.
Recently, a former Director of Elections and Secretary of a Cork branch of the Labour Party, Keith Moynihan O'Brien, tweeted that he hoped Youth Defence members opening their mouths on abortion would be "punched out cold". LabourYouth were tagged in the comment on Twitter.
Eoghan Beecher, previously Labour Youth's International Officer for Ireland, also tweeted that 'everybody in youth defence needs a kick in the face' tagging Keith Moynihan O'Brien in the tweet.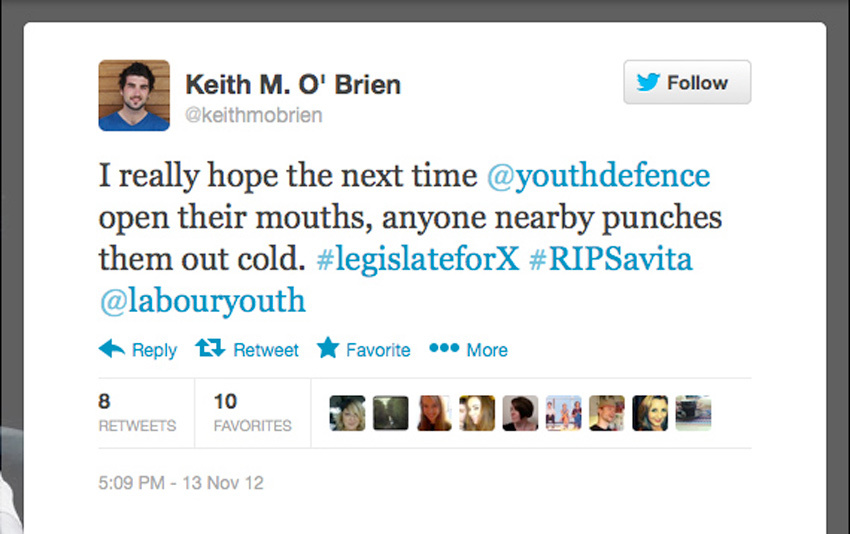 Other abusive and threatening remarks name pro-life activists directly, such as the post by Paddy Malaga on the Guardian's website which asked : "Can we not just nail Niamh Uí Bhriain to a cross in the middle of O'Connell St'?".
Mickey Harte, the GAA icon much admired and loved by the nation for his enormous courage in the face of terrible and tragic loss, was called a "c**t" by Niall C on Twitter because he spoke at the pro-life vigil in January.
Garry Ó Nualláin's tweet "I prefer impregnating female Youth Defence members and watching their inner turmoil as they realise their life is a lie," was particularly offensive to young women in Youth Defence who found it threatening and creepy.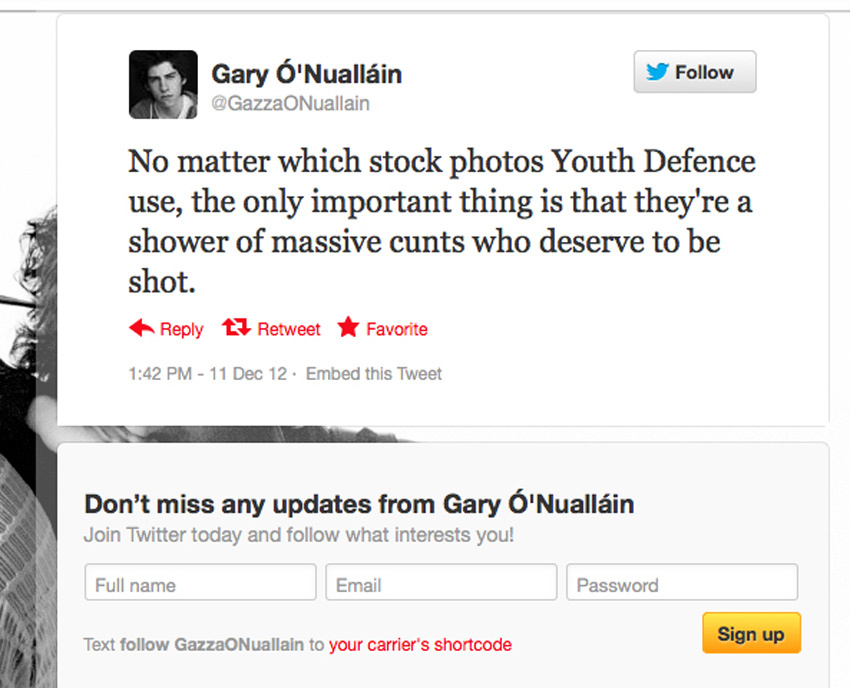 Some threats are clearly meant to intimidate. Gary O'Nuallain also tweeted that pro-life activists were "A shower of massive c***s who deserve to be shot".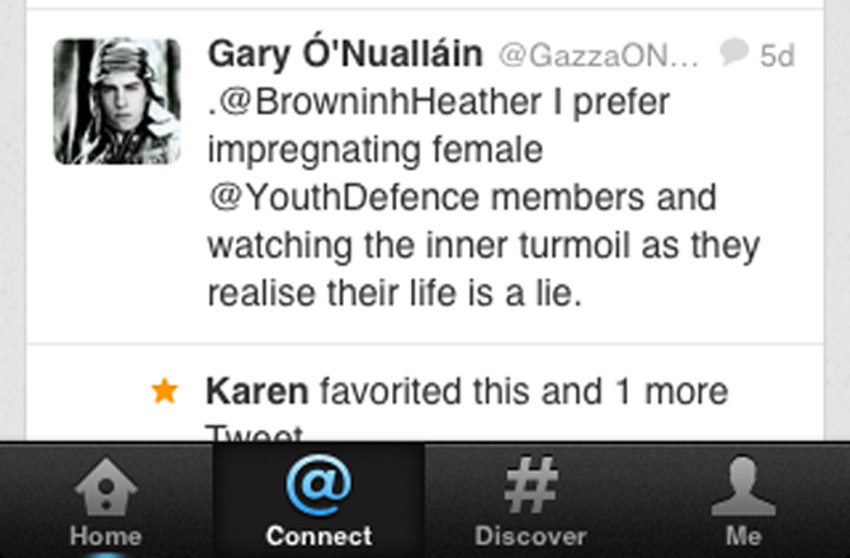 "Lets burn down the Life Institute" Gaythoven [sic] posted on Twitter, while Cillian Murphy threatened that he would come in to give people a "f**kin dig" because he didn't like pro-life billboards and advertisements.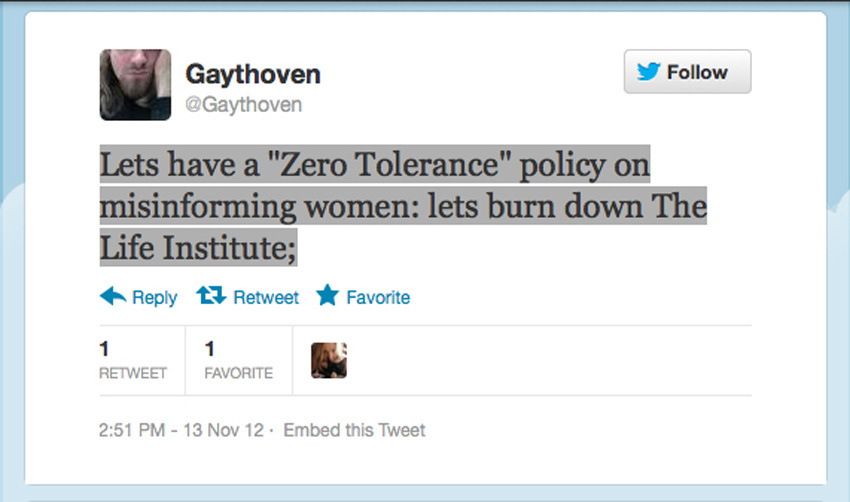 Grant Murphy wrote on Facebook to the Life Institute that pro-life people were a "..shower of f***ing god foresaken c**ts. You can f**k off and get f***ed, in fact go get a baby, unwanted or otherwise."
James Quirke wrote on Facebook : "If you want abuse then you'll get abuse, up to this you've got off light ……" and "now have a nice day wont you and don't go having any abortions or anything like that…especially if you get raped….that's not a threat btw just an observation."
What happens on social media can spill into reality. Last month, the offices of Youth Defence were subjected to an appalling attack when abortion supporters covered the doors and shutters in huge quantities of excrement and used faeces to stick photographs of Savita Halappananvar to the building.
The doors were also glued shut by abortion supporters, putting the lives of volunteers in danger.
That evidence is ignored by the media, whose silence seems to be a tacit nod to abortion supporters that their threatening behaviour can be tolerated as long as your advocacy is for abortion rather than for mothers and their babies.
LINKS