Hundreds of people gathered in Belfast City Centre for our "Witness for Life" on Saturday 19th October, when Precious Life marked the one year anniversary of Marie Stopes International setting up their illegal centre in Belfast.

As Director of Precious Life, I thanked the crowd, who had travelled from all across Ireland, for their strong pro-life witness and also thanked the dedicated volunteers who have maintained a constant Vigil outside the Marie Stopes centre for the past year – every day and hour the centre is open.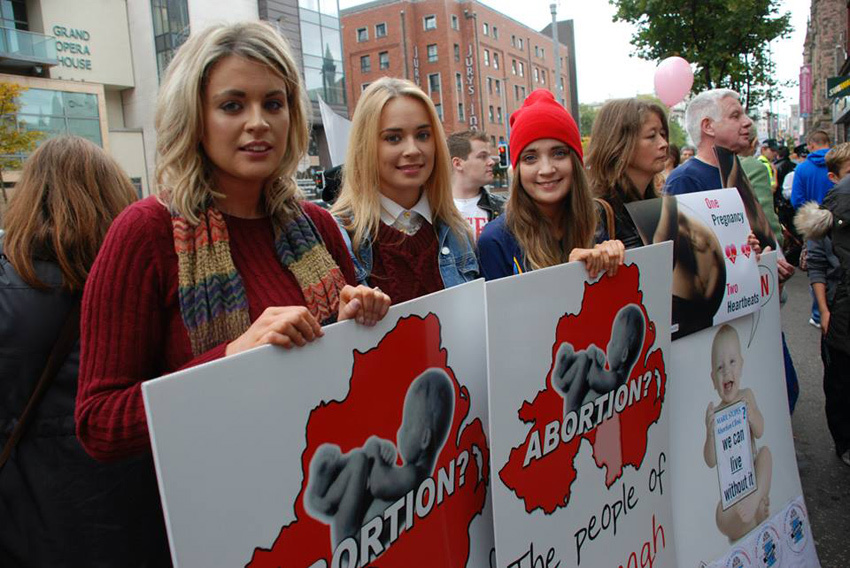 Derbhille McGill, with her husband Darren, shared the heartbreaking story of her little baby daughter – Clodagh – who was diagnosed in the womb with having a fatal disability and would die before, or soon after birth. Derbhille spoke about how little Clodagh had lived for 33 days and was such a blessing to her family during her short life. Derbhille also spoke of the hurt and upset she, and other parents like her, felt by the coverage of similar cases by the BBC Nolan Show, which implied that the lives of babies with disabilities had no value. Derbhille said every life is precious and has value – no matter how short that life may be. She said proper perinatal hospice care must be given to other pregnant mothers whose babies receive poor prenatal diagnoses.
Martin Corey, a young man with a disability, spoke about the pain he has felt at the BBC Nolan Show's promotion of abortion for babies with disabilities. Martin told his moving story, of how as a baby in the womb he suffered four strokes and was only given a 20% chance of survival. But his loving mother gave him life and continues to care for him and two other family members with disabilities. Martin said that despite the lies and misinformation of the BBC – his life has value!
Niamh Ui Bhriain of LI said it was an all-Ireland battle to counteract the shameful exploitation by the BBC and others, of families who have received news that their babies had terminal disabilities. She said we must amplify the voices of Derbhille and women like her, and give them a platform to let other women know there is hope and healing – there is always a better answer than abortion.
I concluded that PL will never rest until the 'door is closed' on Marie Stopes in Belfast. She said this is a battle we will win, but we must continue to work as if everything depended on us, and pray as if everything depended on God. I reiterated what Derbhille, Martin and Niamh had said; that perinatal hospice care must urgently be established in Northern Ireland – not the legalisation of abortion for disabled babies.
Our Witness for Life sent out a clear message that the people of Ireland – north and south – will never stand idly by and allow Marie Stopes to kill unborn babies.