Precious Life presented 250,000 petitions to the Northern Ireland Assembly before MLAs began debating an amendment aimed at stopping private abortion centres like MARIE STOPES INTERNATIONAL from killing unborn babies. The pro-life group said they were bringing the democratic voice of the people to Stormont.

The amendment was doomed to failure after Sinn Fein's 29 Assembly Members signed a 'Petition of Concern' that effectively blocked it. Under Assembly rules, the 'Petition of Concern' meant the amendment could not be passed without both a unionist and nationalist majority vote. Sinn Fein is the largest nationalist party in the Assembly.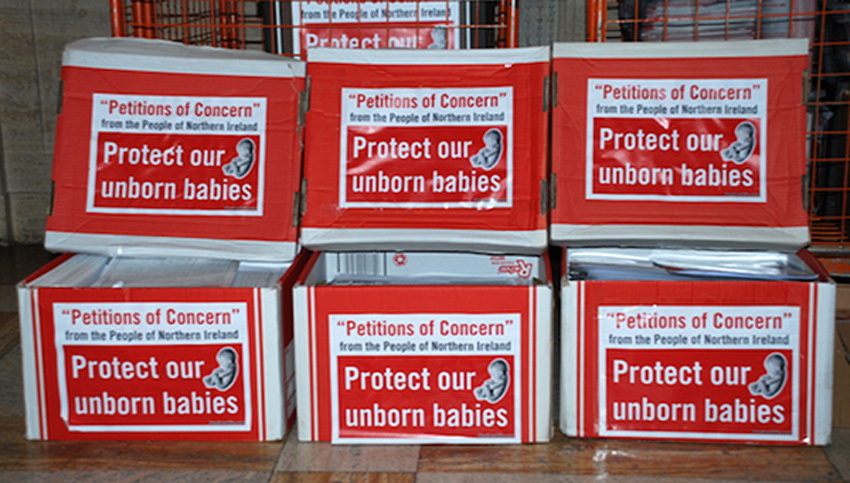 The "Petition of Concern", which required at least 30 signatures, was also signed by Anna Lo of the Alliance Party and Steven Agnew of the Green Party. The 250,000 petitions presented by Precious Life were in boxes labeled "Petitions of Concern from the People of Northern Ireland". The 30 heavy boxes jam-packed with the petitions had to be wheeled into Parliament Buildings in cargo trolleys pushed by Assembly porters. They were placed in the corridor outside the Assembly debating chamber, in full view of all MLAs who entered.
Director of Precious Life, Bernadette Smyth said, "Today we bring to the Assembly a quarter of a million 'petitions of concern' signed by 250,000 people across Northern Ireland who are concerned about the protection of our unborn babies. These petitions – from people in the nationalist and unionist communities – represent the democratic voice of vast majority of people in Northern Ireland." "The 'Petition of Concern' signed by Sinn Fein is a corruption of the democratic process. 'Petitions of Concern' in the Assembly were designed to ensure that one community did not trample upon the rights of another.
But the 'Petition of Concern' has been abused because there is a clear majority in Unionist and Nationalist communities for this amendment. Sinn Fein has now trampled upon the most basic and fundamental right – the right to life – of Ireland's unborn babies."
She added, "History will record this shameful episode when an attempt was made to close the first private 'abortion centre' in Ireland and strengthen the laws protecting our unborn babies, but it was blocked by Sinn Fein."
Mrs Smyth confronted many Sinn Fein members as they entered the debating chamber, telling them face to face – "Shame on you! Sinn Fein is now the 'Judas Party. You have betrayed the children of Ireland. You are supporting the Marie Stopes organisation that has come into our country to kill Irish unborn children. You can no longer claim to cherish all the children of the nation equally. Your party has committed political suicide by supporting abortion and supporting Marie Stopes. From now on, the people of Northern Ireland will know that a vote for Sinn Fein is a vote for abortion!"
Bernadette Smyth concluded, "Sinn Fein's blocking of the amendment does not change the fact that abortion remains a serious criminal offence in Northern Ireland. This amendment was aimed at strengthening our laws that already protect unborn babies. Our "Stop Marie Stopes Campaign" continues. We say to both Sinn Fein and Marie Stopes that we will never accept abortion – not in our country and NOT IN OUR NAME!"