Young pro-life volunteers on a nationwide Roadshow are holding a series of protests at constituency clinics of Fine Gael TDs to mark a year since the passing of abortion legislation, and to remind Fine Gael that pro-life voters haven't gone away.

The protests take place daily, an follow a busy afternoon of distributing pro-life information and signing people up to a pro-life Voters Register ahead of the next election.
"We're here to remind the public of what Fine Gael TDs around the country voted for, namely, abortion until birth. The party broke their pro-life promise and our protests over the 10 days of the Roadshow shows the public – and these politicians – the reality of what the abortion legislation entails, " said Clare Molloy of Youth Defence.
The protests are part of the annual Youth Defence National Pro-Life Roadshow visiting 18 towns and cities, which not only reaches tens of thousands of people with the pro-life message, but is also growing a Pro-Life Voter Awareness Register which has already attracted some 100,000 voters.
The pro-life tour is the only event of its kind in Ireland and has become a important and reliable tool in maintaining the pro-life majority.
The Roadshow is organised by Youth Defence, who say that the recent elections showed the power of the pro-life vote, when some 65% of candidates identified as pro-life went on to be elected, with 131 from a list of 200 taking a seat. The pro-life tour will seek to increase the number of voters in every county who have signed up to be informed regarding pro-life candidates in the next election.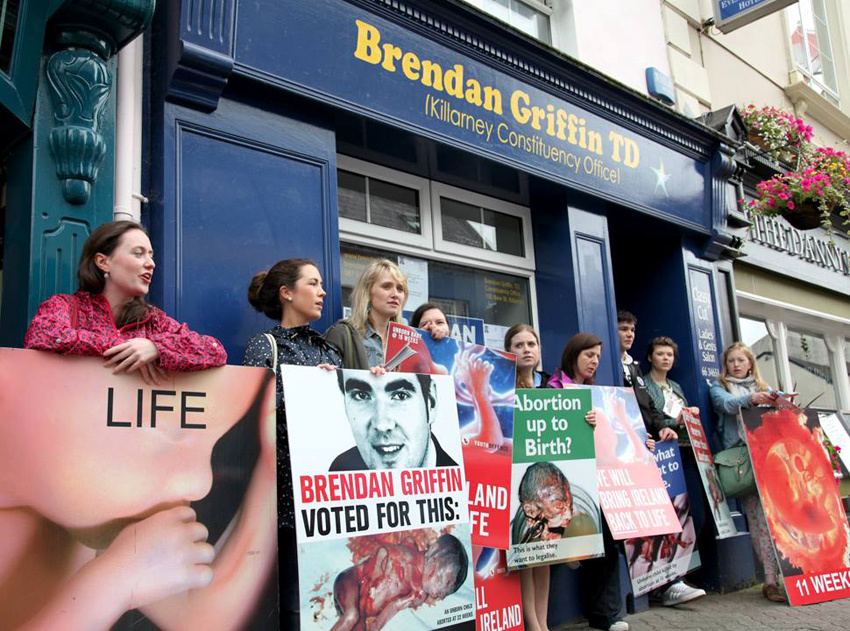 "We saw that voters were keen to be informed by the 'I Vote Pro-Life' initiative last May," said Claire Molloy of Youth Defence, "and we are growing the number of voters who want to be informed every day on the Roadshow."
A large team of young people are taking part in the Roadshow for the tour's ten days, engaging the public by using a three hour street session to reach out with a strong pro-life message. Young pro-life activists will also drop educational materials door-to-door, and hold public witnesses outside local politician's office – usually in the centre of the town.
The 10 day event is colourful and interactive, and has a significant educational emphasis, and the street stalls, pro-life information, and interactions with teams of volunteers changes thousands of hearts and minds on abortion every year. 100,000 pieces of pro-life information are distributed during the Roadshow as up to 80 young volunteers get involved in the pro-life project.
"We get to talk to people, answer their questions, and hear their stories," said Claire Molloy. "We often meet mothers with their babies who were born because an abortion was cancelled after getting information from the Roadshow. That's always amazing and uplifting, and a real motivating factor for many of us involved."
"This Roadshow has an additional edge of reminding the public that Fine Gael broke their pro-life promise and legalised abortion until birth. The pro-life movement is motivated and active, and building voter awareness on this Roadshow, " she added.
Bravo Youth Defence for taking the initiative and for packing so much activity into the busiest Roadshow yet.