"We offer free ultrasounds, and our mothers can bring photos and videos home on a USB key " Carolyn O'Meara tells the rapt audience of 800 plus at the National Convention for Life. "We put our first payment down on the ultrasound machine when we opened our doors and now thank God it's fully paid for" she continued to loud applause.

A gorgeous mother to three small children herself, it's easy to see why Carolyn leads what is possibly the most important crisis pregnancy outreach in Ireland. She cares about mothers and their babies; she wants to provide them with a better answer, and that comes across so strongly from the Convention stage, and, by the evidence of so many babies saved, at the clinic door.
Eight years ago Carolyn and some other volunteers from Youth Defence began standing outside the abortion referral agency, Marie Stopes, hoping to reach out to talk to girls who were considering having an abortion. Literature and phone numbers would be exchanged, and sometimes, if the girls were willing, they would come to a local café to sit and talk about their options. It quickly became apparent, however, that something more private than the café was needed and Gianna Care came into being, in order to provide a more organised and stable way of providing this vital outreach.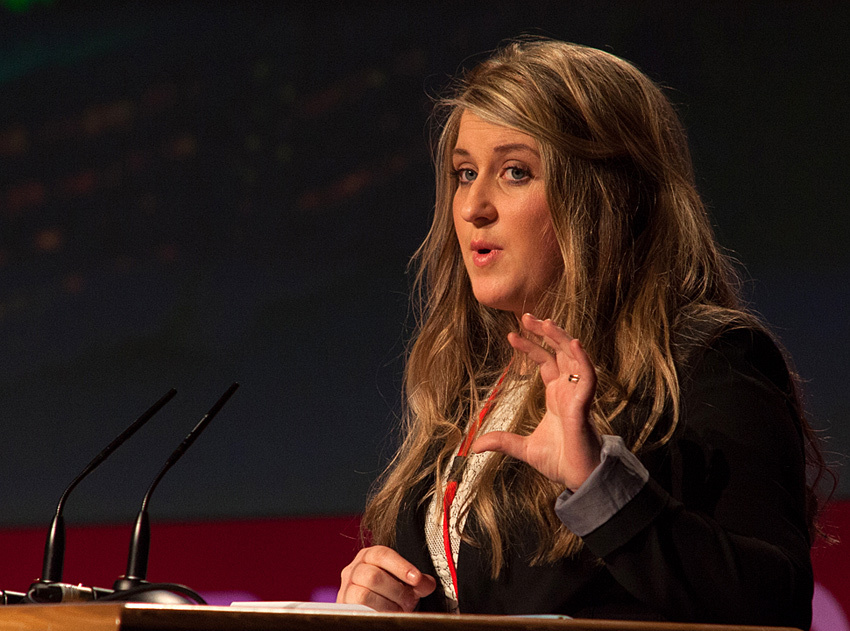 Carolyn opened the Convention with a heart-warming account of the work that Gianna Care is now providing, day in and day out. She showed the audience images of the rented premises where they operate, which is located close to the abortion referral agency but also at enough of a distance to be away from the "danger zone" as Carolyn calls it.
Most of the girls going to Marie Stopes are initially going for a "scan". Unfortunately, the ultrasound is always turned away and the sound turned off so girls never see their babies or hear the heartbeat. As noted, Gianna Care offers free ultrasounds, and also supplies the girls with a USB stick with saved stills and videos of their babies. It makes a huge difference.
Carolyn also spoke about how the group has built up its body of volunteers so that they can be outside the clinic for as many business hours as possible. Every service they offer is based on the willingness of volunteers and the financial support of donors so that they can be provided free of charge. This includes leaflets, free medical advice, free ultrasound and free counselling, support, home visits, baby clothes and equipment and more.
As Carolyn told the huge crowd, "our goal at Gianna Care is to identify the barrier preventing the woman from continuing her pregnancy, and either completely removing this barrier, or minimising it as much as possible".
Recently the group has developed a new website and a "Positivity Card" to assist girls in fighting off the negative feelings when they are away from their support system in Gianna Care. Another recent and innovative idea, has been the development of the only post-abortion support group in the country. It is open to men and women affected by abortion, who wish to speak about their experiences with other people who have gone through similar situations and is facilitated by Gianna Care volunteers. "It is a sad but privileged position in which I have learned so much" Carolyn said.
Carolyn also spoke about future plans, which in the short-term include trying to promote Gianna Care services through social media and advertising, and purchasing a medical printer so that, as well as the USB key, girls can take an image of their baby away with them. Long-term there are ambitious plans to open accommodation for girls in these situations.
There wasn't a dry eye in the house as Carolyn showed a few snapshots of babies who have been saved directly through contacts outside the Marie Stopes clinics – 34 babies in 2013, 10 so far this year that they know of and 6 more babies due to be born before the end of May! Perhaps the most sincere and heartfelt applause of the day was offered up for those wonderful numbers, as people were reminded that it is for each of these little babies that we take the stand against abortion.
And Carolyn's good news did not end there. Abortion agents Marie Stopes has recently closed one extra day a week – and one of their busiest days at that! To close, Carolyn called to mind again the theme of the Convention – rebuild, renew, revive. She reminded the crowd that it is always important to take a moment and reflect on the work that we do, and to re-energise ourselves so that we can give our all to this lifesaving work.