This picture is important. Many children diagnosed with Down Syndrome and other special needs are aborted – and we need to be talking about this disturbing fact.
Catholics need to be outspokenly, unapologetically pro-life because every single life is precious and deserves a chance at life.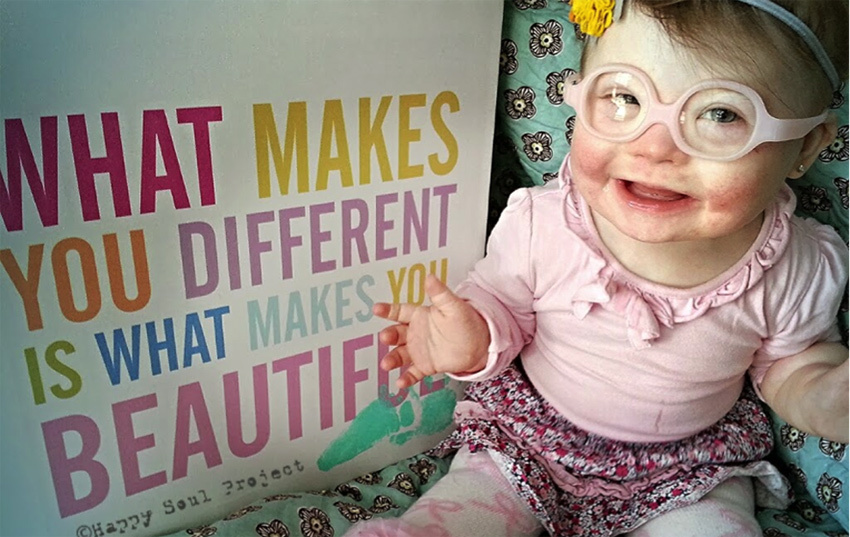 I have written here before about babies with fetal abnormalities, and I assure you that this won't be the last time. We need to talk about these cases and we need to raise awareness that there are life-giving options and support for families whose unborn children are diagnosed with any fetal anomaly.
In honor of World Down Syndrome Day (March 21st), a group called Coor+1 released a video called "Dear Future Mom". This video begins with a letter from a pregnant woman, who writes: "I'm expecting a baby… I've discovered he has Down Syndrome. I'm scared. What kind of life will my child have?"
The reply to this mother's letter is probably the most beautiful response you will ever see:
Every single child is created by God and is precious in His sight. We need to do all we can to protect His children and to make them feel His love.
That's what I love about the Happy Soul Project. The website is run by Tara McCallan, who writes on the homepage,
"Hiya friends. I am T… quirky, wannabe writer/blogger, annoyed/adoring wife, minivan mama to two hooligans, one who just happens to have Down Syndrome and most importantly a happy soul. Thanks for stopping by Happy Soul Project. Hopefully it inspires you to look at life a wee bit differently."
These are the pictures that people need to see and these are the stories that people need to hear. You never hear parents say that they regret the lives of their children, but you often hear parents regretting the "choice" they made against giving their child life.
McCallan and her family are doing much to change the public's perspective on Down Syndrome. She told the Huffington Postthat she wants to spread awareness about Down Syndrome and "be a voice or open someone's eyes to how to approach others [who have loved ones] that are beautifully different," through her blog.
"I want people to know that my daughter is just that," McCallan said. "My daughter."
These are the stories that are rarely covered by the mainstream media, but these are the stories worth covering.
"What makes you different, is what makes you beautiful." Say that three times fast, and learn to believe it. And tell every child you know, whether they have Down Syndrome or autism or not… what makes them different, is what makes them beautiful.
If you're not happy already from all of the beautiful things you've seen and read in this post, the following video made in honor of World Down Syndrome day is bound to make you dance and make you happy:
Every life is precious.
If you or someone you know is facing a pregnancy with a severe or fatal prenatal diagnosis, there is help. Please contact:
or