Simon Harris has had more positions on abortion than there are episodes of Big Bang Theory and he has proclaimed them all in public with the air of a man informing the electorate of a deeply held moral principle. The only person who has flopped this flip as almost as much is his current boss, Taoiseach Leo Varadkar.
Varadkar was a political sensation when, in 2004 local elections, he polled nearly 5000 first preferences, getting elected on the first count and destroying the electoral hopes of his mentor Senator Sheila Terry. He would go on to be elected to the Dáil in 2007.
Varadkar was one of a group of younger FG public representatives that shared economically right wing, socially conservative views. This group, which included Lucinda Creighton, Paul Bradford, Pascal O'Donoghue and John Paul Phelan had, amongst their common bonds, a dislike of Garret Fitzgerald's economic and social policies, a reverence for former Taoiseach Liam Cosgrave and an open rejection of abortion.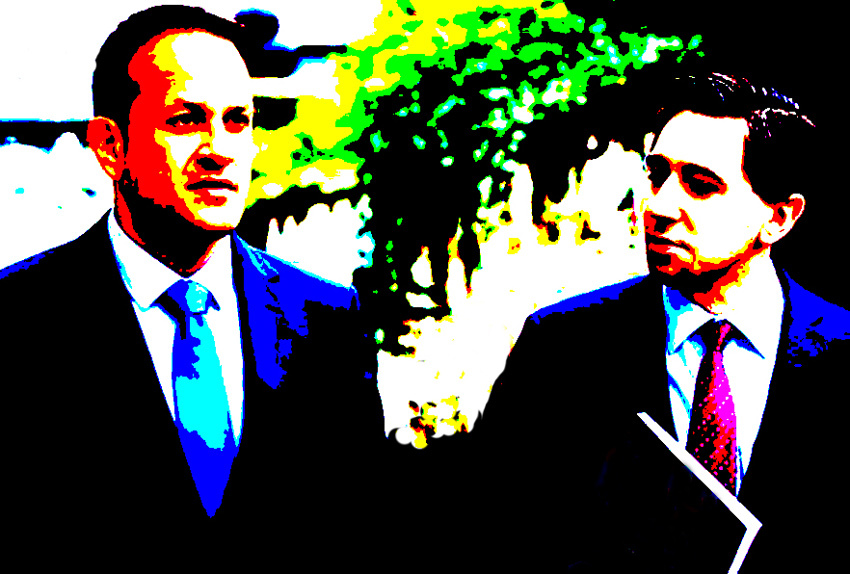 In May 2010, in an interview with the Irish Independent given to soften his image after his Dáil attack on former Taoiseach and FG leader Garret Fitzgerald, Vardakar was very clear on his views on abortion: "I would accept a lot of Catholic social teaching. I'm not a practising religious person, but I would accept that. I wouldn't be in favour of abortion..."

When the journalist, who described his views as "black and white", probed his views further, asking Varadakar about abortion in the case of women made pregnant through rape, his reply was clear:
"I wouldn't be in favour of it in that case, and, you know, first of all, it isn't the child's fault that they're the child of rape. You can say the same thing about disabled children. You know, some people would make that argument in favour of abortion. It's not their fault they're disabled. I wouldn't be in favour of it in those circumstances either."
As if that was not clear enough he went on to add about how he viewed this as a wedge issue.
"Even, how would that work practically? Would someone have to prove that they've been raped? I think where that's been brought in in countries it has more or less led to abortion on demand."
In the manner that made him a star to FG conservatives at the time, Varadkar pulled no punches answering the journalist's question on the hypocrisy of banning abortion in Ireland while women travel to Britain to avail of abortion.
"I don't think that's double standards. People travel overseas to do things overseas that aren't legal in Ireland all the time. You know, are we going to stop people going to Las Vegas? Are we going to stop people going to Amsterdam? There are things that are illegal in Ireland and we don't prevent people from travelling overseas to avail of them."
Those publicly expressed views seemed to be contradicted by Varadkar's vote in July for the Abortion Bill introduced by his cabinet colleague, James O'Reilly. Although several of his friends, including Creighton & Bradford voted against the bill, not only did he vote for it but also he remained silent on the draconian and unusual expulsion of the dissenters from the parliamentary party when Taoiseach Enda Kenny imposed a three line whip for the bill. Kenny had previously refused to sanction Alan Shatter for defying a party whip on the Hare Coursing Bill, on the grounds hare coursing was a matter of conscience.
In June 2015 as Minister for Health Varadkar when speaking in the Dáil opposing Claire Daly's attempt to add an amendment to O'Reilly's abortion act which would have allowed abortion children with "fatal foetal abnormalities he was still claiming to be prolife:
"I consider myself pro-life, as I accept that the unborn is a human life with rights and I do not support abortion on request or on demand"
but went on to add about the 8th amendment
"While it protects the right to life of the mother, it has no regard for her long-term health. If a stroke, heart attack, epileptic seizure happens, perhaps resulting in permanent disability as a result, then that is acceptable under our laws. I don't think that's right."
This statement appeared to be based on a belief in divination, that future risks to health could be predicted during pregnancy allowing for the abortion as preventative medicine. He continued with his journey towards abortion support in the speech:
"As you might recall, because of my experience as a doctor and, in the recent past, as a Minister for Health, I have come to the conclusion that the eight amendment is too restrictive, as it has no regard for the long-term health of the mother."
This was an extraordinary statement given that Leo Varadkar had not worked in medicine since his time as a junior hospital doctor. With most politicians the decision to support legalised abortion is either political or because of changing personal convictions. Whatever the reasons, Varadkar had now changed his mind on the child's right to life. His reason to oppose Daly's attempt to amend the legislation were not based on protection of life but because the amendment would be deemed unconstitutional and the government had no electoral mandate to seek a referendum. Exactly what constituted "electoral mandate to hold a referendum" the then minister did not make clear. His change of mind on the issue has never been the subject of question or of interview.
Nine months later, in November 2015 Varadkar spoke on RTE Radio about abortion in response to James O'Reilly reopening the issue. On that programme while he said the 8th amendment was too restrictive that removing it would "let the Dáil and Seanad do whatever they like" possibly "could even legislate for third-trimester terminations". Again, despite his now stated support that there should be abortion in cases of so-called "fatal foetal abnormality" and rape he re-iterated that he was pro-life.
In September this year Varadkar revealed an extraordinary gap in his medical education. Speaking about his doubts that the electorate would back the radical proposals of the so called Citizen's Assembly he said "Having observed the Citizens' Assembly and how that debate evolved, we have become aware of the availability of abortion pills and how they work. It is actually quite possible that people's views may change as we have the debate." Given that he had used his "work as a doctor" to justify his flipflop on the issue of abortion that he had to wait for the so called Citizen's Assembly to inform him about the abortion pill is a strange gap in his training.
Harris had a similar meteoric rise. He was one of three Fine Gael TDs elected for Wicklow East Carlow in Febuary 2011.
Despite working as a PA for the pro-abortion Frances Fitzgerald from 2008 Harris was at that time publicly pro-life. He had written to pro-life groups during that campaign saying "I am happy and proud to assure you I am pro-life........Please be assured of my support. I need No1 votes on Friday so I can be in a position to support these positions in Dáil Eireann."
In July 2012 after remarks Harris made opposing abortion at a Fine Gael parliamentary party meeting he wrote a short piece for the Irish Independent decrying the polarisation of the debate but declaring that "I have a strongly held view on this and I need to stand by that belief."
All changed with the 2013 Abortion Bill. Already a favourite of the Taoiseach Enda Kenny, the pro-life Harris voted for the bill despite earlier claiming that for him, "abortion is a red line issue". His constituency colleague Billy Timmons was expelled from the parliamentary party for voting against the proposal. It was considered unlikely that Fine Gael could hold three seats in the Wicklow East Carlow five seat constituency in the general election then 3 years away.
Harris conversion to full blown pro abortion stance was emphasised when he gave an interview to the Sunday Times in December 2015. Promising a "Citizen's Convention" to discuss the issue he made it clear that he wanted a referendum to remove the 8th Amendment. He said
"The issue of fatal foetal abnormalities, the current situation is, in my view, appalling. I'd like it to be dealt with."
Harris, who dropped out of college to become an assistant to the then Senator Frances Fitzgerald has never explained his change of mind on the issue of abortion. As Health Minister it will be his task to bring the bill to remove the pro-life provision - the 8th Amendment – before the Dáil.