Another week, another dire warning from medical experts on the absolute crisis in our health service.

The Irish Nurses and Midwives Organisation has said that emergency departments are at risk of becoming "war zones" because the HSE has no plan in place to deal with another winter of growing overcrowding.
The description is a stark reminder of the chaotic environment facing frontline staff, and of the danger that situation poses for patients.
Dr Maitiú Ó Tuathail of the National Association of GPs says that with 8,000 people on trollies and 700,000 more on waiting lists, collapse is imminent for the health service.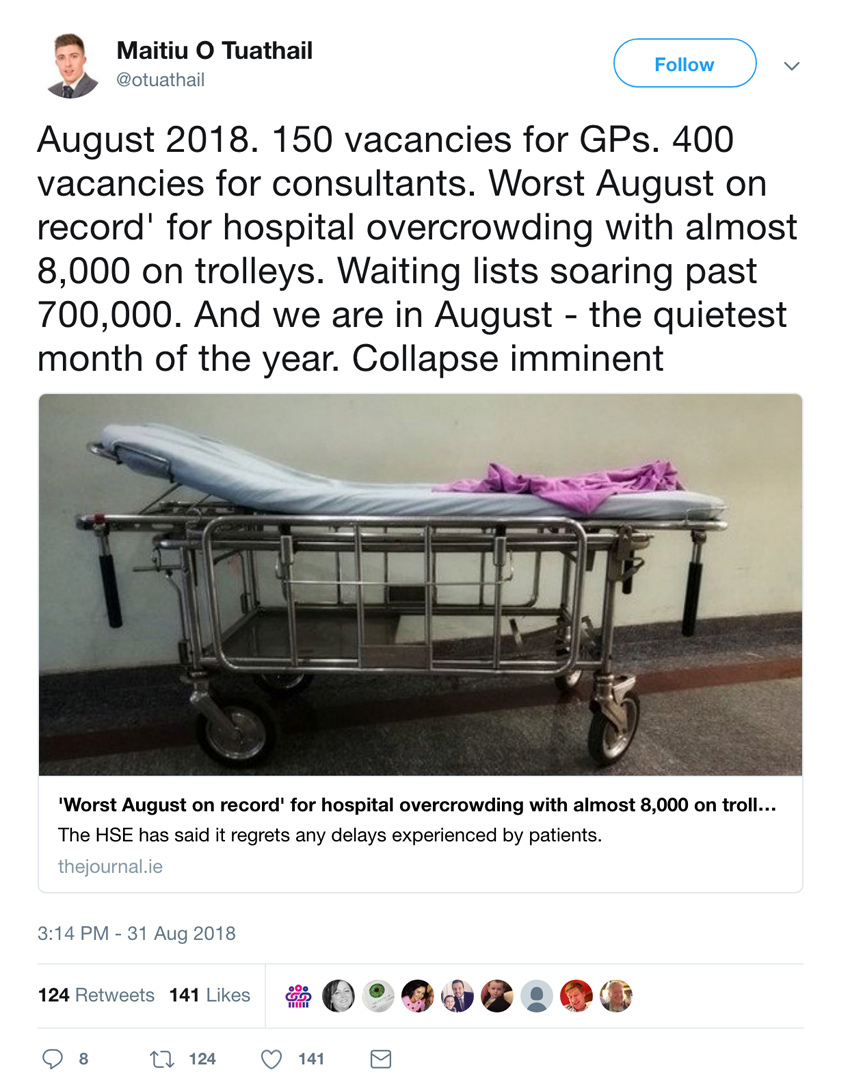 This comes on top of previous warnings from doctors describing our hospitals as 'overcrowded death zones' and 'dangerous and unsafe'.
And now, a €600 million hole has appeared in health service budget spending, meaning that Harris' disastrous stewardship will also mean that tax breaks for the hard-pressed middle, and spending on homelessness, amongst many other things will be curtailed.
Yet Harris remains immune to any real media criticism so long as he pushes abortion on demand.
He is fiddling for abortion while the health service burns, and he is allowed to get away with it because those who should be holding him to account have granted him a repeal shield, a reward for helping them to legalise abortion and dress it up as healthcare.
Sure who cares if old people are suffering on trollies as long as Harris is busy picking fights on Twitter with Bishop Kevin Doran, and threatening pro-life doctors who don't want to aid and abet abortions.
The tragic irony here is that people are actually dying in this country for want of decent healthcare, yet the Minister is fixated on making abortion available which will ensure that even more people – helpless unborn children – lose their lives.
So, despite all the lip service paid to mental health, the media don't pin Harris down about the 7,000 children waiting to access mental health appointments because the Minister is dancing to their tune and ensuring that children in the womb can be disposed of for pretty much any reason at all.
Abortion is clearly a priority for Harris and we are told that he is "extremely eager" to have the legislation passed.
Being 'extremely eager' about abortion seems downright creepy, even for a man as committed to its legalisation as the Minister is.
Then again, this is the same Minister who is offering free abortion to women from the north of Ireland. He is also trying to shout down any amendments to his abortion proposals, such as one that might outlaw abortion on disability grounds and prevent Ireland from the same devastating outcomes as Britain where 90% of babies diagnosed with Down Syndrome are aborted.
Unlike every other aspect of the health service, it seems Harris is trying to guarantee that the maximum number of abortions can take place. Free abortions for everyone, and absolutely no to any amendments that might even restrict that a little.
He can fast-track abortion, it seems, but not mental health, or operations for pensioners who are going blind, or help for desperate families whose children have scoliosis.
As one mother wryly observed to me, the only way her daughter, who needed urgent scoliosis treatment, would have got Harris' attention was if she wanted an abortion. She was forced to travel to Britain for the operation they needed for the severe spinal condition. No talk from the Minister about his "extreme eagerness" to do something for those women or for other desperate families.

The priorities of this Minister for Health seem to lie with ending lives, not saving them. But as long as he keep fiddling for abortion, the media will shield him while the health service burns.