The political and intellectual dishonesty about abortion has to stop. Pro-choice politicians and commentators repeatedly call for a calm and respectful debate but have no intention of abiding by their own rules of the game.
Most egregious are the positions being presented in relation to the debate on abortion and Down syndrome in Ireland. Attempting to take the front foot on this particular issue in advance of an official announcement of a referendum when media balance – thanks to the Coughlan judgment in 1995 – is a requirement, mssrs Simon Harris, Fintan O'Toole and Peter Boylan attempted to shut down the voices of people with Down syndrome.
Dressed up as concern for children and adults with Down syndrome, these commentators went to great lengths to insist they were protecting people with Down syndrome from being distressed by the future they were being offered by the government.
This 'care' comes from the many politicians who have been on a personal journey of discovering that they actually don't think the unborn child has a right to life and a right that should be protected under the constitution, whether with or without Down syndrome.
The irony seemed to be lost on much of the commentariat in Ireland, so much so that Patsy McGarry questioned the mother of the child on a pro-life poster as to whether it was 'child abuse' to allow her child to appear on the posters. Niamh Ui Bhriain rightly said that it was "extraordinary that anybody in the media or any campaigner would use the phrase 'child abuse' towards a parent who wishes to include their children and their families in this campaign."
At the same press conference, Conor O' Dowd told the media: "Hello, my name is Conor O' Dowd. I am 23, I love my life. I took today off college to be here. This is a very important day. I am against abortion." Conor's father Michael followed his son with a few words of his own: "I'm a member of Down Syndrome Ireland. I've sat on the board in the past. There are very different views in Down Syndrome Ireland…but I won't be silenced."
https://www.facebook.com/savel...
Undoubtedly the same people who want to silence the Down syndrome voice in the referendum debate would be fawning over the 'cuteness' of a child with Down syndrome appearing on Benetton ads as 'progressive', while attempting to deny the reality that 90% of children diagnosed with Down syndrome are aborted in the UK, and jump through mental hoops to explain why Iceland had no children born with Down syndrome a couple of years ago.
There are lies, damn lies and statistics. Sometimes there are statistics and facts.
The fact is that when abortion is introduced children with Down syndrome and other disabilities inevitably suffer.
Simon Harris has been forced to perform verbal gymnastics, day after day, in his attempt to frame the debate to deliver 'his' abortion referendum. On the 17th of January in the Dáil, he attempted to break down the demographics of abortion. "In 2016, 3,265 Irish women travelled to the UK alone and we know that Irish women travel to other countries like the Netherlands too."
Unfortunately, Mr Harris did not have all the numbers. Or at least he chose which numbers he wanted his assistants to source for him. On the 30th of January, Health Minister Harris said he believes it is "somewhat offensive" to suggest that Irish women would choose to terminate a pregnancy due to a diagnosis of a disability. "I find it really, really difficult to discuss this," Minister Harris said. "I've heard from parents of children with Down Syndrome in the last few days saying, 'please do not manipulate or utilise my children to suit your political argument on this very sensitive matter'." Unfortunately, Minister Harris is at the forefront of instrumentalising people with Down syndrome by attempting to frustrate discussion of the reality of abortion.
Unfortunately again for the Health Minister, the statistics were available to Mr Harris had he wished to investigate.
At least 83 Irish women had abortions in a two-year period (2015-16) on the grounds that their unborn baby would have Down Syndrome. Six abortions were carried out after women were told their babies would have spina bifida.
The facts put Mr Harris on the backfoot once more. On February 2nd, he came up with a new argument. Women who have an abortion on the grounds their child will be born with Down syndrome are "not doing it lightly," is his new approach. And that in any case, any legislation that may come after repeal of the 8th amendment, however far down the line, under future administrations, is 'hypothetical' and even though such futures are now reality in other countries these should not be brought into the debate. Ergo: it is "grossly offensive" to make the Down syndrome discussion part of the debate, he continues to claim.
The irony in all of this is that in September 2016, speaking to RTÉ News Harris said "I will consider every possible policy option available to me to make sure that women are presented with factual, accurate information in relation to their own health." In this, he seems to have become the problem rather than the solution.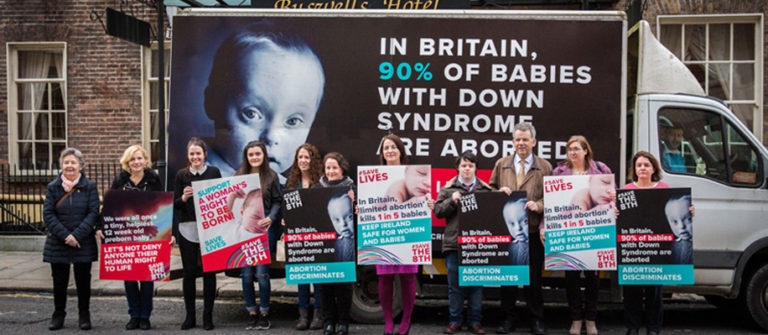 ---
Dualta Roughneen