Remember how, in the run up to the referendum on May 25th, we were repeatedly told that we needed to "trust doctors" on abortion?
Leo Varadkar was explicit on this during the campaign - as was the Yes side coalition who argued that doctors making clinical decisions required that trust "to do their jobs".
Doctors needed the 8th gone to enable them to exercise good medical judgment, campaigners claimed, and doctors could also be trusted to make sure that the law would not be interpreted too broadly, only allowing for abortion in the case where a baby has a 'fatal" disorder rather than a disability, for example.
In the past week, those politicians and campaigners appeared to have abruptly changed their minds.
Ruth Coppinger TD told the Dáil that a woman attending the Coombe maternity hospital had been denied an abortion under the new legislation. She said that the Board of the hospital had overruled an earlier decision to allow an abortion on the grounds of "fatal, foetal abnormality".
(Actually, Coppinger said that she had been contacted "by a woman who has a fatal, foetal abnormality". She may have misspoken unintentionally, but many abortion campaigners have dehumanised the baby to such a degree that in their minds a child with a disability is not a person but 'an abnormality'. The same mind-set would be rightly deplored if it was expressed about a child after birth, but preborn children, entirely helpless and unable to defend themselves, are the easiest group in society to victimise.)
The Dáil was told that the baby's organs were outside the body - a condition that is rarely fatal in modern medicine, though it is easy to imagine how frightening and hopeless it can sound to a woman who is hearing that diagnosis.
Coppinger said that the hospital was "denying this woman her constitutional rights" and called for the Minister for Health to ensure that the abortion could be carried out.
Politicians from all sides of the house were quick to join her in telling doctors what to do. (It later emerged that Coppinger was wrong in much of what she claimed, but more on that below.)
The ever-reliable Fine Gael Senator Catherine Noone, tweeted that the situation was "completely and utterly unacceptable".
The board of the Coombe should be compelled to appear before the Oireachtas Health Committee to explain their actions, she said - having already described those actions as 'unacceptable' before waiting to ascertain all the facts of the case.
Fianna Fáil's Lorraine Clifford-Lee demanded that the Master of the Coombe needed to "urgently clarify" matters.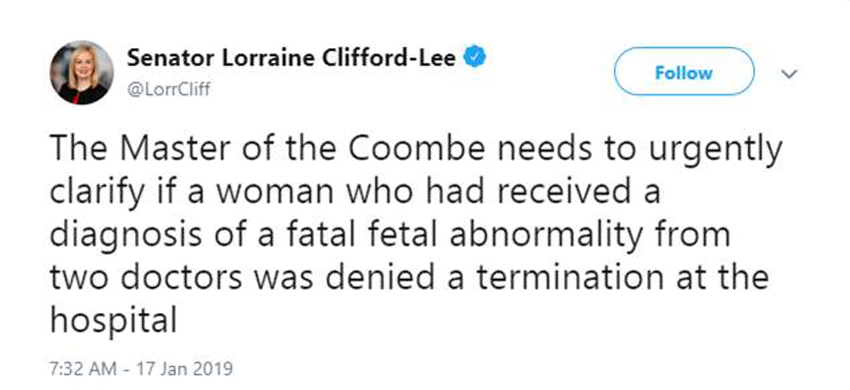 Bríd Smith TD went so far as to name the woman involved in the Dáil, which seemed an extraordinary thing to do to a person in a vulnerable and difficult situation.
Many of the outraged statements in the chamber and on social media smacked of political exploitation of a personal crisis.
As is, these days, almost always the case, it was only after headlines had been published that some of the facts began to emerge.
It turned out that the Board of the Coombe had no role in deciding not to perform an abortion, according to a statement from the hospital.
The baby did not have a "fatal" anomaly the hospital also confirmed. According to the Irish Times, the hospital wrote to the woman saying the baby had been diagnosed with a "complex foetal anomaly".
A multidisciplinary team had examined the case and concluded that "despite the complex foetal anomaly, we are not of the reasonable opinion formed in good faith that there is present a condition affecting the foetus that is likely to lead to the death of the foetus either before or within 28 days of, birth, as per the Health (Regulation of Termination of Pregnancy) Act 2018, Section 11 (condition likely to lead to death of foetus)."
They concluded that "the conclusion was consistent with the opinion we had formed that the criteria to certify a termination of pregnancy at this point were not fulfilled."
It seems that the complex anomaly in this case is OEIS: a rare condition that affects the lower abdominal wall structures of the developing baby. Advances in medicine have led to a "dramatic increase in survival rates" though patients may require life-long follow up, depending on the severity of the condition.
Obstetrician and former Master of the Rotundas, Dr Sam Coulter Smyth, pointed out that doctors' "decisions will have to consider situations whether a baby with an abnormality will die without treatment or if the condition might be treatable with surgical intervention".
His colleagues warned these diagnoses should be made by doctors and not legislators.
So much for trusting doctors. It seems that unless doctors are happy to accede to the demands of politicians, that's no longer the case. If their medical expertise tells them that surgery will dramatically change the outcome for baby, then they are accused of denying a woman her 'right to choose'.
Interestingly, Coppinger described the case as a "the first test case for the new abortion legislation". Clearly, for abortion supporters, this case is a means of seeking to expand the current legislation to ensure that babies diagnosed with less severe disabilities can be legally aborted. So much for the vehement denial that abortion on disability grounds would become the norm. The law is in place for less than a month and preborn children with disabilities are the very first to be targeted.
Thankfully, not everyone shares the view that our first answer to any crisis in pregnancy should always be abortion.
Vicky Wall of the support group, Every Life Counts, posted a beautiful video at the weekend, offering the woman at the centre of the case support and compassion.
"Dear Mum whose case was raised in the Dáil,"she said. "My name is Vicky and, like you, I was told my baby was very sick and would die before birth. Her name was Líadán.

"I'm not here to judge you or to persuade you, I just wanted to let you know that I am here to talk to you if you feel that you are being driven by fear and upset at this time. I get that. I was terrified when they told me Liadán was sick. I couldn't think straight.
"I don't know how sick your baby is, maybe the doctors feel they can help her or help him. I know that most babies whose organs are outside their bodies get treatment that mean they survive and have healthy lives.
"Maybe you'd like to talk to other families who've been in that situation, maybe not. But i wanted you to know that we are here if you'd like to talk.
"Sometimes all we need is someone who helps us slow down and breathe, and see things as they are. None of us want to be used as a pawn in the abortion debate.
"I got to hold my baby in my arms. That helped. Knowing the medical facts helped. Not feeling rushed or pressured helped.
"If you'd like to talk, I'm here for you. We all are."
Contrast Vicky Wall's response with that of those seeking to use this woman's upset as a 'test-case'. It's plain to see which is driven by genuine compassion.