The death of a child is an especially grievous loss, and those who work with parents coping with such a painful bereavement often speak to the importance of memory-making both to honour and to remember a life that ended all-too soon.
Now a group of women whose craft work developed around sharing those memories have produced a beautiful quilt being auctioned to help other families.
Vicky Wall of the support group Every Life Counts, which has helped hundreds of families with a difficult diagnosis and with bereavement, says making memories is a source of comfort and healing - and also a way to express love and pride in a much-loved child.
"When parents get a diagnosis that tells them baby might not live for long after birth, the shock is enormous," she says. "But knowing that every minute is so precious makes memory-making so important, and we try to support that in any way we can with providing footprint and handprint kits and other memory making items, and encouraging families to make the most of every minute, of every day."
When a baby sadly passes away, Vicky explains, it often also becomes important for families to do something in honour of their child: to show how much their little boy or girl was loved and valued.
That might be in the form of writing a poem, or raising funds for a hospital or organisation that has supported them, or becoming involved in a network which helps with child loss, or taking part in a remembrance ceremony: every family, just like every baby, is different and finds their own path.
"A lot of parents say too that they want to show how proud they are of their baby: that they are important and remembered like every child," she says. "Not every parent does, and that's fine too, everyone grieves in their own way, and holding baby in your heart is equally as meaningful and significant however it's expressed."
Remembering a very special baby in Kerry turned into a beautiful and unique crafts project - and now that project is being auctioned to help families whose babies might not live for long.
Baby Éabha
The FET centre in the gorgeous town of An Daingean, or Dingle, in the Corca Dhuibhne peninsula in West Kerry offers a beginner's sewing class, and after Aoife Hannafin precious baby girl Éabha had passed away 9 days after she was born, she decided to take the class.
The baby girl was born to Aoife and her husband Kevin Hannafin on July 27 in the Coombe hospital, in Dublin.
Sadly she passed away in the arms of her loving parents at Laura Lynn Hospice, where she had been receiving care, some 9 days later.
They had received huge support from the local community, and when Aoife joined the sewing class offered as part of the Educational Training Board (ETB) at the centre, her teacher was Paula Casey, who volunteers and makes items for care packages provided to families by Every Life Counts.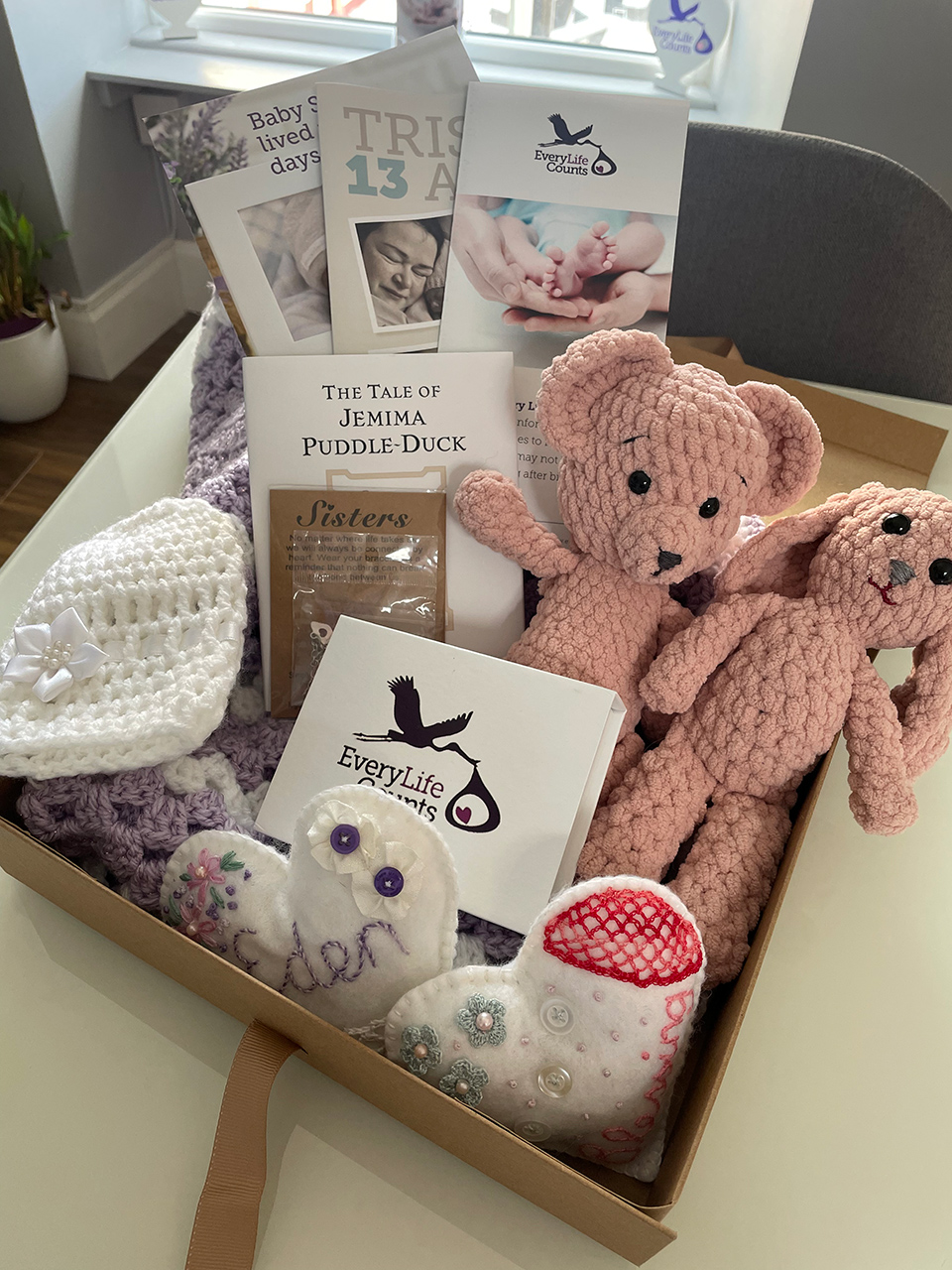 After they got chatting they both realised that some of the beautiful items that Paula had made with such attentiveness had then been sent by Every Life Counts in a care package to Aoife.
"I thought it was such a beautiful story," said Vicky Wall. "It highlights how this growing community is reaching out to support each other at a time when hearts are breaking. When things can seem hopeless, these families are ready to wrap their arms around each other. It's a real light of hope, comfort at a very sad time."
Paula and Aoife - along with Aoife's mother - decided to make a patchwork quilt in honour of baby Éabha and to raffle it to raise funds for Every Life Counts so that other families could be helped by the money raised in the little girl's memory.
Aoife says that for her "it was a project of love, just pouring all my love into something because she's not with me".
"I was honoured to help make this quilt for Every Life Counts. In the past year they have become a steady consistent support for me since my daughter's life limiting diagnosis. At every turn ELC supported me to make calm rational choices always with my daughter at the centre of decision making."
"The sewing classes at the ETB then became a refuge for me, giving me a creative space to begin healing. This quilt represents the love I have for my daughter, sewn into the seams, colours picked in a mindful process always with joy in mind."
Now that this special quilt is finished, Aoife, her family and team have decided to auction this beautiful crafting to raise funds for Every Life Counts so that other families can be helped and supported.
Attending a launch event for the quilt auction, Vicky Wall said that the quilt was
beautiful in every way: its colours, the hand-stitching, the bright and rich fabrics and details; but most of all the love that was poured into every stitch just as every moment of baby Éabha's life was filled with love."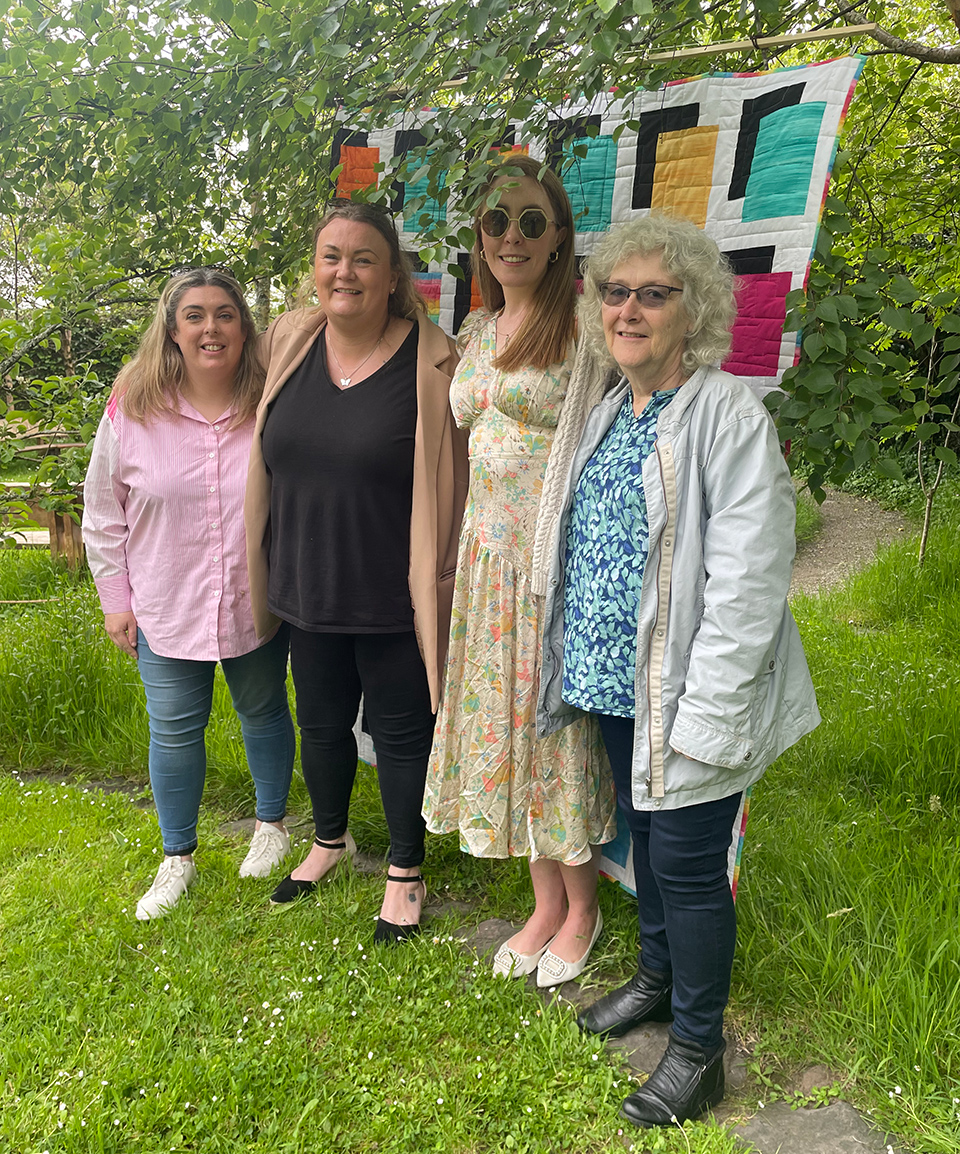 At the launch of the auction for Éabha's quilt (L-R) Karina O'Connell, Vicky Wall, Aoife Hannafin, and Paula Casey: Photo credit: Vicky Wall.
_ _ _ _ _ _ _ _ _ _


Aoife said she was so pleased that the work they had collaborated on together might help others facing heartbreak, or be used by someone who, in supporting the auction, was helping such families.
"To the person who wins this quilt, may it keep you warm and surround you in the love, peace and joy that went into making it," Ms Hannafin said.
Baby O'Connell
Also attending the launch of the auction was Karina O'Connell, whose family had also been supported her in her journey by Every Life Counts.
Karina and her husband Paul, had just two precious days with their beloved little boy Bobby, but his memory will live on forever in their hearts and minds.
Bobby had a heart condition known as hypo-plastic left-heart syndrome and passed away on April 28, 2022.
The Kerryman reports that "he would have celebrated his first birthday on April 26" and that weekend, to mark the occasion, "his family instead came together to host a family fun day at Keel Community Centre".
The O'Connell family from Keel particularly wanted to thank the two charities who helped them so much during such a difficult time: Féileacháin and Every Life Counts.

Karina and Paul were told the devastating news that their little boy had a heart condition at their 20-week scan, and further tests brought more devastating. He would not be a suitable candidate for surgery and would not survive following his birth.

We were told at 30 weeks he was not viable for surgery. Some children do have surgeries or transplants, but Bobby's valves were in the wrong place. It was devastating news," Karina told The Kerryman.

Despite the terrible news, they continued with their pregnancy and were delighted to meet baby Bobby on April 26.

It wasn't all sad, we were really excited to meet him too. It was bittersweet. It is kind of like a dream," said Karina.

Bobby was a younger brother to Evan (6) and Faye (3), and they, too, remember their little brother and were happy to celebrate his special first birthday with a community event on Easter Saturday.

The entire community rowed in behind the family to help organise and support Bobby's birthday fun day, providing raffle prizes and supporting the fundraising for the two charities. The Sam Maguire cup even paid a visit to the party and went down a treat, as did a special visit from some spring lambs. There was also face-painting and a bake sale.
At the launch of Éabha's Quilt auction, Vicky Wall said that receiving the news that your baby might not live for long was "one of the hardest things in the world to hear."
"That's why we need to put our arms around these families, for everyone in the family and for baby, to give them the help they need to let love shine through," the ELC spokeswoman said.
She said that the quilt was a unique and special tribute to a special little girl, and that auctioning it to help other families who were in a similar position was a "beautiful way to remember Éabha".
Tickets for this unique quilt are just €5 and can be purchased here - with all proceeds going directly to helping families who are given the sad news that their baby might not live for long after birth.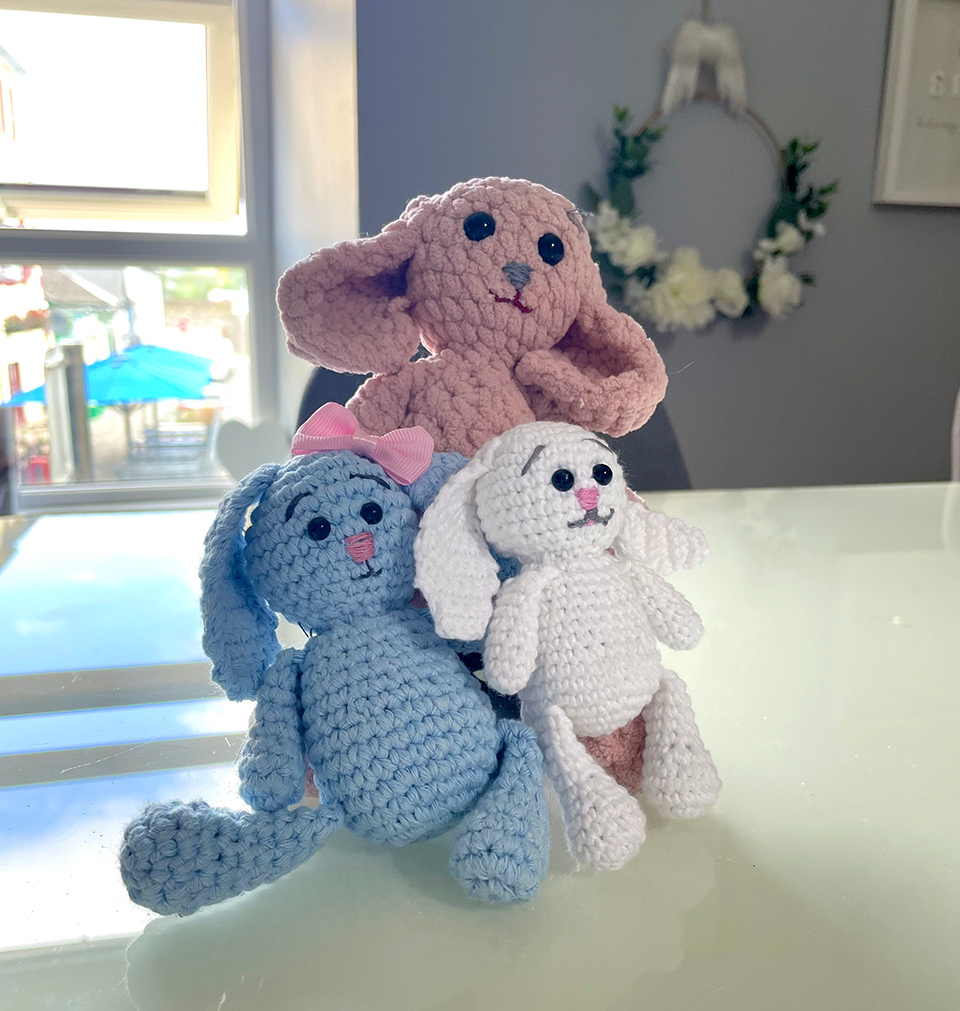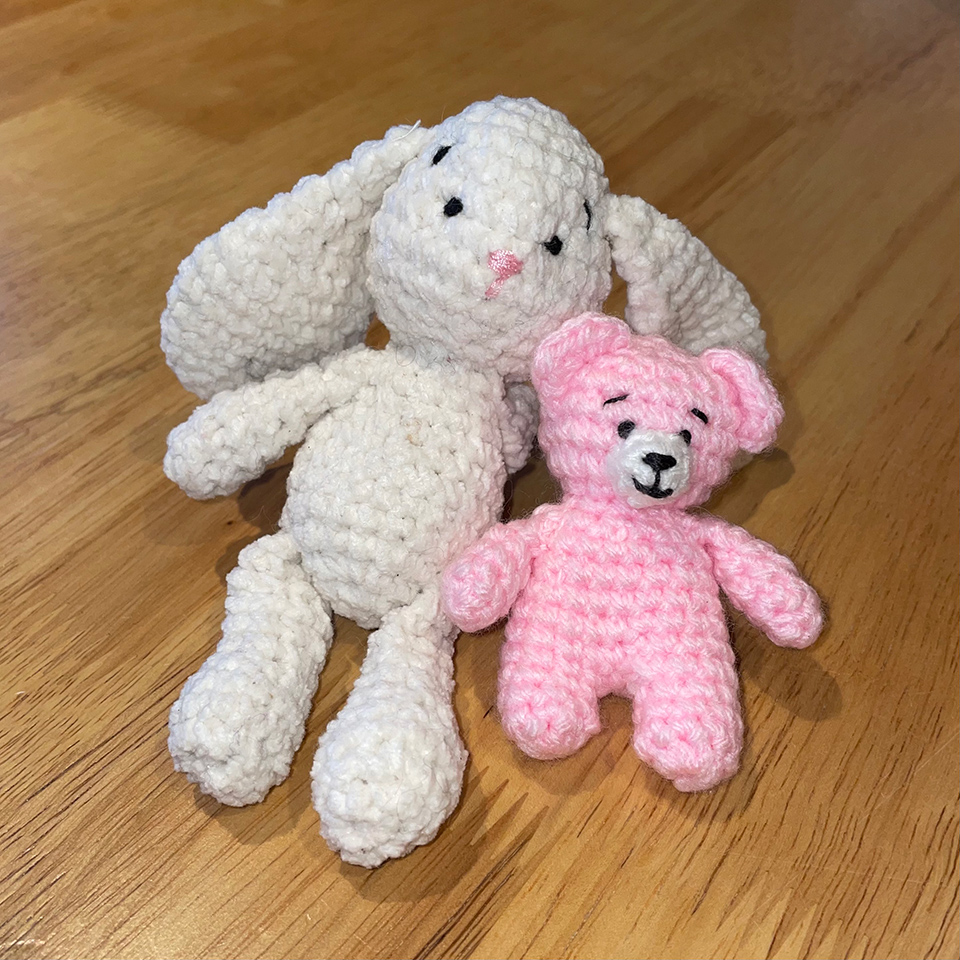 ---
This article was first published in Gript and is printed here with permission