More than 2,600 women did not return for an abortion after the 3-day wait period despite attending an initial appointment, new figures from the Department of Health show. Carol Nolan TD said that those who wanted the wait period scrapped could be responsible for a likely increase in abortion.
Figures released to Deputy Nolan showed that 10,779 women attended for an initial abortion consultation in 2022. Under the current abortion legislation, a 3-day period must then elapse before a woman can return for an abortion, usually to obtain abortion pills. However, the Department of Health also says that that 8,156 abortions took place in 2022, indicating that up to 2,623 women did not return.
The period of reflection has been described as "life-saving" and as giving women "time to think" before undergoing an abortion. Abortion campaigners however, have called on the wait period to be scrapped.
Data shows that more than 6,500 women in the 2019-2022 period did not return for an abortion after the 3-day wait. Leading pro-life group, Life Institute, said that it was now "entirely inarguable" that the time to reflect was a "positive factor", especially "given the spiralling abortion rates which are disturbing even to many reluctant Yes voters."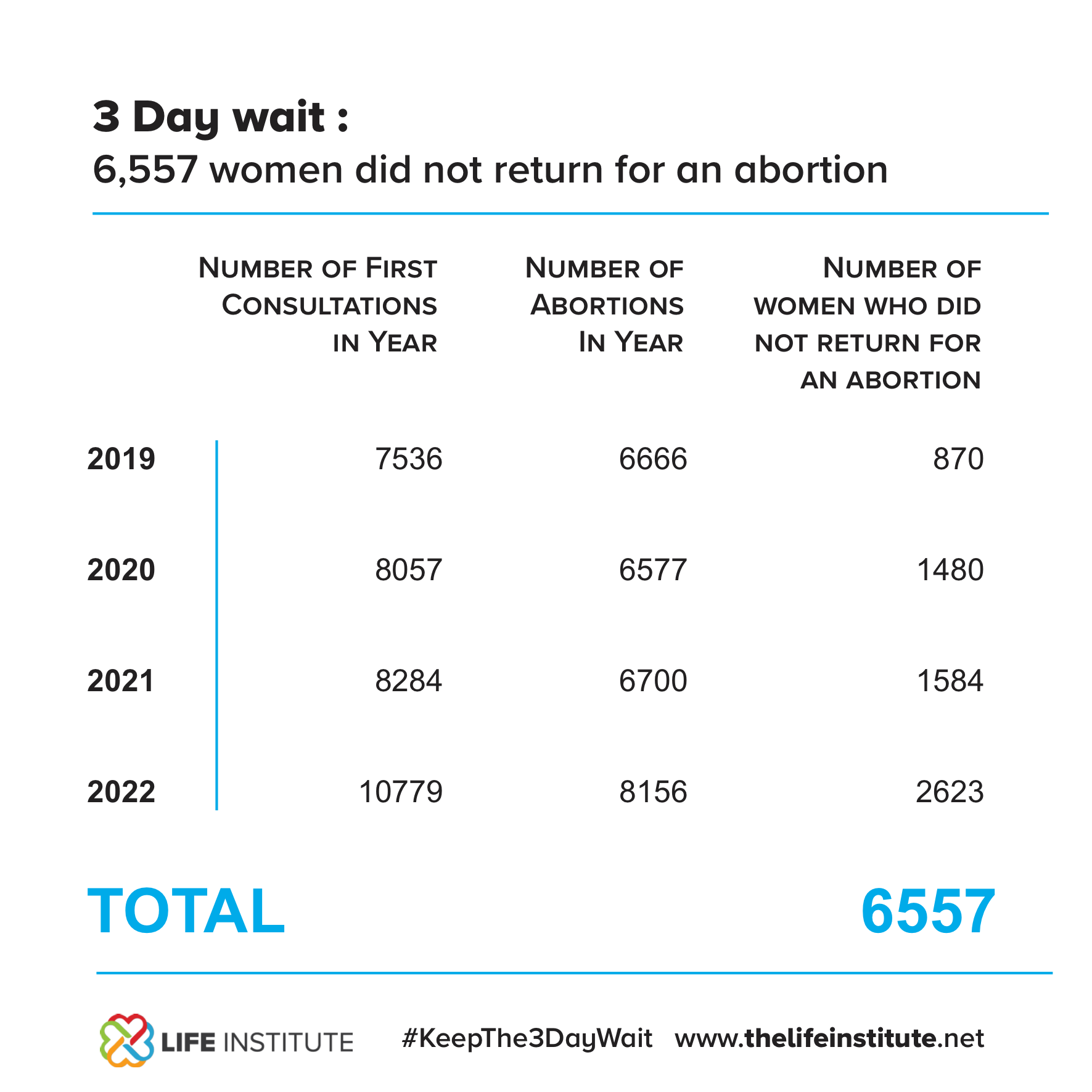 ---
Source: Life Institute/Department of Health
Independent TD for Offaly, Carol Nolan had asked the Minister for Health to provide the total number of first initial consultations for a termination of pregnancy which were made in 2022.
She said: "The evidence is now clear. You cannot be against retaining the 3 Day reflection period without, however indirectly, being for more and more abortions."
Previously, more than 100 doctors, nurses, midwives and other healthcare professionals, including consultants, obstetricians and senior medical staff in maternity services, signed an open letter "strongly urging" the Minister for Health, Stephen Donnelly, to retain the 3-day period of reflection before undergoing an abortion.
The letter says that there "is no medical basis" for scrapping the 3-day wait, and points to figures released by the Department of Health which strongly suggest that some 1,000 women change their mind during that period of reflection and do not proceed with an abortion.
"The 3-day wait helps women, it gives them time to think, and the figures strongly suggest it reduces the number of abortions," Dr Ronan Cleary of Doctors for Life said.
Megan Ní Scealláin of the Life Institute said that a campaign by the organisation had showed serious and widespread concern amongst voters in regard to any measure that might increase the number of abortions further.
She described the recent sharp rise in the number of abortions as "exposing a colossal failure" on the part of the State to give women life-affirming options in situations of unplanned pregnancies.
In 2022, 8156 abortions were recorded according to the Department of Health, which Ms Ní Scealláin said represented a "horrendous loss of life", urging the government to take measures to tackle the rising numbers.
"8,156 abortions in 2022 is a heart-breaking number, and an indication that the government is failing women as well as unborn babies," she said. "We were told abortion would be 'safe, legal and rare': it is anything but."
She said that moves to scrap the 3-day wait should be strongly resisted by TDs and that it was a "life-saving" measure.
"As has been pointed out by Doctors for Life and others, Minister Simon Coveney used the 3-day waiting period to assure voters in the 2018 referendum that "strict guidelines" would apply to the abortion legislation," the Life Institute spokeswoman said.
"He told voters - he reassured them - that the period of reflection was "very important", she said, because - in his words - the "magnitude of terminating a pregnancy was part of the decision making" when it came to abortion."
"That promise to voters must be kept. Our abortion rates are already spiralling out of control," she said. "Why would anyone want 2,000 additional abortions in 2022 - instead of leaving women with time to think, time to reach out, to feel supported in keeping their baby."
Statistician Jim Walsh has examined the claim made by abortion supporters that the bulk of those women who did not return either miscarried or went over the 12-week limit, and found that only a minority of cases could be accounted for in this way.
As revealed by questioning at an Oireachtas Committee, the government-commissioned Abortion Review did not speak to even one woman who had changed her mind during the 3-day wait before abortion.
---
This article was first published on Gript and is printed here with permission