Enda Kenny's has been called live from the Vigil for Life, where 30,000 people left a message for an Taoiseach to 'keep his pro-life promise'.

The massive pro-life event went quiet as Dr Eoghan de Faoite of Youth Defence called an Taoiseach's constituency office, and Enda's voice could be heard asking the caller to leave a message.
"Hello an Taoiseach, this is the Vigil for Life, and I have 30,000 people here to give you a reminder of the pro-life promise you made in 2011," said Dr de Faoite.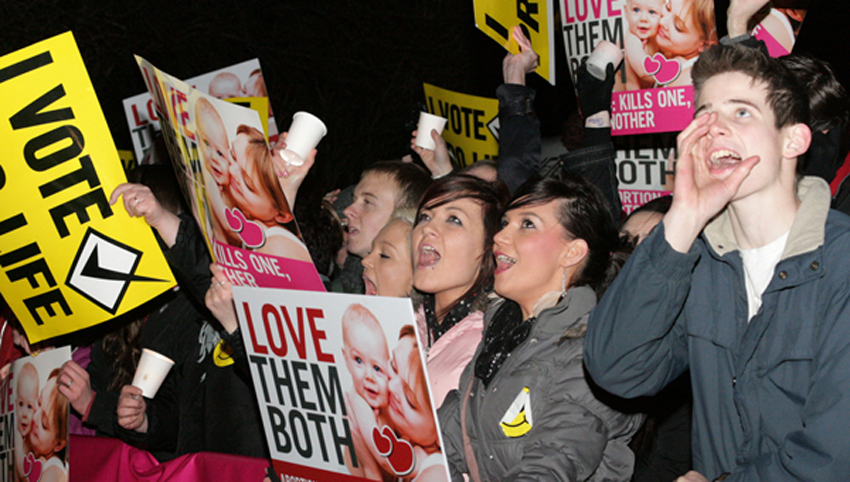 To which the 30,000 strong crowd chorused "Enda, Keep Your Promise".
The phone call followed more than an hour of speakers, crowd participation, and pro-life messaging at the Vigil.
The Vigil heard from Tyrone manager Mickey Harte who said "I speak to you as an ordinary person, a citizen, a husband, a father. I come from a sporting background, as you know, and I am proud of our sporting traditions. But there is no tradition of which I am prouder than the respect for both women and their unborn children that has been the hallmark of our medical services in Ireland. Ireland, without abortion, is one of the safest countries in the world for a woman to be pregnant.
"Like every country we have our faults and failings. But when it comes to life before birth, we have a value system, an ethos, which we should proudly share with the rest of the world. We should not undermine it at this time, or ever," said the hugely popular GAA county football manager.
"The Vigil has been a tremendously powerful and historic event, and the voice of the majority has been heard for the protection of both mother and baby," said Dr de Faoite.
"We've reminded Fine Gael that abortion is not a treatment for suicide, and that the government needs to look at the evidence given before the Oireachtas Committee which confirms that fact," the Youth Defence spokesman said.
He added that the ban on abortion had made Ireland a safe place for both mothers and babies and that was something worth protecting.
The Unite for Life Vigil was organised by Life Institute, Pro-Life Campaign, Youth Defence, Family & Life and Precious Life.
Vigil Video
RTE Nine News
This Week – RTE Radio One
Joe Little of RTE says Vigil turnout will give government pause for thought
Getting ready for the Vigil
Media Reports