This week, the Life Institute, launched its annual billboard campaign to shine a light on the appalling outcomes of Ireland's abortion law.
The powerful messages of the 2022 campaign are already making a big impact throughout the country. We refuse to allow the horrific reality of abortion in Ireland to be hidden from sight.
What we know for certain is that the death toll from legalised abortion gets higher and higher. In just over three years, according to official figures from the Department of Health, 21,000 babies have been aborted. The number is so large, and the loss of life so dreadful, that it can be difficult to grasp.
21,000 lives lost is more than the population of Sligo, one of the bigger population centres in the West. And that's the death toll from just three years.
Or think of it this way: if the average size of an Irish classroom is 24 children, then Ireland has already aborted 875 average classrooms of children. They will never sit fidgeting, or draw messy pictures with crayons, or play games at morning break, because their lives were ended before they were born.
It's curious to think that Ireland's abortion rates have escalated at a time when its already been projected that the number of children attending primary schools in this country is set to drop by about 20%. Abortion doesn't just destroy our future child by child, it leaves us bereft of those who would have brought growth, and flourishing, and hope to a world in need of the promise new life brings.
One of the billboards in the new campaign also urges that we 'help women choose life' by ensuring the three-day waiting period before undergoing an abortion is not scrapped despite the increasingly extremist demands from abortion campaigners.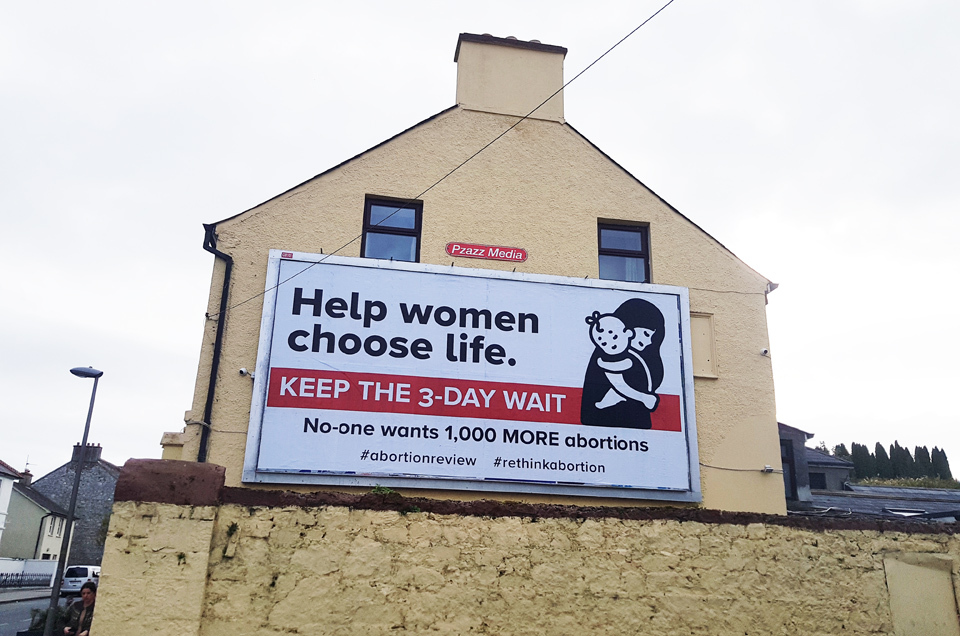 As I have written here previously, then Tánaiste Simon Coveney and other Yes campaigners used the three-day wait to reassure voters that abortion provision would be subject to 'strict guidelines', precisely because they knew from polling that voters did not support an abortion model they believed would be unrestricted.
What voters are promised is not what voters get, but, given the rocketing abortion rate underlined by these billboards, it would be an act of egregious voter deceit to remove one of the very few restrictions which actually does help women with unexpected pregnancies to seek a better answer than abortion.
Figures released in response to a parliamentary question from Carol Nolan suggest that, in 2020 alone, almost 20% of women who attended GPs and clinics seeking an abortion subsequently changed their mind and did not go ahead with the procedure.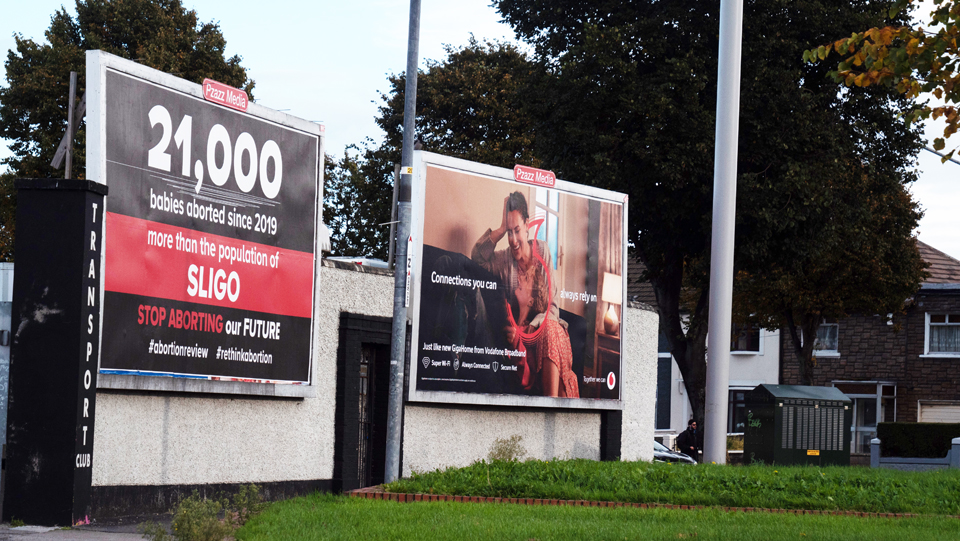 That should be enough evidence for TDs to stand up and be counted, to demand that no action is taken which might lead to even more abortions taking place. That would be a travesty.
The billboards are a centrepiece to an escalation of pro-life activity, which is both welcome and crucially important after the long Covid lockdown and as we enter the final stages of the review of the abortion legislation. One of the important actions will be to energise pro-life activists throughout the country with in-person events where we can meet and plan the renewal necessary to rebuild our broken culture.
The Renewal Tour, reaching the four corners of the country and featuring speakers such as GAA legend Mickey Harte, pro-life politicians, and historian and activist Jonathon Van Maren, will be an opportunity to watch Tim Jackson's excellent documentary on how the 8th was lost. It will also be a chance to hear from Jonathon Van Maren on how Ireland's strong pro-life past can give hope for the future. But most of all it is an opportunity to learn from each other and to renew our commitment to protecting both mother and child.
That commitment is surely spurred by the appalling reality writ large on the billboards being erected today. 21,000 babies aborted already.
Every day 18 unborn children are being added to that total - and, as the experience of Britain has shown, those numbers may get even worse.
If we do nothing, what town will feature on these billboards in years to come? Will we have aborted more than the population of Galway? Or Limerick? Or Cork? We need to keep this appalling reality before the public, because most of the media are only too happy to ignore the outcome of legislation they campaigned for.
Yet, cultural change can swing both ways. And it will, but only if we keep the path lit, and keep shining a light on the numbers that abortion campaigners and the establishment would rather we ignored.
---
See more on the campaign here
---