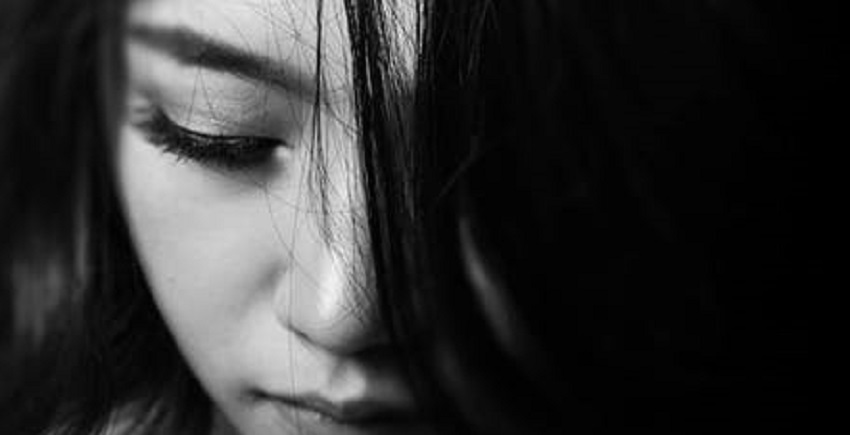 Irish Family Planning Association
About the IFPA
The IFPA (Irish Family Planning Association) is a national organisation and registered charity which is funded by the Governement and IPPF. It has been in operation in Ireland since 1969. Currently, the IFPA is the Irish member of the IPPF (International Planned Parenthood Federation) and operates under their Charter of Rights.
The IFPA's aims are contraceptive and abortion facilities in Ireland, provided by them, of course. They say that their concerns are for the health of Irish mothers but they have absolutely no outreach programme to help disadvantaged mothers and families. They are a business which sells commodities and services to the public and should not be afforded charity status.
IFPA Directors (as of 31st December 2006)
Anthea McTiernanMaeve O'SullivanMichelle ThomasMichael MurphyRuth EnnisHelen CornelissenLouise TierneyFrancis Power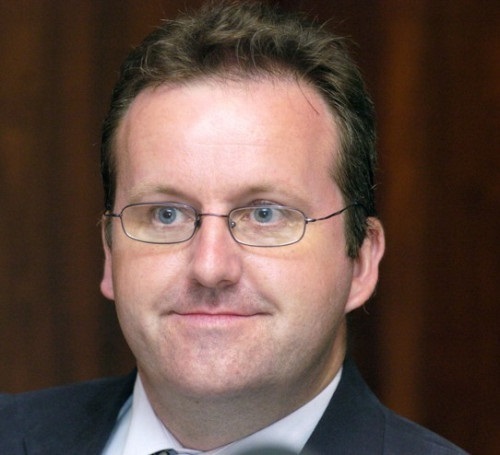 IFPA CEO Niall Behan
---
Encouraging abortions
The IFPA claim that their intention is to reduce the numbers of abortions carried out on Irish girls. But the figures speak for themselves. On Tuesday, 18th July 2000 the IFPA released the most detailed analysis of Irish abortion statistics ever published. It revealed that a growing number of Irish women are getting counselling before they travel to Britain for an abortion.
These women received counselling from the IFPA themselves. But it is quite obvious that if the figures are rising - then the IFPA are actively promoting the option of abortion.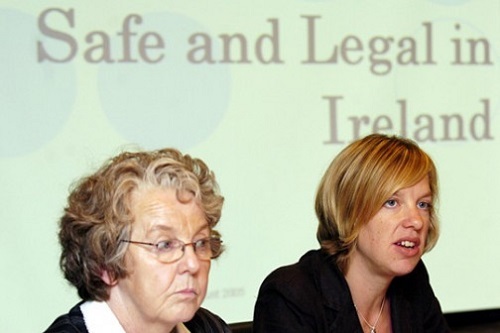 Campaigning for Legal Abortion in Ireland
Irish Family Planning Association, Campaign Spokesperson, Ivana Bacik (r) and IFPA Chairperson, Catherine Forde, speaking at the launch of the IFPA, Campaign For Safe And Legal Abortion In Ireland, Westin Hotel,Dublin 09/08/2005
More recently, the IFPA designed and sponsored the ABC case to the European Court of Human Rights. It was an effort to force Ireland to legalise abortion. It had the expertise of New York based law firms.
---
IFPA and the Irish government
The Irish state sends funds to the parent body, International Planned Parenthood Federation, when then in turn sends money back to the IFPA.
You can see in this latest financial report from the IPPF on page 31, the amount from the Irish government to the IPPF and on page 37, the amount of $45,546 from IPPF to the IFPA
The IFPA have a lot of influence in the Irish media and within Irish political circles. In their document Choices for All, Objective 1 reads as follows:
To increase commitment among Irish politicians and policy-makers to the promotion and protection of individual human rights and choices in sexuality and reproduction; and encourage them to support the enactment of appropriate laws nationally, within the EU and internationally.
And Objective 7 reads as follows
To increase the use of pro-choice language and the portrayal of positive images of sexuality in the media.
Taoiseach abuses his position
Below is the text of a letter sent in the year 2000 to the IFPA from Taoiseach Bertie Ahern. He abused his position as Taoiseach to congratulate an organisation who have contributed to the number of women going to England for abortion.
Message from Bertie Ahern (then Taoiseach) to the IFPA
I wish to congratulate the Irish Family Planning Association on the occasion of its 30th Anniversary, for its pioneering role in the provision of specialist centres for family planning and "well woman" health services, not just in Dublin, but in other cities and towns throughout Ireland. The development of the range of services which you provide in the close co-operation with the statutory agencies, to include counselling, education and public information, has further enhanced your reputation in the area of health services provision. I wish your association well for the futureBertie Ahern T.D. Taoiseach
Grants and funding from the Irish taxpayer
They regularly make submissions to government and claim that they "are a source of expert knowledge in the areas of reproductive and sexual health." For instance Medical Cards holders in July 2000 began to receive free services at IFPA's Cathal Brugha Street centre paid for by the the former EHB (Eastern Regional Health Authority), now the Northern Area Health Board; the South Western Area Health Board and the East Coast Area Health Board. In 1985 the Regulation of Information (Termination of Pregnancies Outside The State) Act passed by the Oireachtas after strong lobbying by IFPA. Legislation was substantially based on the IFPA' s service model and the IFPA received funding for its so-called pregnancy counselling services.
In 1997 the High Court declared the banning of the booklet 'Family Planning' null and void and the Annual General Meeting of International Planned Parenthood Federation was held in Co. Clare.
In 1994 the IFPA received public funding for services and core activities and Medical Cards holders begin to receive free services at IFPA's Tallaght centre paid for by Eastern Health Board. Also in 1994 IFPA's Your Guide To Contraception leaflet was funded by Department of Health and endorsed by Irish College of Practitioners. This leaflet replaced the government's leaflet.
In 1992 IFPA re-established Non-Directive Pregnancy Counselling Services in Ireland and joined a Service Partnership with British Pregnancy Advisory Service (BPAS), to bring service within the protection of European Law. They were also at the forefront of pro-abortion campaigns following the 'X' case.
In 1986, Mr. Barry Desmond TD, Minister for Health and Social Welfare, opened the IFPA's Education Resource Centre. The Resource Centre supplied teaching materials and videos on sex and health, education and lifeskills to teachers, social workers and youth leaders. The IFPA launched the Young People's Family Planning Centre which was based at Synge Street Clinic.
In 1985 Barry Desmond, TD, Minister for Health and Social Welfare, introduced the (Health) Family Planning Amendment Bill. The Bill, to make contraceptives available to those over the age of 18 years without a doctor's prescription, was narrowly passed.
---
Irish taxpayer Grants for year ended 2006
The IFPA received over €1.3m from the Irish taxpayer under a guise of different headings. The figures below are all in €s.
| Grant Payee | 2006 | 2005 |
| --- | --- | --- |
| Crisis Pregnancy Agency | 482,759 | 451,581 |
| Health Boards- Grants and Service Reimbursements | 604,903 | 560,814 |
| U.N.F.P.A. | 49,177 | 38,916 |
| Legal Research Project | - | 15,494 |
| Capital Grant Amortization | 6,185 | 6,185 |
| I.P.P.F. Grants | 47,278 | 37,908 |
| St. Stephens Green Trust | - | 5,700 |
| Other grants | 22,602 | 7,130 |
| POBAL re Equalityfor Women Measure | 40,798 | 16,967 |
| Combat Poverty Agency | 5,000 | - |
| National Aids Strategy | 10,000 | - |
| Irish Aid | 16,594 | - |
| Department of Health - National Lottery | 7,500 | - |
| Durex | 12,000 | - |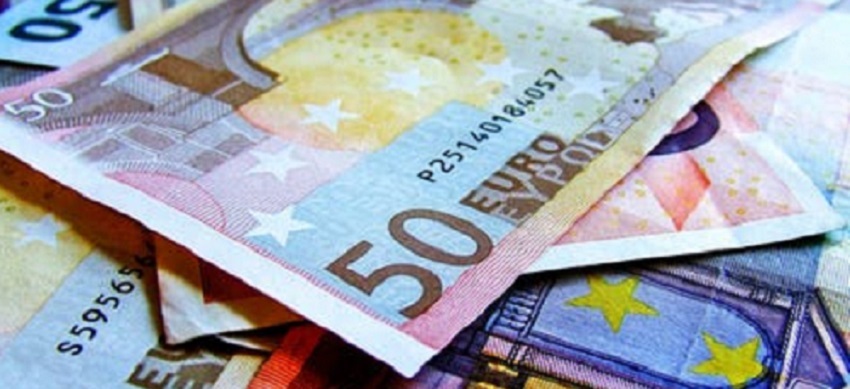 ---
Links to Planned Parenthood
Any right-thinking group would shudder to be associated or linked with racists philosophers. But the IFPA is the Irish Member of International Planned Parenthood Federation. They are also linked to the United Nations Population Fund. Who and what is International Planned Parenthood.
International Planned Parenthood Federation :
It is a multi-national corporation active in 133 nations.
Is funded extensively by tax-payers money in most of the countries they occupy.
Have refused to distance themselves from the coercive population control in China and Third World countries. IPPF give assistance to the Chinese government to forcibly sterilise and abort peasant women. A factory which supplies IUD which are forcibly fitted into women is funded by the IPPF.
The IPPF use Third World women as guinea pigs e.g. the IPPF implanted Norplant into Bangladeshian women which caused heavy bleeding and death. Recently women in the village Gazaira have asked to have the Norplant removed but they have been refused. The reason being: the Norplant device is on trial for 5 years.
The Irish Family Planning Association, which is a full member of the IPPF, promoted the Dalkon Shield IUD in the 70's and 80's. Consequently thousands of Irish women are suing the makers of this IUD because it has damaged them irreparably. The IFPA has made no apology to Irish women.
Dr. Benjamin Viel of the IPPF said in 1971 "It will be difficult to control world population if contraception methods are not combined with abortion."
The IFPA's former Chairperson, Noeleen Hartigan, was a board member since 1996, and has represented the organisation at IPPF European Regional Council meetings since 1998. Former IFPA Honorary Treasurer Robert Durie serves as Treasurer of the IPPF European Network, and is a member of the IPPF's Governing Council. IFPA Director Ruth Ennis is also on the IPPF's Governing Council
A former IFPA Chairperson and current IFPA Honorary Legal Counsel Catherine Forde, has also served as Honorary Legal Counsel to IPPF, attended the ICPD conference in Cairo and developed the IFPA Charter on Sexual and Reproductive Rights.
The IFPA has participated actively in the international work of IPPF, and their members have regularly held office within the Federation. They have participated, on an ongoing basis, in providing bi-lateral technical assistance.
It also includes Professor W Prendiville who is also a member of the Adelaide Hospital Society who defended that Society's Green Paper Submission to the government which promoted abortion. In their submission the Society made eugenic statements about the people of Tallaght. This is quite typical of the type of statement IPPF makes on a regular basis.To begin with, the submission of the Society is laden with ambiguities and euphemisms.
"An exceptionally high proportion of women in Tallaght are of reproductive age and many of these are single. These women are at especial risk of having a crisis pregnancy, and we wish to be prepared to deal with this as comprehensively as possible, within the law."
---
Racist ideology of planned parenthood
"We should hire three or four colored ministers, preferably with social-service backgrounds, and with engaging personalities. The most successful educational approach to the Negro is through a religious appeal. We don't want the word to go out that we want to exterminate the Negro population, and the minister is the man who can straighten out that idea if it ever occurs to any of their more rebellious members."Margaret Sanger's December 19, 1939 letter to Dr. Clarence Gamble, 255 Adams Street Milton, Massachusetts
"There is only one reply to a request for a higher birthrate among the intelligent, and that is to ask the government to first take the burden of the insane and feeble-minded from your back. [Mandatory] sterilization for these is the answer."Margaret Sanger, October 1926 Birth Control Review
"[Slavs, Latin, and Hebrew immigrants are] human weeds ... a dead weight of human waste [Blacks, soldiers, and Jews are a] menace to the race." "Eugenic sterilization is an urgent need ... We must prevent Multiplication of this bad stock."Margaret Sanger, April 1933 Birth Control Review
---
IFPA links to UNFPA
On October 12th 1999, the day marking 'baby 6 billion', a full page ad in The Irish Times sponsored by the Irish Family Planning Association (IFPA), called on "Irish Government to increase funding for family planning worldwide" as well as increased Overseas Development Aid. The IFPA is trying to generate increased public support in Ireland for a global organisation called the United Nations Fund for Population Activities (UNFPA). The UNFPA is one of the foremost worldwide advocates of China's population control programme, which includes forced abortion and sterilisation and has been accused of sending deadly abortion suction devices and other abortifacient supplies to refugee camps worldwide.
Ireland's IFPA is a full member of IPPF and now admits to being the UNFPA's "partner agency in Ireland". (Briefing Pack : Women and Children First - Information and Action on Family Planning Worldwide" IFPA 1999)
The IFPA stated that it was seeking to build "public support and awareness of UNFPA" and called on the Irish Government to increase "its contribution to UN agencies such as the UNFPA. In its Irish Times ad, the IFPA stated: "A 1997 UNFPA / MORI poll showed that most Irish people support the provision of family planning services and advice in developing countries". Were the Irish people who took part in this survey informed of all the facts about this matter before they gave their views?