History and Projects of the Organization
A quick overview of some of the projects undertaken by the Life Institute since its foundation.
---
2017
1. Pro-life Unity for the Life Canvass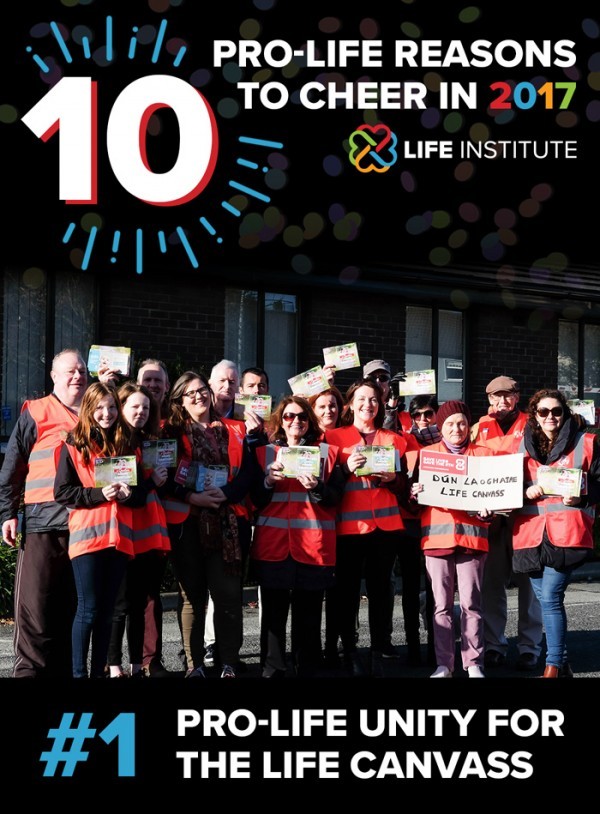 The long-sought for unity for the pro-life movement took a huge step forward as most of the major pro-life organisations have come together to make sure that the Life Canvass has the biggest impact possible to Save the 8th.

This was fantastic news for the Life Canvass, as another leading national pro-life organisation, Family & Life, formally come on board with Life Institute, Youth Defence and more than 30 local pro-life organisations, to make this the biggest pro-life door-to-door initiative ever seen in Ireland.
This new unity means that the Life Canvass will now be boosted by additional leaders, volunteers and resources. Niamh Uí Bhriain of Life Institute said: "We are delighted to have the skills and experience of the Family & Life team come on board and look forward to accelerating the growth of the Life Canvass together to retain the 8th."
David Manly of Family & Life said the joint effort sought to maximise the effect of the Life Canvass and that "the unity of the pro-life movement is a measure of our determination to protect the 8th Amendment. It was impossible to ignore the overwhelming results achieved by the Life Canvass this year. While our own ground campaign staff have been busy throughout the country, it was glaringly obvious to us that uniting with Life Institute and the other pro-life organisations behind one unified canvass was the only game in town. We owe it to our supporters to do the right thing and we are confident that they will overwhelmingly support this exciting departure."
The Life Canvass is the only door-to-door canvass on the pro-life issue in the country, and has made significant progress in the past two years.
The unity that is being achieved is tremendously significant as most pro-life groups are now joined in one united, national effort for the door-to-door canvass which will eliminate duplication. Such a development reduces canvass duplication, increases efficiency and effectiveness and ensures that the canvass benefits from the most experienced and qualified leadership skills available to the pro-life movement.
The Life Canvass is open to all organisations concerned about retaining the 8th amendment and committed to adopting best strategic practices. There is no better campaign alternative in terms of changing hearts and mind than powerful one-to-one personal conversations on the doorsteps.
---
2. Marie Stopes in Belfast Closes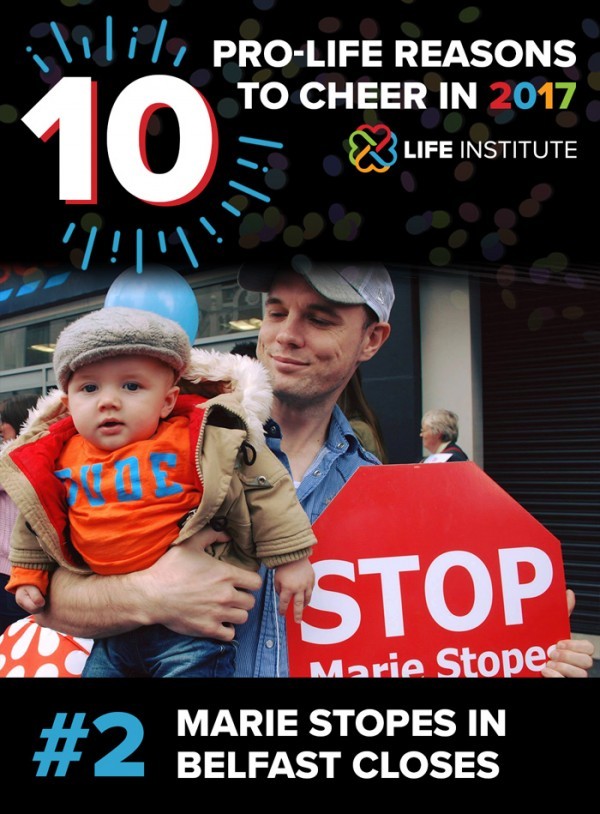 For the Precious Life volunteers who had endured rain, cold, and endless harassment to offer women a better alternative than abortion, the news that the Marie Stopes clinic was closing was the best Christmas gift they could ever receive.

Marie Stopes announced that it would close its doors on December 6th, some 5 years after it first opened in a storm of controversy in Belfast. The abortion chain is one of the world's largest abortion providers and sought to force a change in the law in the North of Ireland by offering abortions in its clinic.
Thanks to the dedicated work of pro-life volunteers outside the clinic, the numbers of women attending was low and falling, and many babies were saved at the clinic door by the compassion offered to women in need.
Director of Precious Life, Bernadette Smyth said, "Marie Stopes has never been needed – nor wanted – in Northern Ireland. In fact, over 70,000 people signed our STOP MARIE STOPES Petition Campaign, which was presented to the Northern Ireland Assembly in 2013. Then the majority of Assembly members voted against private abortion centres like Marie Stopes operating in Northern Ireland. She added that the closure of Marie Stopes Belfast was all down to the dedication, commitment, and hard work of the pro-life volunteers who would now accelerate their efforts in helping women with unplanned pregnancies, liaising with agencies like Stanton Healthcare NI – because women and babies deserve better than Marie Stopes.
---
3. Significant fall in support for abortion on disability grounds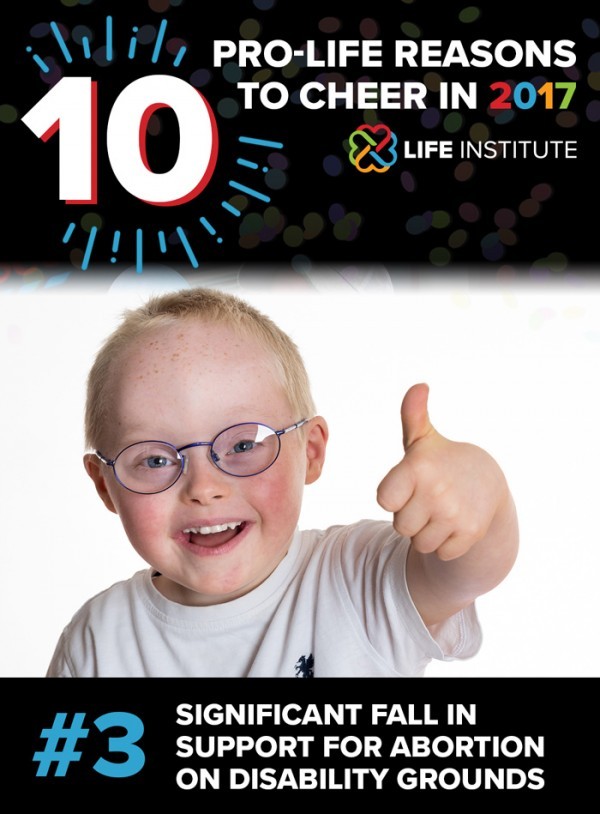 Opinion polls are showing a significant fall in support for abortion on disability grounds, with a considerable majority now supporting the right to life of preborn children with disability. Support for abortion in these circumstances has fallen from 61% in a Newstalk poll to 50% and then down to 36% in two successive Irish Times polls.

The shift prompted an Irish Times editorial fretting that the change showed a "hardening of opposition", when of course what the polls are actually showing is a softening of hearts and a growing public awareness that people with a disability have the same right to life as everyone else.
This is entirely due to the great courage shown by people with disabilities and their families who have been speaking out to say that every child has a right to life, whatever disability they may have. Their inspirational personal stories have clearly struck a chord with the public, as has their message that abortion is the very worst form of discrimination.
Two years ago, the Rally for Life adopted the theme of 'Every Life Matters', putting people with disabilities at the front and centre of the day's events, and of media reporting and promotion of same. Bridget Mary Kelly, who has Down Syndrome, won the day when she told the crowd that "people with special needs have a right to life" to loud and sustained applause.
Across social media, people like Hannah Moline, Karen Gaffney and Joseph Cronin their families, spoke out to say that their right to life should never be impacted by their disability. They pointed to the shocking and distressing reality that, in other countries, children with a disability are being wiped out. In Britain, 90% of children with Down Syndrome are aborted before birth: in Iceland that figure is now a heart-breaking 100%.
Parents like Anne Trainer wrote powerfully in the mainstream media about her son Kevin, and about the protection offered by the 8th.
"I believe the debate on the Eighth Amendment needs to hear from families like mine. People like Kevin are not here just to give us warm and cosy feelings during the Special Olympics. Their lives matter. Their human right to life matters. Children like Kevin are facing extinction in other countries. So the question is – will Ireland choose a better path, a path of compassion and love and understanding? A path where we help families to love and raise their children, rather than eliminating people with Down's Syndrome before they are born."
"I believe we can. The Eighth Amendment protected my son, and he was deserving of that protection. It should remain as a shining light to a world where the best and most beautiful of our citizens are being snuffed out."
The notion that children with a disability are better off dead should horrify any right-thinking person, but abortion campaigners manage to dress up this extraordinary abuse of human rights as a compassionate measure precisely because people with disabilities are excluded from the debate. The brave and inspiring people and families involved in the Every Life Matters and the Abortion Discriminates initiatives have changed that reality. They have called for better support instead of the lethal discrimination of abortion. And the people are listening.
---
4. Rally for Life to Save the 8th breaks all records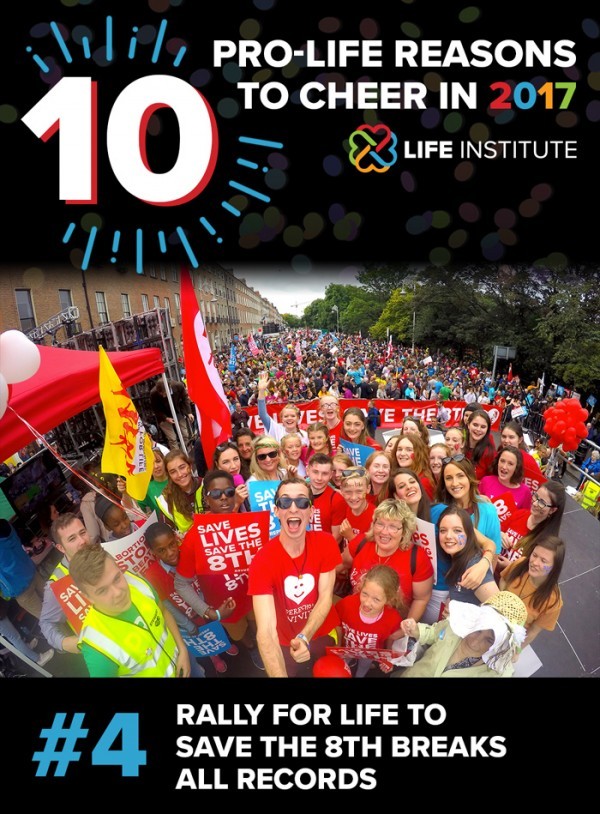 What a magnificent day it was! A record-breaking crowd of 80,000 people thronged Dublin city centre for the Save the 8th Rally for Life, filling the city streets with pro-life colour and enthusiasm, and showing the nation that the pro-life majority are active and motivated.

It was the 'the real Citizens Assembly' and the tens of thousands who marched promised to work 'night and day' to ensure the 8th amendment would be saved."It was an incredible, powerful day, when massive crowds of ordinary people turned out to Save the 8th, to say no to abortion and yes to Life, to tell Leo Varadkar that he will lose this referendum on abortion, because the pro-life majority has arisen and will work night and day to Save the 8th," said Niamh Uí Bhriain of the Life Institute.
RTÉ News acknowledged the huge crowds and noted that it took two hours for the huge pro-life rally to pass through the city centre, before hearing speeches from disabilities champion, Karen Gaffney; sovereignty campaigner Declan Ganley, Vicky Wall of Every Life Counts, and Bernadette Smyth of Precious Life and Niamh Uí Bhriain of Life Institute.
The Rally for Life is organised by Youth Defence, Precious Life and Life Institute and is the biggest pro-life event of the year.
---
5. 200,000 homes reached! Life Canvass becomes biggest pro-life grassroots effort ever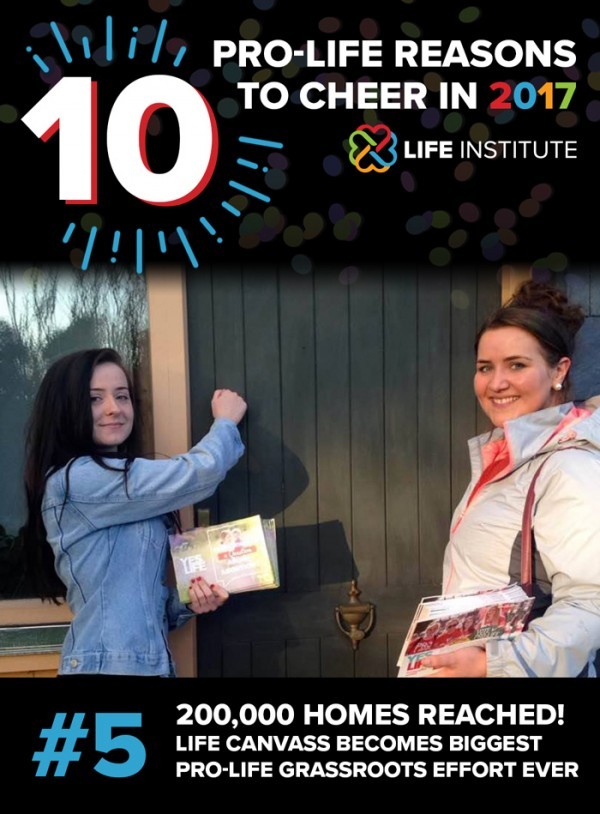 The extraordinary success of the Life Canvass meant that the target of 200,000 homes canvassed in the door-to-door initiative was passed by the end of 2017.As well as the weekly – and sometimes bi-weekly – canvasses across the constituencies, two National Life Canvass days brought out huge amounts of people in a tremendous display of pro-life activism.

Just under 50 teams brought out almost 600 volunteers to reach 16,000 people for the second massive, national canvassing blitz – an extraordinary display of people power which is building to be the largest grassroots endeavour seen in this country in recent times.
Those one-to-one conversations are absolutely key, because this referendum will firstly be decided in the human heart, and that there is no substitute for going to the doors to talk to people and having those vitally important conversations about retaining our constitutional protection for the right to life of both mother and baby.All credit to the Life Canvass leaders: they've gathered, trained and empowered teams of committed and informed canvassers who are doing an incredible job talking to people at the doors and in the public square.
They've also unified pro-life activists behind one united, cohesive and focused canvassing effort which is reaping huge dividends. As we move into the last 6 months in the run up to the referendum, long may that continue.
---
6. HUMAN becomes first Irish pro-life video to reach 1 million views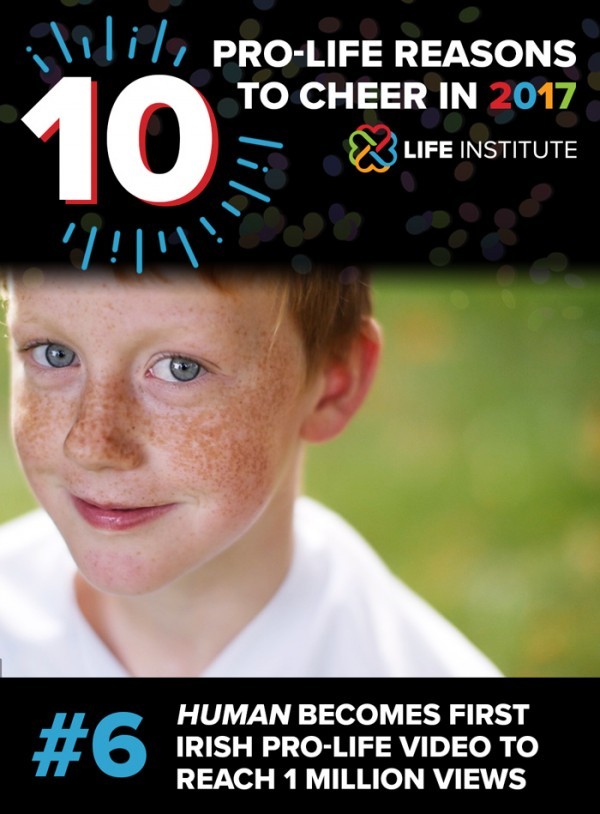 This year our 'HUMAN' video campaign reached a whopping 1 million people – almost a third of all Irish adults – with a powerful video message, the first Irish pro-life video to do so.

HUMAN uses a compelling script and beautiful images to explain that we all are deserving of equal rights simply because of who we are; we are all human beings and have been so from the beginning of our lives. It produced a hugely positive reaction from thousands of people who watched and shared its powerful message.
"This means the youngest of us should have the same rights as the oldest of us. The weakest should have the same rights as the strongest. A woman should have the same rights as a man. The preborn child should have the same rights as the newborn. Because human rights are fundamental rights, to which every person is entitled, simply because he or she is a human being."
The video explains: "All human beings have the right to be safe. The right not to be tortured. The right to be free. But one human right is more important than all of the others. The right to life. Because without the right to life we cannot enjoy any other human right. Because without the right to life, there are no other human rights."
It's conclusion: "The humanity of the preborn child cannot be denied. Do not deny them their human right to life". It's a message we need to share again and again to #SaveThe8th
---
7. Unbroken shines a light on what women pregnant after rape really need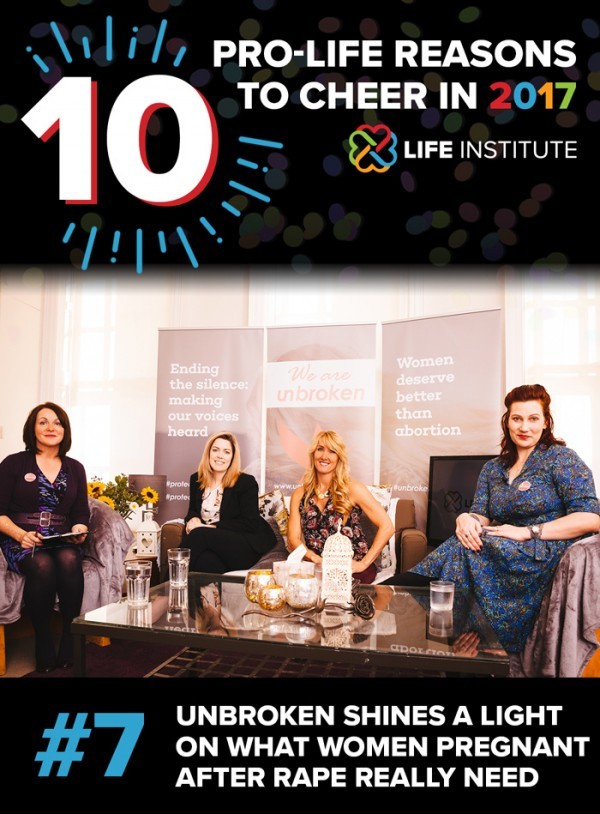 The great courage of rape survivors challenged the pro-abortion narrative like never before 2017.Despite the shameful efforts of abortion supporters to silence them, the heroic women of Unbroken made their voices heard – and their message was that abortion is not the answer when women become pregnant after rape.

"My child is innocent too – we should punish rapists, not babies,"
they bravely said. They spoke in public, at colleges, in the Dáil, on the media and to the hearts of people right around the country.
The effect was real and powerful: amongst the many media articles, a piece in Trinity News summed up the impact these women made, positing that "they force those of us who are pro-choice to reconsider our position and engage with a valuable new perspective on the entire debate."
See more – including all the media attention
---
8. Companies exposed by David Daleiden's work given $7.8 million fine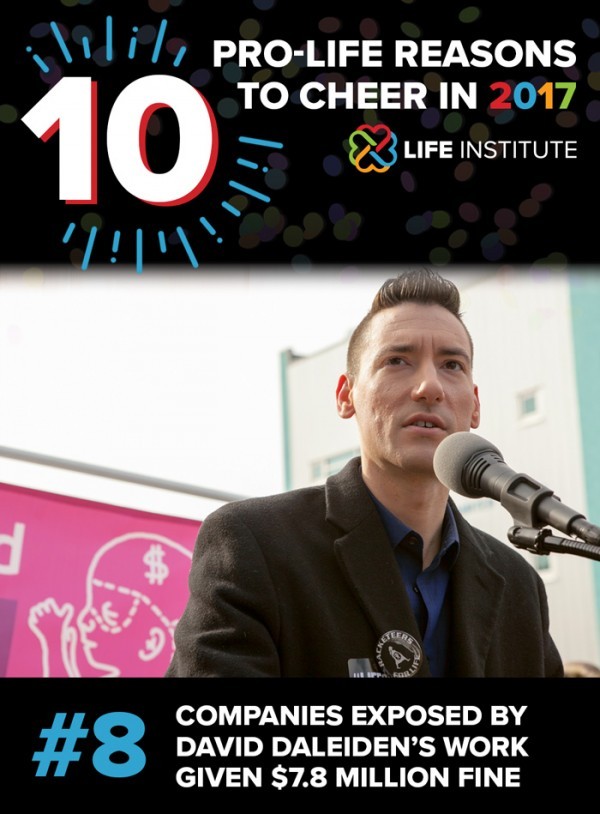 Two California bioscience companies that illegally trafficked aborted baby body parts have been hit with a $7.8-million settlement and told to close down for good.Undercover videos made by Center for Medical Progress revealed the true horror of the sale of the body parts of aborted babies, and in September of 2015, Orange County's district attorney's office began an investigation of its own.

"This settlement seized all profits from DV Biologics and DaVinci Biosciences, which they acquired by viewing body parts as a commodity and illegally selling fetal tissues for valuable consideration,"
District Attorney Tony Rackauckas said in a statement.
"These companies will never be able to operate again in Orange County or the state of California," he added.
Life Site News reported that prosecutors accused both companies of illegal and fraudulent business practices and terms of the $7.785-million settlement signed Monday include both research companies closing within 60-120 days. Both must also admit criminal liability for violating state and federal laws.
The settlement shows that the Center for Medical Progress (CMP), led by investigators David Daleiden and Sandra Merritt, were telling the truth when they exposed the criminal activity taking place within the abortion industry.
The CMP undercover videos showed Planned Parenthood officials eager to make profits off the illegal sale of baby parts, talking about modifying of abortion procedures to obtain "intact" babies for sale and "fresh" specimens to pay for luxury cars for Planned Parenthood staff.
---
9. Poland moves to ban abortion on disability grounds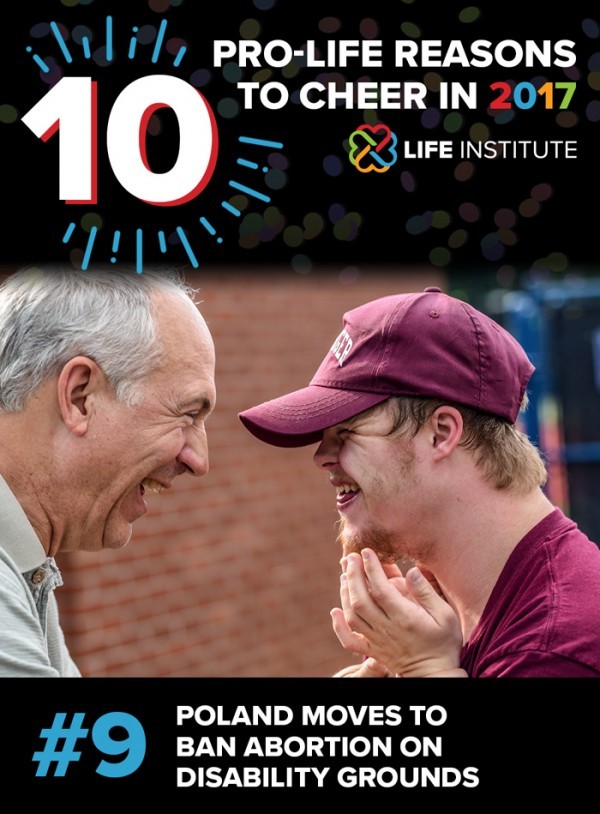 Poland is moving towards a ban on abortion on disability grounds, a progressive and compassionate step towards establishing full rights for people with disabilities.Earlier this year, the Polish grassroots organization the Stop Abortion Committee launched a citizen's petition to ban abortion in cases where the preborn baby has a disability. According to the Committee, the petition received 830,000 signatures, more than eight times the number of signatures required by Polish law for submitting a legislative proposal to parliament and nearly twice as many as signatories as last year's initiative to ban all abortion, which did not, at that time, succeed.

Both Polish President Duda and Prime Minister Beata Szydło have declared their support for the pro-life initiative, despite the European Union trying to bully Poland by threatening censure if the legislation passed.
According to a CBOS poll from last year, as cited by The Catholic World Report, 66 percent of Poles believe that human life should be protected "regardless of the circumstances" from "conception to natural death." A separate 2014 poll found that 65 percent of Poles consider abortion "morally inappropriate."
Pro-life sentiment in Poland has grown significantly in recent years. Since 2012, the number of Poles who support legislation restricting abortion has increased by 7 percent. Pro-life sentiment in Poland is likely to increase further in the coming years. A full 80 percent of young adults (18-24 years of age) support a complete abortion ban compared to only 50% of adults over 65, says the Population Research Institute.
---
10. Save the 8th campaign growing every day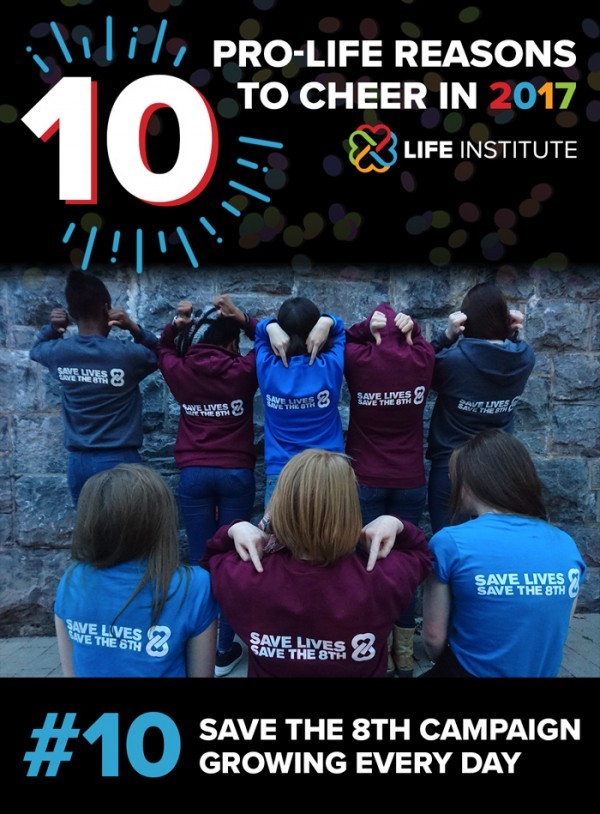 As we head into a referendum, its hugely encouraging to look back at the growth of the Save the 8th message in 2017.Young people wearing the Save the 8th message, a huge rally, canvassing, car stickers, social media, videos and much more – every day the message is growing and spreading.

We are calling the Irish people to save lives – to save mothers and babies – a strong, powerful imperative to protect the most vulnerable and to say yes to life and no to abortion.
In 2018, the Save the 8th message will carry the hearts and minds of the people, and lead the campaign for a better answer than abortion. Be part of it. #savelives #savethe8th
---
2016
This past year saw many significant events take place in the ongoing battle to protect mothers and babies from abortion. The Irish pro-life movement has fought back with considerable success against a well-funded, media-backed push to repeal the 8th amendment to the Constitution which protects the life of both mother and baby.
Here are the top 10 reasons to celebrate and find hope in 2016!
---
1. Precious Life delivered 300,000 pro-life petitions to Stormont: politicians say is 'historical,' biggest ever.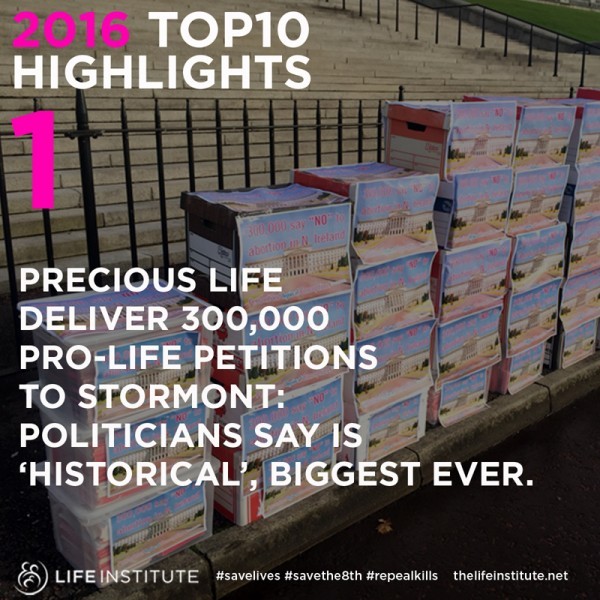 Each petition was a real signatory, with an address in the North of Ireland! In other words a real peition, and not like the measly 45,000 'petitions' that were gathered from around the world via email like Amnesty's. #savelives #savethe8
---
2. Irish High Court rules unborn child has "significant" legal rights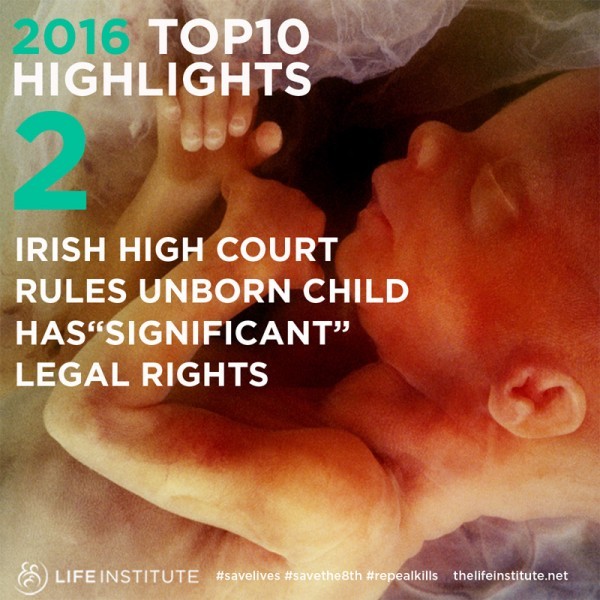 In August, a High Court judge ruled that the word 'unborn' in the Irish Constitution means an "unborn child" with rights beyond the right to life which "must be taken seriously" by the State.
Mr Justice Richard Humphreys said that the unborn child enjoys "significant" rights and legal position at common law, by statute, and under the Constitution, "going well beyond the right to life alone." Article 40.3.3 of the Irish Constitution, known as the 8th amendment, guarantees the right to life of preborn children, but the judge pointed out that the Constitution obliges the State to protect "all" children and that because an "unborn" is "clearly a child," Article 42a, guaranteeing additional rights, also applied to all children "both before and after birth."
Niamh Uí Bhriain of the Life Institute said that this was a significant ruling that confirmed the unborn baby was deserving of all the rights and protections to which every other person was entitled. She added that the ruling was a blow to those who were seeking to discriminate against children before birth and who argued that the preborn child was not fully human or entitled to human rights.
---
3. Polls show most Irish people leaning pro-life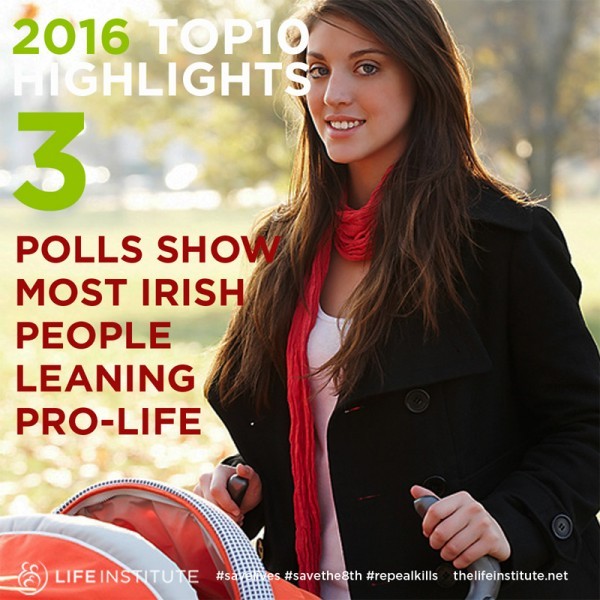 In recent years almost $18 million has poured into the coffers of abortion campaigners in Ireland from US billionaires such as Chuck Feeney and George Soros. This money, and the almost complete support of the Irish media, has boosted the efforts of abortion campaigners who seek to overturn the right to life of unborn babies in Ireland.
However, despite that, recent polls show that abortion campaigners have failed to carry the Irish people with them in their demand for abortion. Polls show support for repealing the 8th falling, and most recently, and Irish Times poll revealed that only 19% of voters supported an abortion-on-demand model. Most voters, some 73%, were either totally or mostly pro-life.
So most voters are leaning pro-life, but some have questions. The Life Canvass (see 10 below) is reaching those voters in the most effective way possible.
---
4. Abortion Bills Defeated North and South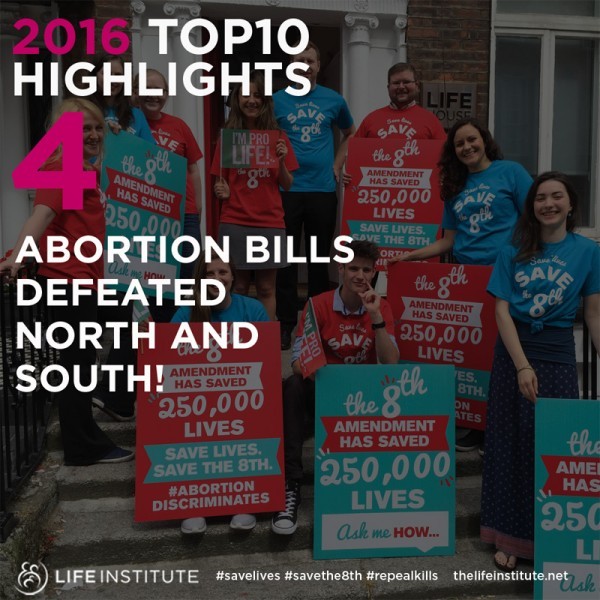 Abortion campaigners continue to target babies with disabilities to push for change in abortion laws both North and South in Ireland, but both proposals were defeated in 2016.
In July, TD Mick Wallace's abortion bill was defeated in the Dáil. The bill, which called for legal abortion in cases where babies were prenatally diagnosed with life limiting conditions, was an attempt to deny the humanity of unborn babies with disabilities and was a cruel and cynical exercise to push a much wider abortion agenda.
Mattie Mc Grath TD said that "We all need to recognise that there is no monopoly on compassion when it comes to this issue. We all want the best medical and clinical outcomes for mothers and children. In light of that we need to be guided by the actual medical reality which clearly states that there is no legitimacy to the terms 'fatal foetal abnormality' or 'incompatible with life.'"
Mr McGrath joined pro-life advocates from Youth Defence outside the Dail where a mobile billboard touring the city carried a powerful 'Abortion Discriminates. Save the 8th message.'
Similarly, in February, politicians in Stormont voted down two proposals to make abortion available in the north - where the baby was either conceived by sexual assault or had a severe disability. The measures were decisively defeated. The proposal to allow abortion where a baby has a severe disability was defeated by 59 votes to 40. A second amendment to allow abortion in the case of sexual assault was voted down by a two to one majority.
Parents of children diagnosed with life-limiting conditions welcomed the defeat of the proposals. Every Life Counts spokeswoman Tracy Harkin said that "Parents actually need better support and care, like perinatal hospice care, instead of abortion. Why don't we hear politicians and campaigners looking for that?" she asked.
---
5. Term "fatal foetal abnormality" rejected by experts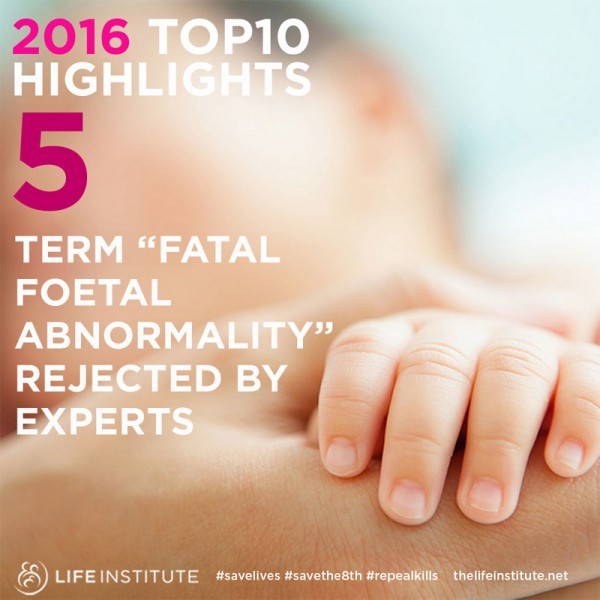 In an enlightening interview with the BBC, Professor Jim Dornan, a prominent and respected obstetrician, confirmed the term 'fatal foetal abnormality' is not a medical term - and is not to be found in any medical textbook.

Prof Dornan: "I want to make it very clear, that in our submission, the Royal College [of Obstetrics and Gynaecology's] submission to yourself Mr Ford [the then Justice Minister], we made it very clear that we were not happy with the term 'fatal foetal abnormality.' It's in no textbook that I know of. No doctor knows exactly when a foetus is going to die."
Presenter: So you refer to a fetal abnormality?
Prof Dornan: "Absolutely, and of course we're all fatal. I mean, a life of a few minutes can be as perfect as a life of sixty years."
His statement, and the efforts of parents in groups such as Every Life Counts to have these misleading and discriminatory terms discontinued, was also bolstered by the revelation this year that the Irish Chief Medical Officer told Minister Simon Harris that abortion legislation using that term was unworkable because a doctor did not know how long a baby would live after birth. In August, the Irish Health Service Executive also ceased use of the 'fatal' label in its guidelines, replacing it with the term 'life-limiting condition.'
---
6. Pro-life drive to Save the 8th trends n Twitter and in real life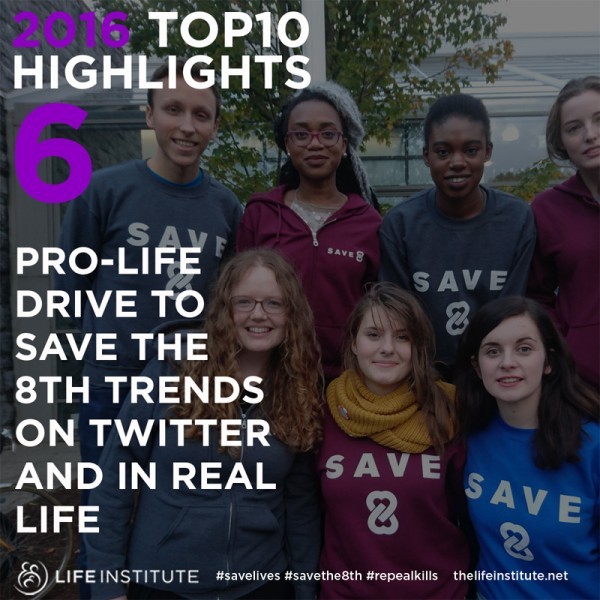 A national campaign opposing the push by abortion campaigners to repeal the pro-life 8th amendment attracted major public attention this year. The Save Lives, Save The 8th campaign used billboards, roadshows, social media, campaign wearables, materials, and more, to remind voters that Ireland's constitutional protection of life has saved babies' lives, and offered women a better answer than abortion.

The campaign wearables in particular have caught significant public attention, with Save the 8th sweaters being worn by pro-life politicians, on campus, and in the public square right across the country, ensuring Save the 8th trended on Twitter.
---
7. Perinatal Care Conference in Dublin calls for improved care for babies with life limiting conditions.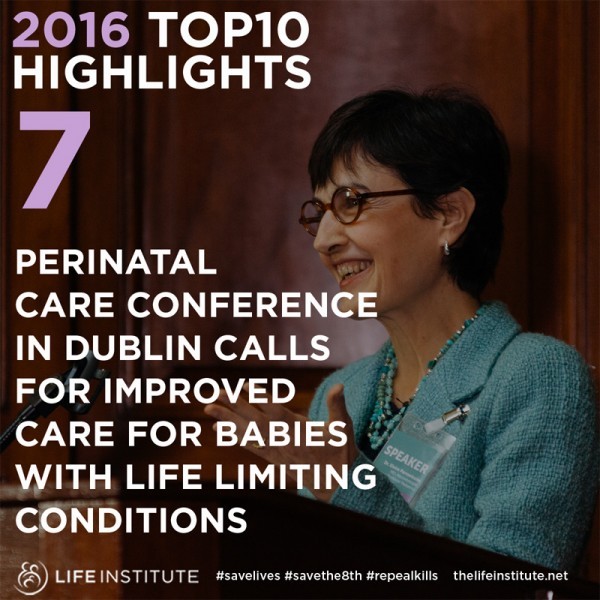 A major medical conference took place this past January at the Royal College of Surgeons in Dublin called for improved care for families where babies were prenatally diagnosed with severe life limiting conditions. The Perinatal Conference was the first of its kind– and attendees heard from both medical professionals and parents whose children has these serious conditions.

Presentations at the Conference were both informative and inspiring as doctors, nurses, and researchers from all over the world discussed ways to allow severely disabled babies to live with dignity for as long as they can and provide parents with the chance to be parents.
Babies with life limiting conditions are often targeted for abortion, but this conference truly demonstrated that perinatal hospice is a positive alternative that is better both for these special babies as well as the families that love them.
Dr. Elvira Parravicini, a neonatologist New York Presbyterian Hospital, said it best when she stated, "Before death there is life, and the moment of birth for these families is a moment of joy."
---
8. Carphone Warehouse apologises for 'pro-choice' adverts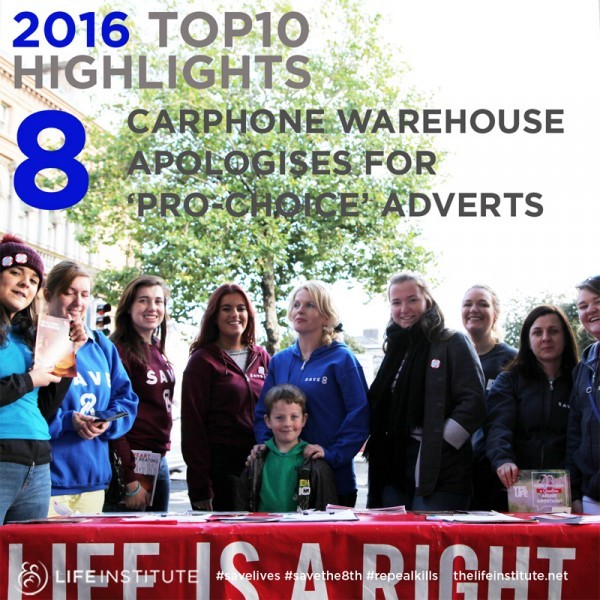 In November, Irish pro-life advocates received an apology from the international mobile provider Carphone Warehouse, who apologized for an offensive "pro-choice" advertising campaign in Ireland.

Those who organized pro-life protests outside Carphone Warehouse, said the climb-down showed that pro-life boycotts and letter writing campaigns could be effective tools in the battle for Life
Due to the public backlash, Carphone Warehouse pulled the campaign. In a written apology, Sir Charles Dunstone, chairman of Carphone Warehouse, stated: "I am very sorry that our clumsy advertising caused you such offence. I has been stopped and lessons learned. Please accept my sincere apologies."
---
9. The All Ireland Rally for Life in Belfast brings thousands out for Life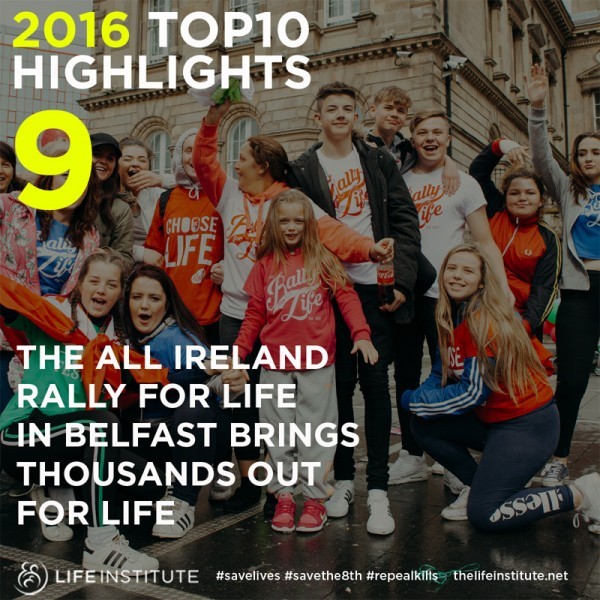 This year saw major pro-life marches all across the world. Close to home, the All Ireland Rally for Life Belfast was a massive success and despite the rain, thousands and thousands came out to march through the streets of Belfast in defense in life and in support of mothers and babies. It was a beautiful and inspiring sign that the Ireland truly is a pro-life country.

"This is the human rights issue of our time, and we will fight for life, and we will win. We will defeat abortion for mother and babies, north and south, across all divides, and we will demand a better answer than abortion, because killing a helpless child cannot be where the answer lies," Precious Life leader, Bernadette Smyth told the thousands who gathered in Custom House Square.
Earlier in the year almost 5000 people also joined a 'Pro-Life and Proud' Rally for Life in Cork calling for the new government to respect the wishes of the pro-life majority.
---
10. More than 128,000 homes reached in massive canvass to Save the 8th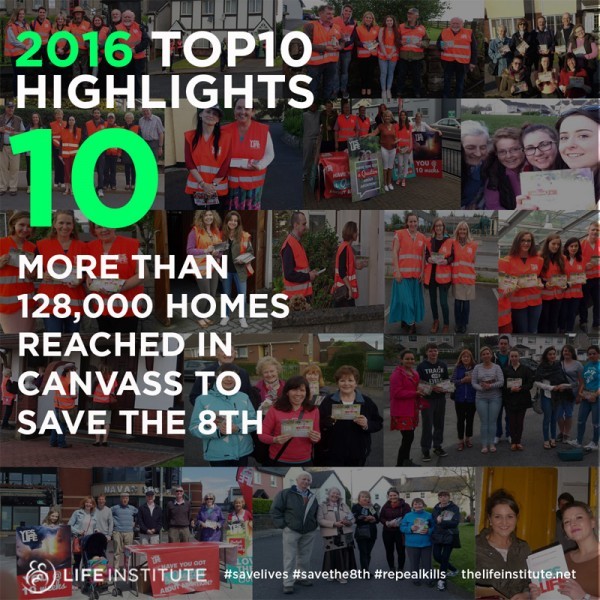 This year also saw the strong and steady growth of the Life Canvass in Ireland. The Life Canvass is a powerful grassroots effort to reach out to every home in Ireland to have an honest, one-to-one discussion on the reality of abortion. This year saw more than 128,000 homes reached as pro-life canvassers all over the country volunteered to knock on doors in order to help protect the 8th amendment, which guarantees the equal right to life of mothers and babies in Ireland.

The Life Canvass is truly game changing as it recognizes the power of reaching out to people individually, providing them with information about the reality of abortion, and acknowledging the serious concerns that they have.
What is truly inspiring about the Life Canvass are the countless canvassers in every corner of the country who give of their time to reach out to their neighbors because they believe that all life, born and unborn, is worth protecting. This national grassroots initiative is reaching the nation to Save the 8th – making 2016 a year of hope and change for pro-life activism.
Thank you for all your support and commitment to the pro-life cause!
---
2014
National Convention for Life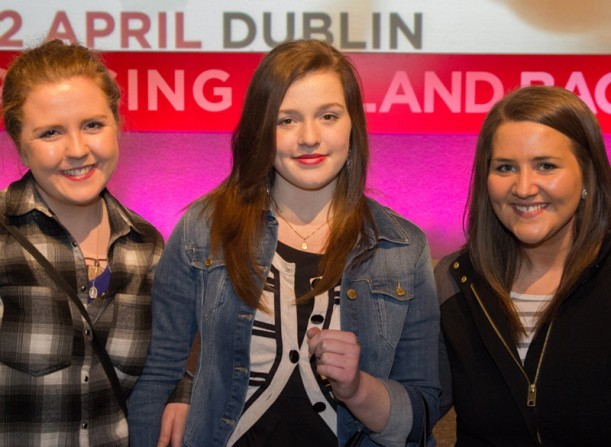 The Convention for Life was held on 12 April 2014 in Dublin Castle. Over 800+ people packed the room to hear inspiring and motivating speakers from Ireland and abroad. First time we livestreamed a conference also, check it out on Youtube!
---
Life Award 2014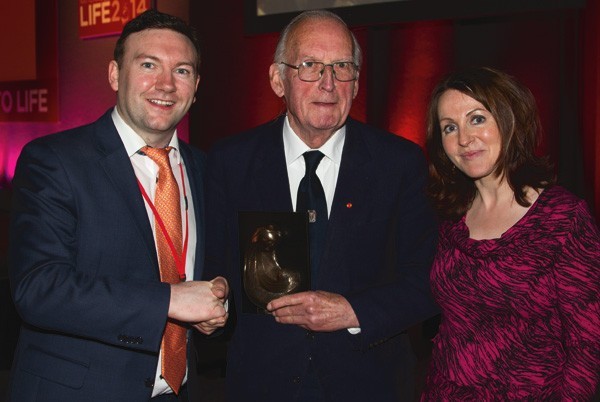 Professor Eamon O'Dwyer was presented with the Life Award 2014, at the Convention for Life, in recognition for his work and commitment in caring for mothers and babies
---
Vote for Life Initiative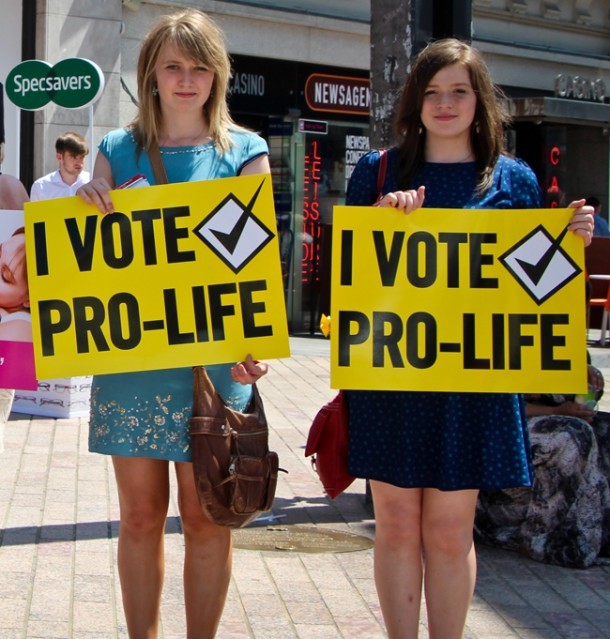 Politicians thought the pro-life vote didn't matter - now an amazing 131 election results have proved them wrong. Election 2014 afforded pro-life voters their first opportunity to deliver an electoral message to Fine Gael and Labour since the government legalised abortion last year.
The election results were devastating for both government parties: Fine Gael's vote was down 30%, while Labour's vote fell by more than 60%, a clear rejection of the party and what it stands for.
Those local election results were significant - and impressive. The 'Vote Pro-Life' list, compiled by the Life Institute, excluded all parties which voted in favour of legalising abortion, including Fine Gael and Labour.
Naturally, that restricted the choices considerably, but the list still featured some 200 candidates in total, including Independents, Fianna Fáil and others. The list was then made widely available by the Life Institute. The good news is that 131 candidates from that list of 200 were elected, meaning that a significant 65% of contenders identified as pro-life took a seat.
The big loser in terms of seats taken by these candidates was Fine Gael, and, in an election where the party was already feeling voter anger about austerity and the Alan Shatter debacle, these were votes they could ill afford to lose. But Fine Gael had lost the pro-life vote when they broke their pro-life promise last year and legalised abortion until birth, against all the medical evidence and despite enormous public protest.
In fact, the need to identify pro-life candidates, in particular at local level, was driven by the demand from voters right around the country.
---
Rally for Life 2014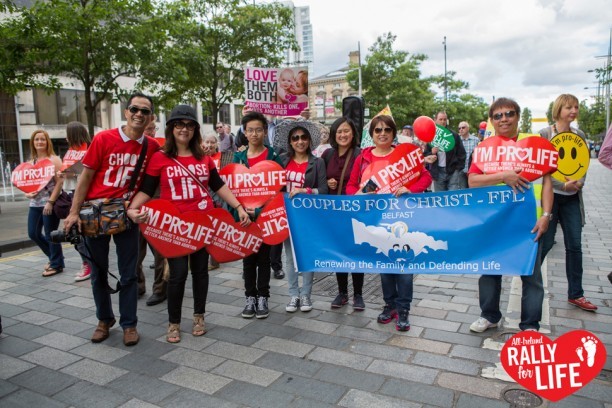 The 8th All Ireland Rally for Life took place on Saturday, 5 July 2014 in Belfast City Centre. 8,000 people marched through Belfast City Centre and heard speeches in Custom House Square. Biggest crowd so far in Belfast!

---
Gathering support and goodwill for the Baby forgotten in the latest abortion crisis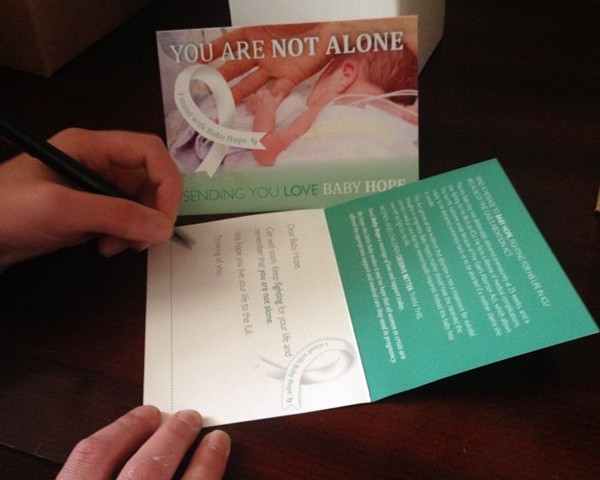 At the end of August we heard the news that a tiny baby boy was struggling for life in intensive care in a Dublin hospital. Born at just 25 weeks gestation, he will have spent days gasping for breath, and hanging onto life by a thread. He faces a very uncertain future: he may be blind, he may have cerebral palsy or brain damage, but perhaps he'll be lucky and pull through. Being born premature is really tough on a baby. But this little boy was born premature on purpose - all because of the horrific abortion act brought in by Fine Gael and Labour - which has now been shown to absolutely fail both mother and baby. The abortion act forced a doctor to deliver a baby prematurely, and failed a mother who was suicidal.
We held a vigil for Baby Hope who was being ignored by the media and politicians. Almost all of the abortion advocates ranting about the case wished for this baby to be dead.
We set up an online petition, distributed leaflets all over the country and published an open letter to Enda Kenny.
---
Regional Meetings
A big thank you to everyone who attended the regional strategy meetings in the month of September. It was such a pleasure to meet with you all again, and the meetings were crucial to sharing ideas, goals and ambitions, and ensuring everyone has an input into what is required on the road ahead for the Irish pro-life movement.
The message from pro-life politicians who addressed each meeting - Cllr Mary Bohan in the West, Senator Jim Walsh at the Leinster meeting, and Mattie Mc Grath TD in the South - was very positive. They have all been champions for the unborn in their respective roles, particularly during the last two gruelling years when, given the absolute intolerance of the pro-abortion lobby and the bias and bullying of the media, it would have been far easier to sit down in silence.
---
Delivering messages of hope to Department of Health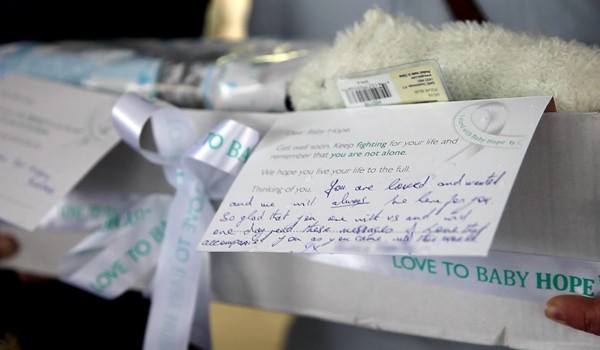 5,000 get well wishes and gifts were delivered to Leo Varadkar, Minister for Health, for the baby at the centre of the latest abortion crisis. The baby was delivered prematurely at 26 weeks and was in ICU. An open letter from a premature baby to Taoiseach Enda Kenny is read aloud at the Department of Health.
---
2013
Unite for Life Pro-life Vigil
19th January 2013 on a freezing cold day, 30,000 people gathered at Merrion Square to tell Enda Kenny to the promise he made to the electorate not to legalise abortion.
A highlight of the massive Vigil was when Dr Eoghan de Faoite of Youth Defence phoned Enda Kenny live from the event, and 30,000 people chorused a message for an Taoiseach to 'keep his pro-life promise'.
The massive pro-life event went quiet as Dr de Faoite called an Taoiseach's constituency office, and Enda's voice could be heard asking the caller to leave a message.
---
Pledge Pro-life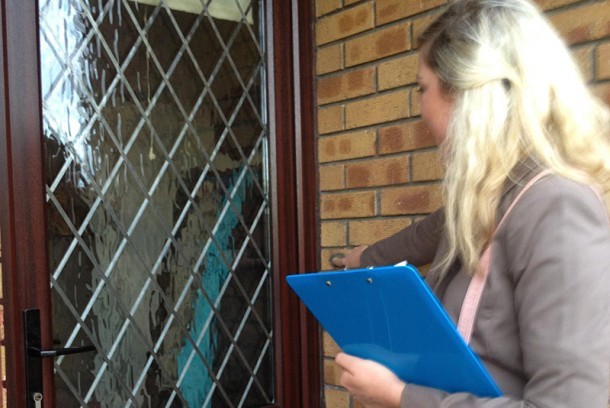 We did it. We gathered 100,000 people who say they will never vote for Fine Gael again if they legalise abortion. Petitions were gathered online, door-to-door but mostly by every day street contact. It was a massive effort but it informed and motivated people!
Thank you for all the trojan work you've done in getting to this tremendous goal.
---
Keep your promise 2012 - 2013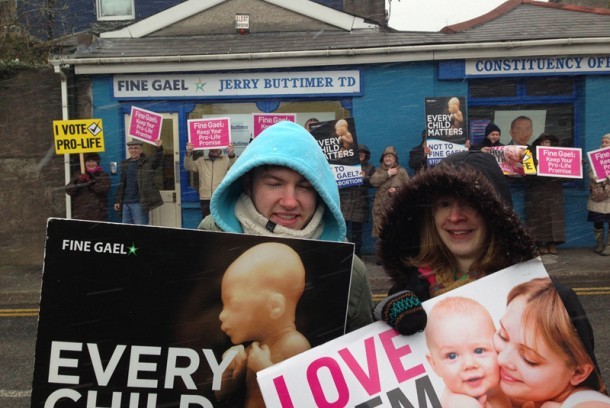 During Election 2011 Fine Gael promised they would not allow abortion to be legalised in Ireland.
But, on the 18th of April 2012, the Fine Gael Minister for Health, James Reilly, told the Dáil a different story. He claimed that a recent European Court which called for abortion legislation - needed to be "implemented as expeditiously as possible". And Fine Gael have offloaded responsibility for the issue to a so-called 'expert group' who are expected to recommend abortion legislation.
Keep Your Promise saw local activists asking their local FG politicians to keep the promise they made in February 2011
---
Pro-Life Blitz
Informing the pro-life majority: More than 4000 people have attended our public meetings around the country, and 20,000 copies of our Brief on the Hearings and the Abortion Bill have been circulated. Local campaigns are supported daily.
---
Rally for Life 2013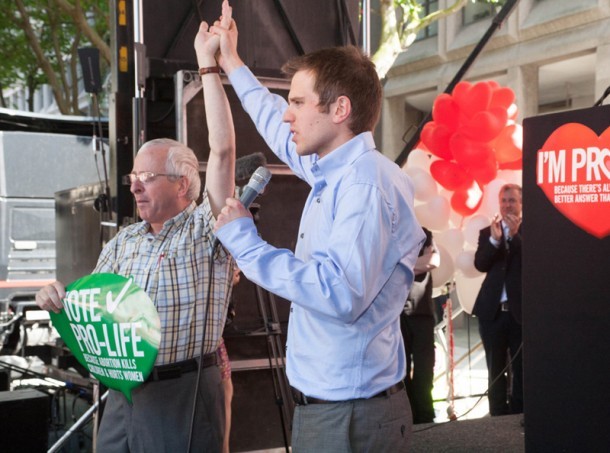 6th July 2013 saw the biggest pro-life event ever held in Ireland. 60,000 people walked through the city centre and up to Dáil Éireann, the week before the abortion legislation was debated in the Dáil.
---
2012
We're Safer Without Abortion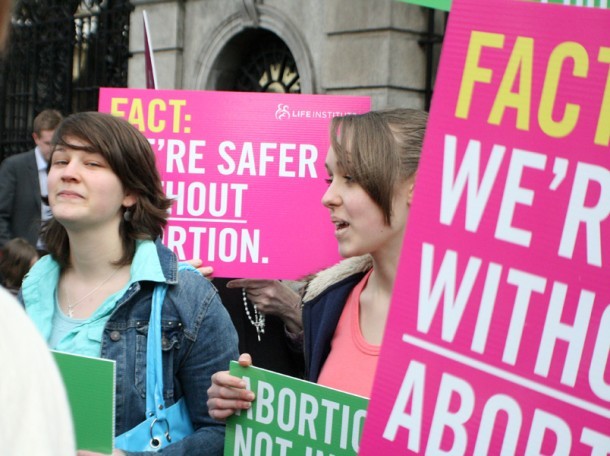 We are SAFER without abortion: Pro-life women use public events to point to the fact that Ireland has one of the lowest maternal mortality rates in the world without abortion.
The campaign gathered women from throughout Ireland together to send a powerful message opposing the Abortion Bill and its fatally flawed claims. We sent letters to every elected representative and Senator presenting the evidence that shows women are safer without abortion. The letters were presented at Dáil Éireann by a colourful gathering of 400 women and children who said the proposals in the Abortion Bill were 'not made in our name.' Our thanks to the Deputies and Senators who came out to meet constituents at the event.
---
Video adverts on Suicide and Medical treatment
Explaining ABORTION IS NOT A TREATMENT for any medical condition arising in pregnancy - including suicide. Two powerful awareness campaigns directly challenging the government's proposal to legalise abortion on suicide grounds.
Our newspaper advert (below) had more than 6 million views, and was published in 29 local newspapers and 9 national papers, along with an informative OpEd from a clinical psychiatrist. Succinct and striking video infomercials (above) are set to reach a game-changing 300,000 views.
---
Rally For Life Belfast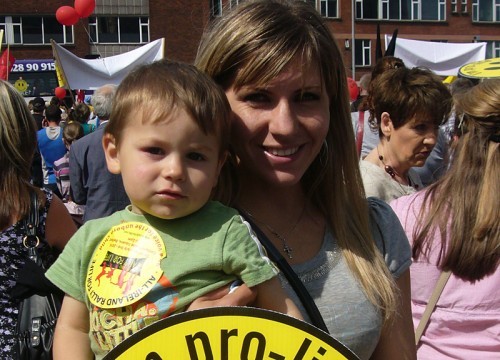 7th July saw the All Ireland Rally for Life return to Belfast. Numbers growing year on year.
---
United for Life Vigil
More than 10,000 people assemble at Dáil Éireann on Tuesday, December 4th, to stand up for life, and to tell Fine Gael and Enda Kenny to keep their pro-life promise! The Vigil for Life was organised by a coalition of pro-life organisations.
---
2009
Anti-euthanasia ads featured in key national and local newspapers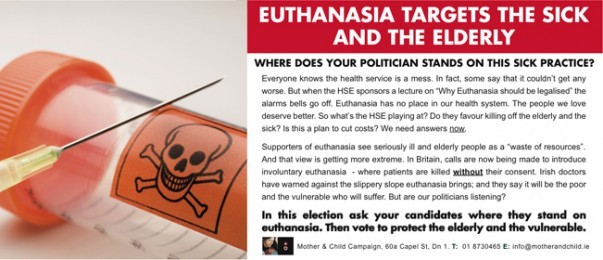 Mother and Child Campaign welcomed the very positive response to their newspaper adverts opposing euthanasia – the first advertising campaign of its kind in Ireland. The striking and hard-hitting message was that "Euthanasia targets the sick and the elderly. Find out where your politicians stand on this sick practice."
The advert featured a hand holding a needle with the strap: LETHAL INJECTION and spelled out the danger of euthanasia - of targeting the most vulnerable people in our society. It warns against the kind of thinking that sees sick or elderly people and premature babies as a "waste of resources."
Niamh Uí Bhriain said that the advert was the first crucial step in a whole new programme planned opposing euthanasia. "Together we've stopped the legalisation of abortion, and held back stem cell research. Now we need to bring that same determination to act against the threat of euthanasia," she said.
The M&CC spokeswoman said that the advert was placed in key national and local newspapers, urging voters in the upcoming election to make euthanasia an issue. "We were very encouraged by the response," she said, "It underlines the need to deal with this issue, in an urgent and comprehensive fashion.
---
2008
Pointing out a few facts about the HPV vaccine
M&CC wrote to the Minister for Health, Mary Harney, asking her to reconsider her decision to approve the Gardasil HPV vaccines in light of shocking evidence showing that at least 18 deaths have been linked to the shots in the US alone. The Minister had announced use of the vaccines for Irish 12-year old girls, saying the measure would prevent the sexually transmitted HPV virus from causing cervical cancer.
M&CC's media alerts led to press and radio coverage, where M&CC said they were appalled that the Minister had failed to make herself aware of the recent public revelations regarding death and life-threatening adverse reactions caused by the HPV vaccine was now being scheduled to be injected into the bodies of Irish children.
Controversy had arisen regarding HPV vaccines since documents obtained through the Freedom of Information Act in 2008 that show the US Food and Drug Administration (FDA) received reports of up to 20 deaths associated with Gardasil since September 2007, and 140 "serious" reports of adverse reactions, including 27 "life threatening" cases, and 6 cases of the debilitating Guillain-Barre Syndrome since January 2008.
(Note: 2009 FDA documents showed that since its release in 2006, the vaccine has now been linked to 47 deaths. In 2008, the FDA documented 6,723 "adverse events" related to Gardasil; 1,061 were considered "serious," and 142 considered "life threatening" according to the FDA's Vaccine Adverse Event Reporting System (VAERS.) The reported side effects included Guilliane-Barré Syndrome, lupus, seizures, paralysis, blood clots and brain inflammation, among others.)
Dr Muiris Houston writing in the Irish Times on 06/08/2008 confirmed that in the US, a possible association between HPV vaccination and Guillian-Barré Syndrome (a rare but acute neurological condition) is being investigated.
Mrs Niamh Uí Bhriain of M&CC said she also wished to draw the Minister's attention to the warning issued by Canadian epidemiologist, Dr. Abby Lippman of McGill University, who wrote in the August 28, 2007 edition of the Canadian Medical Association Journal: "A careful review of the literature, including that submitted by the manufacturer with its application for approval of Gardasil reveals a sufficient number of unanswered questions to lead us to conclude that a universal immunization program aimed at girls and women in Canada is, at this time, premature and could possibly have unintended negative consequences."
---
Parents For Children
Parents for Children and the Mother & Child Campaign made a submission to the Joint Committee on the Constitutional Amendment on Children. In their submission they highlighted the dangers in undermining the status of the family as the best and safest place to rear children and the likely unwillingness of voters to have that status changed.
---
2007
Meeting Brian Lenihan
Parents for Children met with Minister for Children, Brian Lenihan, TD, to put parents' concerns and views to him in the light of a proposed Children's Rights referendum. According to the minister Parents for Children were the only group he had met representing parents/the family.
In as few words as possible, M&CC put it to the minister that proposals to dilute parental and family rights will merely rob children of their rights to have their parents protect them. These proposals, they said, were not about giving children rights but about giving the State power.
Parents For Children were busy throughout the year with meetings, leafleting and canvassing large parts of the country.
---
Putting the Family First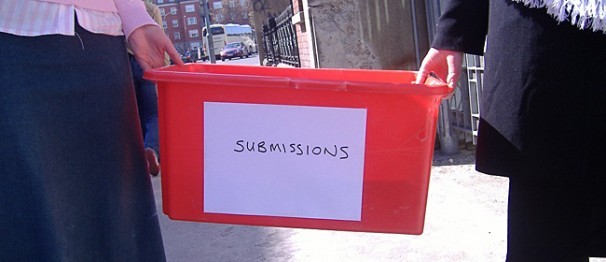 M&CC continued to raise concerns about the draconian effects of tax individualisation on families. Research on childcare and family support was undertaken and detailed Budget submissions made to the Minister in 2006 and 2007.
30 members of M&CC from across the country met with Minister Seamus Brennan to discuss the status of the family and to propose that the Minister provide funding for an pro-family agency.
Read our submission to the Minister here
---
Rally for Life
An amazing Rally for Life was held by Youth Defence and Mother and Child Campaign in Dublin in August. The sun shone down on a huge crowd which gathered in the largest numbers in 15 years to stand together against abortion. It was an inspirational day.
---
YD and M&CC attend World Congress of Families
Members of Mother & Child Campaign and Youth Defence attended the World Congress of Families in Warsaw. They were amongst 3,300 delegates from around the world, who had plenty of interest in the affairs of Ireland.
---
Big breakthrough for Just Life
2007 saw a major breakthrough for the Just Life schools program. Follwing three years in production a brand-new, cutting-edge DVD for schools was launched – the only one of its kind in any program in Ireland.
The new Just Life DVD has some truly amazing footage of unborn babies developing in utero which takes viewers on an amazing guide through the first nine months of their lives. It uses the most up to date footage in the field of medical embryology, including 4D scans. Improvements in fetoscopy and the latest advances in neonatal technology allows us us to view the unborn child like we've never done before. We managed to cram it all into an educational and inspiring 15-minute production that will leave viewers awed and amazed at the miracle of human life -and let them out of class half an hour before the bell rings. As you can imagine it's very popular.
Just Life reached its 10th year this year and in truth the demand for it is as strong as ever. Hundreds of school presentations have been completed and millions of hits have been recorded on the Just Life website.
The new DVD was posted to every secondary school in the country.
---
Review of medical council ethics guidelines
The Medical Council declared that their ethical guidelines would be under review in 2007 and were accepting submissions from all concerned on the matter. The Medical Council ethical guidelines are the rules by which all doctors and medical professionals must abide by in their practice and the Council's pro-life ethics had been the subject of many attacks from political appointees and rogue doctors in the past.
As well as making our own detailed submisison we infformed the wider pro-life community that the Council was seeking submissions. The Medical Council later reported that up to 90% of submissions received in relation to medical ethics supported a pro-life stance.
M&CC's submission outlined the ethical need to protect human life and protect patients against abortion and euthanasia while retaining a ban on embryo research.
Significantly, Deirdre Madden, UCC law lecturer and supporter of embryo research, was appointed by Mary Harney onto the Medical Council before this review.
Mary Harney, whose appointees onto the Medical Council have mostly not been pro-life, now proposed major changes to the structure of the Medical Council – changes which would give her the right to plave a politiocal majority on the Council and to force through changes to medical ethics by political dominance.
---
2006
School visits
Just Life undertook its annual task of sending every school in the country beautifully designed pro-life materials.
On the schools visits to make the Just Life presentation, the topic of embryo research is raised several times.
---
Parents for Children warn against Constitutional change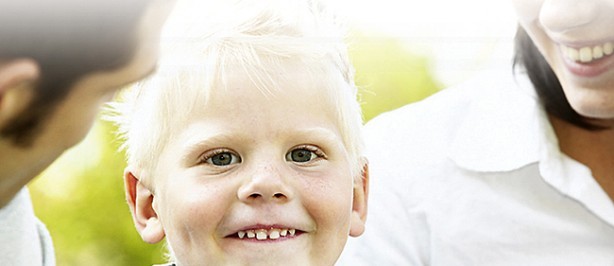 Parents for Children get together to warn against proposed changes to the Irish Constitution concerning family law and the protection of children.
In December an Taoiseach, Bertie Ahern, announced that there would be a "Children's Rights" referendum in March 2007. Self-appointed (and well-funded) children's rights groups such as Barnardos and the Children's Rights Alliance (CRA) were ready with advertising campaigns and amendment wordings to greet the announcement.
The mooted changes in the definition of children's rights were worrying for the status of the family because rather than protecting children they appeared to put the state in the place of Big Brother and hand children over into the "care" of the state. This caused concern to parents who were all too well aware of the abysmal record of the state when it came to the care of children.
---
2005
Controversies
Controversy raised its familiar head again when Health Minister Mary Harney publicly supported the provision of the morning-after-pill to eleven-year-olds. M&CC pointed out the irresponsibility of the Minister's comments in several media interviews.
The Catholic pregnancy counselling agency, Cura, also became embroiled in controversy when it became publicly known that it has instructed its members to use a Crisis Pregnancy Agency (CPA) leaflet directing mothers towards abortion referral agencies.
M&CC called for Cura to dissociate from the CPA, and for funding to be re-directed through the Department of Health and not through the obviously abortion-friendly CPA. M&CC also produced a detailed report on the CPA /Cura controversy for the Irish Bishops' Conference and also sent a copy to the Vatican.
The Bishops Conference subsequently asked Cura to desist from using the CPA leaflets.
---
Pro-life materials
Updating and printing educational pro-life material is an essential element of the activities of 6 Gardiner Place, and it keeps us very busy. In 2005 we brought high-quality pro-life information on the many facets of the pro-life issue to hundreds of thousands of people.
---
CAHR report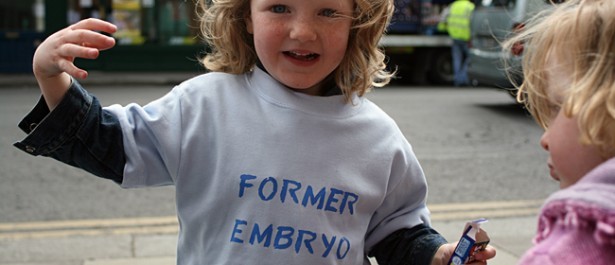 The Commission on Assisted Human Reproduction (CAHR) released their report making recommendations to the government regarding the regulation of biotechnology and fertility treatments in Ireland. These recommendations, if implemented, would make Ireland one of the most liberal countries in the world in relation to embryo abuse.
---
Your Baby & You!
M&C launched a new initiative to reach women as early as possible in their pregnancies. A small compact booklet for inclusion in pregnancy tests, or display on chemist shelves, Your Baby and You detailed the amazing transformations that take place in the womb during pregnancy. The booklet would come as a wonderful surprise to the women who take a pregnancy test at four to eight weeks.
It described in detail the growth of the baby in all its natural wonder as well as giving handy tips to the expectant mother. The booklet was sent to chemists all over Ireland, and to maternity hospitals and community centres. An accompanying website, www.yourbabyandyou.org website was also launched.
---
September - M&CC's Family First Project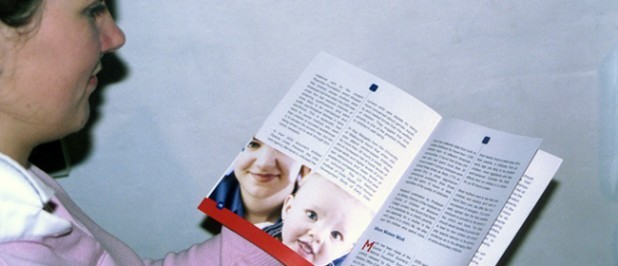 Without strong families society crumbles, yet Irish taxation policy (and many other state policies) does not favour the family. It had been proposed that the November Budget would deepen the discrimination caused by tax individualisation (where a family with just one income pays up to €7000 in additional taxes every year). Various quangos had proposed that the government should give a monthly payment to families with children – but only to those families who used crèches and other commercial childcare. Full time parents were to be excluded.
M&CC saw the need for a project that would fulfill three major objectives:
Reach out to families and inform them of the discrimination they endured, since many families were unaware of these penalties.
Get as many people as possible to look for a better deal for all families in the Budget; in particular, campaigning for families with full-time mums or dads to be included in any State assistance to meet the costs of caring for children.
Begin a momentum which will ultimately lead to the reversal of anti-family policies introduced by successive governments. The most immediate requirement would be to scrap tax individualisation
Thanks to some intensive campaigning using leaflets, booklets, press ads and a website encouraging families to lobby the Minister, we won through for the Budget proposition. Lots more to do though!
---
2004
Passion Movie Promotion
In February and March 2004 M&C assisted in the promotion of The Passion of The Christ. For a 6-week period volunteers distributed flyers around universities, shopping centres and city streets which encouraged people to see the film. We also had a website and an on-line competition which saw hundreds of people win free tickets to view the film. Private screenings and organised school visits were arranged which gave people from disadvantaged areas an opportunity to see the greatest story ever told.
---
European Elections
M&C members spent over two months of hard-work and campaigning trying to secure pro-life representation in the European Parliament. The good news was that Kathy Sinnott who had clearly stated her opposition to the European Constitution and to abortion and embryo research, won an MEP seat in Munster, despite the best efforts of Labour's Brendan Ryan to use her pro-life views against her. Dana Rosemary Scallon polled extremely well in the North-West, and narrowly missed taking the seat. Dana has consistently made a courageous stance in defence of life at all stages.
---
M&C launch medical report
In July the Mother & Child Campaign launched a comprehensive report on the adverse physical and psychological effects of induced abortion. It was a first of its kind not only for Ireland for many pro-life communities worldwide.
Entitled "Women have a right to know: Adverse Effects of Induced Abortion" it was mailed to every GP with the aim of keeping them and their patients fully informed as to the full consequences of abortion. The comprehensive report also countered the misleading guidelines issued to GPs which had underplayed the adverse effects of abortion.
It was widely welcomed and orders for additional copies began to roll in. With a foreward by Professor Eamon O Dwyer, this was the most comprehensive and well-researched report on this issue ever produced in Ireland.
---
2003
Commission for Assisted Human Reproduction
The Commission for Assisted Human Reproduction held a conference in Dublin Castle and members of both YD and M&CC attended to make representations from a pro-life perspective. The speakers advocating embryo research got significant opposition from conference attendees – but the intentions of the CAHR were made perfectly clear by their choice of guest speakers which included the infamous Baroness Warnock, a UK campaigner who favours euthanasia for premature babies as well as embryo research
We also assisted many people in making their pro-life views known in writing to the Commission.
---
Early Human Life Campaign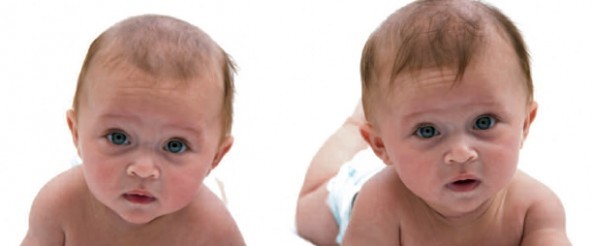 Our information campaign on Assisted Human Reproduction also came into full swing with M&CC organising meetings on the issue all over the country. A booklet on Early Human Life and Ethical Issues was also produced to accompany the campaign and over 100,000 copies of this booklet were distributed and another 200,000 of a more comprehensive leaflet was distributed door-to-door.
In July, the M&CC launched a campaign against the funding by the EU of abortion services in Third World countries by providing funds from the EU budget to organisations that promote abortion throughout the world.
---
Submissions and Documents
M&C and YD made submissions to the Commission on Human Reproduction, the Crisis Pregnancy Agency and to the Irish Council of Bioethics. All of these are available on our website along with other valuable documents and papers written this year.
---
Campaign against Embryo Research
October and November was dominated by a campaign against embryo research, in particular the vote taking place in the European Council which would sanction the funding of embryo research in the EU under the Sixth FrameWork Programme. The campaign was marked by leaflet drops, a month-long picket on the offices of Mary Harney and the Progressive Democrats, organizing to get thousands of lobbying phone calls made to Harney's offices, and a large media campaign.
M&CC and Youth Defence also organised a series of public information meetings across the country on Early Human Life and Reproductive Issues addressed by the M&CC.
The contentious EU programme offered €300,000 for research into human stem cells, which would be harvested from "unwanted embryos" produced for in vitro fertilization
An Irish Department of Enterprise, Trade and Employment briefing note dated September 11 2003 said research involving stem cells was a promising area of biotechnology which offered the prospect of developing new ways of treating serious chronic diseases.
"However, stem cell research raises ethical questions in those cases where the cells in question are derived from human embryos," it added. The briefing note said that Ireland did not consider it appropriate to object to such research being carried out in member states "where it is deemed to be both legal and ethical".
This attitude forces Irish taxpayers to fund research on human embryos in other EU states. Clearly this is a position adopted by the department without consideration of the views of the Irish people who have never approved of such measures.
On 6th November, a key Dáil committee voted to reject the European Commission proposal that EU funds be used to pay for embryo research. The Joint Committee on Enterprise and Small Business also agreed to ask the Tánaiste, to attend the committee and explain the Government's decision to back the EU Commission's view, which favoured funding embryo research.
On the 19th November 2003, at the European Parliament's plenary session, MEP's voted in favour of research on human embryos. However, it was the vote of the Council of Ministers on the 27th November 2003, which was to be the deciding vote. The vote was postponed until 3rd December 2003 after Portugal came up with a compromise agreement which was still unethical.
This is how the Irish MEP's voted on Wednesday 19th November 2003.
Against Funding of embryo research
Dana Rosemary Scallon (IND), Niall Andrews (FF), Gerard Collins (FF), Brian Crowley (FF), Jim Fitzsimons (FF), Liam Hyland (FF), Patricia McKenna (Green), Sean Ó Neachtain (FF), Nuala Ahern (Green)
For Funding of embryo research
Mary Banotti (FG), Pat Cox (IND), John Cushnahan (FG), Proinsias De Rossa (LAB), Avril Doyle (FG), John McCartin (FG)
MEP Dana Rosemary Scallon opposing the measure said this was the first time that the European Union had attempted to fund research into an area which was illegal or unconstitutional in any member state.
---
Mother Teresa
Lastly M&CC printed thousands of special posters to mark the Beatification of Mother Teresa. This poster and accompanying prayer card were so popular that we had to increase our print runs twice.
---
2002
The Unborn in Court
The question of the "personhood" of the unborn child was brought before the courts in January 2002, when a Nigerian woman challenged a deportation order from the Minister of Justice on the basis that she was pregnant.
The baby became known as Baby O, and the case became a bit of a quandary. "Give the woman a chance," was the catch cry of the media, but that also meant by extension, give all babies a chance. Not a problem for most people, but it would mean that the court would have to make a definitive ruling on unborn children's rights.
Baby O got a hearing in the court and argued in the absence of a deportation order s/he could not be deported. Faced with this legal person the state initially denied all existence of the person. "Haebus corpus" they chimed, and looked rather silly when corpus just snoozed through the proceedings but was definitely proved to be present.
They faced up to facts eventually and the principle was established that the baby did exist and had rights.
---
A divisive referendum
2002 was another busy year on the nationally consultative front with the people being asked to decide on the constitution on two separate occasions: once on Europe and once on Abortion.
March 6 was the date set for an abortion referendum – which was being spun as a pro-life referendum as an Taoiseach, Bertie Ahern. But the amendment offered was seriously flawed, being deliberately designed to exclude the human embryo outside the womb and offering dubious definitions as to the nature of abortion. The referendum had been won by the huge lobbying effort in 2000 and by the work put in by the pro-life movement in defeating the Nice Treaty, but that opportunity was to be subverted by Ahern's government who wanted to push through this fatally flawed amendment by threatening pro-life people of worse to come if they rejected the compromised wording.
Whatever legalese the government tried to spin to make it seem otherwise, it was pretty obvious that the intention was to leave the way open for embryo research (afterwards shown to be the case). The wording also contained unnecessary ambiguities in regard to medical treatment. After much discussion, YD agreed to oppose the referendum.
Suggested changes to the proposal which would have improved it were rejected by the government.
Some pro-life groups decided to take what was being offered as they believed the threat of an unacceptable alternative behind the offer. – the lesser of two evils so to speak. The pro-aborts opposed the wording as it didn't go half far enough, since they favour abortion of the free and on-demand sort.
In the end the referendum was defeated. The government acknowledged that a substantial portion of the No vote was pro-life, and admitted there was no mandate for abortion legislation.
---
Day of Prayer for Unity
After all the divisiveness caused by the abortion referendum and the divisiveness caused by taking different sides, pro-life groups including M&CC decided to get together and work for unity. On Saturday, June 22nd a Day of Prayer for Pro-Life Unity was held in Knock where Holy Mass and prayers were offered so that the pro-life movement could be unified in purpose and in prayer for the protection of life itself.
---
Ireland votes to fund embryo research
Monday, 3rd June marked the final adoption by the European Council of Ministers (CoM) of the Research Programme which would allow taxpayers' monies to be used to fund activities in another member state which are illegal in their own country. This meant that money spent by the EU on embryo research would be funded by Irish taxes.
On the 30th September 2002, the Council followed up by approving the programmes of the 6th Framework Programme for Research 2002-2006 and assigned a budget of €17.5m to it.
Voting with the dark side was Ireland's Minister Micheál Martin. Despite a storm of lobbying, he voted to fund experimentation of human life, relying on the sorry fact that the electorate is mostly unaware of what happens in Brussels.
The CoM are the second step in EU legislative process. The EU Commission suggests legislation, the CoM then ratifies it, without making changes, and they then pass it to the European Parliament who can toss it about and then make suggestions about it which the CoM can then choose to ignore.
The EP debated the issue the following spring (see 2003).
Incidentally, the President of the Parliament, Pat Cox (Ireland), was at a US-Ireland Business Summit, along with Mary Harney, in August, where Tommy Thompson, US Secretary of Health, said that Ireland should pursue embryonic stem cell research. The Irish delegate didn't make any objections known.
---
2001
Medical Council's pro-life ethos under attack
That old bug bear of the pro-abortion lobby, the Medical Council, was again under attack, this time from an appointee to the council, put in place by Fianna Fáíl.

Geraldine Feeney, a Fianna Fáil member who was appointed the Council by Brian Cowen, had recently become chairperson of the Medical Council's Ethics Committee, despite having no medical expertise whatsoever (if only job all applications were so easy).
In that position she led a charge to have pro-abortion motions adopted with the support of Dr. Abdul Bulbulia, also one of Brian Cowen's nominees on the Medical Council, when Cowen held the Health Ministry.
Two motions were put before the Medical Council in May 2001 which proposed that the Council's ethical guidelines on abortion be changed to approve of abortion in a wide range of circumstances, including abortion of handicapped children. The motions also had the support of Drs Tom O'Dowd and Walter Prendiville - long time abortion advocates
A controversy arose when seven members of the Medical Council walked out in protest and the Council received advice from two senior counsel that the decisions which were made on the motion did not follow proper procedure.
The Medical Council decided to meet again on September 12th to discuss the motions. In the intervening months the Mother and Child Campaign (to which the by-now-no-longer-so-young Youth Defence members had departed) and YD took action against this ambush on Irish medical practice.
In a widely circulated leaflet we pointed out that this crisis had been brought about by a few doctors with their own agenda, who were trying to persuade the Medical Council to drastically change medical practice in Ireland. We explained that these few doctors, led by Prendiville and O'Dowd, were totally unrepresentative of the Irish medical profession whose pro-life ethos had made Ireland the safest place in the world for a mother to have a baby.
Our leaflet advised people that Irish doctors needed to hear their support, so that they would be encouraged to oppose the motions in September. We listed the members of the Council on the leaflet and asked readers to contact them to explain their opposition to the motions and support for the pro-life cause. We also suggested to readers that they contact their GP's and ask them to make their opinions known to the Medical Council.
"No problem" said the good people of Ireland who took out their mobiles and started calling.
We then took the initiative of sending every GP in the country a letter signed by eight pro-life doctors which urged them to add their voices to the others being heard by the Council.
"Surely," came the response from the majority of the medical profession, some of whom kindly sent copies of their submissions to our office.
The campaigns first dividend came when two members of the Council told YD members that they were astounded by the reaction of people who had come to their surgeries to complain vigorously about any attempt by doctors to facilitate the legalisation of abortion.
The legal opinion given accepted by the Medical Council was that the motions were not correctly adopted, and the Council finally crumbled under the pressure of pro-life opposition.
Foot note: Geraldine Feeney is no longer a member of the Medical Council. She was rewarded for her efforts by Fianna Fáil however – they made her a Senator, where she achieved notoriety for attacking pensioners who protested that their medical cards were under attack in 2009.
---
2000
Unifying the pro-life movement to lobby for a referendum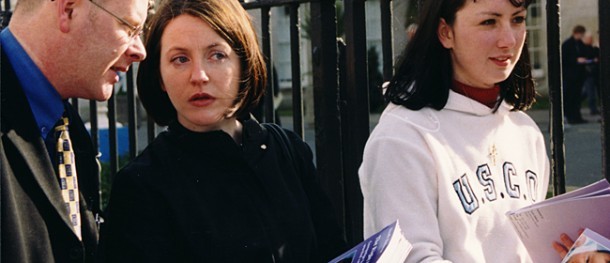 In 1999 leading members of Youth Defence and other pro-life organisations came together to form the Mother and Child Campaign. Its objective was to plan and undertake the most intensive and effective lobbying of Irish politicians ever to have taken place in Ireland.

The government had put together an Oireachtas Committee to look at the abortion issue and to recommend various means of dealing with the ruling in the X case. However, in an interview with a Sunday paper, the Chairman of that committee, Brain Lenihan, said that the Committee had ruled out the option of a pro-life referendum. Mr Lenihan made it clear that the Committee was not considering consulting the people, and, since a referendum was the only method by which full protection would be restored to the unborn child, his interview also revealed that the Committee favoured the introduction of some form of legislation which would permit abortion.
This required an urgent and unified response, and the whole country needed to get lobbying the committee immediately. That became the initial, chief function of the Mother and Child Campaign - a new, broad-based pro-life initiative comprised of people who span the pro-life spectrum in Ireland. Our greatest advantage was the very real fact that 70% of the Irish people wanted a pro-life referendum. We needed to get that 70% in touch with their politicians – and with this committee.
More than half a million lobbying leaflets were distributed: designed not just to inform, but to encourage lobbying for a pro-life referendum and the results were spectacular. Door-to-door follow ups encouraged voters to make their voices heard. A series of meetings ensured that the campaign was organised and far-reaching and brought new volunteers to the cause.
The office was inundated with calls from ordinary people telling of their anger at the situation and of their intention to lobby their TD's. YD members and supporters who in turn rang their own TD's, were met with little of the arrogance shown previously, but with almost panic-stricken reassurances of support for a pro-life referendum. It was a badly needed and very effective campaign which reached out to the once-silent majority of Irish people who oppose abortion and wanted a pro-life referendum.
The campaign produced the desired result – the Oireachtas Committee backed down and included the option of a pro-life referendum in their report.
---
M&CC – Phase 2
The second phase of the Mother and Child Campaign featured a special Christmas Card and Poster asking the Irish people to keep the pressure on for a pro-life referendum It also asked them to turn their thoughts to Irish mothers and babies at Christmas time and emphasised the importance of an absolute ban on abortion.
A full colour poster with a similar message was also sent to every parish in the country.