---
Marie Stopes in Ireland

Irish woman left fighting for her life after botched abortion in a Marie Stopes listed clinic
Dr Phanuel Dartey has been officially disqualified from practice by Britain's General Medical council over his treatment of patients at the Marie Stopes International Clinic in the London borough of Ealing.
One of the five cases involved an unidentified Irishwoman whose uterus was perforated. The patient was also left with parts of her fetus inside her during the 2006 procedure. The woman had to be rushed to hospital on her return to Ireland and was in a critical condition for two months before eventually recovering.
Read more on the story here:
---
Irish resident dies from abortion in a taxi
A 32-year-old foreign national living in Ireland attended a Marie Stopes Clinic in London in early 2012. However, she died in a taxi hours after the procedure. The London Metropolitan Police are investigating the case of the woman who travelled from Dublin to London for an abortion.
According to her husband, after the termination, she had been kept on at the clinic for observation. She later took a taxi to her cousin's house outside London, but suffered major internal bleeding while in the cab. The woman was then taken to Wrexham Park hospital in Slough, but pronounced dead on arrival. The case is still being investigated by UK authorities.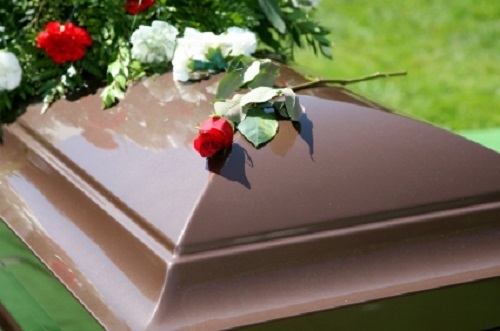 ---
Historically...
In November of 1996, Dr. Jim Loughran, the then medical director of the newly formed Irish Marie Stopes branch, boasted on the Pat Kenny radio show, that his organisation would provide package deals for Irish women wanting to have their children killed in England, by organising their transport and accommodation at cut-prices as well as facilitating the abortion itself.
---
Accused of Murder?
It was alleged in 1997 that a medical doctor offered and completed the killing of an unborn child for the relatively cheap price of £120 in 1995 in the Marie Stopes Clinic in Merrion Square, Dublin. It was by far the cheapest contract-killing witnessed in Ireland in recent years. Frank Crummy, the propietier of the clinic, didn't intend asking the doctor in question, Dr. James Loughran, the question because, despite being the current provider of "reproductive choices", he feels that it is "not his business" if the previous provider was killing babies and wounding mothers on this premises.
"I have admired him for 30 years," said Crummy."He has done so much for women and family planning" said Crummy, and is currently "very upset and in a terrible state." Whether this upset is due to unfounded allegations, or to the fact that he had been caught over two years after killing a child and wounding his/her mother, is not yet known.
Another of the directors, Solicitor Paul McNally is reported to have said that he would not condone any "illegal" practices. What if killing unborn children were legal? Would he condone it then? The Marie Stopes "clinic" in Britain are more than willing to kill babies for money, and substantially more than the £120 allegedly earned for the Merrion Square murder. Marie Stopes Reproductive Choices, of which McNally and Crummy are Directors are not linked to the Marie Stopes facilities in Britain. They just "have a close working relationship", according to Crummy.
It would appear that the Gardai expected a conviction to follow their investigations since, according to the Irish Times 1st March 1997, the woman who has made the allegations "has received immunity from prosecution" since "Gardai will seek to offer such immunity if they believe a person's statement will lead to conviction for a greater offence."
The DPP decided not to prosecute and to this day it is not known why...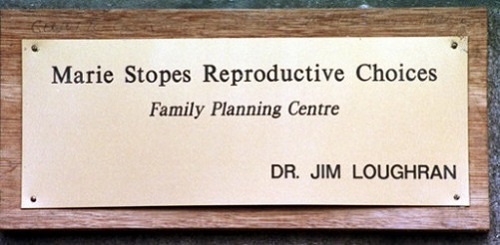 The plaque on the Marie Stopes offices in Merrion Square before they moved
---
Clinic Closure
The Marie Stopes Clinic, which was at the centre of a major abortion controversy in 1997 closed its doors in Merrion Square in early 1998. The clinic had been the subject of a daily picket by Youth Defence for over 230 days and the first confirmation that the clinic had in fact been closed was when the picketers arrived to find all signing for the offices removed. The landlord informed Maurice Colgan, then National Organiser of Youth Defence, that the lease held by Marie Stopes International was terminated and he was not aware of their new location.
Speaking on behalf of the picketers, Maurice stressed that the clinic closure was "both a moral and practical victory for the pro-life cause" and revealed the effectiveness of direct action in combating the usually hidden pro-abortion activities of such offices. "This clinic has closed as a direct consequence of having its activities exposed by Youth Defence for all the world to see," he said, adding that it proved also "that pro-abortionists are fundamentally afraid that their work will become public knowledge."
Youth Defence had been conducting the pickets on the referral agency prior to allegations that the clinic was the site of two abortions carried out there in 1992 by Dr. Jim Loughran who was an employee of Marie Stopes. The clinic claimed that at the time they were not tenants and that Dr. Loughran was not their employee. Nonetheless they issued a statement supporting him. YD responded strongly at the time stating that the clinic's version was "not seriously believable."
A statement from YD at the time, called for action, declaring that "if these two unborn babies can be murdered with impunity on the flimsiest of excuses without spurring the Irish people into action, then countless thousands would follow." Marie Stopes are now based in Blessington Street, Dublin 1, most surely a comedown from the grandeur of Merrion Square, which is one of the more prestigious business addresses in Dublin.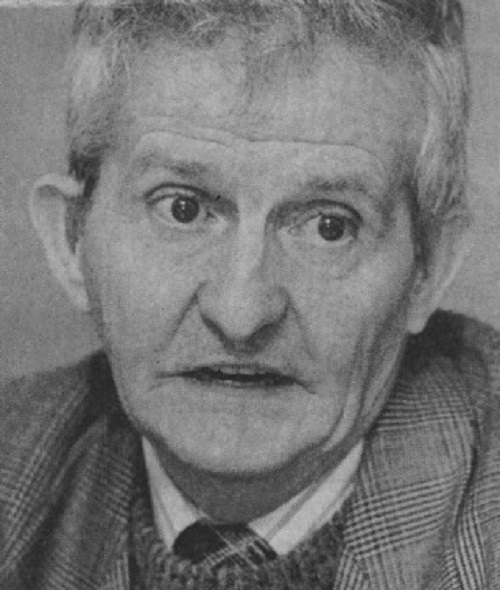 Frank Crummy, Director of Marie Stopes in Ireland
---
A close relationship
Although Marie Stopes tried to deny a link between themselves and their Irish representatives, MS Reproductive Choices are the representatives of Maries Stopes International. The following is information they publish from their clinics:
"What happens if I live in the Republic of Ireland?If you live in the Republic of Ireland Marie Stopes International can still help you if you have an unplanned pregnancy. You can either call Marie Stopes Reproductive Choices in Dublin for non-directive advice and counselling before coming to England for the procedure. Their number is (**) *** ****. Alternatively you can call Marie Stopes One Call on ** ** *** *** **** to book an appointment at one of our centres in the UK."
"It is essential that you explain on the telephone if your time in the UK is limited, so that we can arrange for you to have a consultation in the morning and the procedure in the afternoon.The following centres are easy to reach from the airport or ferry:" (List of centres is published)
"Please contact the Centre direct for information on bed and breakfast accommodation, local transport and more details on airport proximity - see our UK Centres & hotlines for more information."
Proof, if any were needed, that abortion providers around the world work with each other to facilitate and promote their dangerous and deadly operations.
---
Links