Custom House Square, Belfast, 3 July 2010
Up to four thousand people have attended the All Ireland Rally for Life in Belfast. The colourful parade attracted maximum attention as it made its way though the busy Belfast shopping district before hearing speeches from pro-life leaders in Custom House Square.
The Rally is organised by a coalition of pro-life groups including Precious Life, Youth Defence and the Life Institute. Bernadette Smyth of Precious Life said she was "delighted to see the huge crowd which had gathered for the fourth consecutive year to stand in defence of life."
Niamh Uí Bhriain of the Life Institute told the rally that the most immediate threat to Ireland's pro-life ethos was the proposed legislation on the human embryo being brought forward by Health Minister Mary Harney in the autumn. She said that a Summer of Life campaign on the issue would begin within days and that the pro-life majority needed to work to ensure that proposed legislation would ban embryo research and the deliberate destruction of human embryos created, but not used, in IVF procedures. The Campaign hopes to reach 600,000 people in the next twelve weeks and will use pro-life stalls, an information campaign and advertising to get its message across.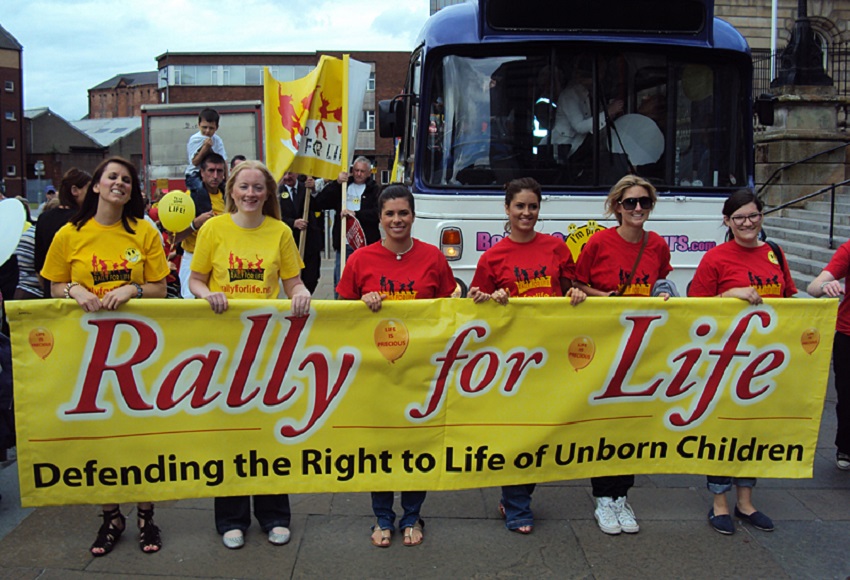 Ms Uí Bhriain drew cheers from the crowd when she said the message of the Rally to the governments north and south was: "You will not kill our children, at any stage, in any place, not in our country and not in our name".
Organisers of the Rally had issued an "open invite to families and friends, young and old to join together to Celebrate Life". Face-painting, balloons, music, an open top bus added a carnival-like atmosphere to the gathering, which has grown in numbers every year since its inception.
Ide Nic Mhathúna of the organising committee said: "We're so delighted to see that the number of people coming out to protect life is growing every year. The Rally was a great day out for everyone – a real occasion to Celebrate Life. And most importantly it brought people together to stand against abortion, and to become part of the important work done north and south to protect human life."
Ms Nic Mhathúna said that international pressure was being brought to bear on Ireland's pro-life laws, and pointed to the ABC case sponsored by the Irish Family Planning Association currently before the European Court of Human Rights. "That case seeks to overturn our pro-life laws," she said. "The rally is an important reminder to our politicians that the majority of Irish people are pro-life".
Bernadette Smyth of Precious Life closed the rally by telling her enthusiastic audience that they must be "a voice for the voiceless, for mothers and babies, for the Culture of Life".
Four days after the Rally Youth Defence's National Pro-Life Roadshow gets under way visiting twenty towns and cities in ten days of non-stop pro-life activity. Up to 70 young people will take part in the event which reaches many thousands of people each year.