Parnell Square, Dublin, 2 July 2011
Organisers of the 2011 Rally for Life in Dublin said that the huge turnout of over 7,000 people serves as a warning to Fine Gael that Labour's plans to legalise abortion in Ireland are unacceptable to the majority of Irish people.
Speakers at the Rally called on an Taoiseach Enda Kenny to keep the pro-life promise he made during the Election, when he said that Fine Gael in government would be 'opposed to the legalisation of abortion'. Niamh Ui Bhriain of the Rally Committee told the huge crowd that Labour's rush to call for abortion legislation following the European Court's ruling in the ABC case, caused the party's vote to slump in Election 2011. She warned Fine Gael that, having given Labour at seat at government, they now had an obligation to the electorate to ensure that abortion would not be legalised in Ireland.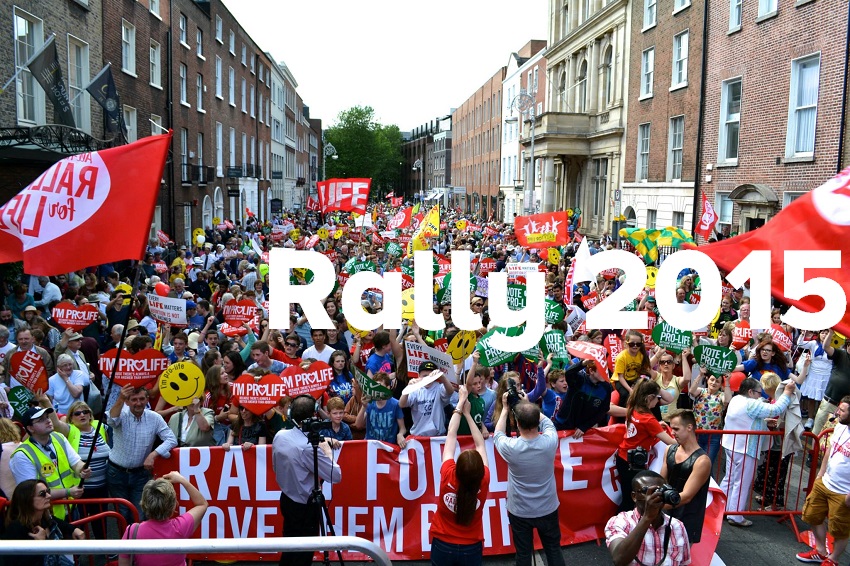 "Fine Gael have now set up an expert group to look at the European Court judgment, and the pro-life majority are telling them, here and now, that we will not accept a committee that is either stacked against the unborn child, or that ignores the evidence that clearly shows that abortion is never medically necessary," she said to sustained applause.
"We demand transparency, we demand honesty and we demand that this government listen to the pro-life majority who say Yes to Life and No to abortion. Enda Kenny needs to tell the European Court not to interfere in the right of the sovereign people to decide Ireland's pro-life laws," she also told the Rally.
The co-hosts for the Rally, Precious Life, said that, in Northern Ireland, the political parties had heeded the opinions of the pro-life majority. Bernadette Smyth, the Director of Precious Life drew loud cheers when she said that Ireland's protection of life was a light to the world and that pro-life people had united to make sure that politicians opposed the legalisation of abortion
The Rally set off from the Garden of Remembrance at 2.15 pm and marched to Dáil Éireann where it also heard from former MEP, Dana Rosemary Scallon.
Ms Scallon told the cheering crowd that the Constitution belonged to the people and that the politicians were there to serve the people, not to decide for them or to allow Europe to foist abortion on them. There were calls of 'Dana for President' from the crowd as she spoke.
Precious Life member Odhrán Darragh made for a lively and exciting MC as the huge Rally progressed down O'Connell Street with open-top busses, music and balloons lending a festive atmosphere.