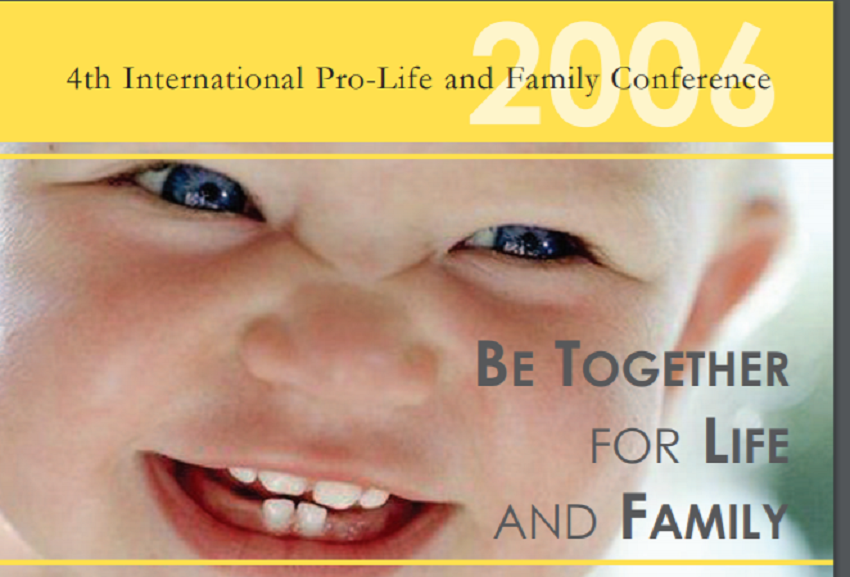 Impressions from the Conference
Eadaoin
The Fourth International Pro-life and Family Conference was an amazing experience. It was a rigorous weekend of learning infused into a young, vibrant and positive atmosphere. It was a brilliant opportunity for people with the common moral aim of protecting life and society from its most poisonous threats.All of the speakers were widely informative but it was Bernie Smith of Precious Life who really grasped my attention. These speakers stood at that lectern with a passionate call to action. The mix of all these diverse speakers and the energy and enthusiasm that went into the organisation of conference made it a roaring success. It was brilliant craic and a huge learning experience. It was a milestone for pro-life activism in Ireland.
Fionn
From the beginning of Friday afternoon to the very late hours of Sunday night, the weekend was packed full of pro-life action, powerful and motivating speeches and a whole lot of great craic. It was the most moving and exciting weekend I can remember.
I was delighted to see the fantastic stalls of pro-life groups from all over the world, packed full of very informative and educational material on many different pro-life issues, some with very stylish pro-life t-shirts and hoodies I should add! One of the most memorable highlights for me was the nightly entertainment where new friendships were forged with many other pro-lifers not only from Ireland but all over the world. This conference was the most educational and inspiring experience I have attended.
Fergal
Throughout the weekend I heard one unmistakable call by all the speakers. To work harder than I currently am doing for the pro-life cause in my local area. This was personified by Joe Scheidler in his constant fight for the truth in America, and the success which has come so rapidly to Precious Life in the North through their hard work.
They have shown us how high the odds were stacked against them, and this has to give us hope that we can face our specific problems with a real belief that we can succeed. We need to look at the pro-life movement in Ireland and how it challenges us as individuals, to see what we can, and therefore should, do. We can't just let organisations like YD, Mother & Child and Precious Life take all the slack.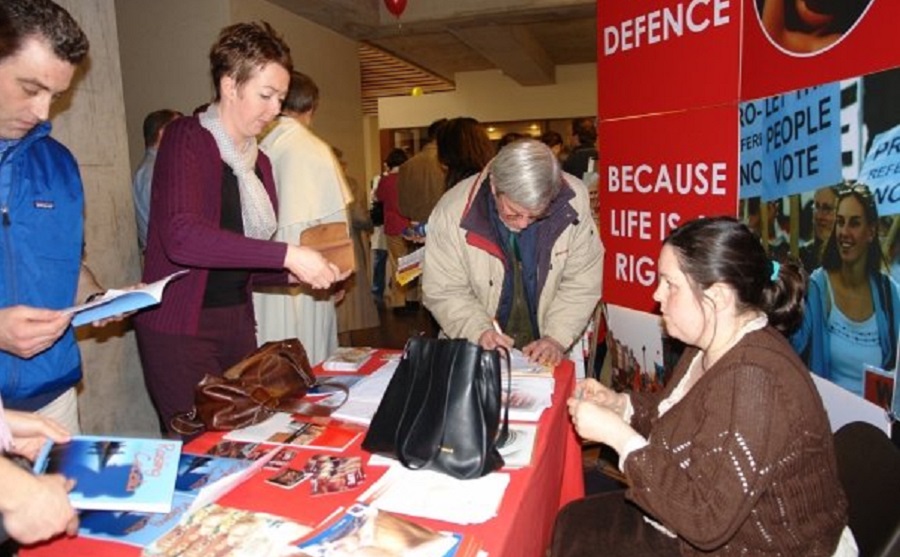 Speakers from the Conference
Overview
After many weeks of sheer graft by Youth Defence (YD) and the Mother & Child Campaign (M&CC) in the lead up to the weekend beginning March 24th, the motivation and enthusiasm exercised by the office in 6 Gardiner Place paid off as the Fourth International Pro-Life and Family Conference proved a resounding success.
In excess of a thousand people turned up to the conference over the course of the weekend. They were delighted by the impressive panel of inspirational and informative speakers and many left feeling enthused and motivated. From the outset the conference carried with it an ambience of energy and confidence. The broad-ranging talks encompassed all angles of the issues facing us regarding Life and Family, and issues visited on neighbouring countries, which I'm sure we will face in the future.
Abortion, stem cell research, marriage and family issues were dealt with, along with the many diverse and effective ways of defending our core values.
"Europe is dying" Andy Pollard, the Scottish demographer and researcher told the Conference held in the O'Reilly Theatre in Belvedere College from Friday, 24th to Sunday 26th March. He then brought the rapt audience through a snappy presentation of irrefutable evidence showing that unless fertility and birth rates rise immediately, Europe's population faced a sharp decline of up to 35% by 2050. The government of Latvia had already been forced to act on Mr Pollard's conclusions according to that country's Minister for Children and Family Affairs, Ainars Bastiks, who also addressed the conference. The efforts of Minister Bastiks's department to protect and encourage families were in stark contrast to the anti-family measures introduced by the current government in Ireland.
Dr David Prentice, the internationally-recognised expert on stem cell research and cloning gave an assured, interesting and timely presentation which had a strong core message - any lethal research on human embryos involved the destruction of human life and was unethical. Dr Prentice was the first expert in his field to point to the fact that adult stem-cells are proving successful in providing therapies where embryonic stem cells are not. Attendees appreciated that he made the subject comprehensible to everyone. "These are things that are normally difficult to understand," said Callie Kyle who had travelled from Alabama to attend. "Dr Prentice broke it down in a way that we could understand and be able to communicate to other people."
The auditorium was packed to hear Bobby Schindler, brother of the late Terri Schiavo who was starved to death in the US in March 2005 following the court-ordered removal of her feeding tube. Mr Schindler gave a moving and heart-rending account of the heroic battle for life of this lovely young woman and the struggle of her devoted parents and siblings to save her. He spoke with such heartfelt eloquence and sadness that he left the huge audience spellbound and in tears.
Bobby Schindler quoted Father Pavone, a family friend, who had assisted the family in their ordeal and who commented: "Terri did not die from atrophy of the brain but from an atrophy of compassion." The harrowing story of Terri Schiavo's ordeal was a poignant reminder of what happens when we fail to defend the weak and the vulnerable.
The conference hosted 18 speakers, with an eclectic and international panel addressing a range of diverse and important moral issues. Joan Appleton, a former abortion nurse, who has offered her life to Christ, told the conference that healing and restitution would continue for her until the day she died. With the other speakers from the US, she congratulated South Dakota for its recent decision to outlaw abortion, saying, "It's wonderful. And it is a beginning. It's proof that the courts never had the right to decide on abortion. It should have been put to the people. It's the first step in a process that will eventually see results."
Brandi Swindell of Generation Life called on young people to "Heed the call. Join the cause. Be the cure" and to join in the growing number of young people who are choosing to protect their sexual integrity. She pointed out that more than 65 million people in the US currently have an incurable sexually transmitted disease.
From just across the water came Fiona Pinto of the Alive and Kicking Campaign which has joined many English pro-life groups together to use the most up-to-date embryonic imaging to educate against abortion. The speaker who travelled furthest to be in Dublin that weekend, Dr Eshan Dias, drew warm applause for the enormous efforts he has made to defend human life in Sri Lanka.
Some speakers were long time campaigners whose conviction and inspirational encouragement came from being in the front line of their apostolate. Others had professional expertise or a personal testimony that many wanted to hear. All speakers were central to an inspirational weekend which brought a fresh energy to those working for life and family. "We face many challenges in the months ahead, not least that of a concerted effort to legalise embryo abuses", said Niamh Uí Bhriain, "This conference will have been a hugely motivational factor in bringing the pro-life community together to focus and regroup."
She said that the large numbers of young people attending the conference was indicative of the depth of pro-life feeling amongst a younger generation. "Everyone talks about apathy amongst young people, but I find they are passionate and enthused in working to protect unborn children."


Conference Action
USA EMBASSY
Last month in South Dakota, Governor Mike Rounds signed new legislation, making abortion illegal in almost all circumstances and imposing a penalty of up to five years in prison for doctors and medical staff who perform abortions. This made South Dakota the first state in the US to outlaw abortion, and lawmakers in almost a dozen other states are now working to replicate the ban. In light of this development, and the recent appointment of conservative justices John Roberts and Samuel Alito, Roe v. Wade may soon be a thing of the past.
As part of the pro-life activities organised during the Fourth International Pro-Life and Family Conference, Youth Defence (YD) activists, together with pro-life groups from America, decided to show their support for Governor Rounds' Bill by assembling in front of the American Embassy in Ballsbridge, Dublin. Groups such as Crossroads, Survivors, Generation Life, CEC for Life, Stand True - all working in America to eradicate abortion - stood in the rain for two hours with placards and posters congratulating South Dakota on their inspirational move. YD members were happy to have the opportunity to speak for the pro-life Irish majority, in informing American representatives that Ireland too congratulates South Dakota - and this was reflected in the huge amount of goodwill offered by passers-by.
Hopefully this ban signals the beginning of a victory for which the pro-life movement in America has been fighting the last thirty odd years. As Governor Rounds said in his statement: "In the history of the world, the true test of a civilization is how well people treat the most vulnerable and most helpless in their society. The sponsors and supporters of this bill believe that abortion is wrong because unborn children are the most vulnerable and most helpless persons in our society. I agree with them".
Marie Stopes
Friday afternoon of the Fourth International Pro Life and Family Conference was dedicated to pro life activities. Following mass in St Saviour's Church, participants gathered at the Garden of Remembrance from where they walked the short distance to the Marie Stopes Reproductive Choices clinic. This clinic is actively engaged in promoting abortion to women in crisis pregnancies and provides information on clinics in England for those seeking abortions there.
YD has been maintaining a presence outside this clinic every week by standing outside and praying, or talking to girls going in. It is without question the forefront of the abortion battle, as vulnerable girls are denied essential information on abortion and its effects when trying to decide on their baby's future. Babies have actually been saved as a direct result of this kind of intervention.
It is important also to send a message to Marie Stopes that this will not be tolerated, and that YD will keep the pressure on them until they close down. With that in mind conference attendees lined both sides of the road outside the clinic bearing placards and posters of aborted babies and chanting slogans. The clinic closed for business while we were there.