9th July - 19th July 2014
The 24th Roadshow was an amazing success; it was one of our largest to date and was vitally important at a time when the country was asking searching questions about abortion.
The Roadshow has undoubtedly played a huge part in spreading the message of Life, reaching ordinary people on the street, and is crucial to the huge effort required to restore Ireland's pro-life ethos. Congratulations to all the incredible Roadshow team who worked so hard!
My Roadshow: Laura
I thoroughly enjoyed my first Youth Defence Roadshow experience. From having previously taken part in other Youth Defence Street Sessions over the years, I had an idea of what the Roadshow street sessions entailed. We set up an information table where people could get lots of information on abortion and take some pro-life leaflets. People could speak to our YD volunteers here and ask for advice with regards to pro-life issues, learn about other options as opposed to abortion and where to get help if they or someone they know is experiencing an unexpected pregnancy etc. We split into small groups along the streets and handed out pro-life leaflets with information on abortion and spoke with many by passers.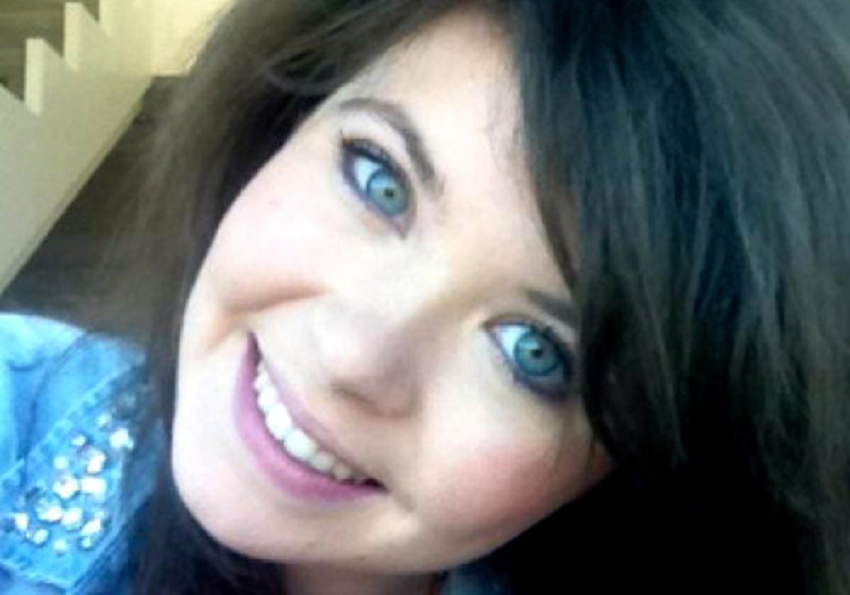 It was very uplifting and encouraging to learn that the majority of Irish citizens are still predominantly pro-life even though the media lead us on to think otherwise. However, I found it frightening to witness that many people's opinions have been swayed by what they have been told by the media; take for example the case of Savita Halappanavar. The Irish government's inquiry into the death of Savita has found a total of 13 points where the hospital protocol failed to save the life of the young Indian dentist, none of which included the country's then-law prohibiting abortion. This gave me even more zeal and passion to educate and inform people the horrible truth about abortion. Though the photos of aborted babies on our posters are horrific and heart-breaking, I firmly believe that they really open people's eyes to the reality of abortion.
It was eye-opening to learn how many people did not realize how cruel abortion is and that it is legal up to nine months in Ireland. This includes the cutting of the spinal cord at birth (partial-birth abortion). I am so grateful for the opportunities given to me to speak to the public and that so many came to the realisation of what abortion really is when they heard some of the horrifying statistics and the danger of abortion coming into our country against the will of the nation who weren't even given the chance to vote. The general response we got from the public was absolutely outstanding and I found it very overwhelming that so many people of all ages willingly signed the pro-life petition.
The entire YD team were such a lovely genuine group who are such an inspiration to me and those around them. It was fantastic to have volunteers who work in the medical field with us and phenomenal to have pro-life activists from across the world in Australia and The U.S with us on our mission who are aware of the strong prolife movement in Ireland.
I personally found great joy in the Street Sessions and it helped me realise that there is hope for Ireland yet. The atmosphere was almost constantly fantastic filled with laughter, smiles, love, music and pro-life balloons! It was delightful to hear so many people encouraging us and praying for us on our mission to save mothers and babies. My experience of the roadshow has been very rewarding and it was so lovely to make new amazing pro-life and inspiring friends and to catch up with some old ones.
Lastly, I would like to thank the people who work in the YD office and the whole pro-life movement for their endless hard work, dedication and prayers. It makes the world of a difference and has literally saved so many precious lives and given hope to much of our nation.
We stand for mothers and for babies and love them both. "The greatest destroyer of peace is abortion because if a mother can kill her own child what is left but for me to kill you and you to kill me…My job is to inform, not convince" – Blessed Mother Teresa.
My Roadshow: Seán
This Roadshow was my first, and hopefully it will be the first of many! I joined the team on the Saturday in Killarney and on the train down from Dublin I was feeling a bit nervous, I didn't know what to expect and I only knew one person that was on the Roadshow. But it was definitely a great decision, I made plenty of new friends but most importantly we opened so many people's eyes to what a truly barbaric act abortion actually is!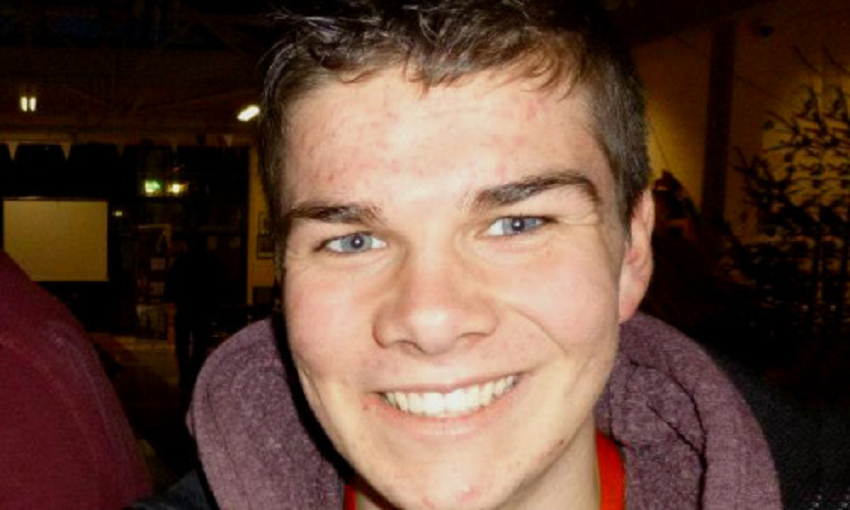 Granted we were all going to receive negativity in some shape or form but the positives definitely outweighed the negatives on this trip.
On the street session in Limerick a woman came up asking what the photographs on our billboards were depicting and we explained to her that the pictures are the gruesome aftermath of an abortion. She spent about ten minutes talking to us and listening to us explaining the facts about abortion. She said that beforehand she was on the fence, that she wouldn't have one herself but if somebody wanted to have one she wouldn't have cared. I'm glad to say that, on the spot, her mind was changed and her eyes were opened, she signed the petition along with her daughters and took leaflets to give to her friends. That was just one example of how the street sessions can change people's minds once they see for themselves what abortion actually is. The feeling of having made a breakthrough when people realise what actually happens during the process of abortion is powerful.
The four days that I spent on the trip really did confirm for me that the prolife movement is not dead and buried but stronger than ever before.
It was great to see so many young people helping out and taking time out of their summer holidays to spread the word and to show people that we will not rest until the bill is overturned, just like we promised last summer outside the Dáil when it had been passed.
This Roadshow was so much fun, and it was great success . And we will never give up the fight!
My Roadshow: Sarah
'Bad things happen when good people do nothing'. This quote in a nutshell is exactly what the Roadshow is all about. We are a group of people from different backgrounds and ethnic groups, but there is one thing we all stand for, LIFE.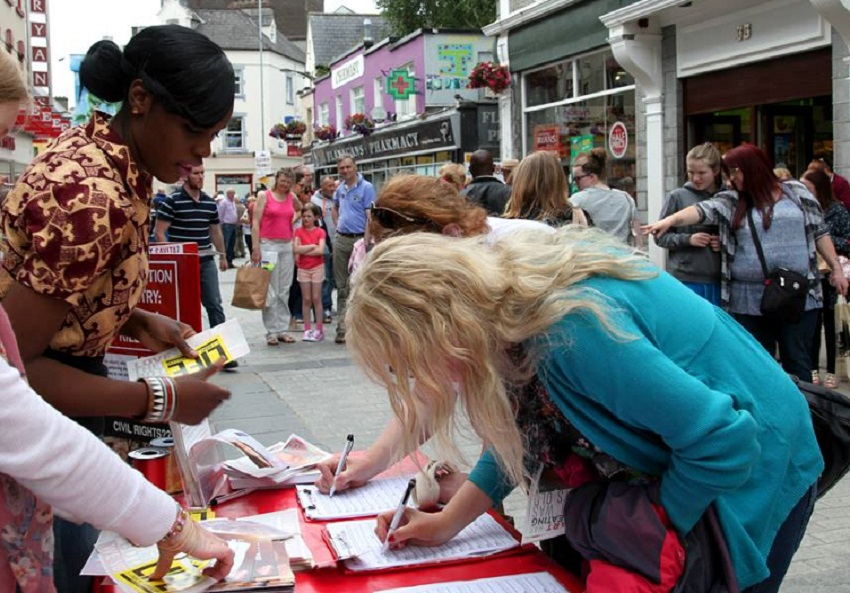 We knew the message we wanted to share. We wanted to show the community around us that every life should be appreciated right from the time of conception, and this was our goal.
We came together to travel the country, and as a team challenged people to think deeply about protecting the rights of the unborn.
On the final day of the Roadshow having accomplished our goal, we drove back to the Youth Defence office and contacts were exchanged and friends were made. It truly was an amazing pro-life tour.
I was given the opportunity to work with incredibly hard working people who continue to inspire me to fight for the rights of the unborn.
'To do things you've never done before you have to think like you've never thought before. An undetermined mind can accomplish very little or nothing, whereas a determined mind can accomplish anything.
I believe that it is our duty to be a voice for the voiceless and to bring Ireland (and the world) back to LIFE.
My Roadshow: Geraldine
'Before the Roadshow I thought most people were pro-abortion...'
Since I first got to know about Youth Defence during my school years and the great pro-life work they do I had hoped to join them on their yearly Roadshow around Ireland. However each year something had prevented me until this year when at the last minute I decided to put aside all other plans and join the Tour. I am so glad now that I made that decision! Travelling with this group of people around Ireland has been one of the most rewarding experiences of my life. Before I left I had mixed feelings of nervousness and excitement but also aprehension as I did not know what to expect from the street sessions. Also I had a certain amount of nerves about travelling with a group of people many of which I had never met before! I really had no idea what to expect. However, from the very moment I joined the team I knew I had made the right choice to come! There was a great buzz and feeling of excitement in the air. Everyone welcomed me and each person was so warm and so friendly, I felt a part of the group straight away.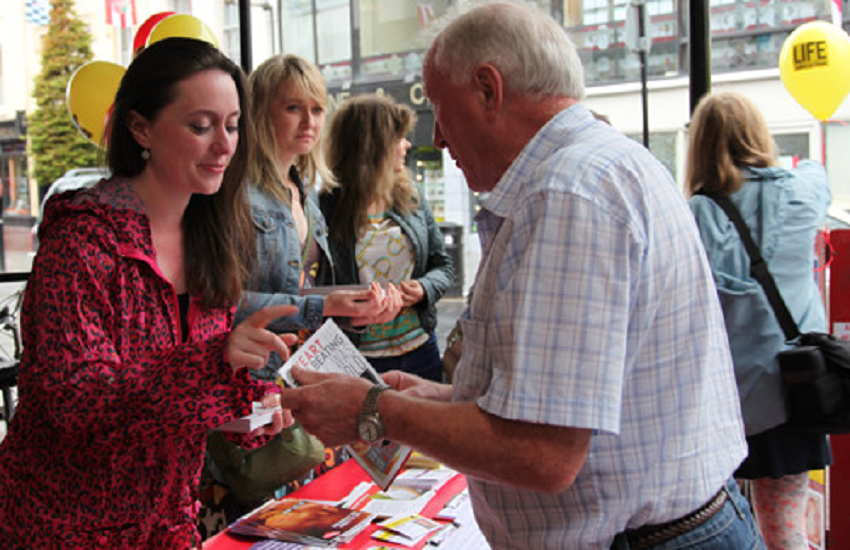 My first street session was in Kilkenny. At each street session we set up stands with information on various issues surrounding abortion and the truth of what abortion really entails. These stands are really important as they include images which often catch a person's eye as they walk by and attracts their attention. These graphic images often cause people to come up to us and question what it is we are doing and many people even question what the images are depicting as they may have never seen anything like them before. In this way we can begin to inform people on the true horror of abortion. It also leads to discussions in which people raise questions they may have and gives us the chance to perhaps help someone see that abortion is never a solution and only causes more pain and hurt. Many girls have in fact changed their minds about having an abortion after seeing the images and this proves that showing these images does in fact save lives.
I thought myself about how these were very graphic images to show in public. However, to hide such images is just to turn away from the truth. We must see them now so as to hopefully say one day that these images depicted things that happened in the past but not anymore. We want to save all innocent babies from the threat of abortion. Sometimes people express anger about the possibility that children might see these images. No one should ever have to see these things because they shouldn't be a reality. Unfortunately abortions happen every day in our world, and we must show the reality so as to put an end to this awful industry in the world and stand up for life no matter how small it is.
We travelled all over the country doing street sessions from Dublin to the South then on to the West and even all the way up to Donegal town! Each and every day was a unique experience for me, I met and spoke with so many people and loved every minute of it. It was great to speak with those who were already pro-life and who wanted to see an end to abortion and to see Ireland protected from this terrible atrocity. It was wonderful each day to also speak with those who differed in opinion. It is so important I feel to reach out to these people and help them rethink their stance on this issue. To give them the information leaflets and to pose questions to them and debate the topic is a great way to help these people see that abortion is a terrible act and has no place in Ireland. You never know that when those people walk away they might bring with them one thing you've said that will stay with them! It is by one person at a time that we will bring Ireland back to LIFE!
I was quite surprised myself that when I was on the streets I found that most people I spoke with were very much against abortion and were pro-life! Before the roadshow I had thought that most people in Ireland were for abortion, but as I went out on the streets each day I was really encouraged by the fact that Irish people as a whole still see that every life is precious and has the right to live. I feel the leaders of our country let us down completely and seeing that most people want life protected has really enheartened me to fight even harder for the babies of Ireland and our future generations. Many people still do not understand that the bill last year legislated for abortion in Ireland. When it is really explained to them they mostly are completely against it. We must lay bare the lies of our current government and show people that this abortion bill is not necessary in Ireland. It is because of the wonderful work of YD that people's eyes are being opened to the fact that the government are trying to introduce abortion into Ireland under the terrible guise that they are protecting mothers during pregnancy. We need to expose the truth to each and every person in this country and YD's continuous, dedicated work means we get closer to achieving this every day. As part of our Roadshow we demonstrated outside of various TD's offices who had broken their prolife promise and let down the people of Ireland. It is vital that we let them know that they will not have our support as long as they supported and continue to support the bill that allows abortion in Ireland. We need to stand up and speak out for life and I have been really inspired to do this after this raodshow. Seeing how other young people like myself are so couragous and showed such strength of spirit to stand up for the first and most important right, the right to life, has spurred me on to be more active and vocal in standing for life.
One experience of the Roadshow that will stay with me was when one day I met a fellow classmate of mine from college. At first he was surprised to see me doing something like this! As we began talking we spoke about many different things around the issue of abortion and when a baby has the right to life. He showed great interest in what we had to say although he was not in agreement with us on every point. When he left I was happy to have seen him and to have had the opportunity to speak with him on something that is so important. Afterwards I was delighted to receive a message from my classmate. He thanked us for the conversation and he said he found the interaction polite and civil, adding that he had been surprised by this as the media had portrayed us in a different light (more on the aggressive side!) He said that he was interested in reading about some of the topics we spoke about and could I send him some information on them. This was really one of the highlights of the Roadshow for me. To meet someone I previously knew who clearly left us that day thinking about our conversation really showed how it is important to start speaking to family and friends about this. Being out there on the streets and meeting people really has the great potential to get through to people. This was real proof for me that we help people begin the journey of realisation that life must be protected in the womb and that we must work in Ireland to protect both mothers and babies.
All in all I will never forget my experiences from this roadshow. I learnt so much and have been revitalised to continue to fight for the unborn in Ireland. We worked hard but we also had so much fun together as a group. There were so many people we met who were so encouraging and delighted to see us standing up for mothers and babies! We had volunteers from America and Australia who joined us to help us and also learn from the pro-life movement in Ireland. It is fantastic to see how throughout the world people are working to end abortion and it is great to learn from each other and also make friends for life! I feel so privileged that I could join this Roadshow and be a part of such great work that YD do. Through their tireless efforts they are proving that the pro-life movement is here to stay and I am delighted to be a part of it!