This year's Roadshow was from 8th - 18th July. Lots of engagment, Hearts and minds changed!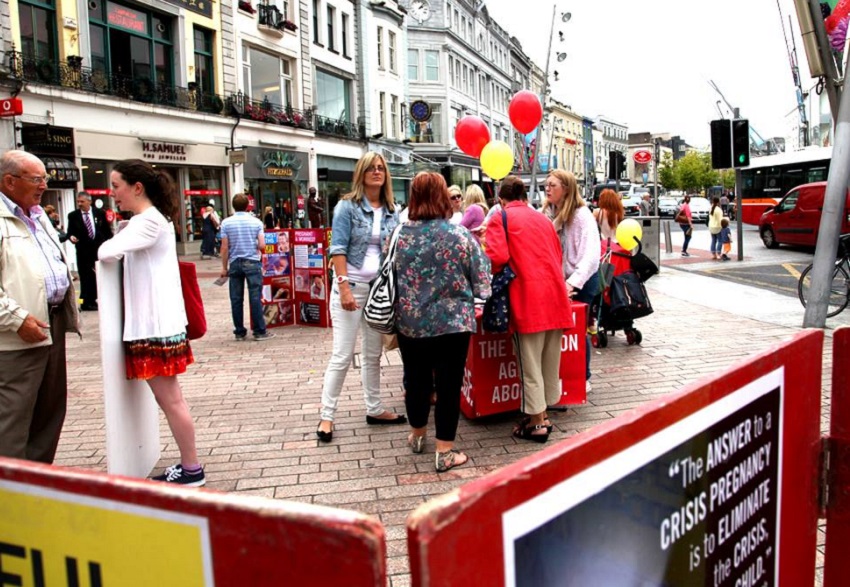 My Roadshow: Anna
After numerous summers of studying and working at my parent's vinery in Austria, I decided to do something different this summer – something new, something significant, something for public interest. That's why I decided to do an internship with Youth Defence and I am totally enthusiastic and happy that I did!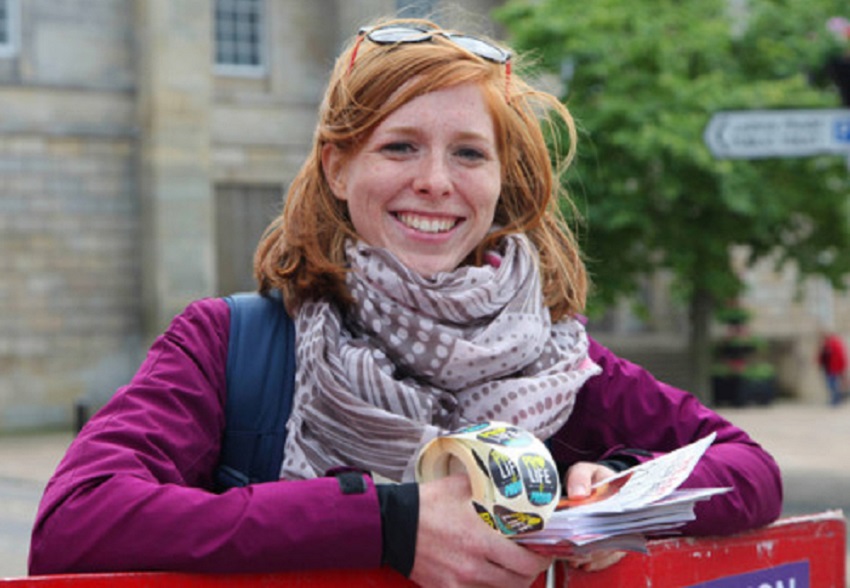 After the great Rally for Life, we started to prepare everything for the Roadshow and met so many people on the street and got really good response overall. Most of the people were very supportive and thankful for our effort. For giving an overview, I will describe three exemplary acquaintances I had during the roadshow. The first one was a woman I met in Cork. She said that she is pro-abortion, as "it is the woman's right to chose" and "the baby is unconscious anyway". After a 15-minute-discussion about the beginning of life and with the aid of pictures of aborted babies, I could give her answers to her questions and uncertainties and finally, I could convince her and she changed her mind. What a great success! The next acquaintance I'd like to talk about took place in Galway where I met a woman who had an abortion. She answered some questions I had about the procedure and told me that she knew that there was life in her and that it was hard for her that she could not really say goodbye to her child. Furthermore, she criticized that there was no proper consultation and that she had the feeling that everyone tries to hush up the facts instead of talking about the cruel truth.
Finally, I would like to mention a happier meeting with a German family. The parents got to know each other at a German pro-life group and were delighted to meet us. One of their two boys had trisomy 21 and the parents said that he is the sunshine of the family and that they are very sad that so many children with disabilities do not get the chance to live although they would definitely brighten up the world.
Besides collecting signatures, informing people and saving babies, I could admire the beautiful landscape of the wonderful emerald Isle and got in touch with the cold and rainy weather, which I did not expect in July. Luckily, I got warmed by the bright sunshine in the hearts of my Irish friends, which are great role models and definitely the best pro-lifers in the world. I am very grateful for spending a gorgeous summer here and having the best craic of my life!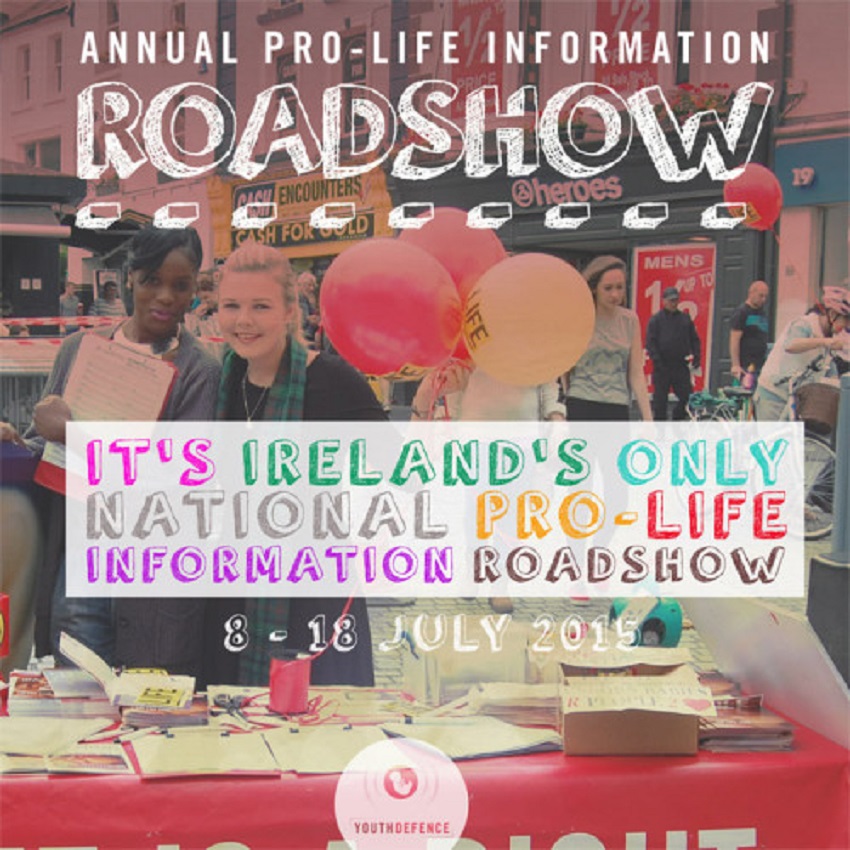 My Roadshow: Roisín
This year was the first time I had gone on the Youth Defence Roadshow. I really wasn't sure what to expect. But it's safe to say that it successfully exceeded all of my expectations. The Roadshow is the only event of it's kind in Ireland. It was so inspiring to be part of a movement that is organised and attended by young people from all over the country.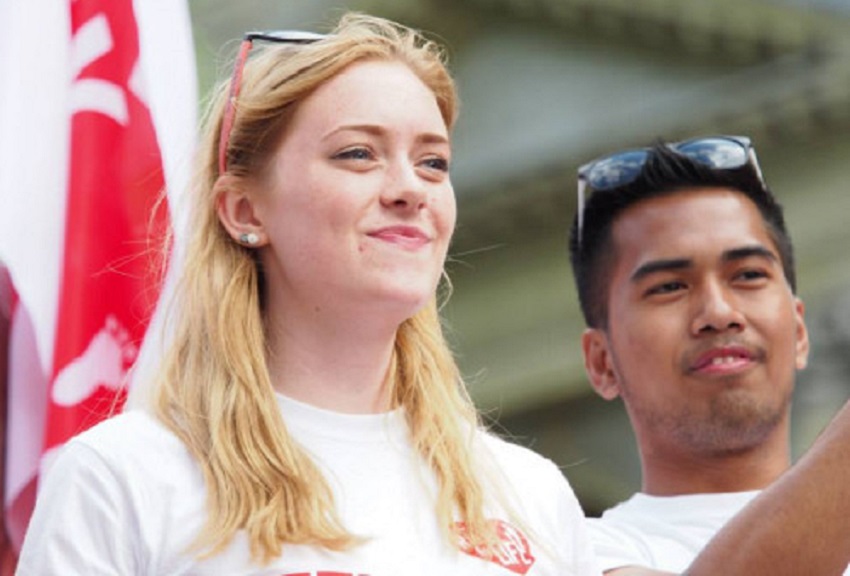 Talking to people on the streets, especially talking to those who's views differ to mine has proved to be an eye opener. It was interesting to see that people would just walk up to our stand and engage in conversation with us. There was definitely an appetite to learn more about the topic and that's what was most interesting, that people were not afraid to ask questions. It was heart warming when women would come to me and share their testimonies, talk about their experiences of abortion and tell me that just a few years back, they had seen a Youth Defence stall on the street and after talking to some of the volunteers subsequently decided not to go ahead with the abortions they had scheduled. This really spoke volumes.

I heard the stories of women first hand who had suffered as a result of abortion, to hear these experiences come right from their mouths really reaffirms my position even more. The emotion and reality of their stories is so touching and powerful. It's important to tease out this topic and to ensure that the health care we offer to our women is nothing less than first-class quality.
What I found most impressive was that the volunteers on the Roadshow were not afraid to answer the hard questions. We had young professionals from a variety of fields, such as medicine, law, sociology, nurses, priests, teachers and many more. This shows that people, not only from all across the country, but also people from across all the different occupations are willing and ready to come together, to travel and to talk about an issue that they feel strongly about.
There was never a day when we weren't approached by another young person who was giving us their contact details, wanting to get more involved and even some young people who decided to join the Roadshow then and there. Every day of the Roadshow was different, each day brought new challenges and new people. But each day also brought hope to those who thought there was none, and gave authentic choice to those who sought it but couldn't find it. The Roadshow is sometimes the only tool that generates awareness about abortion for some people, for that reason it's so important that we continue to do this work on a yearly basis.
For anyone reading this who is thinking of joining us next year, definitely do. I've made so many new friends, most of whom I know will be friends for life, while also having the opportunity to be active about a topic I consider of paramount importance. Join the Roadshow, it really is life changing
My Roadshow : Jagoda
My friend told me about Youth Defence Roadshow and I had experienced working with the Youth Defence before, so I was very enthusiastic and excited to go on my first roadshow. This was an amazing experience for me which I will never forget. I met many great friends that I spent the whole week with. I also had a chance to travel around Ireland and see beautiful views.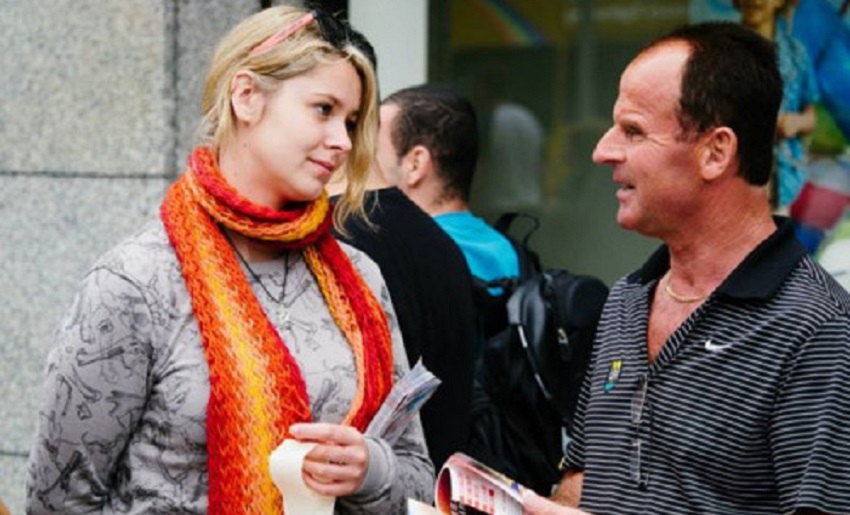 I absolutely loved the sessions on the streets when I was handing out the leaflets, collecting petitions and donations. During that I met very enthusiastic pro-life people and of course I also met people who were pro abortion. I enjoyed talking to all of those people, because I knew that I might change some of those people's opinion about abortion and show to them the reality of it.
I remember one day I was walking to our group to get more leaflets and when I was walking back to my position where I was standing before I saw two young girls who were watching the information table, so I decided to go up to them. I asked them if they want a sticker, because they had our leaflets in their hands, they said " yes of course". Then they asked me stuff about abortion and they told me that their friend is thinking of having one and that they are worried about her. Me and my friends explained to them what abortion is and that the abortion is never the option!
We also told them that Youth Defence are helping women in time before and after childbirth. They said that they will talk to their friend and that they hope that all of the information that we told them will change her mind. In those kind of situations I know that what we do is very important, because even if we will save just one baby, it is 100% worth it!
Roadshow PROMO and DATES
Roadshow Dates & Towns
Wednesday, 8th July : Cavan & Monaghan
Thursday, 9th July : Sligo & Donegal
Friday, 10th July : Castlebar and Ballina
Saturday, 11th July : Galway City and towns
Monday 13th July : Limerick City and towns
Tuesday, 14th July : Tralee & Killarney
Wednesday, 15th July : Cork and surrounding towns
Thursday, 16th July : Waterford & Clonmel
Friday, 17th July : Kilkenny & Portlaoise
Saturday, 18th July : Dublin city centre
Contact us on 01 8730463 or by email on info@youthdefence.ie if you would like to go on all or part of the Roadshow. Not sure yet? Give us a call to find out more!