New Home
With our offices becoming cramped YD moved to a new office in Mountjoy Square. Here in our new spacious and technologically-advanced surrounds we updated our range of pro-life literature and video productions. No more tracing paper here; from now on it was photocopiers, computers and things and the sky was the limitNo, but really we got videos and everything.
---
The Lipstick Commando
Noelia Garcia, a French model known in her own country as the "Lipstick Commando" because she had been arrested for occupying abortion clinics, visits Dublin as a guest of Youth Defence and addresses a YD rally in Limerick. She also makes a memorable appearance on Kenny Live.
---
Marie Stopes closed after pickets
The Marie Stopes Clinic - an abortion referral agency - is accused of performing abortions in its Merrion Square clinic, by a woman who says she has been damaged by the abortion. YD calls for the doctor in question to be charged with murder, and commence a daily picket of the agency which lasts until the end of the year when Marie Stopes are tossed out of the premises by an irate landlord.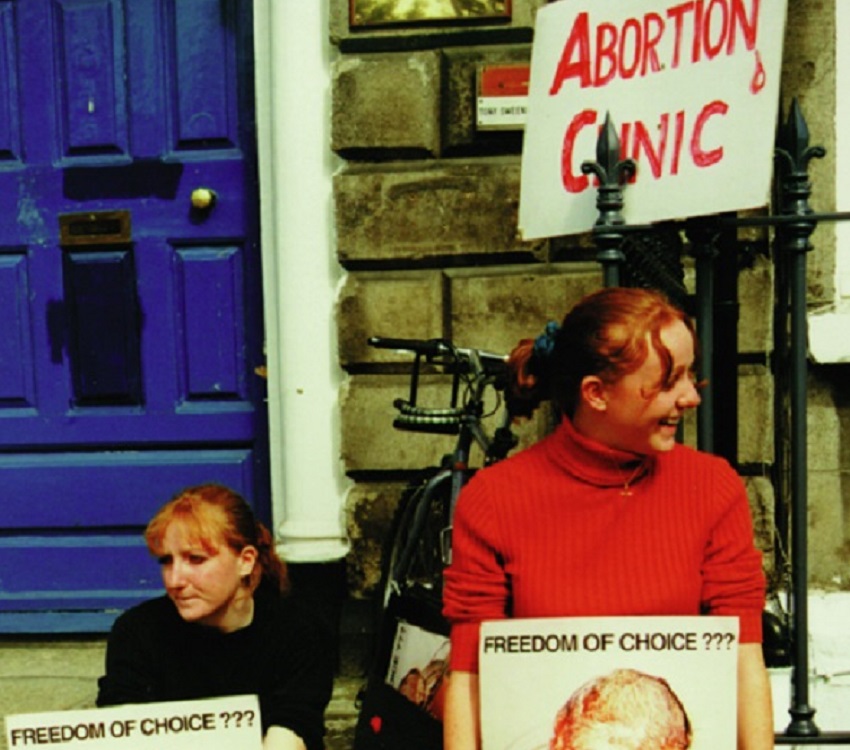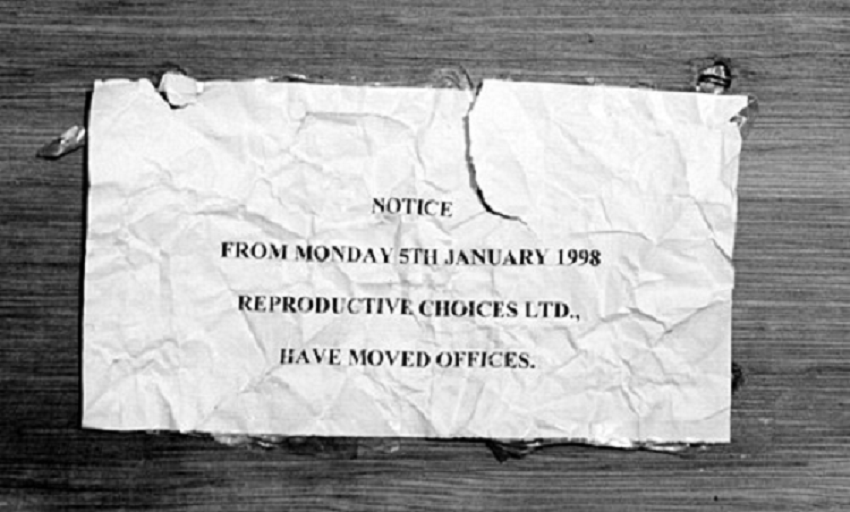 ---
Lots of new members at Baby X Commemoration
The Annual Commemoration of the death of Baby X takes place, with lots of new members in attendance.
---
Truth is banned
YD launch their first CD, Truth which is immediately banned (as being political) by major record stores to the disappointment of thousands of YD members. 7,000 copies of the CD are sold privately within a month.
---
People before politics
11,000 signatures for a pro-life referendum are gathered in the constituency of Bertie Ahern in the three weeks up to the General Election. The signatures matched his first preference vote in the previous election, challenging Bertie to put "People before Politics." During the canvass to gather petitions YD members are frequently told that Bertie Ahern had promised to give a pro-life referendum in response to questions on the doorsteps. YD picket the RTE studios as the leaders of Fianna Fail and Fine Gael participate in a live televised debate. Amongst the usual political clichés, abortion doesn't get a mention.
---
The roadshow trains up
Youth Defence are joined by five American pro-lifers on our 7th National Roadshow. Now we may be practiced campaigners in this activity but our international observers are astonished with the hardy Irish attitude to weather. They just couldn't stop going on about the rain. But they loved the whole YD Roadshow approach and reckon they could do the same at home. So they do it, they take the whole darned plan back home with them and try it out on their own unsuspecting public.
Read more on Information Roadshows here...
---
World Youth Day - Paris
35 YD members attend World Youth Day in Paris accompanied by a million others. They partake in several protests with Noelia Garcia and other French pro-lifers outside French abortion clinics. One clinic was situated in a hospital and shared a hospital building with another clinic providing gynaecological and pre natal care. On entering a common doorway mothers turned left to prepare for their baby's birth or right to have their baby killed.
---
Precious life is founded
A weekend training seminar is arranged to update training and organisational skills for members. One lively bunch from Ballymena decide to get a sister group to Youth Defence going. Precious Life begin working in the north of Ireland to oppose the extension of the 1967 Abortion Act. They go right for the jugular with a strategy of direct action, and attract media attention and lots of local support.
---
DIT gets covered by YD
Mountjoy Square's DIT College refuse YD permission to set up a Fresher's Day stall. Pretty petty stuff, so YD respond by staging a roof top protest during which they cover three quarters of the building's façade in an enormous banner stating "This DIT denies Youth Defence Free Speech."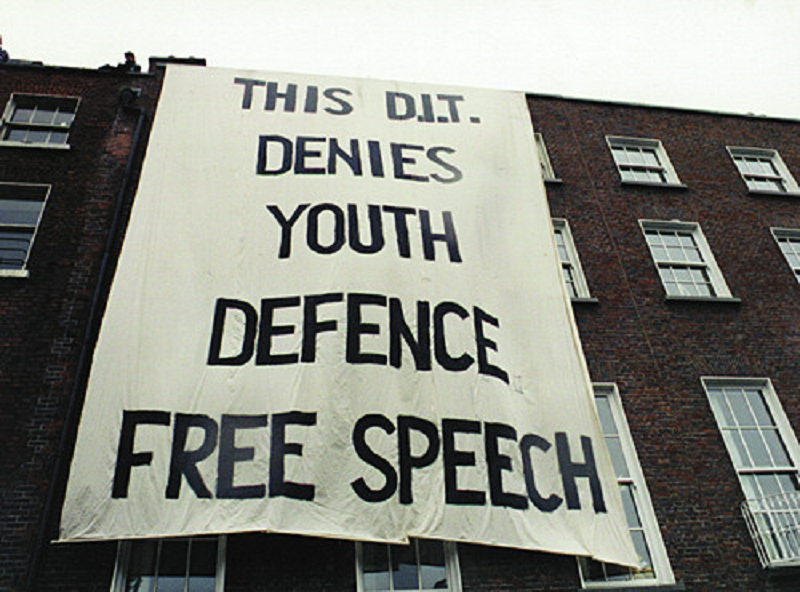 ---
The C Case
The C case breaks and YD strives to defend the right to life of an unborn child, conceived after a 13-year-old girl is brutally raped. They soon find that the parents of the girl in question (who are members of the travelling community) have been wilfully deceived with regard to the abortion and what is best for their daughter. The parents wish to oppose the abortion arranged by the Eastern Health Board, and YD agree to help.
Once opposition to the abortion is made known, the parents become the objects of media hatred. No support is offered to the family, and social workers keep the young girl from her family. YD are castigated and condemned by vocal elements in the media for trying to help a family in distress and the High Court condemns the baby to die, giving the EHB custody of the 13-year-old girl in direct contravention of Article 41 of the Constitution.
The girl is placed in foster care with a family described as the media as "loving and caring." The same media, represented by The Star, then get access to the 13-year-old girl for an interview by making a "small token" of their regard to the girl's foster family. In true "caring" fashion they run the interview with an easily distinguishable photograph of the rape victim.
YD point out that abortion is contra indicative to women who have undergone a serious trauma, and that this family is being denied the assistance they need. True to form, once the Eastern Health Board has succeeded in getting the abortion performed, their interest in the family ceases.A member of the Eastern Health Board, Cllr Tommy Cullen, later tells a YD conference that members of the Health Board with a pro-abortion agenda are trawling the cases under their control looking to use young pregnant girls to further their cause.