Snapshot of 2010
In 2010 alone the key numbers were:
Some 728,000 people saw our pro-life billboards, with their amazing pro-life message 'YOU ME EVERYBODY. We're all just grown-up embryos'. More good news: We've had requests from pro-life groups all over the world wanting to use the billboard and its slogan. Youth Defence's concept is now appearing on billboards in Australia, on posters in France and in pro-life materials in Belgium and the US. A good idea really does travel well!
Hundreds of young pro-life volunteers spent more than 8000 hours distributing almost 300,000 pieces of pro-life information at our pro-life Roadshows and street sessions which took place every week of the year.
All 736 secondary schools received pro-life information to give to students.
4500 people marched together with YD and Precious Life in the Rally for Life in Belfast. The Rally is growing year on year - see you in Dublin on July 2nd!
Young pro-life leaders from 12 different countries came to YD conferences and roadshows to learn the Irish pro-life model. Almost 800 young people from Ireland and elsewhere attended information, training and conference events in 2010 alone.
We grew the number of Facebook members Youth Defence has on Facebook to 13,000 people - the largest Irish group in almost any category, and one of the larger Facebook audiences for any pro-life group worldwide.
We also saw more than 1000 people per week engage with our Facebook outreach - where we send out information and answer questions.
A whopping 500,000 people saw our newspaper adverts spelling out the fact that abortion is never medically necessary - and many of them called and emailed us looking for more information.
50,000 clicked onto our Project Truth advert on You Tube. These views are hugely important since the viewer has picked the advert and chosen to listen to the pro-life message.
For 52 weeks of the year our volunteers counselled outside abortion referral clinics like Marie Stopes.
Here's the best number of all: They directly saved 3 beautiful babies.
---
In Court
Embryos (frozen and thawed), and babies were hauled through the courts in 2010 and some preceding period without ceremony or even an ounce of sensitivity to their feelings.
We started the year with baited breath as EHCR (European Court of Human Rights) pondered on the best way to hammer Irish babies. The IFPA were the backroom sugar daddies in a case where three women brought action against the old sod for violating their rights of privacy.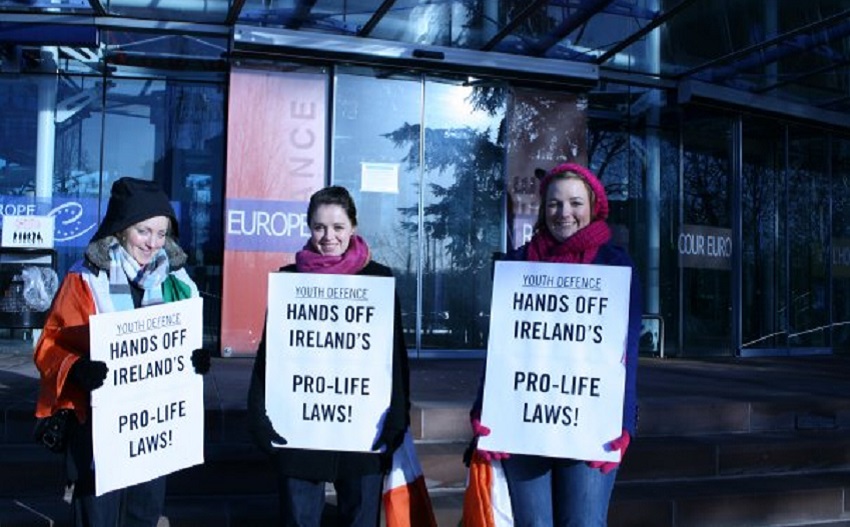 We fingered our chins and said "suspicious" and then we went off to have a better look. -That was back in December 2009 if you remember.
Back then the Grand chamber'' in Strasbourg was the arena and a grand total of 17 judges pontificated on the matter. Outside the chambers of power (literally not metaphorically) Youth Defence kicked up a fuss and said that there were 4.5 million judges in Ireland who would deliver on the whole sorry charade in their own time. We also told them not to think they'd be getting away with all this sneaky carry on because we'd be back home before long laying bare all their foul plotting.
Read more on the ABC Case here...
---
Abortion Report
The stakes were raised and then in March Human Rights Watch (HRW) were called in to scold the Irish (that'd be us) as well.
Sez the HRW: "interpretations of international law recognize that obtaining a safe and legal abortion is crucial to women's effective enjoyment and exercise of their human rights."
"Hah! What a lot of cock and bull. What a phony bunch of crooks," sez us. "HRW, who claim to work for human rights, agitating for the abortion industry's right to kill babies."
---
Belfast High Court
There was more to come from the courts; but not all bad:
Our sister organisation, Precious life, came beaming from the Belfast High Court at the ruling which ordered that abortion guidelines issued by the Department of Health be withdrawn. These guidelines, basically instructions on providing abortions in NI even though its illegal, kept sneaking up over the past few years in various drafts. Sneaked onto the minutes by some shady and anonymous character no doubt. Precious Life were always there to shout foul and had run a few impressively responsive and successful campaigns to scupper the plan before so they were happy with this latest nail in its coffin.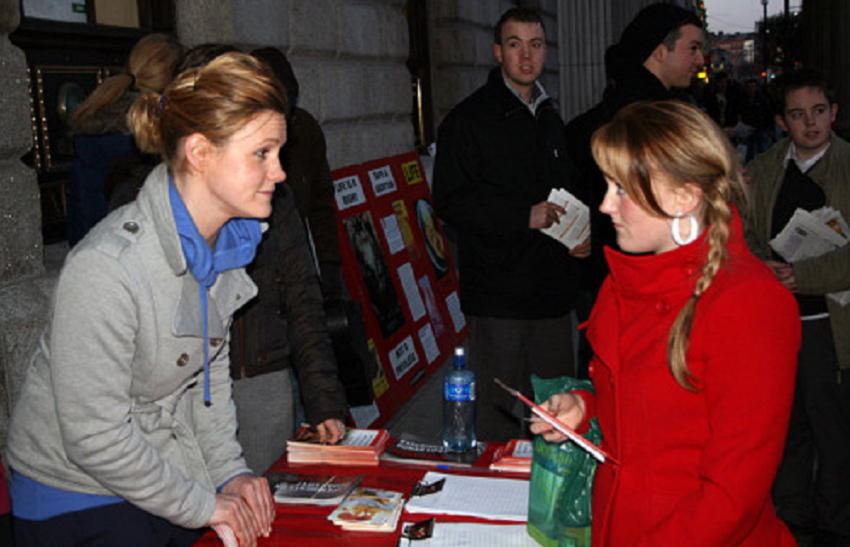 Precious Life were delighted and said so. They also mentioned that the guidelines "were an attempt to change the interpretation of the law and would have effectively legalised abortion in Northern Ireland 'through the back door.'
Precious Life, if you hadn't heard, are absolute champion street counsellors. They have been fearlessly dedicated to this tactic for about 20 years and were kind enough to give a Training Day in Dublin, on how to do be charming and caring at abortion referral speakeasies.
See their website here: www.preciouslife.com
---
Dr. Death visits
March brought the controversy-courting Dr Philip Nitschke - who has very unromantic views on what to do with plastic bags, sticky tape, and nitrogen gas- to Ireland for one of his on the fly "DIY Euthanasia workshops." Initially advertised to take place in Capel Street's Outhouse on March 19th, it had to reschedule after the Life Institute kicked up a fuss about the appropriate use of taxpayer money. The normally immutable HSE got a little red in the face and Dr. Nitschke's grisly shop of horrors had to move. Old Nitschke was run from pillar to post with his deathshop being cancelled four times.

But this ironically was something he did not advocate giving up on. Nitschke called unfair.
The LI said he was anti-elderly and against people with disability and mental health issues.
"Anti-choice!" said Atheist Ireland, a newcomer to the ring.
Everyone else agreed that that was churlish.
Except for Atheist Ireland who said "so what'' and ran a campaign to get some sort of emergency accomodation for Nitschke's necro-lessons. They came forth with a spot which ironically is called seomra spraoi.
Yeah if you think russian roulette is fun.
Lent for Life
During Lent we had the bright idea of asking people to do stuff. "Give up stuff as well if you want, but come out and do stuff because we have plenty of stuff to keep you busy."
---
Set the record straight
It worked and many new people were put to work shoving the 'Set the record straight' –a new info campaign explaining the difference between abortion and life saving procedures that some big liars keep calling abortion- leafletts into hands and doing other good works.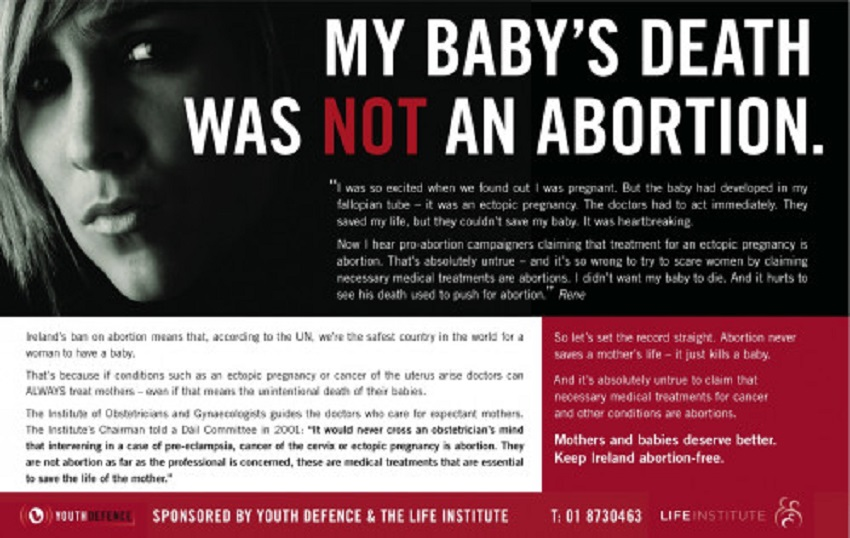 Come July we were aligning the record with the rectilineal from billboards all over Ireland. This campaign is just one example of the ever changing brief we are dealing with. We have found that our activities are spreading into an ever wider arena and the issues are expanding all the time. Before the end of the school year we were working on projects related to euthanasia; a special campaign on embryo research; and much more. –As well as defying the big fat liars who keep bending the record when it comes to abortion.
More on the Set the Record Straight Campaign here...
---
Ethical Experimentation Report
With embryo experimentation being an ongoing ethical frontier we produced Join the Dots: Who's behind the push for embryo research in Ireland, [launched before Christmas] a nifty and thorough piece of investigative work revealing who exactly is pushing for embryonic research in Ireland and how they are doing it. We couldn't answer the why satisfactorily though as it all seems senseless. Maybe its just a fascination with weirdness by people who grew op on a diet if sci-fi and marvel comics.
Join the Dots lifted the lid on a macarbe underworld of white coats and political string pullers. Our old pal Micheál Martin was deviling away with another soon to be besmeeched crony, Mary Harney, in stacking quangos against the human embryo? An then there was the Governing Body of UCC who, despite a clear majority of UCC academics opposing this unethical research, looked cozy bedfellows with global pharmaceutical corporations who have a financial interest in embryonic stem cell research.
John Banville couldn't have come up with a better script.
---
Rally for Life! 3rd July 2010 : Belfast - Promotion and Event
Anyone who was reading last years column will remember the craic at the Rally for Life. Well we wanted it to be remembered again so we pushed the boat right out. Never being great believers in stopping and thinking, YD members spread out on a hair brained blitz of the country, visiting every county with promotional material for the Rally. And all before easter. It beats me but it seems to have had some effect.

July 3rd was the date of the rally, which happened in Belfast. Twas the 4th all-Ireland rally for life. It had balloons and break-dancers and an open topped bus, and a grand crowd of about 4,498 people.
See photos of the Rally here...
---
Roadshow 2010
Roadshow as always, we had an international element to the annual roadshow with volunteers from the US, England, France and Poland coming along to learn the YD model and put it into practice with their own pro-life groups back home.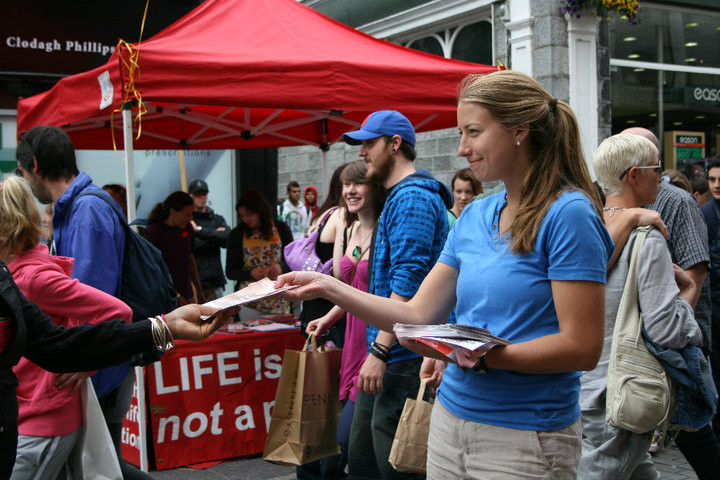 Macroom was a town we hadn't visited previously and was only added to the itinerary at the last minute due to a torrential downpour in Killarney
There was a bit of a hoo ha in Limerick because we were hanging out at the FPA there, in an uncomplimentary (but civilised) fashion. A few pro-aborts though we were fouling the atmosphere but in fact the gardaí thought they were a bigger blot on the landscape and asked them to go home and play nicely. Did a spot on Limerick radio afterwards.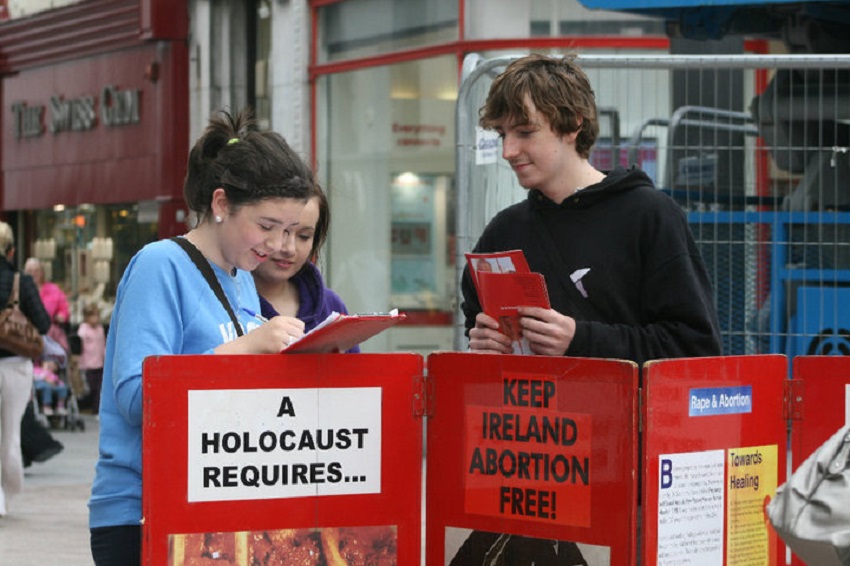 We also took full advantage of new social media like Facebook, Twitter, YouTube and so on to promote the Roadshow and to keep people in touch with its progress. In fact, two of our newest recruits joined up with the Roadshow simply because they found us on Facebook.
Read more about Roadshow 2010...
---
Reaching out on the web
In the past few years we had put loads of effort into our web presence. We said hey what's the point in beating on the biased door of the irish media when the whole world is turning towards the blasted net anyway. We went big for websites, videos, etc. and before too long we were outstripping everyone. Not just pro-life sites and abortion sites but even the sites of major political parties.
But here's the best rating news of all. Our website dedicated to revealing the wonder of life and the humanity of the unborn child is at least twice as popular as the website of the Family Planning Association, and that of the other major abortion referral agents, Marie Stopes and Well Woman.
In fact, we seem to be getting more hits than even the CPA's "Positive Options" website. The government has spent millions on lavish advertising campaigns to draw young women to this website which promotes abortion as a "positive option" (I have seen the same positive options billboard in my local shopping centre for 2 years running now). But our pro-life offering, without any advertising at all, seems to be more popular with young women. And instead of being told that killing their baby is a 'positive option', they're getting the truth about abortion.
So ha you creeps!
Yeah we are still doing all the leg work on the streets but now we are attracting online communities like dung heaps collect flies. Yup we know how to present the info and how to make ourselves stand out when your average random surfer, anywhere from Moscow to Buenos Aires, gets curious about babies or abortion or whatever.
Read more about our communications here...
---
You. Me. Everybody
In October 2010 we uped the anty on the stem cell issue and plastered the 'You. Me. Everybody.' billboards up all over the country. And just to prove we weren't a pack of loonies banging on about some sci-fi crap than no body cares about we had the pre-eminent Colin McGuckin do it. He's super up on the stem cell research crap – Mr. Stem cell
M harney was on the warpath over the very same stem cells, so this was topical stuff. Mary Harney, the Health Minister overseeing our deplorably unhealthy health service, was planning to bring forward legislation relating to the human embryo. This legislation, it was envisaged, would decide whether or not Irish law, and therefore Irish society, would protect human life from the moment of conception.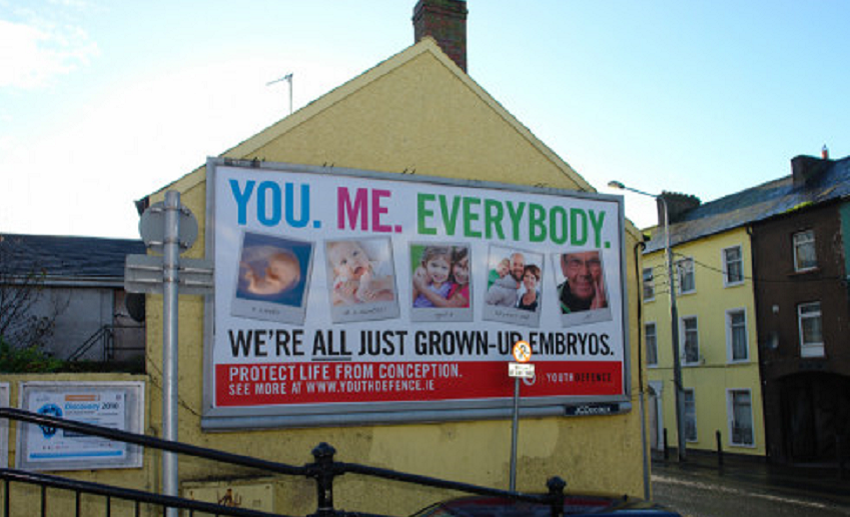 But on embryonic research stuff it is interesting to share a few facts (statistics). If you had asked around about four years previously about embryonic research, most people would have said "yeah why not , go for it". Opinion polls showed public support in 2005 for embryo research at 44%, (one and a half times that against) but in 2010 it was 29% for it all while 59% said it was a more than a bit inconsiderate to the poor old embryos.
Fueling this change of heart YME was a massive hit which prompted loads of discussion on internet discussion boards and, judging from the feedback we were getting, in everyday conversations.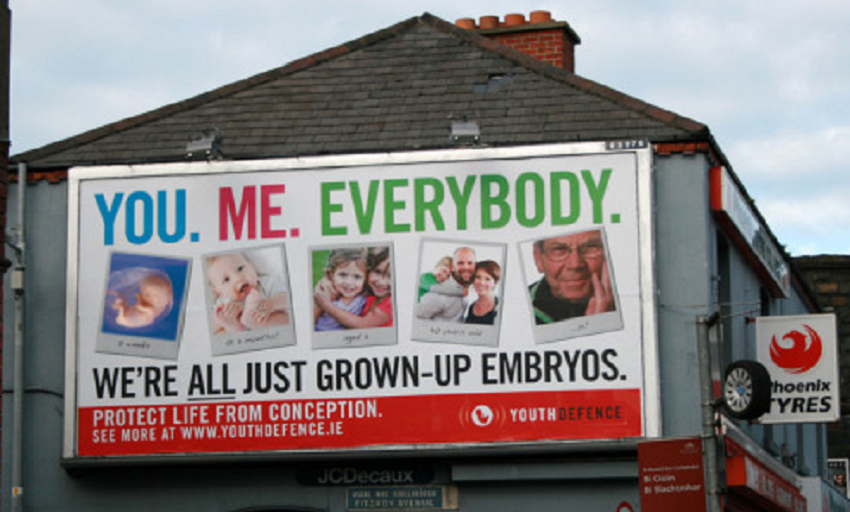 Ordinary punters were impressed with the add. Feedback and listened-in discussions confirmed that it was eyecatching, empathetic, and got to the heart of the matter –a real advertising coup. Not only that but the billboard campaign was replicated in Australia the following year whilst the message and slogan were used in Belgium, France, and the USA.
Read more about the billboards here...
---
October also saw an abortion workshop in co. Down (hosted by the FPA) which Precious Life picketed. YD came along in support (of Precious Life).
Project Truth launched on Youtube
Project truth, the add censored by an Irish government quango, the Irish Radio and Television Commission in 1996, was launched on the web. It was a 30 second script which the suits, back in 1996, said was too political.
Well the laugh was off their faces now because we put it on the net without having to pay any broadcaster a penny and it reached far more people that the radio adds could possibly do. But it was also way better because we added some punch to the script when we included lively footage of some nipper in the womb having great craic and looking far more human that our script could ever have portrayed.
As fr. Ted said "well where are you now Irish Radio and Television Commission"
Read more about the advert here...
---
Viva La Vida Conference
The second edition; and looking like a runner as an annual event with a capacity turnout, the Viva la Vida activists' conference took place in the communications hotspot of Griffith College from Nov 5th to 7th. Presentation of the weekend had to be Prof Colin McGuckin, an Irish scientist who made medical history when he led a team who created the world's first 'mini liver' (not an item from the eurosaver menu, a real working liver) from umbilical cord blood. – Jurrasic park where are ya!
McGuckin is a down to earth realist who, quite sendibly, mentioned that "Media-generated controversy gets attention and this presents a huge problem for those doing non-controversial, but immensely beneficial work with adult or umbilical cord blood cells."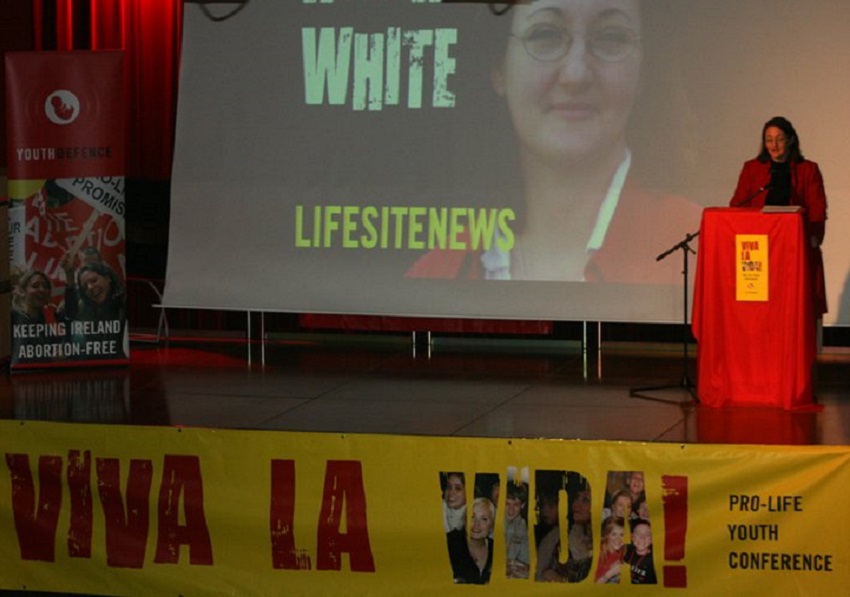 Now why cant more people be like that? Compare McGuckin to 'dr. Death' Phillip Nitschke, who thinks a service to the world is dishing out spare plastic bags and cable ties. McGuckin makes livers in his spare time, and he could run mcdonalds if he wanted to.
Jill Stanek from Illinois, who did corageous work in exposing live birth abortions in the hospital she was working, was also in the house. Jill lost her job in the hospital but she went on to testify twice before the Judiciary Constitution Subcommittee of the U.S. House of Representatives, and her written testimony has been read several times in key U.S. Congressional debates on the Born Alive Infants Protection Act. She had a huge part to play in the passing of this act into law. Fair play to her.
Andy Pollard, the eagle eyed demographic expert, revealed some world truths on abortion including a very gratifying reduction in the numbers of Irish women travelling to England for abortions.
"Take a bow" he said, and we got all embarrased.
Eoghan De Faoite, looking bleery and green around tha gills, croaked his way through a closing speech as usual and got a polite but sympathetic applause.
See photos of the Conference here...

---
Life Institute
And finally the life Institute launched their new website www.thelifeinstitute.net
With a bit of inflated fanfare we announced
"Our main focus is on researching, informing, and building a Culture of Life. As the M&CC we became a broad-based initiative with supporters throughout the country, and since our organisation has been particularly successful in bringing people together to work for life and family in the past, that's a focus we're going to continue with."
But waffle aside The Life Institute emerged with a bang with the launch of the Join the Dots report. A document which would be mighty topical indeed come the following spring.
---
Christmas Vigil
The spirit of Christmas infected us again and on the 1st Sunday of advent YD had a "winter festival lights ceremony" In real non-american terms we had a vigil for the unborn which involved candles. It co-incided with Pope Beno's vigil for all unborn human life but also had further relevence considering our work to protect the human embryo. We made a point to mention that as well.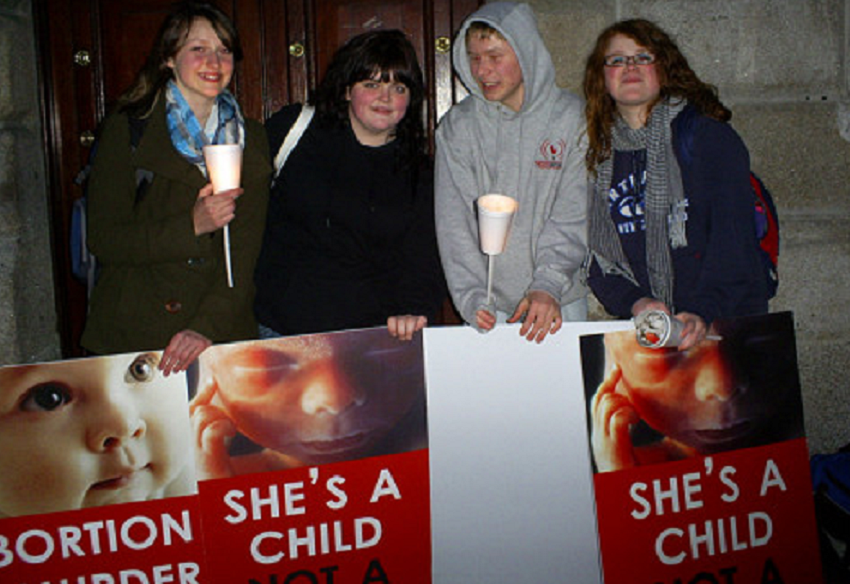 ---