And they're off……
Youth Defence was founded in 1992 in response to the immediate threat of abortion being legalised in Ireland. It was the time of the X case, where a 14-year-old girl's pregnancy as a result of rape was being ruthlessly exploited in an attempt to introduce abortion. The case was opportunistically seized upon by pro-abortion campaigners to demand that Ireland's pro-life laws be overturned. Youth Defence was the response of a group of friends (all young back then, hence the name, young people defending life) who felt the views of the pro-life majority were being ignored or misrepresented.
---
First time on the radio
6 members of YD spoke on the late Fr. Michael Cleary's Radio Show on 98FM. They discussed the X case, including the alternatives to abortion, and the reasons for Youth Defence's recent formation. A pro-life demonstration was held outside the Dail on the 3rd of March. It was massive; it was attended by over 1,197 people, a dog, two bicycles, and a man with an umbrella and a fake beard. Plans were made for a major rally in April.
---
Street sessions are go
The first Information Street Session was held in Dublin. A street session is a soap-box style presentation; no media, no PR, just plain old talking and discussion on the streets where people gather and pass by.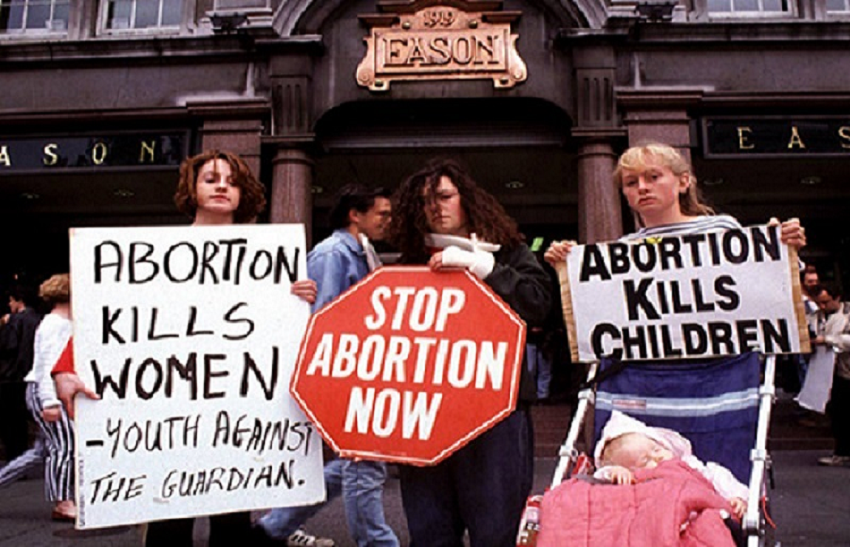 If you ask us there is no substitute for talking to people, especially if your objective is an informed public, so we think the best way to ensure a healthy respect for human life is to bring the whole facts on abortion to the public via a street education. Leaflets are distributed, questions answered, topics discussed, signatures for pro-life petitions collected and Precious Feet Pins are handed out.

---
First Rally for life brings enormous crowds
On April 25, Youth Defence held their first Rally for Life which attracted over 10,000 people marching against abortion. The huge crowd received widespread media attention. Two more pro-life rallies attracted similar support in June and October.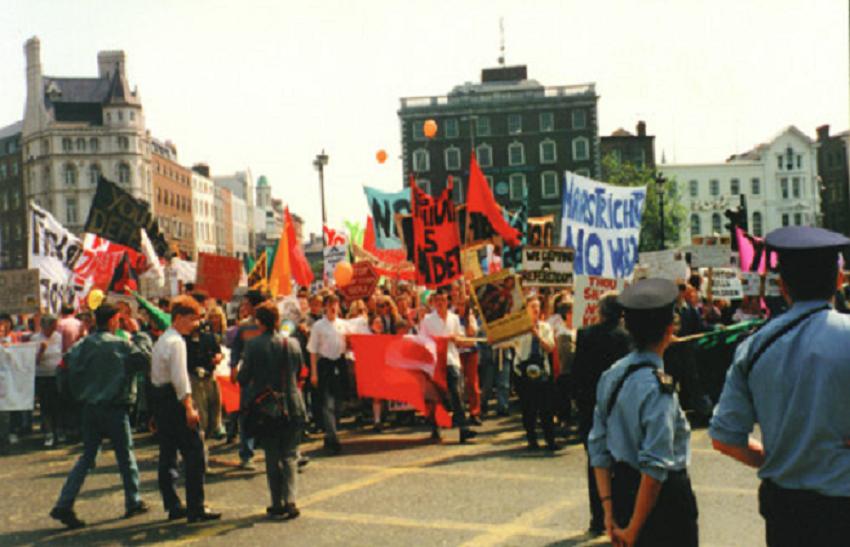 Youth Defence were invited to talk to schools in Tralee, Dublin and Roscommon – the first step towards a whole schools program.
---
The Maiden Roadshow
August was great craic altogether when the first National Youth Defence Information Roadshow was held, visiting 20 towns over a two week period. Holding Street Sessions during the day and organising meetings and showing pro-life videos by night, the Roadshow proved to be a great buzz and hundreds of curious and/or committed people joined YD. Another week long Roadshow was held in early September because of repeated calls from the far flung towns of Ireland who wanted in on the act.
---
First of many referendums
During a press conference, YD announced its opposition to the forthcoming referendums on abortion, travel and referral. A demand is made for a proper pro-life referendum on the substantive issue of abortion. Groans were heard throughout the country when the government persisted with a abortion amendment wording which wouldn't actually ban abortion, meaning the referendum was defeated. They're continuing in this vein ever since.
---
No, No, No…
YD's campaign starts for a No vote on all three issues proposed in the 3 Referenda held on the 25th November. The pro-life movement obtained a 63% vote against abortion on the substantive issue. "And there was great rejoicing"
---
5,000 and climbing...
By December YD membership had reached around 5,000 young thrill seekers and YD had received massive national and international media coverage. Altogether in 1992, 63 TV interviews were conducted, a whole heap of radio chats, and, rumour has it, about 70,000 (to the nearest decimal place) newspaper and magazine column inches were printed about YD in some shape or other.