Baby X Commemoration
On 12 March members and supporters gathered in Dublin to commemorate the 13th anniversary of the death of Baby 'X' who was sentenced to death by our Supreme Court on 5 March 1992. Those in attendance carried tombstones and placards commemorating Baby 'X' and Baby 'C' and other children who have been aborted due to decisions made by personnel for the Irish state.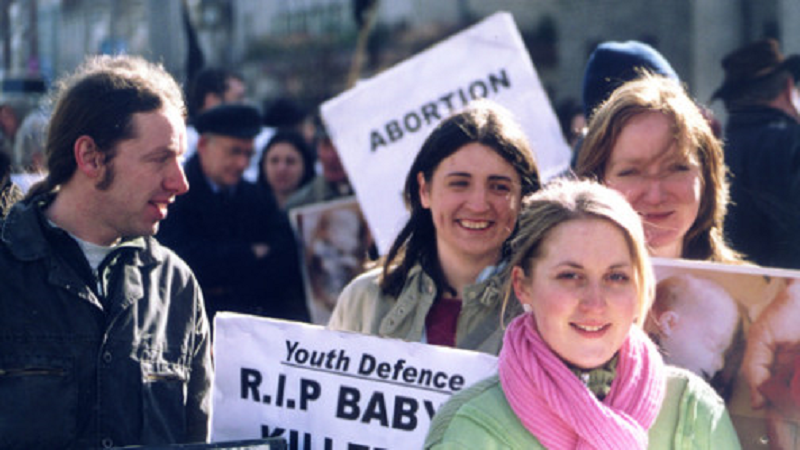 A small white coffin surrounded by daffodils was also placed in the centre of the island on O'Connell Street as a poignant reminder to all who passed by. Afterwards, we moved round to Cathal Brugha Street to the Irish Family Planning Association (IFPA) where we staged a protest on the clinic to encourage the clinic staff to stop facilitating abortion.
---
All the Regulars
On top of our regular weekly street sessions several Life Days were held during the year, where the emphasis was on the humanity of the unborn child displayed on large, colourful pictures of children in the womb. The idea is to run the sequence of images over an extended stretch, such as a pedestrian area like Grafton St. The images show the unborn child in various stages of development from conception right through to birth. The display is visible, attractive, and its message has impact.
---
Crossing Borders
YD hosted members of the CEC for Life group from the USA, including the winners of the annual Chloe Powers Essay Competition. This event is an opportunity to encourage passion and activity among the members of the group's youth wing, and also to learn pro-life activism from YD. We also hosted members of FOCUS - a Catholic missionary group from the USA with an interest in establishing pro-life ministries in their respective colleges.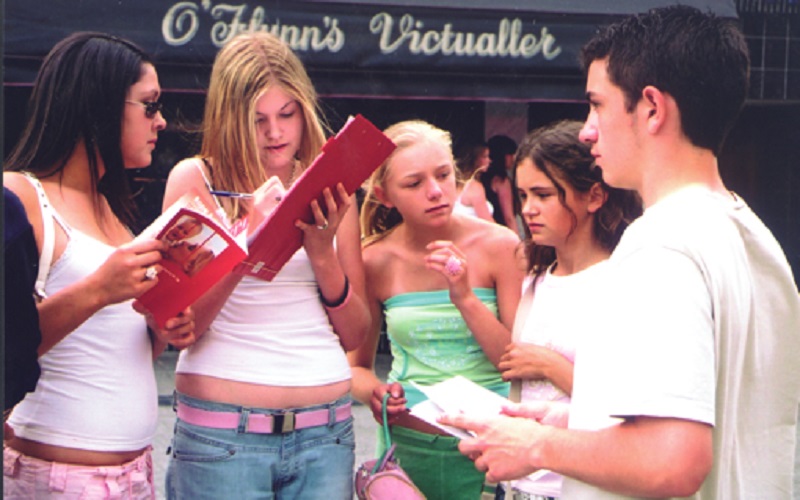 These young punks saw us at our best when we took them on our Annual Roadshow. With such a huge team we got to visit loads of towns we hadn't been to in a while. One of the activities undertaken by the gang was to ask as many people as possible in each stop where they could/had sourced pro-life information. It was surprising and not a little alarming that a substantial number of people had no other source of pro-life information.
---
Take a bow FOCUS and CEC, great job, pleasure to have you.
Read more on the Information Roadshow here...

---
Controversies
Our old friend controversy raised his bloated and baleful head again this year, with Mary Harney holding the reins as Health Minister. During the summer, the Minister of Health, Mary Harney, made a statement supporting the provision of the morning-after-pill to eleven-year-olds. At first we thought it was a joke but then again the Minister is the funny sort and on this occasion she was serious, so we condemned this madcap statement in a score of media interviews in newspapers and on radio. Maybe she was trying to be humorous after all because she didn't make too much of a case for it after that.
Another bit of a hooha was the decision by Cura to hand out the Positive Options leaflet issued by the Crisis Pregnancy Agency (CPA). This leaflet lists abortion as a positive option and suggests abortion referral agencies and, yet, was being handed out by a Catholic counselling service. So M&CC called for Cura to do the decent thing and dissociate from the CPA, and for funding to be re-directed through the Department of Health and not through the obviously abortion-friendly CPA. M&CC also produced a detailed report on the CPA /Cura controversy for the Irish Bishops' Conference and also sent a copy to the Vatican.
We were glad to see the Bishops taking a stance on the matter, and requesting that Cura desist from using the CPA leaflets.
---
Speaking Events
YD Chairperson, Eoghan de Faoite, spoke at many pro-life related events during the year. These included a trip to the USA where he spoke at conferences organised by the Fellowship of Catholic University Students (FOCUS), Rock for Life, and CEC for Life as well as many media events organised around the annual March for Life in Washington, DC.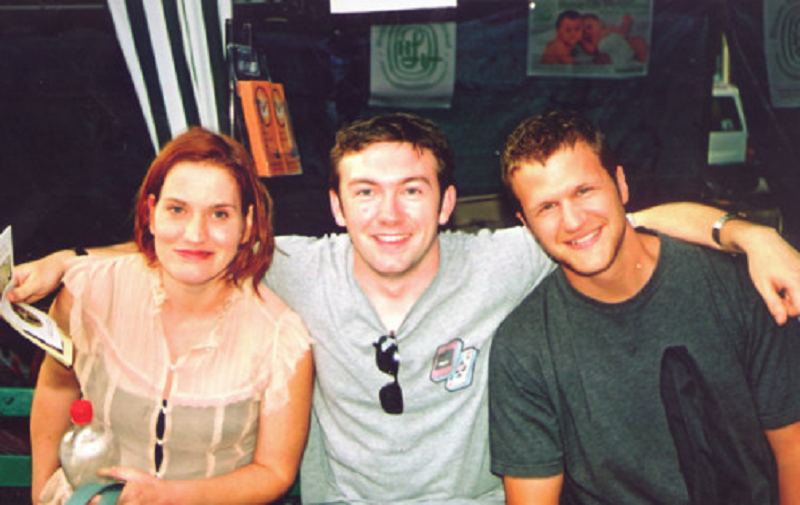 Eoghan also spoke at a couple of pro-life bashes around Europe and YD were involved in Domus Vitae, the pro-life aspect of World Youth Day which was held in Cologne in August.
---
Clinics and Counselling
Following YD's Supreme Court victory overturning the injunction restraining protests at Irish Family Planning Association (IFPA) clinics, YD continued their activities outside IFPA premises throughout the year. Demonstrations and footpath counselling were carried out outside the IFPA clinic on Cathal Brugha Street, Dublin, and also outside the Marie Stopes Clinic in Blessington Street, Dublin. Activists met many women contemplating abortion and gave them real information on the true nature and risks of abortion. The sort of facts they don't receive from clinic workers inside. Inside the clinics the abortion promoters found this very frustrating, calling us weirdos and telling us to go home.
---
Spreading the message through the Internet
You know all about our websites. They're award winning yadayada, but this year they got even better. We started a weekly e-zine from truthtv.org and our active bulletin boards which, if the rants and rambling are anything to go on, reflect the popularity of the websites as a source of pro-life information.
University & College Roadshow
This year's highlight was the highly successful Revelation Tour in November carried out by our student branch, Ultrasound. Two speakers from the USA, Mark Bomchill, a former abortion clinic worker, and Gianna Jessen, who survived an abortion, gave first hand testimonies in DCU, NUI Maynooth, UCC, UL and NUIG.
It involved a fair bit of work in promoting the speakers and stuff for two weeks leading up to the talks but it was worth it as massive crowds turned up for the talks. Gianna and Mark were superb and pulled the biggest crowds on campus for a pro-life event in quite a while.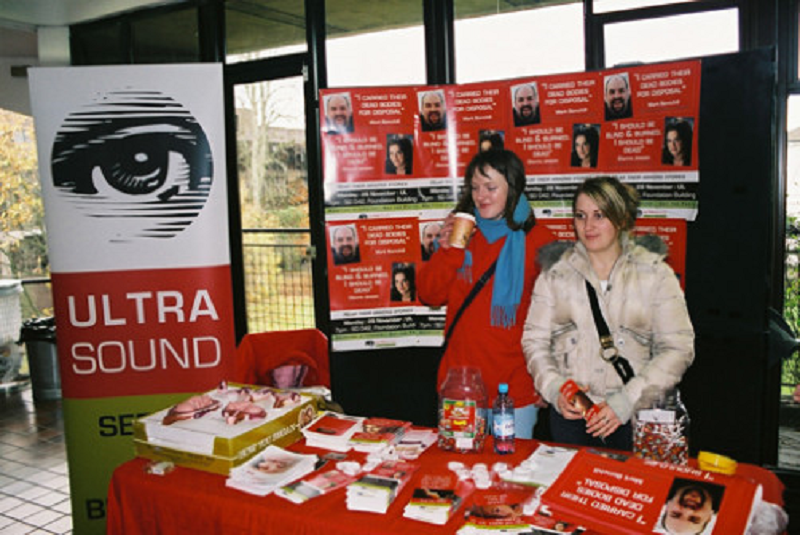 ---
Probably the best talk was held in Galway where some anonymous (well not that anonymous actually), officious penpusher (or two) got it into their heads to block the meeting. They stopped us getting access to the planned room but our speakers made their speeches in the lobby and stair well outside the theatre. It was deadly, really inspiring, and the enemies of free speech in NUIG looked pretty dopey as students crowded the lobby to hear Gianna and Mark.
Read more on the Ultrasound Revelation Tour here...
---

On recycled paper
YD and M&CC kept the printers in trade as usual. Piles of pro-life material came through our doors in 2005. Updating and printing educational pro-life material is an essential element of the activities of 60a Capel Street, and it keeps us very busy. In 2005 we launched a brand new version of our highly successful Life Book to include more updated information on the legal situation regarding abortion in Ireland, medical issues, and personal experiences of girls with crisis pregnancies.
---

Reports
The Commission on Assisted Human Reproduction (CAHR) released their report making recommendations to the government regarding the regulation of biotechnology and fertility treatments in Ireland. These recommendations, if implemented, would make Ireland one of the most liberal countries in the world in relation to embryo abuse. To counteract this, YD formulated a new campaign called the No Exceptions Campaign and got straight down to work in drawing up a report detailing the problems with the recommendations made, and a campaign guide. The report would be launched in January 2006.
Read the No Exceptions report here...
---

End of year
And so another year passed and we all went on the tear.